It was my 5th time visiting this amazing Garden, but this time was a little different since we intentionally were going to get some lunch at the famous Kafe Dedaunan. A lovely Saturday, with some cloud coverings, making the air cooler and bearable for an outdoor dining planned that day. We arrived around 1 o'clock and we saw right from the entrance gate so many groups were having a great time in a various spot on the Garden. We saw a group of teenagers doing some dance, another group of schoolmates having a reunion and a larger group just finished their yoga session. Coming up towards the café, I realized that the name had changed into the Grand Garden café.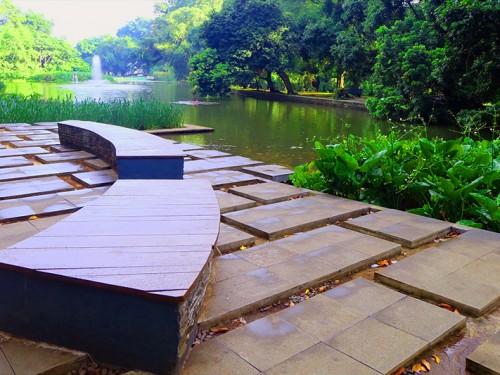 The café's entrance was a small garden with some beautiful orchids. The orchids are known as Anggrek Bulan, translated as Moon Orchids or Phalaenopsis amabilis. This specific kind of orchid was found by a botanist named Dr. C. L. Blume. From 1823 to 1826, Blume was the Deputy Director of Agriculture at the botanic garden of Buitenzorg, later known as Bogor Botanical Garden. He had recorded around 900 other plants growing there. White and bright fuschia orchid blooms were dangling from the tree bunk, with the café's signage just under it. The café was made in terraces within a semi-outdoor structure. The lower part of the café was a large opened area with tables and garden umbrellas. There were also some statues depicting the image of European soldier and Chinese warriors.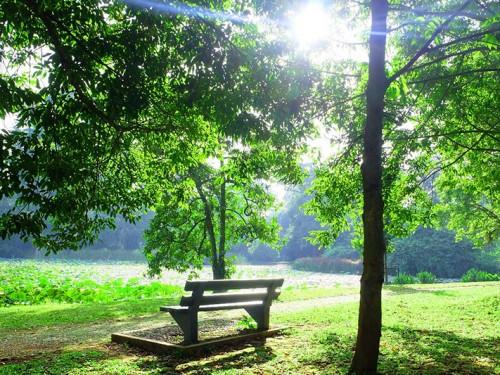 First, we took a seat near the lobby, because the sky seemed to be darker outside. But as time goes, we decided to move and found ourselves a nice corner facing the soothing green landscape. Naturally I picked the camera and began to look for objects. The surrounding area of our tables filled with happy ambiance. From a loud rejoice of fellows on a birthday lunch, the giggles of babies having a blast running through the grass and the small smiles shared by couples going through their desserts.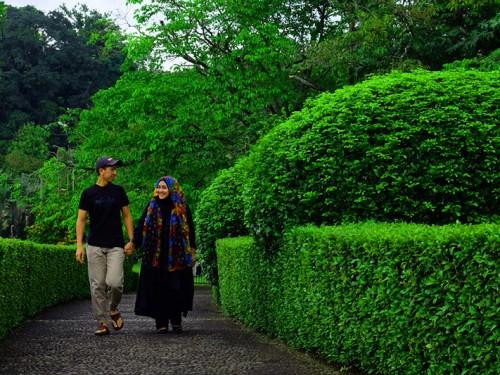 The menu was quite extensive, a mix of western course and eastern delicacies. My husband chose Gado Gado, a famous local food made out of boiled veggies and peanut sauce. My mother in law chose Nasi Rames, a portion of rice with side dishes of fried chicken, vegetables, chili sauce and crackers. My children chose French Fries and Ice Tea. Me, as a huge fan of spicy foods, went with Ayam Taliwang. It's a grilled chicken covered with mixed chili seasoning, so delicious! As for refreshing beverage, we choose Es Teler, diced fresh fruits plunge in mix of condensed milk, vanilla syrup and shaved ice, yummy! Last but not least the Colenak, a local dessert made of "Peyeum", fermented cassavas sprinkled with delicious sweet coconut and brown sugar sauce.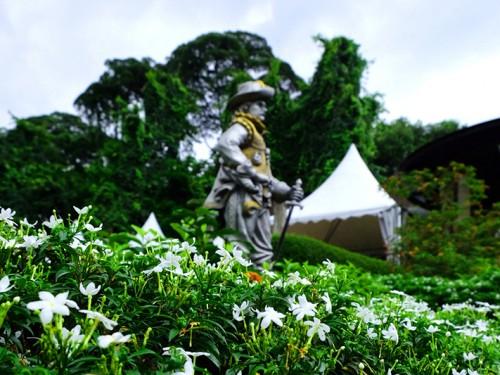 As we finished eating and the energy replenished, we continued for some photo sessions. The Bogor Botanical Garden was re-landscaped to resemble an English Garden by Sir Raffles back in 1811 when he and his wife lived in the Buitenzorg Palace. You would find an endless spot to take pictures since the whole garden has 87 ha land enriched with around 15.000 botanical collections, amazing! On May 18th, 2017 the Garden will celebrate its bicentennial anniversary, so can you imagine how old those giant trees are? The anniversary celebration will be going on for several days and filled with many activities, so make sure to be there with your camera!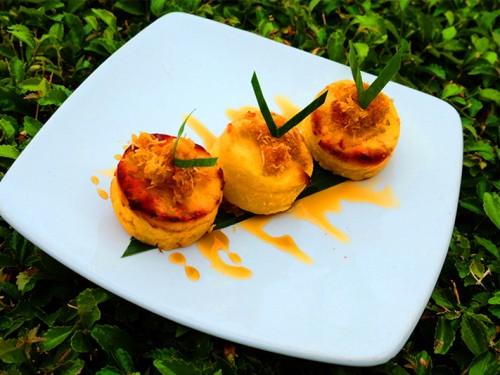 The afternoon breeze was cooling us down and starting to weigh our eyes to sleep. As we drove towards the exit, we circled around to enjoy the scenery. We passed the Mexico Garden, where you can find many kinds of cactus under frangipani trees, what a mix! We slowed down at an amazing lane with giant, leafy tree pillars on both sides, soothingly photogenic. On the exit gate, we saw much more visitors buying tickets to come in and enjoy the rest of the afternoon. I remembered once, coming here so early in the morning just to find myself mesmerized by the Lotus pond in front of the Presidential Palace.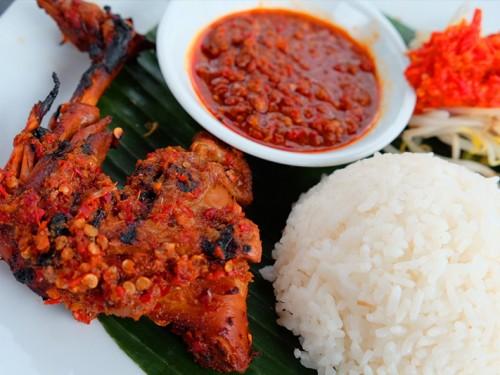 Such a bless to be able to inhale Bogor's morning fresh air among such wondrous garden. Come by and find your favorite soothing niche here. I'm warning you, that it's going to be aplenty!