At the most eastern end of the photogenic island of Java lies the province of East Java. With capital Surabaya,- the second largest city in Indonesia after Jakarta – it is home to the longest bridge ever built in the country: the Suramadu Bridge. Suramadu spans the distance between the city of Java and adjoining Madura island. More importantly for tourists Surabaya has some of the most delicious cuisine. Getting there is easy. Fastest take the plane, which takes about an hour from Jakarta. The executive train is your second alternative. It is comfy but of course takes longer, or else travel by car or overland by bus. If you take the longer journey it will give you the advantage to take in the rhapsody of nature that unfolds its most scenic sides through your window.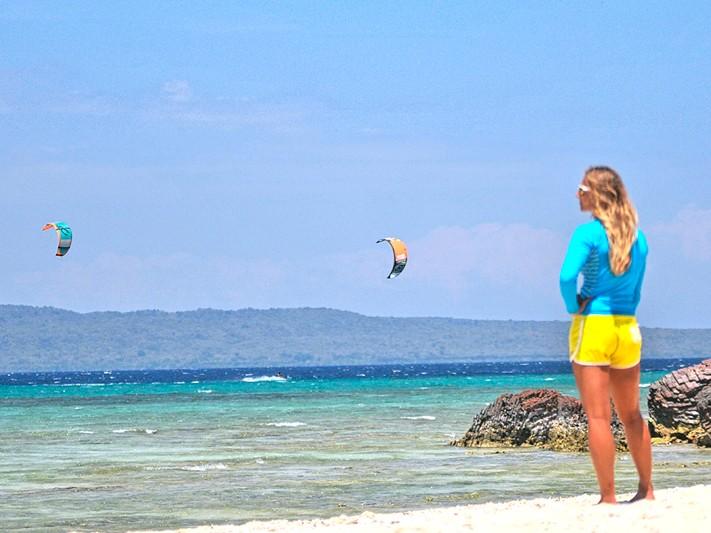 The largest regency in East Java is the district of Banyuwangi at the most eastern section of Java, famous as a surfers' paradise, white beaches and fantastic annual parade. Banyuwangi lies just across the island of Bali.Australian surfers have long made this their own secluded paradise because of its huge barrels in the Indian Ocean, but lately it has risen on the tourism map because of its spectacular costumes parade worn by hundreds of models in the annual Banyuwangi Fashion Carnival, where runways are transformed into collosal runways. These costumes are now regularly worn by Indonesian contestants in international beauty pageants, from Miss Indonesia to Miss Universe.
Additionally, the unique crater of Mt. Ijen - which also lies in the district of Banyuwangi – that is famed for its sulphur and blue flames, has made it into the travel series on CNN.
Another popular destinations in East Java is the apple-growing city of Malang. With its cool climate, mountain scenery and refreshing breezes, Malang and its adjacent town of Batu have long been a retreat for Dutch planters during colonial times. So, besides its nostalgic atmosphere and cuisine, Malang and Batu have now added new unique parks with special themes, such as the Museum Angkut and Batu Secret Zoo which are musts to visit, great to enjoy to spend the day with the whole family.
East Java is also home to the iconic Mount Bromo, where visitors can watch an unbelievably spectacular sunrise ove a number of mountain peaks that seem to grow out from a desert crater. When Bromo is not active, you can cross the desert on ponies then climb hundreds of steps to the still fuming craterlip and watch the first rays of the sun light up the sky.
Although there are many hotels in Surabaya, Banyuwangi, Malang and surrounding Bromo, if you are looking for budget hotels, here is a shortlist of Homestays to choose from:
1 | Krowi Inn 
read the review here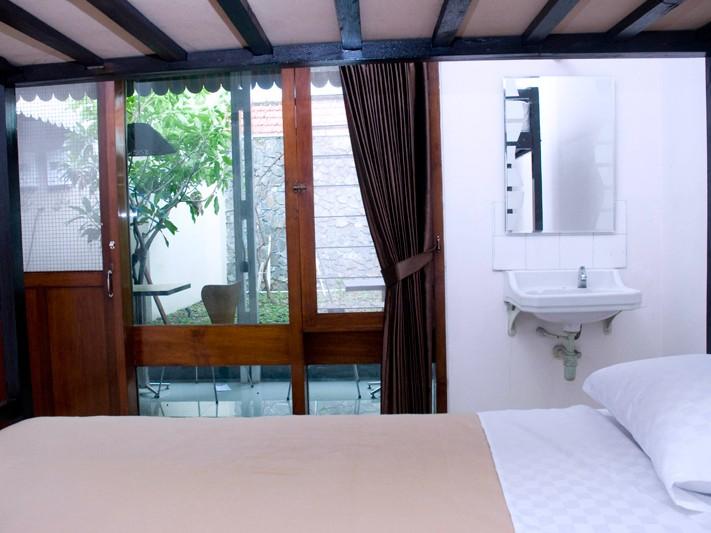 A pleasant place to go on a budget with its comfy bed and air conditioned rooms close to a shopping center and cinema. The Bromo-Ijen tour will also be available to book here at a more economic price than through other agencies. It lies close to the Joyoboyo bus terminal that has many smaller local transport to go around the city. Info on local tourism destinations and self guided Surabaya map along with transport instruction are available for tourists to take note, since it doesn't come as take out flyers. A common Indonesian breakfast of noodles and poached egg will greet your day here and power you to go on an adventure tour.
2 | Didu's Homestay
read the review here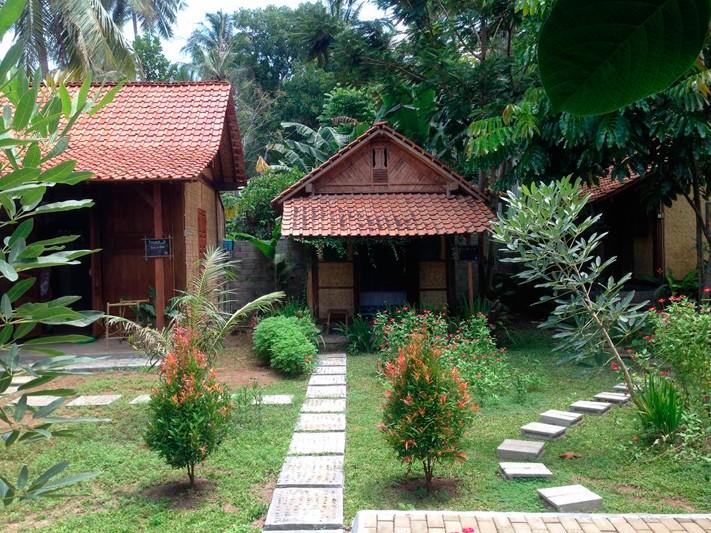 These traditional styled homestay houses are built from local bamboo with an outdoor bathroom. Located near the train station, which is just a short walk away, this can be your perfect stay, especially when you are on your way to Mt. Ijen to witness its mezmerising blue fire. They have super friendly staff who will serve you like family. They can arrange transportation along with your preferred tour around Banyuwangi. Tasty food and a common area to hang out are just nice to chill at the end of a good day of exploration.
3 | Kawah Ijen Inn
read the review here
Here is an authentic homestay experience in the middle of a beautiful lively village. With vivid and colorful facade, the building stands out from the rest of its neighbours. A friendly host and his family will welcome every visitor with true hospitality and kindness. A cozy place to relax with home cooked meals will energize you throughout your adventure to Ijen Crater.
4 | Istana Petani Homestay 
read the review here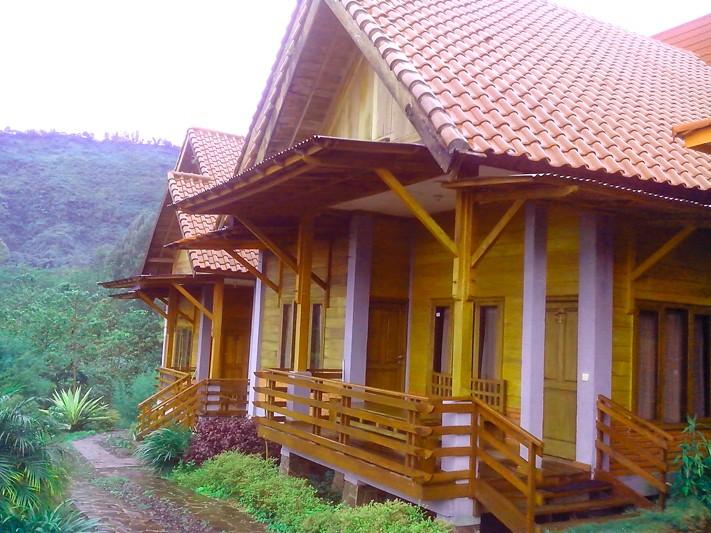 Here are spacious rooms, a working wifi in the lobby area and is located on the way to Mount Bromo, which can be seen from the sunnyside of this simple homestay. Choices of cottages and standard bedrooms, hot tea and coffee are served to help you cope the cool temperatures. Reasonably priced, here are a helpful owner and great surrounding view, which are always a positive plus.
5 | Rani Homestay
read the review here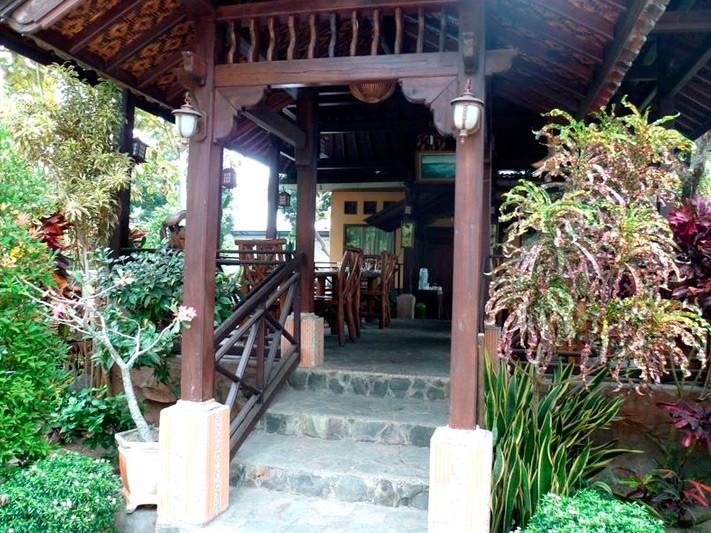 A neat and clean place to stay during your travels to Malang. A semi-outdoor communal dining space with great fried banana and sea food dish are available to enjoy at a reasonable price. Pick up and drop off services are available upon request to the airport and other tourist destinations around the facility. Besides the obviously magnificent experience of a trek to Mount Bromo, you can also arrange tours to the magical waterfalls of Madakaripura and Cunca Rami.
6 | Aventree Resto and Homestay  
read the review here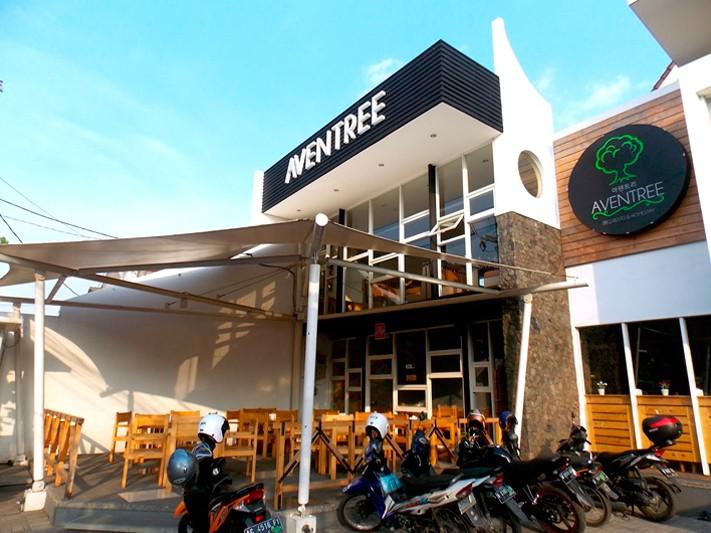 This is a unique and innovative merge between a homestay and a Korean Restaurant. It is designed in a recent modern chic style, providing basic accommodation at a reasonable price. Wifi, hot water, TV and Air conditioned rooms are a luxurious facility that you can enjoy here. A family of the owner may not be available here as at other typical homestays, but warm and helpfull staff are all you need to checklist all your itinerary goals.
7 | Doho Homestay  
read the review here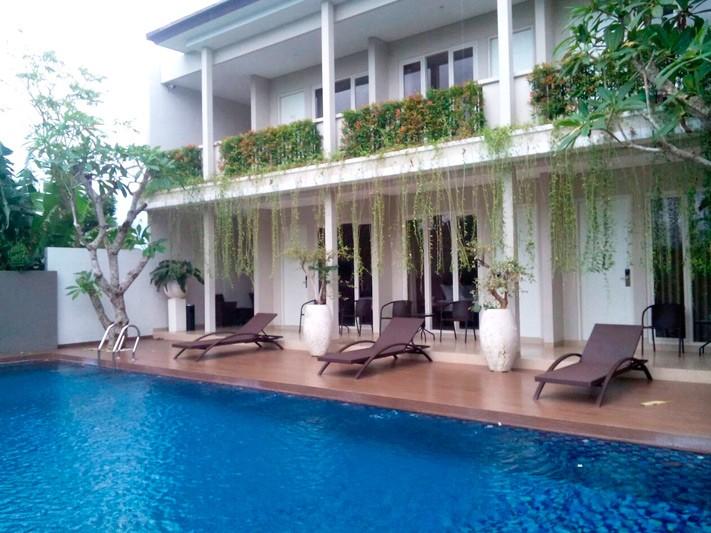 This is one of the more upscale homestays, with pools and modern feel. Many choices of room size are available, but wifi only covers the dining area. There is a good ambience throughout the facility and is located near to town center. Jember annually also holds a very attractive costume festival that resembles the Mardi Gras parade. The homestay also grows plenty of greeneries to freshen up your holiday mood.
Before visiting East Java, best check early to confirm the schedule of the many festivals and events that may be held in various cities in this province. Mt. Bromo and Mt. Ijen are also closed at times when there are volcanic activities that may be dangerous to visitors.
Do visit wonderful East Java soon and may you have plenty of fun on your holiday!