The largest most-northerly city in Indonesia, Manado is not only the capital city of North Sulawesi but also gateway to some of the most magnificent wonders in the province. Facing the vast blue open seas and backed by a number of looming active volcanoes, Manado spells fantastic diving, adventures through the wild and various cultural heritage attractions. Its wide Pierre Tendean Boulevard bordering the water edge is lined with top class hotels and restaurants serving mouthwatering and spicy Manado cuisine.  
This region is predominantly Christian, so you will find churches at almost every corner. A statue of Jesus Christ rising above Manado, blessing the town, is the second tallest Jesus Christ statue in Asia and the 4th largest in the world.  But there is also a sizable Chinese population here, so that Chinese New Year, Cap Goh Meh, and other traditional Chinese festivities are held in grand scale, especially around Chinatown and the Ban Hin Kiong Temple.
So, prep your gears! Book your flight! And get ready to try some of these amazing experiences in and around the city of Manado:
1 | Dive  spectacular Bunaken and Lembeh Strait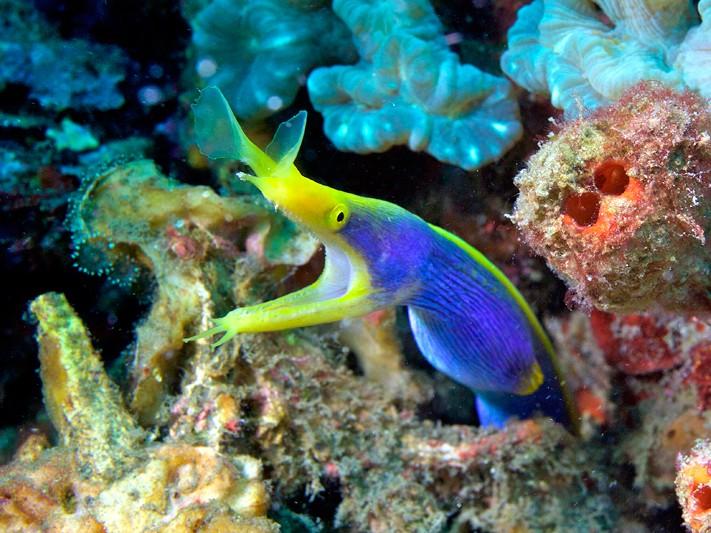 If you are an avid diver or underwater splendor enthusiast, then Manado is definitely a perfect destination for you.  Just off shore along the bay of Manado, the Bunaken National Marine Park definitely offers some of the most amazing diving experiences in the world. In this spectacular underwater paradise, you can see an abundance of unique sea creatures of different shape and size and colors, swimming along steep vertical coral reefs that plunge 25-50 meters deep. Cruisers take passengers to the islands.  
The breathtaking underwater life of Bunaken extends to Manado Tua Island. Here, you can find larger fish such as the napoleon wrasse, giant trevally, eaglerays, snappers, groupers, and -occasionally-hammerhead sharks.
Meanwhile, the Lembeh Strait by the port town of Bitung, just a few hours' drive away from Manado offers some of the most unique and amazing sea critters that are the darling of macro photographers. Here, you can have an up-close and personal encounter with the hairy frogfish, mimic octopus, pygmy seahorse, nudibranch, and a plethora of other amazing critters.


2 | A close encounter with the Tarsius  - icon of Faithfulness and Romance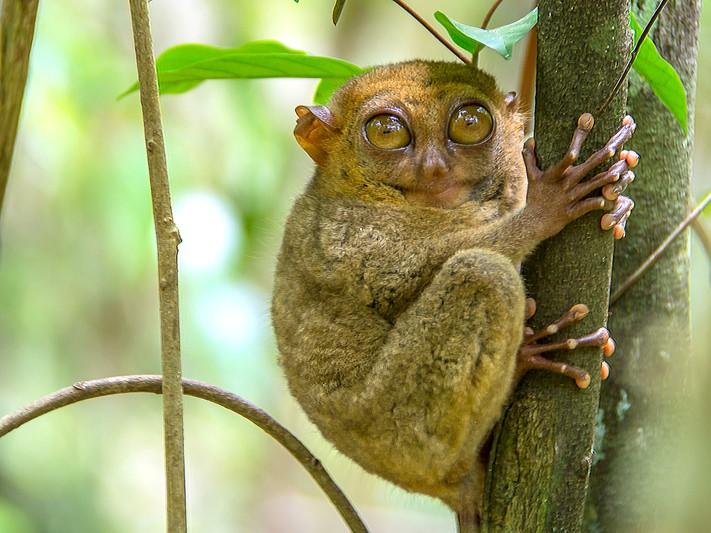 If you think strange wildlife can only be found underwater, well guess again, those roaming the thick forests of North Sulawesi are also equally spellbinding. Venturing deep into the night in the dense forest of the Tangkoko Nature Reserve near Bitung, keep an eye out for something that may stare back at you with its saucer eyes: a tiny nocturnal primate known as the endangered Tarsius (Tarsius tarsier). Otherwise called the spectral tarsier, these are the smallest primates in the world measuring roughly the size of a fist. The tarsius has only one mate and stays faithful throughout its life.  
Aside from Tarsius, Tangkoko Nature Reserve is also the home of the black macaque monkeys, Maleo birds, cuscus and hornbills.
If you do not have the time nor the courage to track into the jungle, the Tarsius can also  be seen at the Tandurusa Zoological Gardens –also in Bitung, where they share their home with babirusa wild boars, toucan hornbills, black cuckatoos, sea eagles, various species of snakes, and a whole lot more.


3 | Hiking up Mount Dua Saudara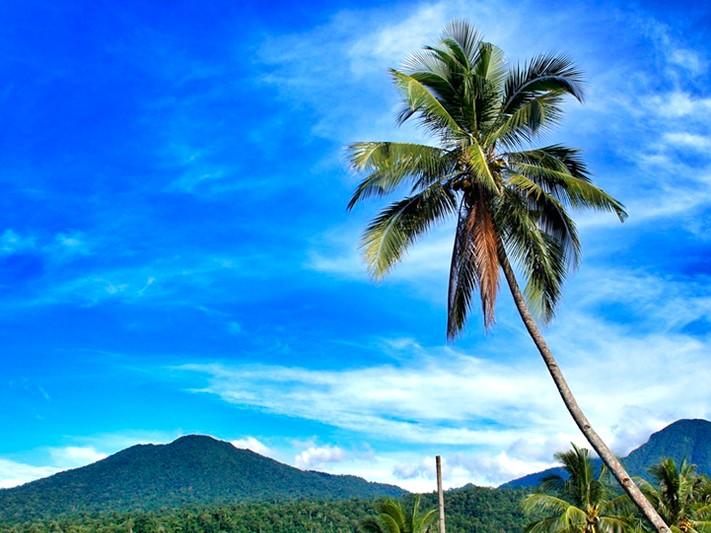 For those who enjoy hiking and mountaineering adventure, Mount Dua Saudara near Bitung offers dramatic scenery and most importantly the perfect challenge. Although it may not be as popular compared to other more famous volcanoes in Indonesia but its presence is a boon for local climbers. Standing at 1,351 meters above sea level, it normally takes about 4 hours to reach the peak, which is quite a challenging hike since climbers must sometimes wade through muddy patches.


4 | Unique Made-to-order Knock Down Houses in Woloan Village
Situated about 28Km from Manado, near the town of Tomohon, the village of Woloan has become famous for its industry in traditional knock-down houses that can be transported and re-assembled anywhere in the world. Mind you, these are real life-sized houses to live in and not mere miniatures or replicas. Along the main street of Woloan you will see a display of various houses where visitors can enter and admire and even order on the spot. The houses are built by skilled local carpenters using traditional methods and hard wood, so that houses are sturdy and well built, but can still be easily knocked down for re-installment elsewhere. Traditional Minahasa houses are built on pillars and stand 3 meters above the ground. There are typically a pair of stairs in front and at the back of the house, one on the left and the other on the right both leading to the main door.


5 | Visit the Antique Ban Hin Kiong Temple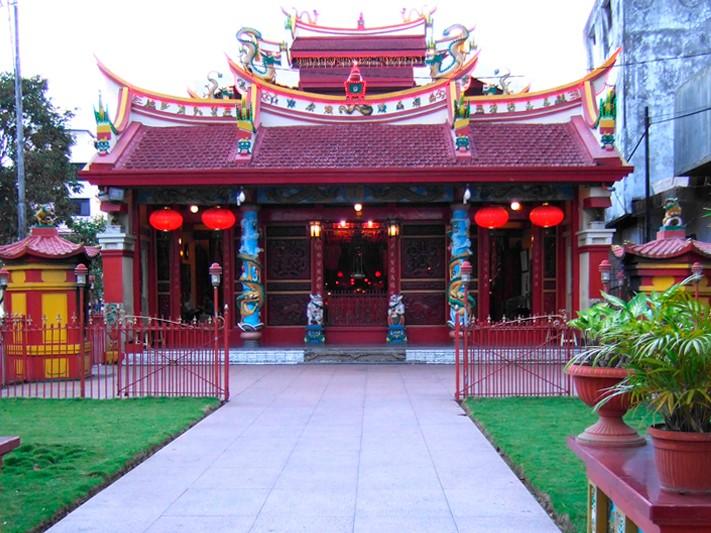 The beautifully designed Ban Hin Kiong Temple in the heart of Manado's China Town is 335 years old and is the oldest Chinese temple in the eastern part of Indonesia. Believed to have been built during the Qing Dynasty era in China (1644-1911), it serves as a house of worship for the Tridharma followers from Manado and the region. The Ban Hin Kiong temple is indeed very unique for its architectural design. More importantly, this temple is the center of traditional Chinese festivities such as Imlek (Chinese new Year), Cap Go Meh, and Toa Peh Kong.
6 | Mouthwatering Cuisine at the Boulevard, Wakeke Street and Kalasey beach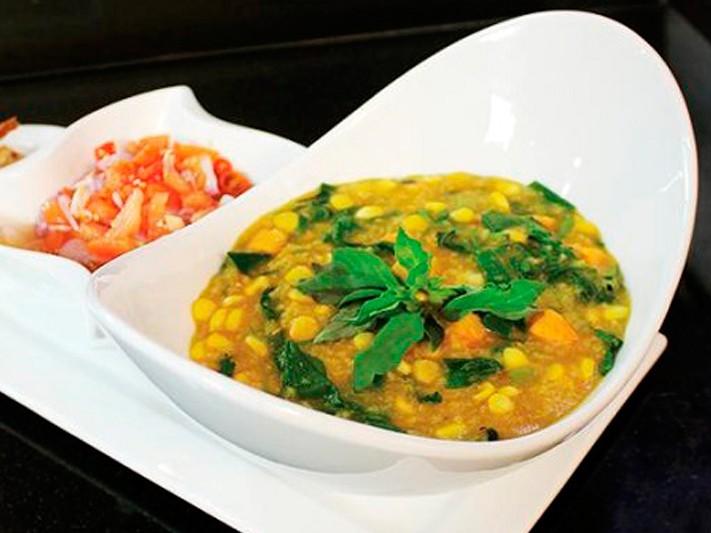 No trip is complete without tasting the true flavors of a place.  Manado cuisine is popular throughout Indonesia for its fresh spiciness. Specially loved are the Sambal or chili condiments.  In Manado, the perfect place to search for food is at the Pierre Tendean Boulevard or most commonly known as Boulevard Area by the sea. It is also the best place to watch a romantic sunset.  Another popular area is Wakeke Street dubbed the Culinary Tourism street or go to Kalasey Beach for seafood any style just caught from the sea.   
For a true Manado flavor do try the Tinu'tuan rice porridge which is a nutritious breakfast meal with its unique and delicious rich flavor. Manado food varies from spicy hot to hottest, but is outstandingly delicious. Those not used to hot food, make sure to say so when ordering.  Try the Cakalang fufu or smoked tuna fish, or the special fish, chicken, meat, or pork Sate.
With a predominantly Protestant and Catholic population, pork dishes can be ordered here in many places.
Bringing a unique European taste, for dessert try Klappertaart, or coconut cake, a heritage from Dutch Colonial times. This is a yummy custard cake filled with big slices of fresh young coconuts. Or try Banana Fritters, eaten with chili hot sambal roa or fish condiment – a Manado specialty.