Budget holidays are not impossible if we can find special value deals for accommodation and transportation. Hunting for those airline discounts and hotel promotion packages are essentials to remain within budget. With the flourishing number of visitors of the world to  Bali island for vacation, nowadays both locals and foreign investors are eager to set up rentals.
Here, homestays, cottages, bungalows and villas are built in the most attractive way and are more affordable. These rentals usually provide common rooms, laundry and kitchen as added facility to ease visitors who wish to rent for longer terms. Some may even come with a private pool and multiple bedrooms for families.
Bali island can be distinguished into 5 large areas.  Choosing a place to stay in Bali depends on a number of considerations, such as what kind of activities you wish to try here. The number of people in your group, are you travelling alone, with spouse or larger group, all these play a huge role when deciding on where to stay.
1 | The Central
Central Bali is most popular for its' art, culture and natural wonders. Bedugul is a famous site to admire scenic panorama of mountains and lakes. Munduk cocoa plantation will amaze you with sceneries worth to explore by trekking through its lush green neighborhood. Ubud in the heart of Bali sits amidst the foothills, with fresh air and cascading rice fields. Art and dance centres with lanes of craft shops are scattered around this region. Here is a selection of some villa rentals to choose during your vacation:
a. The Sunrise House, a spectacular contemporary bamboo house in the Green Village. An architectural piece with distinctive blonde bamboo roofs. It comprises an incredible 4 floors, with 3 double-bed bedrooms, 3 en-suite bathrooms, kitchen, lounge, plunge pool and dining area with fabulous views.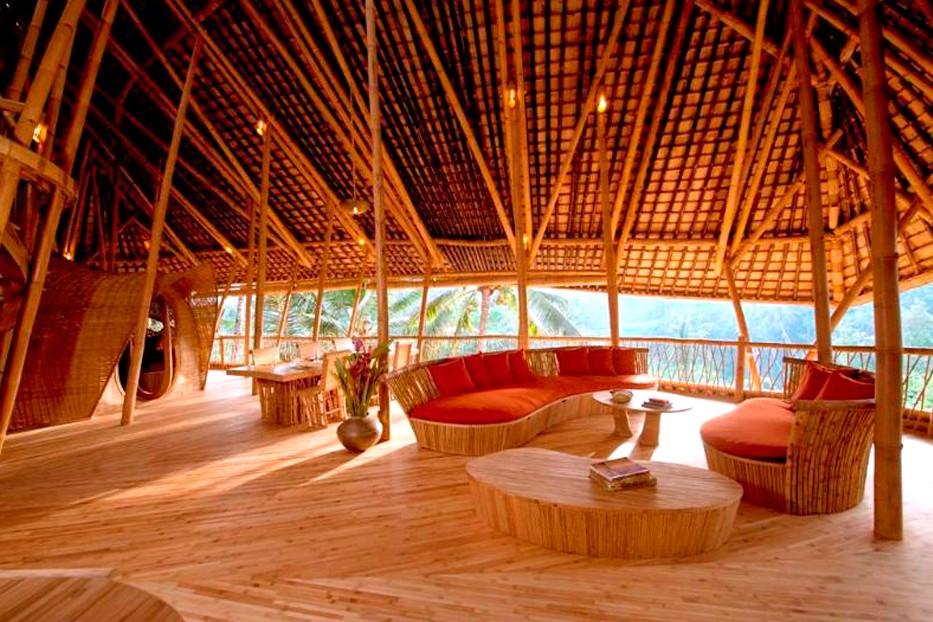 Image by tripadvisor
Read the review here.
b. The Chalet is a private retreat in Bali's agriculturally-rich district of Bedugul. The villa is situated on the hillside, in the lush highlands of Bali more than 1,500 meters above sea level, surrounded by picturesque mountain scenery. This villa consists of 2-bedrooms with open-space mezzanine, complete with fully equipped kitchen and hot-water bathroom. With a private passage to the golf field, where you can play golf just within walking distance.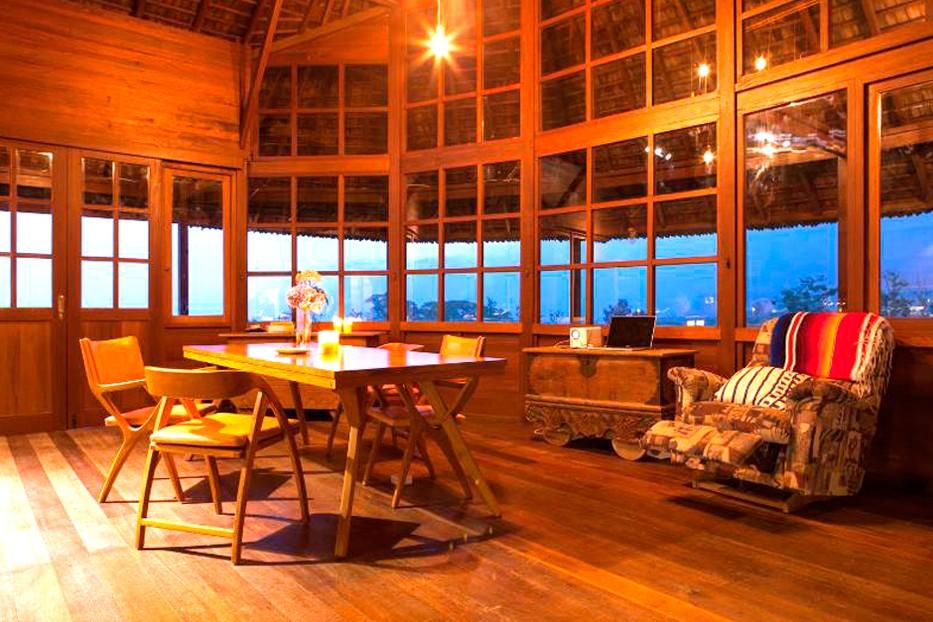 Image by tripadvisor
Read the review here.

2 | The North
North Bali is a coastal area with less crowded beaches compared to South Bali. Lovina is one place to enjoy an incredible view of a sunrise from a boat, with a chance to get up real close and personal to dolphins. Singaraja is the largest town in this area, and is the former administrative capital of Bali during the Dutch colonial period. Wide streets and old houses with large front yards give the city a different feel to any other part of Bali. Explore and trek through the shady rainforest to find the Gitgit waterfall.
Below are a few choices to stay during your holiday:
a. WaVi Cradle Cottage is eco-friendly, built from 80% wood, bamboo, and straw. Brick and cement are only used in the bathroom and kitchen areas. Inside the cottage is a nice loft to accommodate two people. Settled in the rural area, in the middle of gorgeous rice fields, this humble hut is a sanctuary away from crowds. By trekking around the neighborhood, you can discover 7 hidden waterfalls.
Read the review here.
b. Lovine V.3, a unique 3 wooden cabins in Lovina area, this is a place for peace and relaxation. It is located next to with a restaurant that serves authentic Indonesian cuisine. Close to the cabin is a beach, a perfect place to watch dolphins in the early morning, and enjoy the sky during sunrise or sunset.
Read the review here.

3 | The West
West Bali is largely within the boundary of the West Bali National Park. Gilimanuk, the harbour to cross to Banyuwangi on Java is located in this area. Negara is the capital town of Jembrana Regency, famous for the Bugis houses, Rambut Siwi temple and bull racing festivities in Delod Berawah. These are a few getaway spots you can check out:
a. The Bayview Lodge is located on a retreat shore on a curve of a peaceful bay at the edge of West Bali National Park. A restaurant, dive shop, and kayaking facilities are available in-house. Scuba diving and snorkeling to the Menjangan Island Marine Park or nature walking to the park are among options to explore in this region. It is located within 30-minutes' drive from the Bali-Java ferry harbor of Gilimanuk.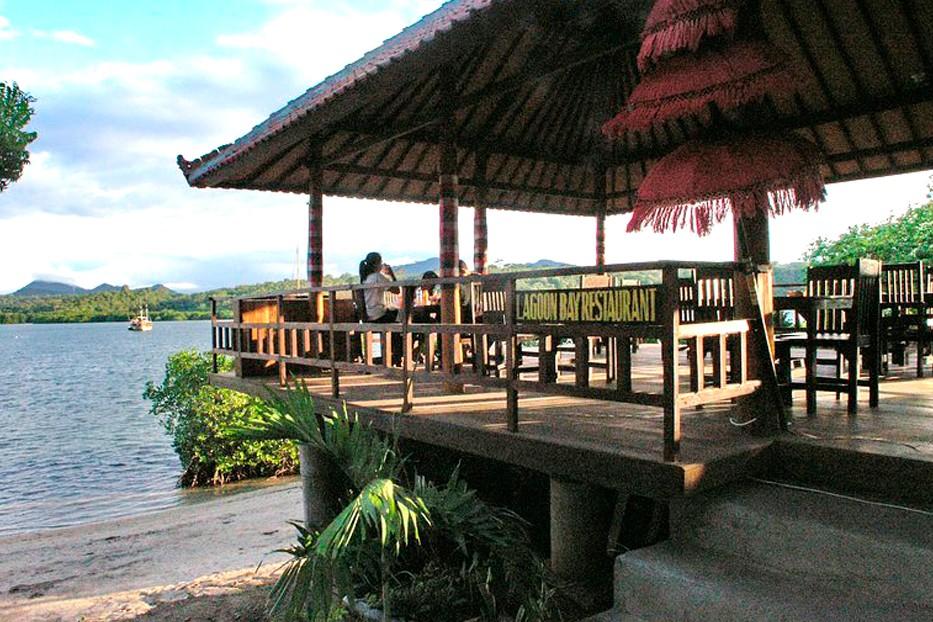 Image by tripadvisor
Read the review here.
b. The Melaya villas consist of three 3-bedrooms holiday villas, laid on 1 hectare beachfront land. The villas are luxuriously equipped with large pool and tropical gardens directly adjacent to the beach. The living area of the villa is an antique joglo - an open covered platform - brought from Java. Most of the joglo's parts are antique pieces with a truly authentic character.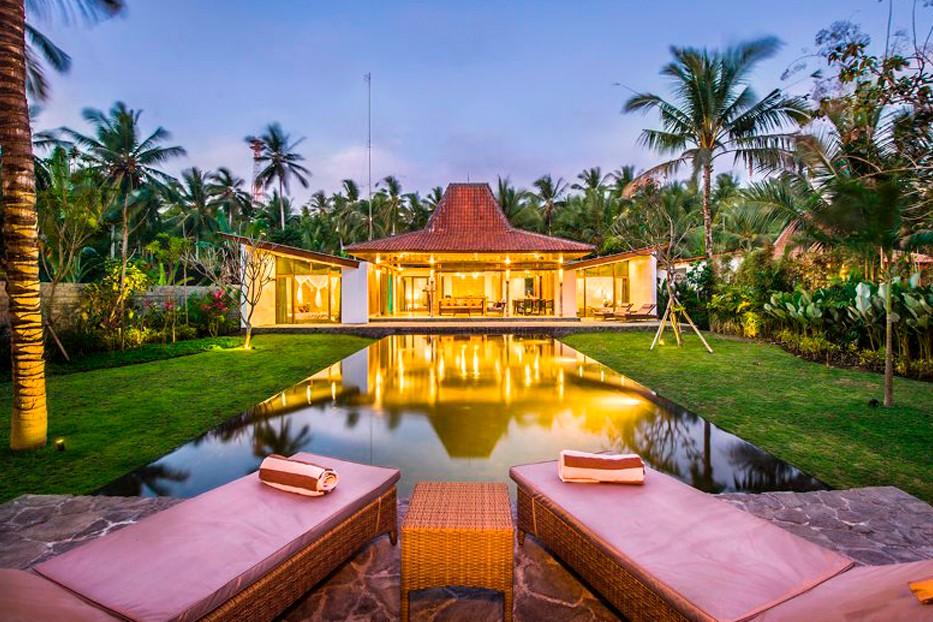 Image by tripadvisor
Read the review here.

4 | The East
East Bali is home to Padangbai. From here, you can continue island hopping to Lombok. Klungkung is a town with many historical traces and cultural inheritance. You can also visit the Gunarsa Museum of Classical & Modern Art at Takmung village. Candidasa is a coastal city, where you can visit the Tenganan village and meet the original Balinese community known as the Bali Aga. Sidemen is an ideal place to start plannning your trek up Gunung Agung.
These are two retreat choices to consider for your memorable vacation:
a. Villa Sidemen, also known as Villa Patal, is a unique villa originally belonging to the royal family of Sidemen who built it in the 1980s. It is a genuine Balinese house with lots of authentic intricate carvings on walls, doors and ceilings. Enjoy one of the most breathtaking views in the world, while relaxing on the terrace and admiring the stunning vista of Gunung Agung-Bali's sacred mountain-which is internationally regarded as one of the eight "Chakra" points of the world.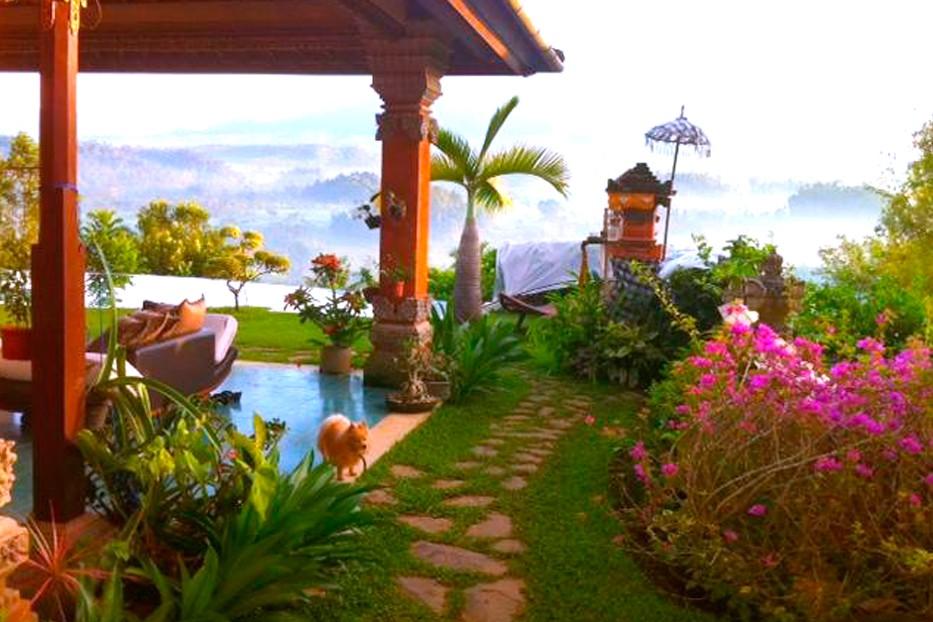 Image by tripadvisor
Read the review here.
b. Perched on a peninsula overlooking the beautiful bay of Candidasa. Samuh Hill Residence is situated in the middle of Balinese life and yet offers secluded sanctuary. Enjoy the most overwhelming view of the ocean while bathing in your infinity pool. The villa has all the luxury of a 250 square meter habitat, a tropical garden, ponds with beautiful water plants and fish.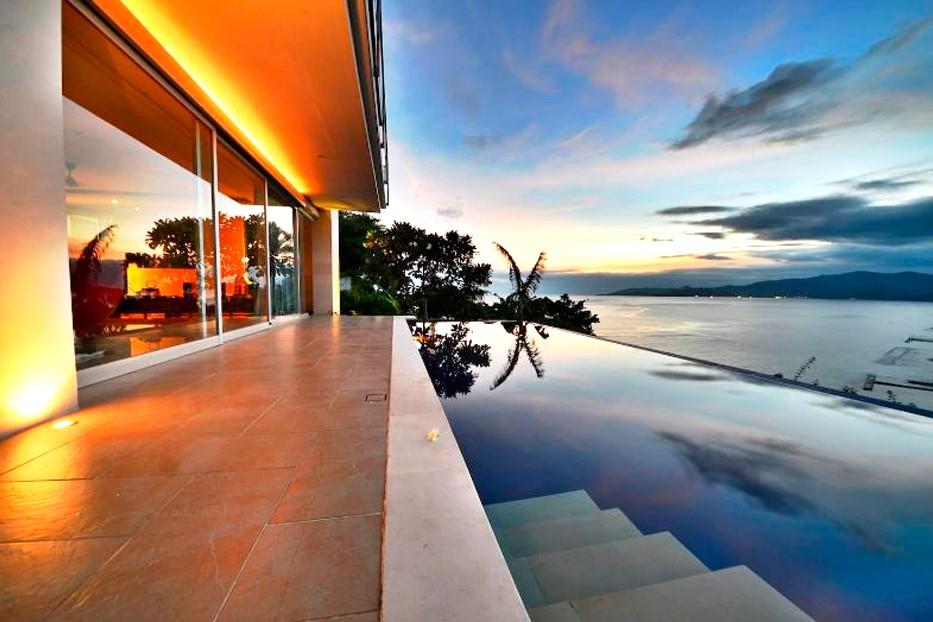 Image by tripadvisor
Read the review here.

5 | The South
South Bali is the most popular part of Bali. Every major tourist destination is located within this region. Denpasar is the capital city of the provinnce of Bali and transport hub of the island. Kuta is the melting pot of excitement and party goers. Seminyak is a more upscale district with high-end hotels and fine dining restaurants.
Legian is sandwhiched between Kuta and Seminyak, and has a mix ambiance of the two. Jimbaran is where you can enjoy fresh seafoods in rows of restaurants on the beach side. Sanur is a quiet seaside town where the older upscale resorts are built and enchant visitors, mostly from Europe. Listed here are vacation rentals you can try to look up:
a. Villa Cinta Ku, a 2-bedrooms modern Balinese style villa with swimming pool. Located in a complex of three modern Balinese style villas known as "The Getaway", this villa is nestled away in a quiet small street in Kuta-Legian region, securely tucked away in its own little oasis.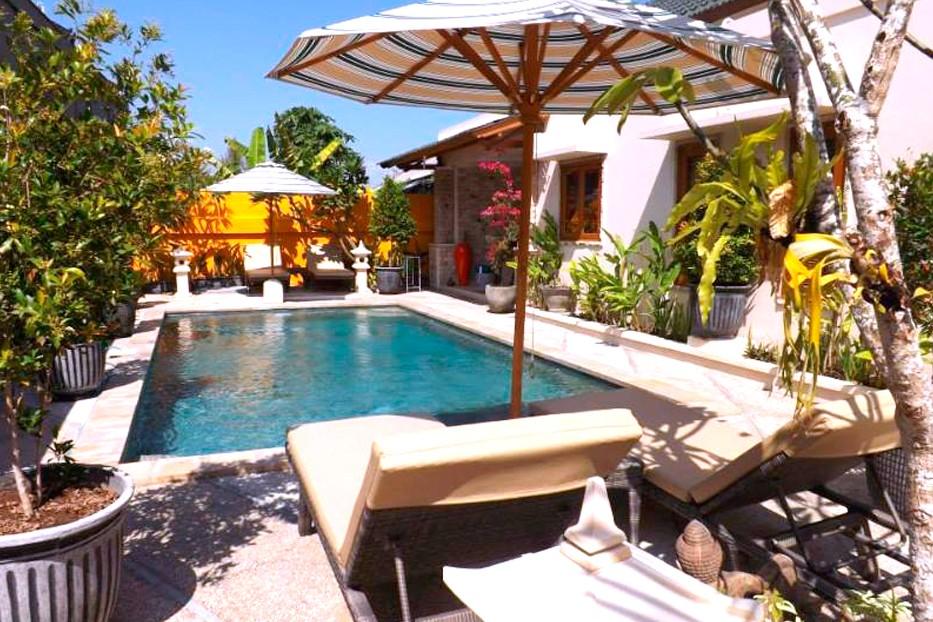 Image by tripadvisor
Read the review here.
b. This breezy and luxurious Seminyak Jl Bidadari holiday villa offers 2-bedrooms and bathrooms, with plenty of space to spread out. The interior is well-designed and the outside is landscaped for ultimate relaxation, with access to a private pool, gardens and sun beds. For your total comfort, the bedrooms are thoroughly air conditioned. Both full bathrooms offer hot water, a shower and bathtub.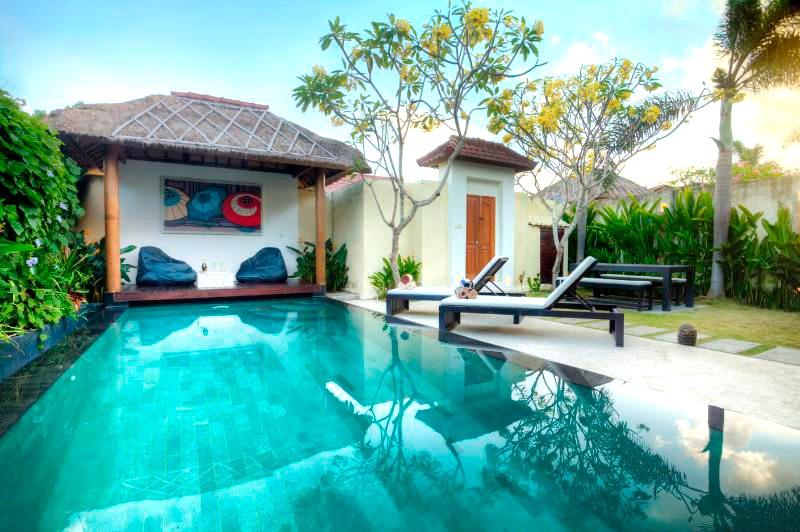 Image by tripadvisor
Read the review here.
c. Villa Alma. This amazing quiet and peaceful private 3-bedrooms villa is located in the heart of Legian, only a few steps away from the beach, shops and fabulous restaurants. Villa Alma is surrounded by beautiful tropical gardens and a spacious 40 square meter swimming pool. The villa is beautifully designed and furnished to the highest quality.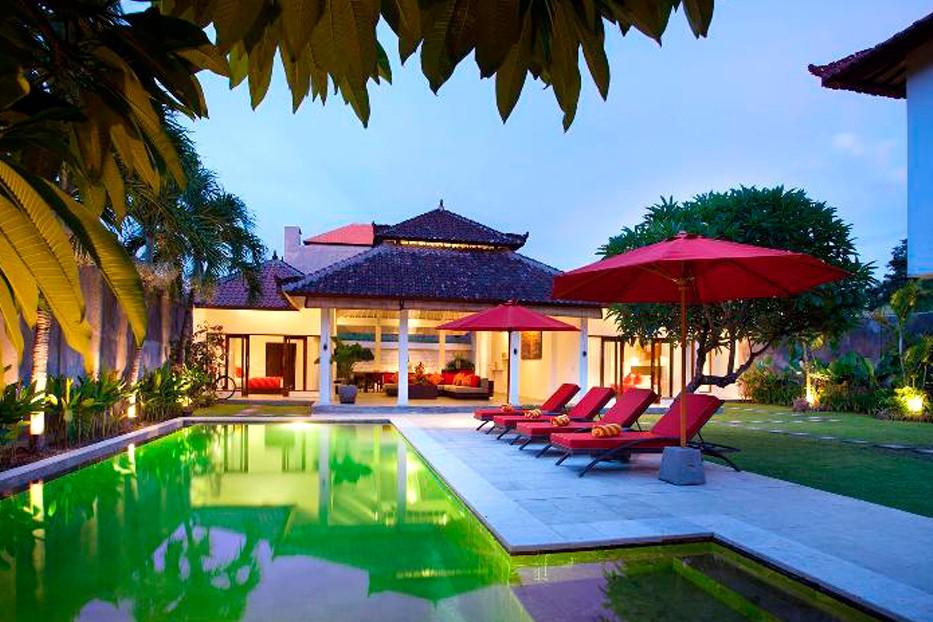 Image by tripadvisor
Read the review here.
d. Villa Karang Kirana, which means ray of beautiful light at the cliff, is a private luxury Villa overlooking the Indian Ocean. The Villa is built on pristine land adjacent to cliff with access to the famous Pandawa beach. The property comprises three charming bedrooms, a sun-deck by the pool and a luscious tropical garden. The openness and wilderness of the surroundings bring a sense of tranquillity that soothes the senses.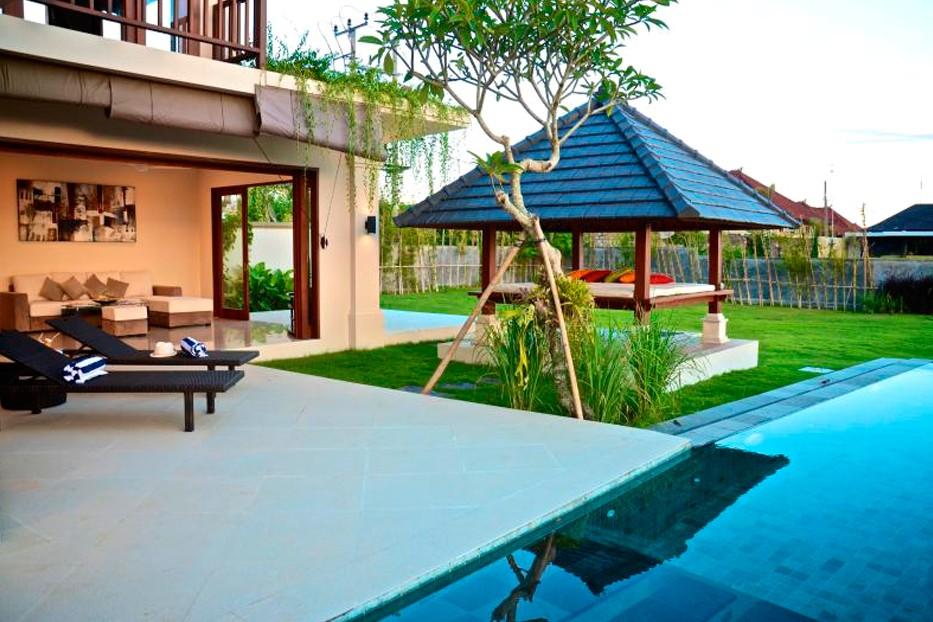 Image by tripadvisor
Read the review here.
e. Set in lush tropical gardens, the Colonial Villa is in a unique style. This villa is located within a 2-minutes stroll to the sandy shores of Sanur and a 5-minutes walk to the dining and shopping areas in Sanur. This two-story villa on 350 square meter offers 3-bedrooms; one master, one twin and an additional guest room with a kingsize bed, all equipped with private bathroom. Bright and airy, the living area is furnished with elegance and taste, and also comes with a private pool.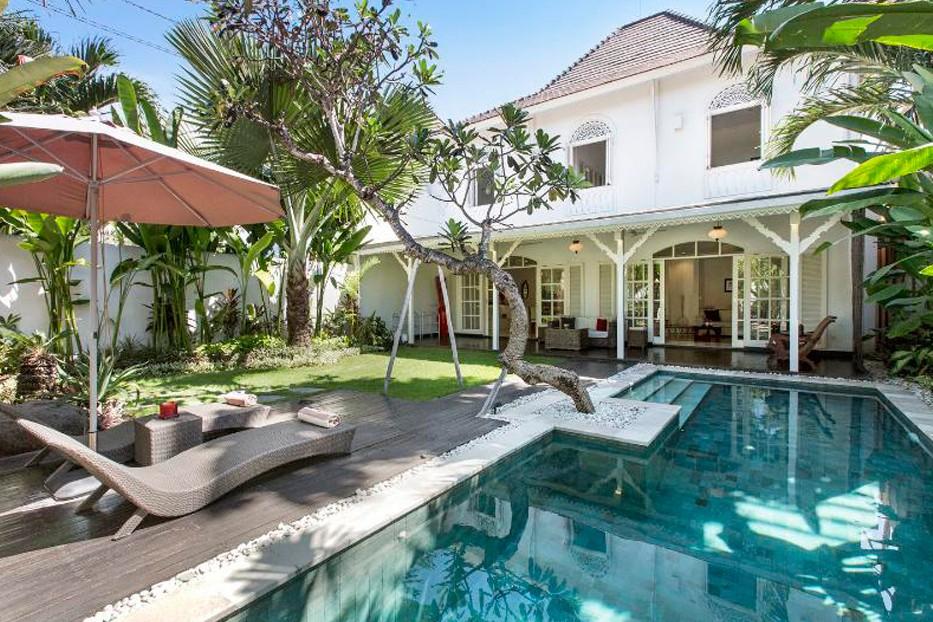 Image by tripadvisor
Read the review here.
Now that you have plenty of information, you can start planning your splendid holiday accommodation. With the overview of each Balinese region and their own distinct characteristics you will be able to pin point the special place where you wish to stay in.
Finding a nice, cozy and affordable place to spend time while excitedly experiencing every new adventure Bali has to offer is the start of your perfect budget holiday.