Bali has always been a favorite honeymoon destination, and therefore, the island of the gods is full of romantic hotels and restaurants. With Valentine's Day coming, you should start looking for a place to spend the evening with your sweetheart. From cliffside dining under the beauty of the mauve twilight sky to romantic riverside dinner for two, Bali has some of the most romantic dining sites. Here are six of the most beautiful restaurants to spend Valentine's dinner with your beloved.
1 | Cliffside dinner at Rock Bar, Ayana Resort and Spa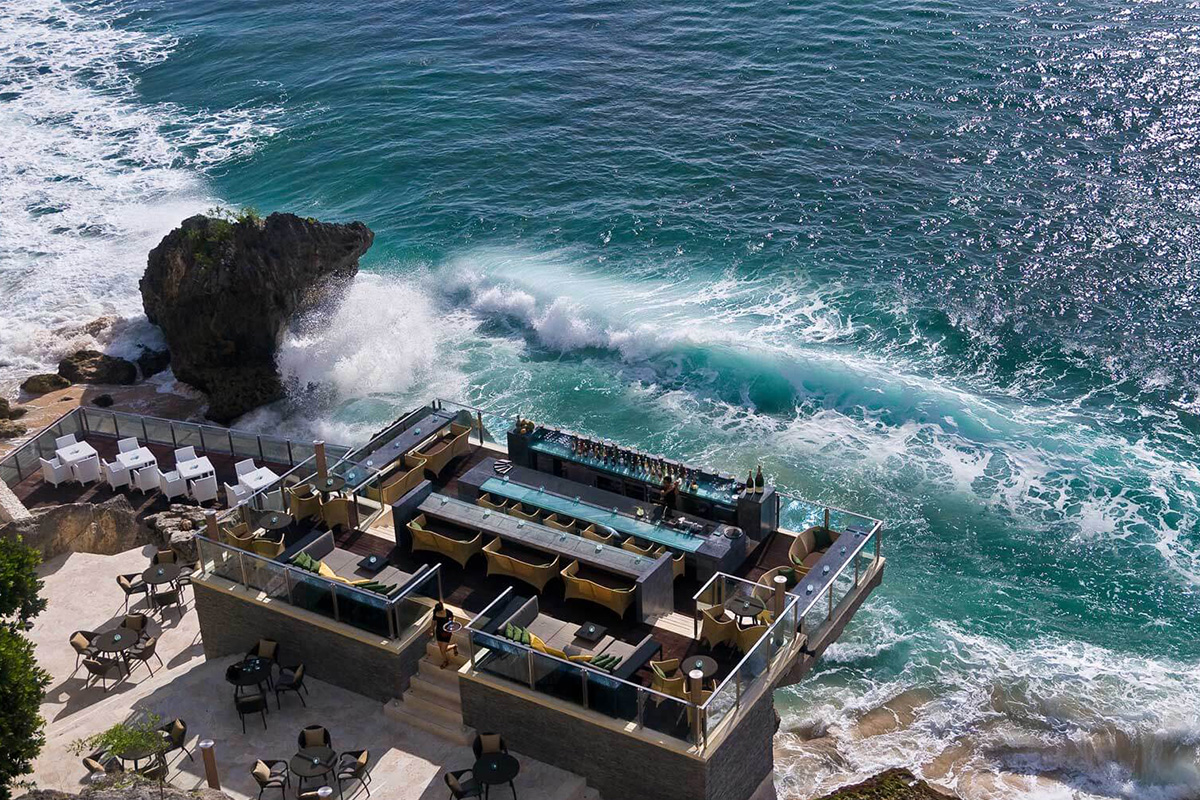 Image source: www.ayana.com
Rock Bar sits majestically 14 meters atop of a cliff in Krisik Beach, Jimbaran overlooking the Indian Ocean. The sound of crashing waves and the breeze of the ocean wind as the sun sets on the horizon creates a truly beautiful ambience that will reignite the chemistry between you and your beloved. The lavish establishment has a VIP deck for 18 guests, in addition of more than 800 guests capacity overall.
To reach the lavish establishment, it takes around 30 to 45 minute drive from Kuta, followed by a cliff inclinator ride. Visitors are suggested to book a table first and wear smart attire, that means no singlets and slippers.
Address: Jl. Karang Mas Sejahtera, Jimbaran, Kuta Selatan, Kabupaten Badung, Bali 80364
Hours: 4 PM - 12AM
Phone: (0361) 702222
2 | Cave Dining in Samabe Bali Suites & Villa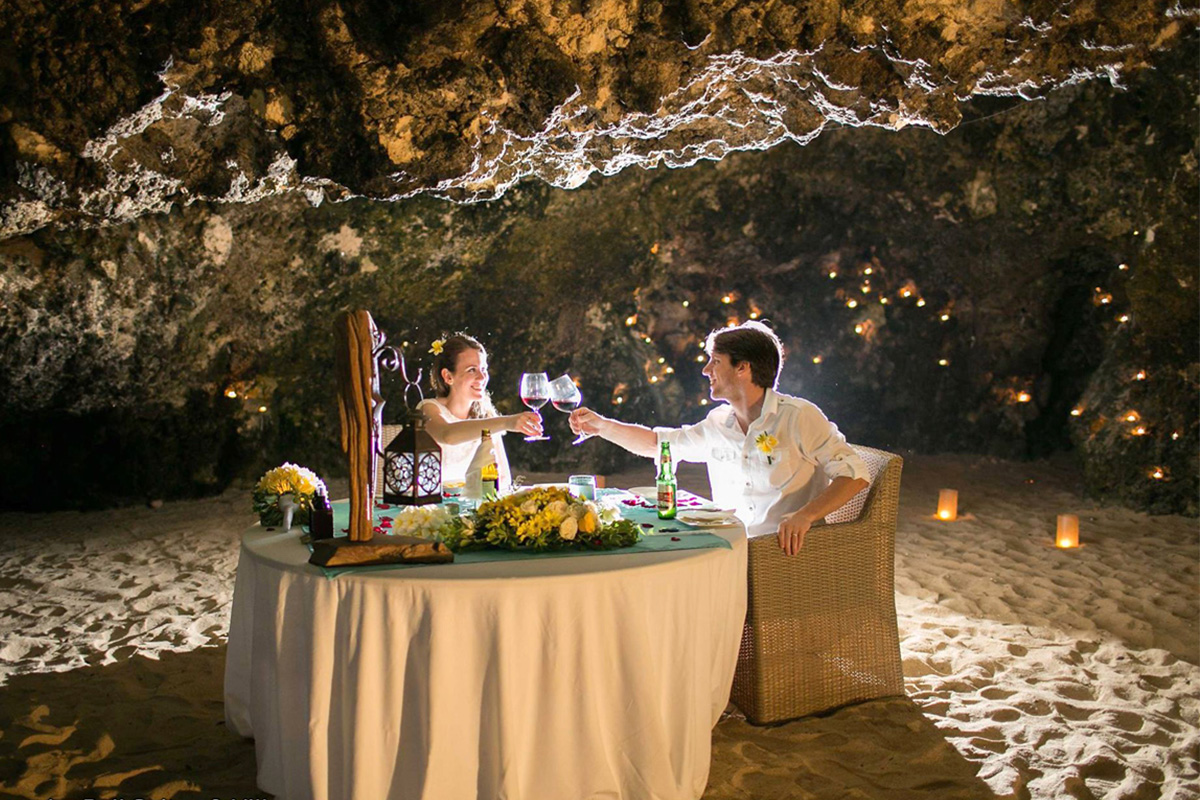 Image source: www.samabe.com
Dinner with your beloved in this restaurant is a one-of-a-kind romantic experience. Dinner is catered in a small cave in a private island, where a small amount of visitors will be accompanied by a servant. Inside the cave, which overlooks the beach, couples can enjoy a candle light dinner with various mouth-watering food with the sound of rolling waves and unparalleled ocean scenery.
Address: Samabe Bali Suites & Villa, Jl. Pura Barong – Barong Sawangan, Nusa Dua, Benoa, Kuta
Phone: +62 361 8468633
Hours: By request
3 | Private Tent at Tirtha Bridal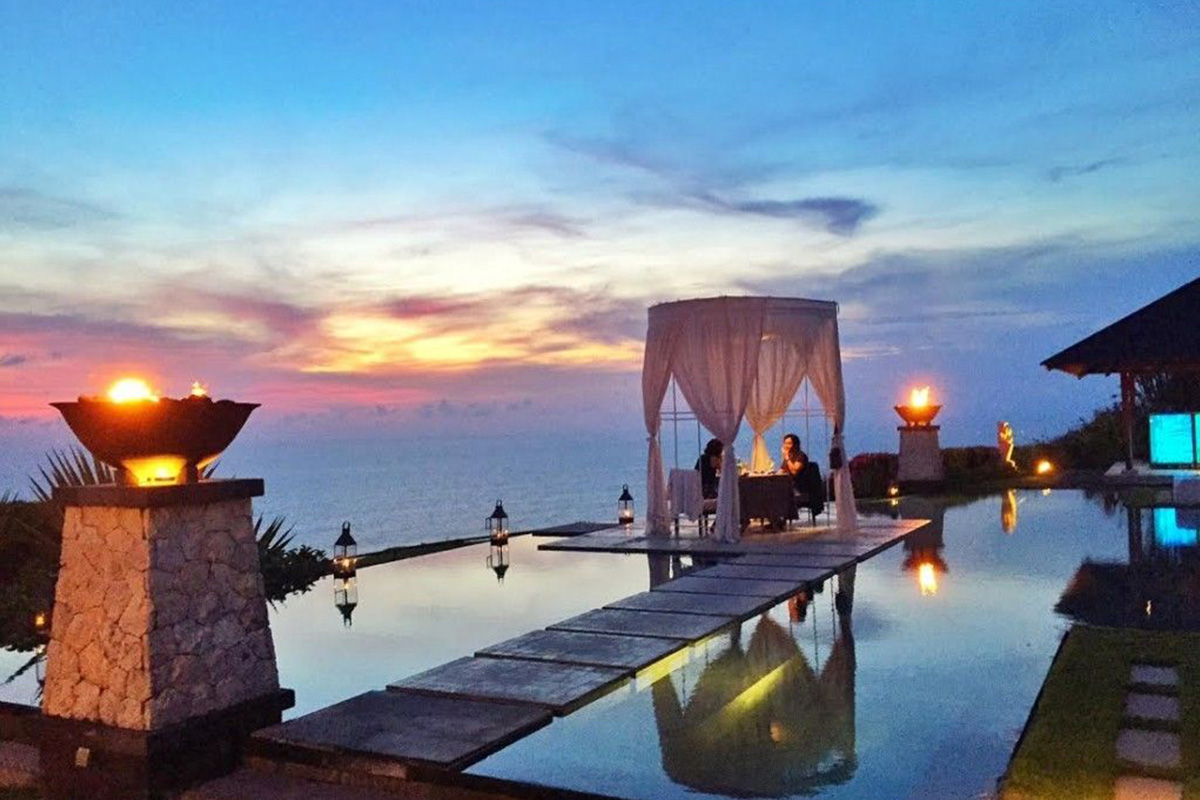 Image source: www.qraved.com  
Specifically designed for wedding purposes, this spot will be a suitable choice for you who are planning to get married on Valentine's Day in Bali. Located in Uluwatu, this spot has three tent locations for couples. The first is Glass Dining, which is set on a cliff edge with only a table served each night. The second, namely The Cliff Top Bale, is a wooden gazebo with accents of small lights and candles scattered around the table. Finally, The Pool Deck offers a classic and elegant ambiance with curtain accents.
Address: Jl. Uluwatu Br. Dinas Karang Boma Desa Pecatu, Bali
Phone: +62-(0)82-8361-1111 / +62-(0)81-6470-1020
Hours: 11 AM – 10 PM
4 | Love Birds Dine in Nest of La View at Kupu Kupu Barong villas and Tree Spa, Ubud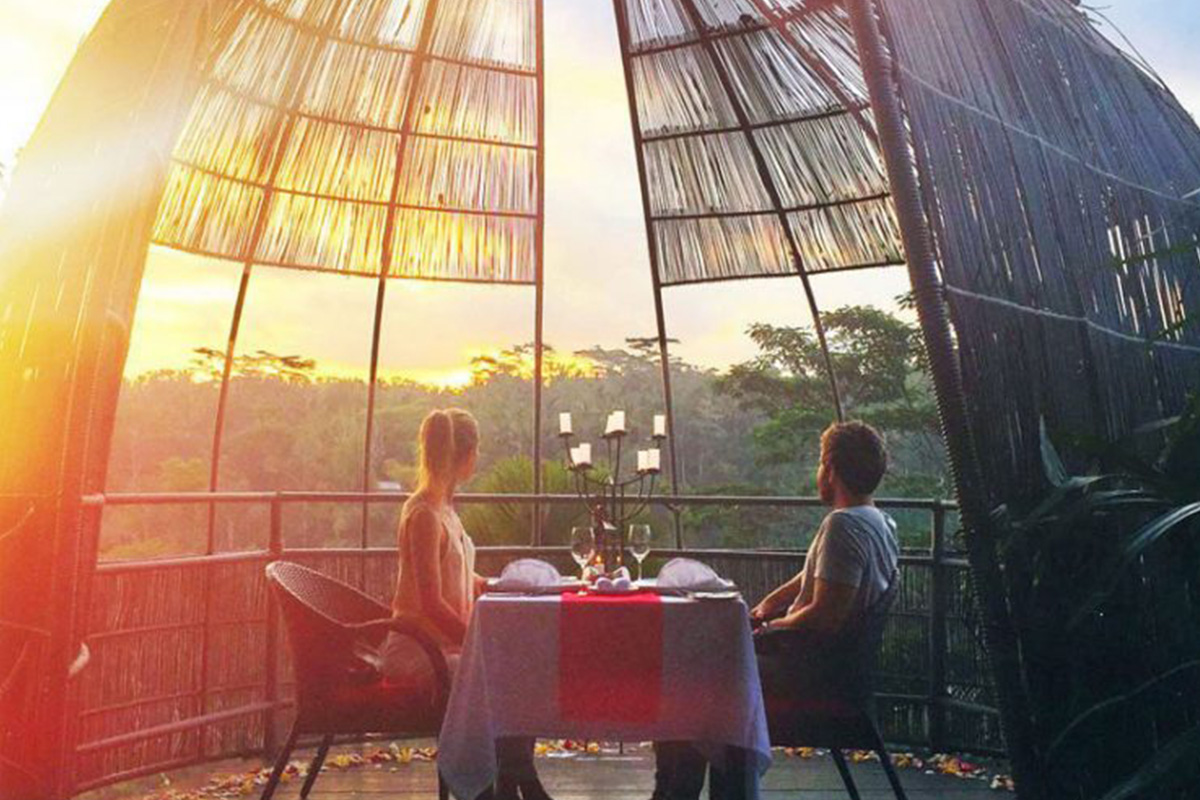 Image by: @misscatherinemack
With its location up on a hill surrounded by a forest, La View visitors has a sweeping bird's eye view over a valley as they dine. The restaurant, which serves local cuisine, offers a breath-taking view of Ayung River.
Address: Kedewatan P.O. Box 7 Ubud, Kedewatan, Ubud, Gianyar, Bali 80571
Phone: (0361) 975478
Hours: 7 AM – 11 PM
5 | Dinner at Segara Dalem Temple in the Hanging Gardens Ubud Resort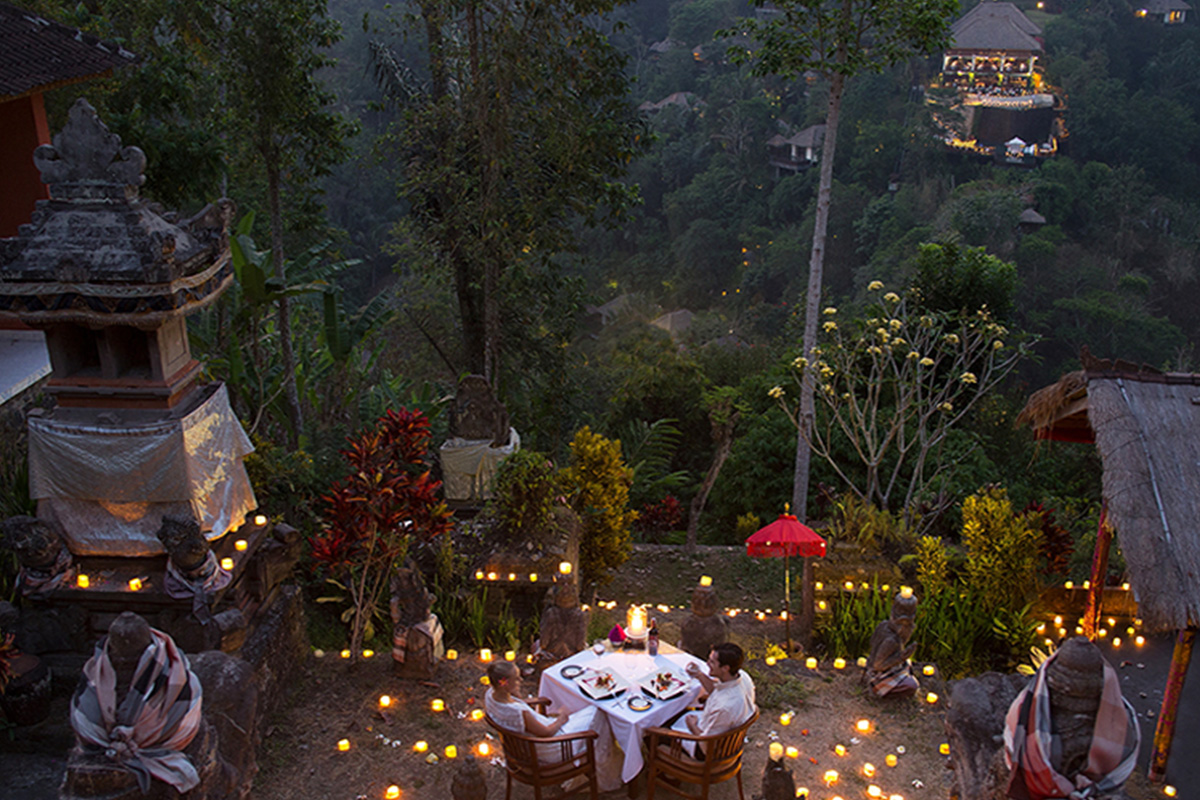 Image source: www.hanginggardensspa.com
The Garden, located in the compound of Hanging Gardens Ubud Resort, is a restaurant overlooking the serene Dalem Segara Temple. The refreshing breeze of Ubud creates a perfect atmosphere that will arouse your romance as well your appetite. The Garden is a suitable place for couples looking to reignite their flame for an everlasting love.
Address: Banjar Susut, Desa Buahan, Payangan, Buahan, Payangan, Buahan, Payangan, Kabupaten Gianyar, Bali 80571
Phone: (0361) 982700
Hours: 6.30 AM – 10.30 PM
6 | Riverside Romance at Kubu, Ritz Carlton Mandapa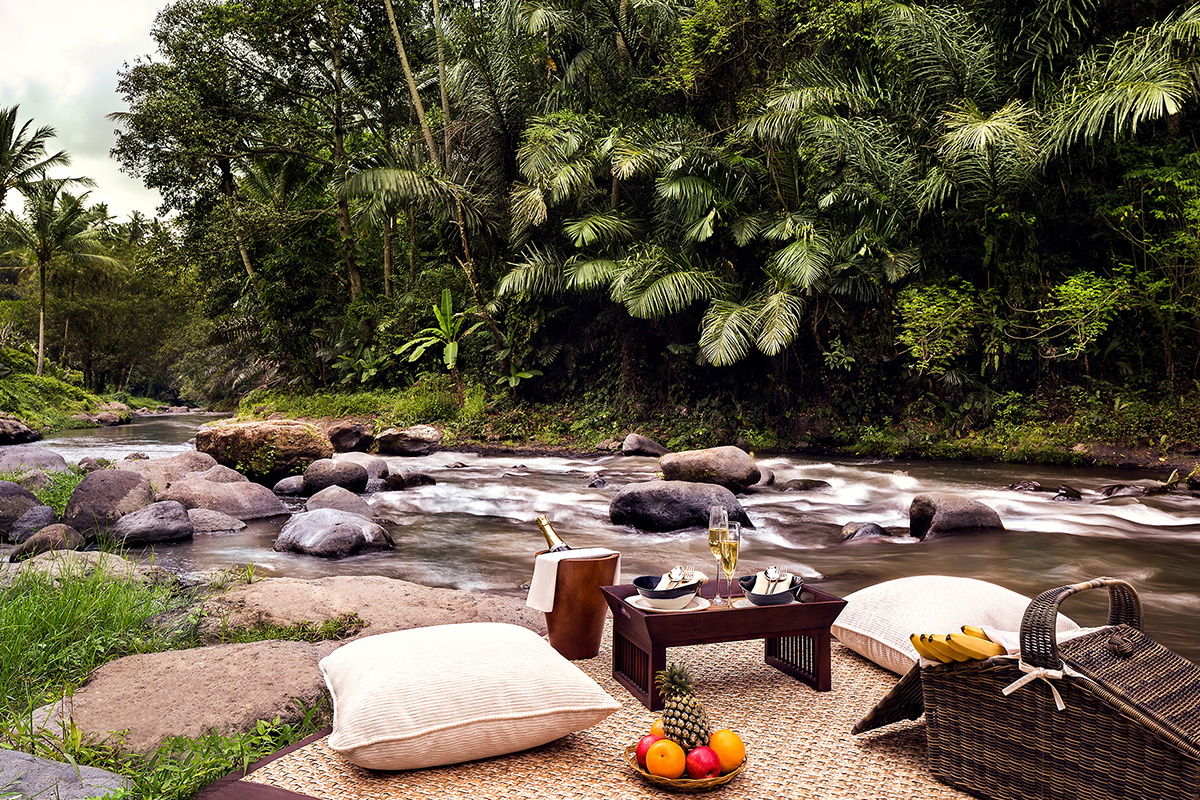 Image source: www.travelplusstyle.com
Located in Ritz Carlton Mandapa, Kubu offers scenic riverside view with a wide variety of Mediterranean-European cuisine. The dine experience is boosted by the tropical forest breeze and soothing sound of water – not to mention the serene mood from its signature bamboo-themed cocoons overlooking the Ayung river.
Address: Jalan Kedewatan, Banjar Kedewatan, Ubud, Kedewatan, Ubud, Kabupaten Gianyar, Bali 80571
Phone: (0361) 4792777
Hours: 6 PM – 11 PM
Photo source of header banner: www.ayana.com