The three Gili islands are known around the world as a little piece of heaven. Situated off the north-west coast of Lombok, these three beautiful islands have become popular with tourists and locals in need of a break from their busy lives. These are the islands of Gili Trawangan, Gili Meno and Gili Air. The environment is so rich in nature, that walking around these islands gives you a sense of serenity that is not easily acquired in the modern world. The islands of Gili are home to amazing restaurants that not only serve fantastic food but also offer you a view that perfectly compliments the experience of beachfront dining.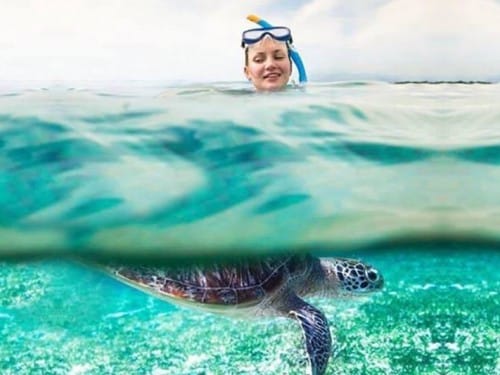 Photo source: www.karmagroup.com

Please note, Gili in the local Lombok language means island, so donot be surprised to find other Gili's besides the ones mrentioned above.
So take out that pen and paper my friend, because we have compiled a list that will have you craving for some culinary experiences on these Gili islands.
1 | Casa Vintage (Gili Trawangan)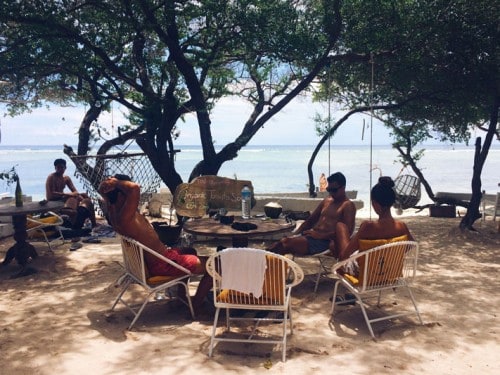 Photo source: www.welikebali.com

If tanning, relaxing and the view on the blue sea sound appealing to you, then Casa Vintage is the place. With its cozy atmosphere, perfect little spots on the beach for the ultimate relaxing culinary meal, with the ocean just a stone's throw away, Casa Vintage offers you a home away from home. This quaint restaurant shares its space with a vintage clothing store that may just save you time looking for that perfect little souvenir for the ones back home. Enjoy the delicious creations by the chefs at Casa Vintage as they offer you the ultimate comfort dishes. Try their famous Trench Town Chicken or perhaps their Caribbean pot for a taste of flavour that only they can provide.
Opening hours: 8:00 - 21:00
Website: https://www.casavintagebeach.com/
2 | Pearl Beach Lounge (Gili Trawangan)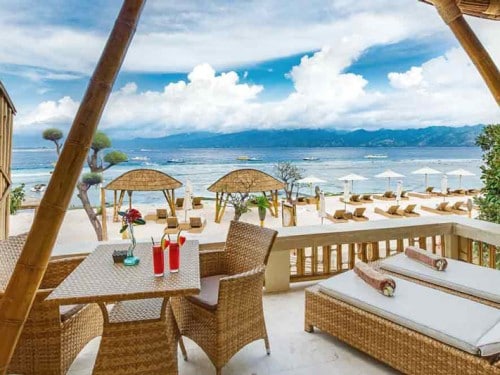 Photo source: www.pearloftrawangan.com

With its sandy white beach, intricate bamboo architecture and serene atmosphere, the Pearl Beach Lounge lands itself on our list of beachfront restaurants. Enjoy their classic cocktails as you watch the waves brush against the shore. Pearl Beach Lounge is strategically placed in a secluded beachfront area, providing guests with the privacy and comfort they deserve. Take a moment to enjoy the style of cuisine that has been created especially for your taste buds. A unique interpretation of Western-Asian dishes that compliment the unity of flavours is what can be expected at Pearl Beach Lounge. Try the Ruccola Risotto with Roasted Tiger Prawns as it is just one example of the magnificent dishes Pearl Beach Lounge has to offer.
Opening hours: 8:00 - 22:00
Website: http://www.pearlbeachlounge.com/
3 | Ko Ko Mo (Gili Trawangan)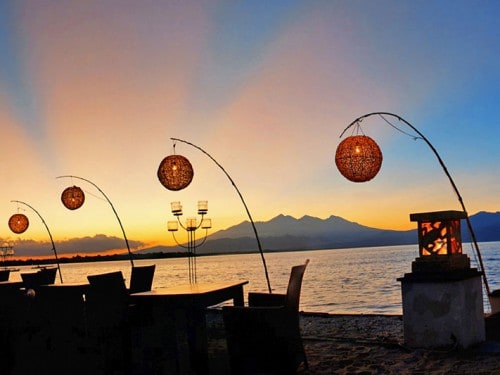 Photo source: www.kokomogilit.com

For a touch of luxury, we recommend Ko Ko Mo, a fine dining experience by the sea. With a soothing classical music playing in the background, waves delicately harmonising with the music and dishes that have been prepared by Sydney's Chef Matthew Blundell, this restaurant has everything you need to make that dinner of yours an unforgettable experience. Creativity is the chef's middle name as he creates dishes that accentuate Indonesian flavours with a touch of Western delights. Savour the Gulai Rack of Braised Australian Lamb or the array of pastas. As for dessert, Ko Ko Mo has a selection of desserts perfect for anyone in need of a little something sweet for the night.
Opening Hours: 8:00 - 22:00
Website: http://kokomogilit.com/villas-gili-trawangan-restaurant/
4 | Karma Beach (Gili Meno)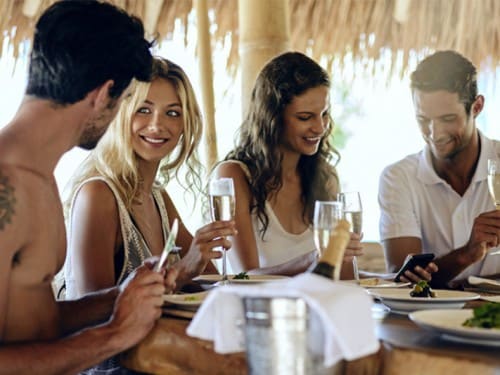 Photo source: www.theluxurybali.com

With the best view on Gili Meno, Karma Beach makes the list of beachfront restaurants worthy of a visit. Well known for the freshness of its seafood, blissful jazz music and their infamous BBQ night, Karma Beach is sure to provide you with immeasurable quality. The array of platters that have come straight out of the ocean, have a sweetness in flavour that matches perfectly with the selection of wine. As well as serving seafood, Karma Beach also has a selection of Western and Indonesian cuisine made from only the best ingredients.
Opening Hours: 7:30 - 22:00
Website: https://karmagroup.com/about-karma/
5 | Mowie's Bar (Gili Air)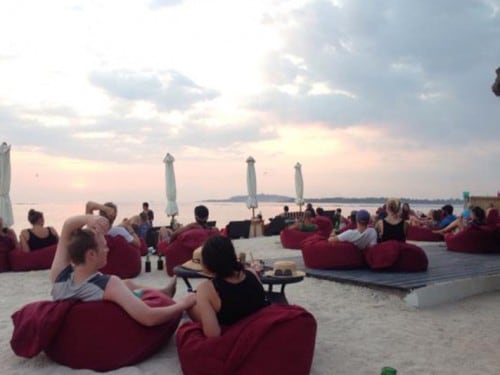 Photo source: www.tripadvisor.com/mowies-bungalows

Settle in for a relaxing meal at Mowie's Bar on Gili Air, as the ambience here is cozy. With large lounging chairs placed on the sand overlooking the beautiful blue ocean, you will feel right at home dining at Mowie's. Feel free to let go of all your worries as you enjoy the variety of delicious meals suited for vegans and non-vegans. Take a deep breath of the clean ocean air as you watch the sunset create colours that will leave you in awe. If casual dining is what interests you, then Mowie's Bar is the place. We guarantee that you will not be disappointed in the Western-influenced dishes, as Mowie's provides its guests with an atmosphere that is the epitome of a perfect Gili holiday.
Opening Hours : 8:00 - 21:00
Website: http://www.mowiesgiliair.com/
Perfect, isn't it? Get that beachy holiday now! 

Photo source of header banner: www.pearloftrawangan.com