If you're traveling to Bandung; the capital city of West Java, you should give yourself a chance to visit Mount Tangkuban Perahu. As one of the most popular tourist destinations, this spectacular mountain offers a fantastic experience. Meaning "overturned boat" due to its renowned shape, Mount Tangkuban Perahu can be found about 20 kilometers north from Bandung, not too far from the Lembang region. People usually go to this place to escape from the hustle and bustle of the city and spend a good time enjoying the amazing natural panorama as well as the refreshing chill air around here. The temperature around Mount Tangkuban Perahu could even reach as low as 16 degrees celsius in the morning.
Are you wondering what exciting things you can do with your family and friends around Mount Tangkuban Perahu?  Just take note of these five activities below!
1 | Snapping Instagramable Pictures at Ratu Crater
Take lovely family pictures to put on your Instagram feed with the beautiful Ratu Crater as the background. Accessing this place is easy because a parking lot can be found conveniently near the crater.
Surrounded by black trees exposed to the high content of sulfur around, this crater offers a truly unique experience. Enjoy the beautiful atmosphere surrounding the place as you walk down the path under the trees. If you are lucky, you might also catch a glimpse of ebony leaf monkeys or lutung (Trachypithecus auratus) swinging on the branches.
Address: Jl. Gn. Tangkuban Perahu, Cicadas, Sagalaherang, Kabupaten Subang, Jawa Barat 41282
Operational hours: 8:00 AM to 5:00 PM
2 | Enjoying local delicacies in Ratu Crater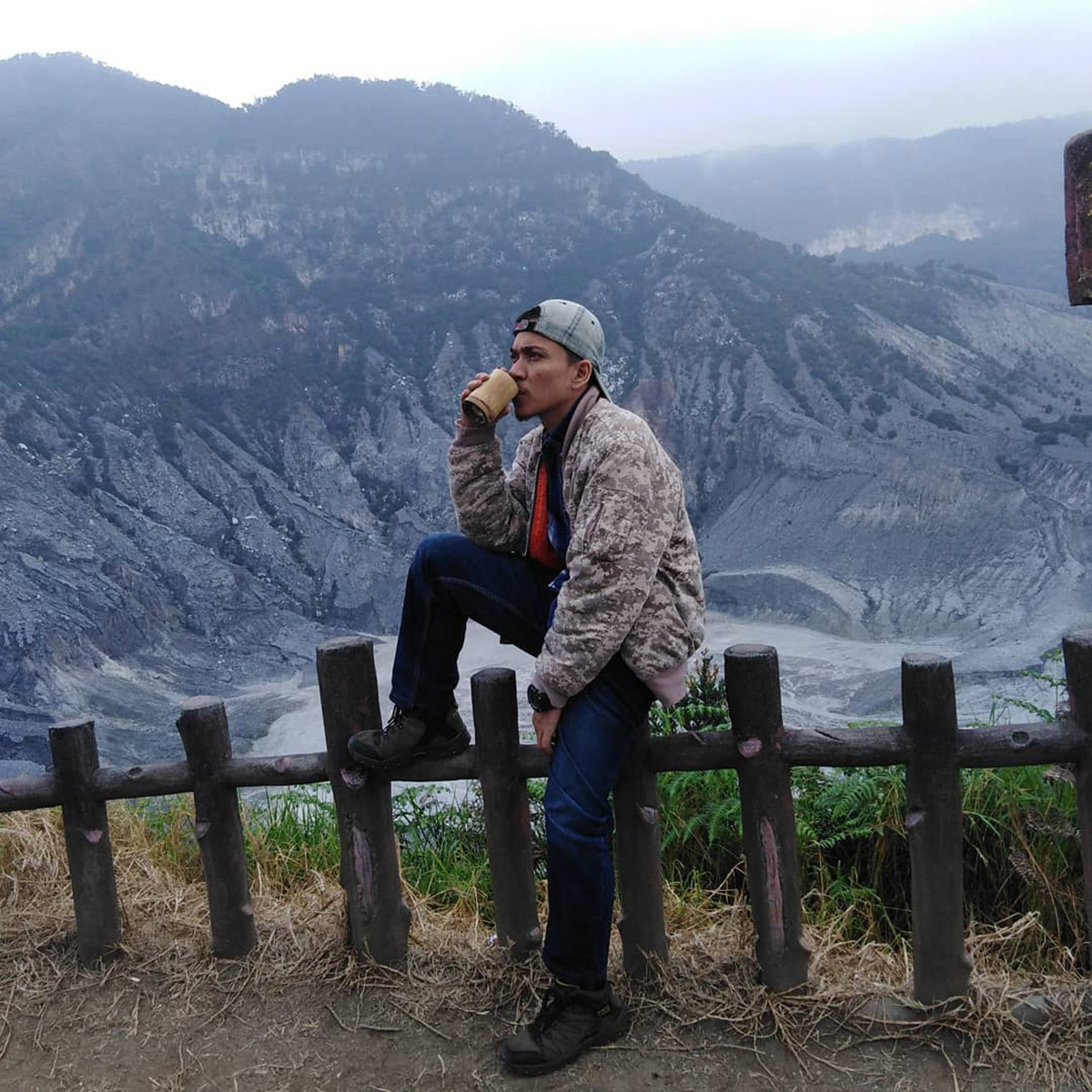 Image by myriad.25
After taking pictures, you may want to take a rest while sipping a warm cup of coffee or tea and enjoying a plate full of fritters.
Take a little walk from the Ratu Crater to find small snack and beverage huts lining up on the side of the crater, where you can enjoy the scenery of the majestic Tangkuban Perahu while having scrumptious munchies.
3 | Enjoying Mud Massage at Domas Crater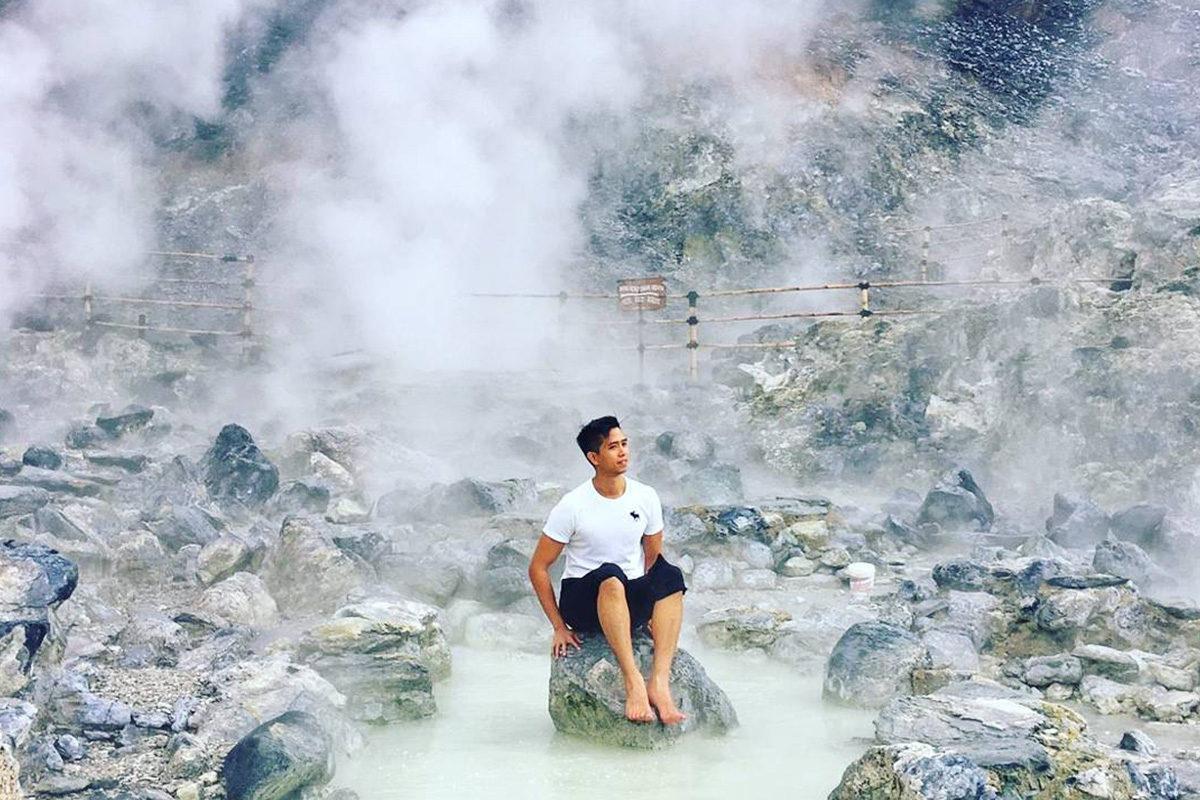 Image by mr.jo.joe
Domas Crater is located approximately 1 kilometer downhill from Ratu Crater.  Once you get here, you can dip your feet inside one of the hot springs here or have a therapeutic foot massage using sulphuric mud. The massage will definitely help you prepare for the steep uphill hike back to the entrance. You can also have a chance to boil eggs in the hot springs and then eat them. Make sure to hire local guides so that you can get here safely.
Address: Ciater, Subang Regency, West Java 41281
Operational hours: 8:00 AM to 5:00 PM
4 | Relax and Pamper Yourself at Ciater Hot Spring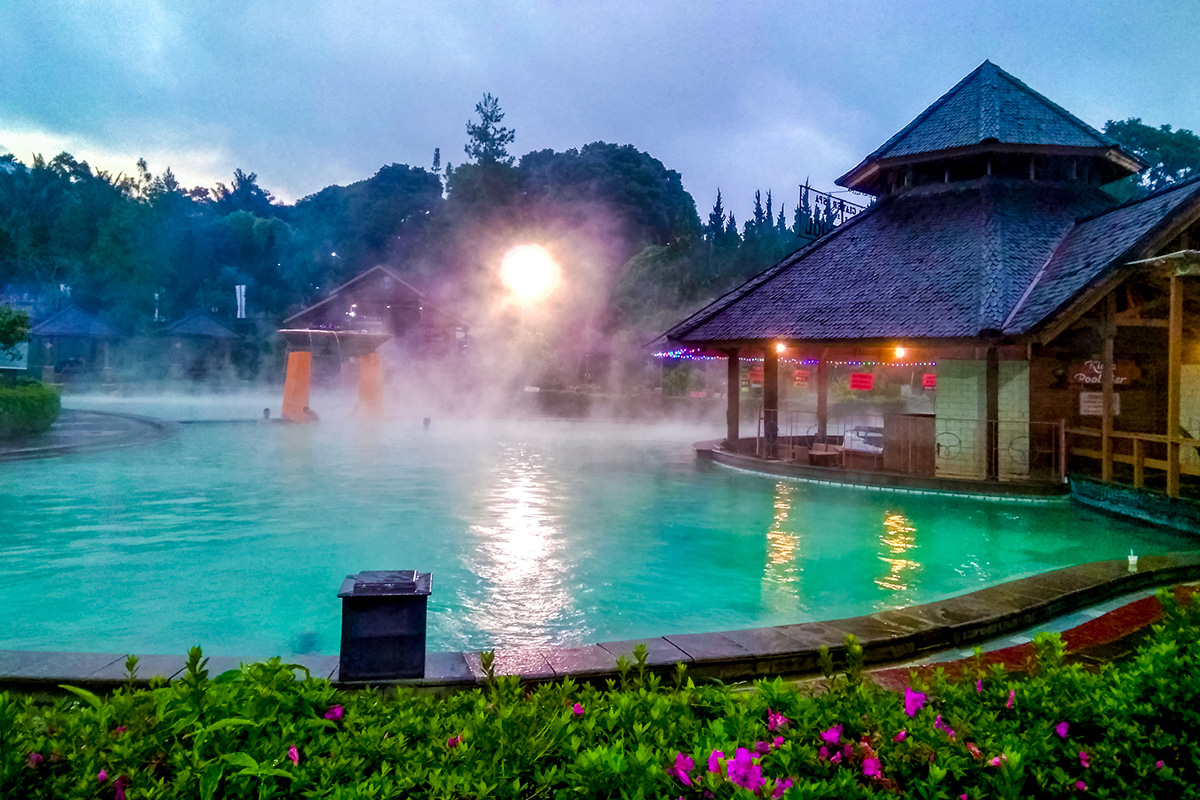 Exploring craters at Tangkuban Perahu will probably make you feel tired, but luckily you can relax your muscles by dipping your body in the Ciater Hot Spring.
The water at this hot spring is flowing directly from Tangkuban Perahu and its temperature can reach up to 42.5 celsius. The hot spring can be an excellent therapy if you are having joint pain.
The hot spring is situated on the slope of Tangkuban Perahu. You only have to take about a 7-kilometer drive from the mountain to reach this hot spring.
Address: Jl. Raya Ciater, Nagrak, Kec. Ciater, Kabupaten Subang, Jawa Barat 40154
Operational hours: 6:00 AM to 10:00 PM
5 | Doing exciting activities with your family at Capolaga

After visiting Mount Tangkuban Perahu, spend some more fun time with your family at Capolaga. Located in the north of the mountain, this refreshing spot offers a chance for you and your family to camp among eye-soothing natural sceneries. Here, you are able to witness a pristine river flowing between lush greenery as well as three gorgeous waterfalls, namely Curug Karembong, Curug Sawer, and Curug Goa Badak. Other exciting activities such as riding a flying fox, trekking, and  water therapy are also available for you to try in here.
So when are you going to give Mount Tangkuban Perahu a visit? If you are planning to set your foot here, do also check out several family parks and nature cafes around Bandung! While you're looking for more places to check out, make sure to keep your CHSE (Cleanliness, Health, Safety, and Environmental Sustainability) protocols in mind, which include wearing your mask in public spaces, keeping your distance, and washing your hands frequently.