Alongside luxurious resorts, Gili Trawangan takes care of those on a budget but who still wish to be pampered on their long holiday to the islands.  Situated just across Senggigi Beach on the west side of the island of Lombok, the Gili Islands provide a more quiet get away compared to the steady flow of tourists on the beaches of Kuta on Bali. The islands offer some of both worlds: entertaining nightlife interspersed with remote beaches.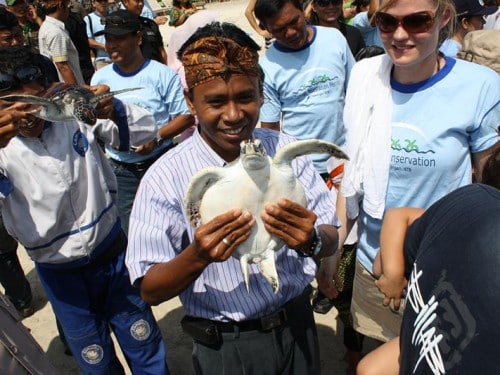 Photo source: www.infotel.co.uk

Below is a list of hotels to help you find budget accommodation at value for money:   
1 | Gili Smile Bungalow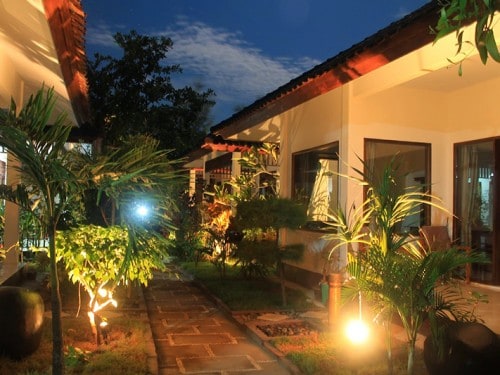 Photo source: www.tripadvisor.com/gili-smile-bungalow

Located just minutes away from the beach, and priced starting from IDR 300,000 (low season) or IDR 500,000 (high season) a night, is Gili Smile Bungalow. The choice of stay is at a Lumbung (outdoor house) or a bungalow, while for the price mentioned above; you can expect a room with a fan and no hot water. Though quite basic, Gili Smile Bungalow has been known to be clean as previous guests have raved about the friendly service they were provided with. Gili Smile Bungalow also provides breakfast that is delivered to your front terrace and has decent Wifi. We recommend that you do your booking on booking sites such as Agoda as they offer cheaper prices. Interested? Check them out on the website below for more details.
Website: http://gilismilebungalow.blogspot.co.id/
2 | The Exile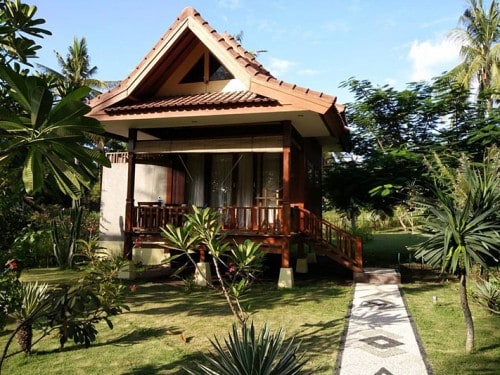 Photo source: www.theexilegilit.com
The Exile is a spectacular ocean front property that is well known for its service and hospitality. It has direct access to the beach and a fantastic restaurant within the grounds. It also offers its guest the chance to partake in yoga, gym, horse riding and the famous sea swings. It is true that bungalows here are on the pricier end of the budget but a Lumbung that accommodates two people is only IDR 350,000 a night. The traditional style housing is quite a lovely experience, and we assure you that it will be just as comfortable as a bungalow. Do make sure whether the rate include taxes and service charge.  Interested in checking out The Exile? Visit their website for further information.
Website:  http://theexilegilit.com/rooms-rates/rooms-bungalows/
3 | Angel's Cottages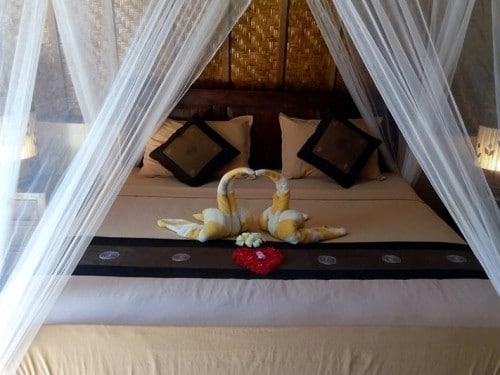 Photo source: www.booking.com/angel's-cottage
Complimentary Wifi and a beautiful terrace view overlooking the gardens are available at Angel's Cottages. This is a very popular accommodation for tourists, due to its price and cleanliness. These lumbung style bungalows are just a ten minute walk from the beach and located in an area that is surrounded by popular restaurants. The property also provides bike rentals for its guests, as to accommodate your needs. Priced at IDR 340,000 a night with an additional charge of IDR 25,000 for breakfast; makes for a fantastic deal. Feel free to click on the website below for additional information.
Website: http://angelscottages.com/index.html
4 | Ozzy Cottages and Bungalows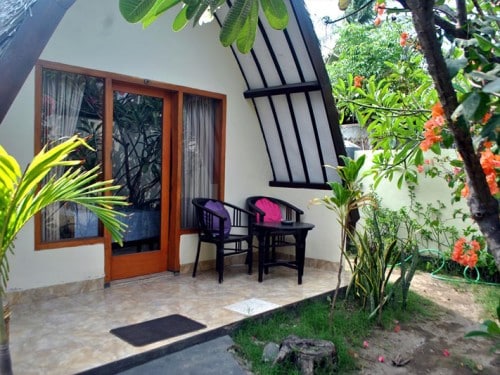 Photo source: www.tripadvisor.co.z/bungalow
An 8 minute walk to the beach or a 10 minute walk to the Art Market on Gili Trawangan, places Ozzy Cottages and Bungalows on a prime location on the island. This beautiful property offers bike rentals as well as Air Conditioning in all its bungalows. It also has hot water showers. Priced at IDR 450,000 a night, breakfast included, Ozzy Cottages and Bungalows is perfect for your trip to Gili Trawangan as it is well equipped to suit your needs. Previous guests have raved about its hospitality and have spoken highly of the staff that work here. Does this sound like the place for you? Click the link below to check out available booking dates.
Online Booking site
https://www.booking.com/hotel/id/ozzy-cottages-and-bungalows.id.html
5 | Trust Bungalow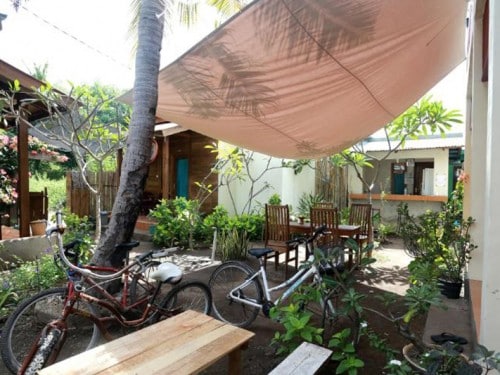 Photo source:  www.traveloka.com/trust-bungalow
By far the most economical on our list is Trust Bungalow, priced at IDR 200,000 for a bungalow fit for two that includes air conditioning; might be just the place you were looking for. A 5 minute walk to the nearest beach but a kilometer away from the local nightlife and art markets can be quite a distance for those looking to be in the midst of things. However Trust Bungalow does provide bike rentals and are happy to accommodate your needs in any way that they can. They also offer snorkeling gear for rent and will direct you to where to swim during your stay. Sounds like the perfect deal? Check out our link to enquire further.
Online Booking site
https://www.booking.com/hotel/id/trust-bungalow-gili-trawangan.en-gb.html