When you intend to spend time to attend concerts or exhibitions at the Jakarta International Expo (JIE), in North Jakarta, then the Kemayoran district, where the venue is located, has a number of great hotels. From the 5 best hotels at we have selected, it will be just a short distance to the Convention site.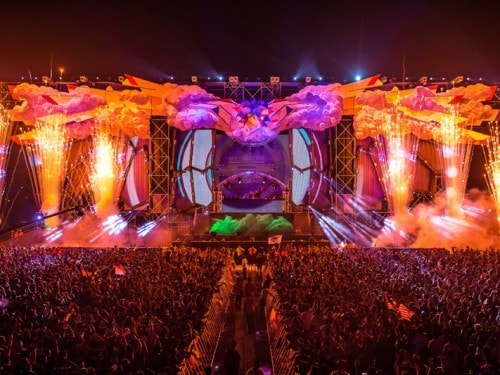 Photo source: www.udou.ph

At one time the original airport of Jakarta, Kemayoran has been completely transformed into an area where the Jakarta Fair, the Djakarta Warehouse Project ava Jazz and other huge exhibitions take place every year, Today, Kemayoran is a busy area surrounded by many important business buildings. It is also close to recreation, shopping and government buildings.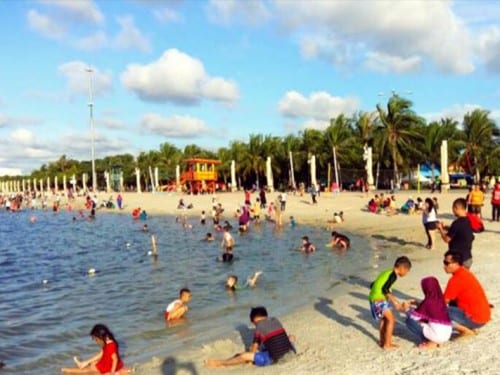 Photo source: www.travel.kompas.com

Kemayoran is near to Ancol, one of best holiday destinations in Jakarta on the beach. For these reasons, this area should best suit your need for accommodation.
To help you choose a hotel to spend the night, here are 5 best hotels in the Kemayoran area that you should consider:
1 | Grand Mercure Jakarta Kemayoran (5-star hotel)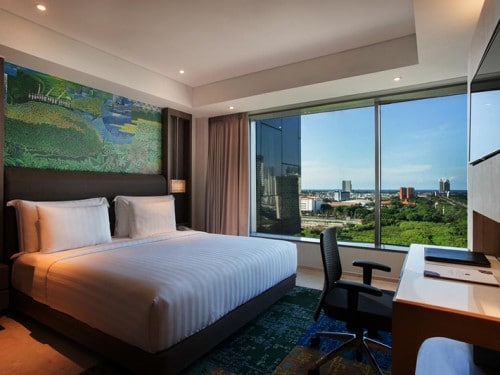 Photo source: www.booking.com/grand-mercure-jakarta-kemayoran
Built elegantly to provide modern comfort, the Grand Mercure Jakarta Kemayoran is one of the best hotels to stay. Its beautiful design and five-star hotel facilities are waiting for you. Broadband connections for your work and social life? You don't need to worry at all since they also provide these facilities here. Oh, they will also allow you to check in before 2 pm if the room is available, great isn't it?
Enjoying the hotel won't be enough without its delicious meals it offers. Free breakfast in the morning gives you an insight to what you can expect to find in the restaurant. Catappa Restaurant offers a wide range of culinary adventure, freshly made every day! Or, if you're not in the mood to try something new, there's always Indonesian authentic food to suit your taste.
Location:
Jl. H Benyamin Sueb Kav B6, Superblok Mega Kemayoran, Kota Baru Bandar Kemayoran
Reservation and Information:
http://www.grandmercure.com/id/GRAND-MERCURE-JKT-KEMAYORAN
Prices start at IDR 870,000
2 | Holiday Inn Kemayoran (4-star hotel)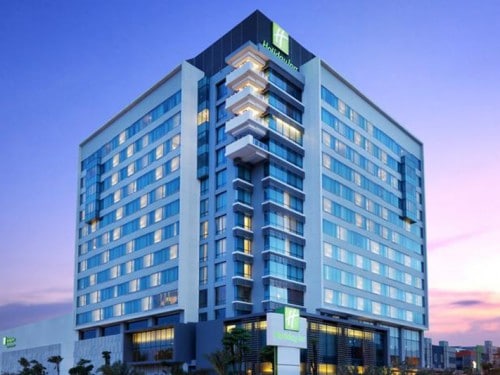 Photo source: www.booking.com/holiday-inn-jakarta-kemayoran

Relaxing in a 32 sqm standard room at Holiday Inn Kemayoran will surely give you a different experiencewhen compared to other 4-star hotels. Clean and comfortable will be your first impressions when entering the room. Next, you'll enjoy the amenities and the broadband connection prepared for you! Besides the room as being the best place to spend your leisure time in the hotel, you're welcome to enjoy the other public facilities. The best offer for the family staying in this hotel is that kids under 12 year old may stay and eat for free—when sharing their parents' room!
It's only a 5-minutes walk to the Jakarta International Expo Kemayoran, the most popular convention center in the area where big events take place. One of which is the Djakarta Warehouse Project (DWP). If you're on a family vacation, then Ancol Dreamland, the National Museum, and the Old Batavia City are nearby must-attractions to visit.
Location:
Jalan Griya Utama Blok B No. 1, Sunter Agung, Jakarta Utara.
Reservation and Information:
https://www.ihg.com/holidayinn/hotels/us/en/jakarta/jktky/hoteldetail
Prices start at IDR 892,000
3 | Best Western Plus Kemayoran (4-star hotel)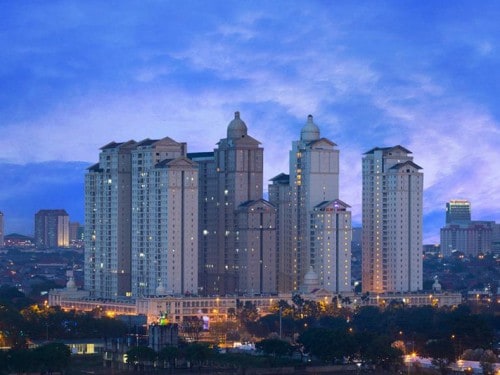 Photo source: www.expedia.co.id
Equipped with the excellence of Best Western standard amenities, the Best Western Plus Kemayoran provides more with specialized value for its guests. If you normally get a standard breakfast in other 4-star hotels, in the Best Western Plus Kemayoran you'll get a complimentary full breakfast with access to full set of breads, fruits, cereal, hot meat, and much more.
Strategically located at the center of Jakarta makes this hotel a good place to stay whether you're on a business trip or a family holiday. The hotels is fifteen minutes to Gambir Station and within several minutes only to Government buildings allowing for an effective business trip visit. While if you're on holiday with your family family, Ancol Dreamland and Mangga Dua are the best places to play and shop!
Location:
Jalan Benyamin Suaeb Blok A5, Jakarta 10630
Reservation and Information:
http://www.bwpluskemayoran.com/
Prices start at IDR 622,000
4 | Swiss Belinn Kemayoran (3-star hotel)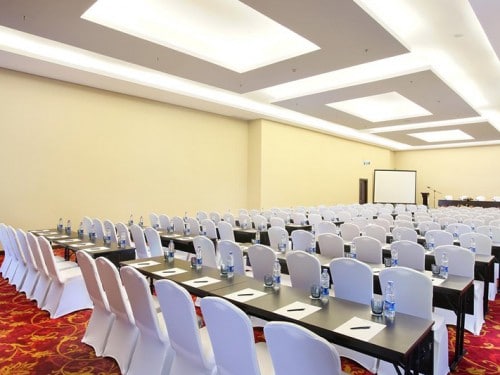 Photo source: www.tripadvisor.co.uk/swiss-belinn-kemayoran

Located only a short walk to the Jakarta International Expo, the Swiss Belinn Kemayoran could be your best choice to attend the Djakarta Warehouse Project (DWP). A holiday to release stress with an annual event where best musicians gather to perform their very best is just superb! Besides, the hotel is more than capable at fulfilling your needs during your stay here.
Aside from its proximity to Jakarta's best entertainment and beach destinations such as Ancol, you'll also get free internet connection, parking space, and a delicious breakfast. Despite its small entrance and secluded location, guests will be very comfortable with its services. So, why don't you try it yourself?
Location:
Complex Springhill, Jl. Benyamin Suaeb Blok D6, Pademangan Timur, Jakarta Utara
Reservation and Information:
http://www.swiss-belhotel.com/en-gb/swiss-belinn-kemayoran
Prices start at IDR 723,000
5 | Ibis Jakarta Kemayoran (3-star hotel)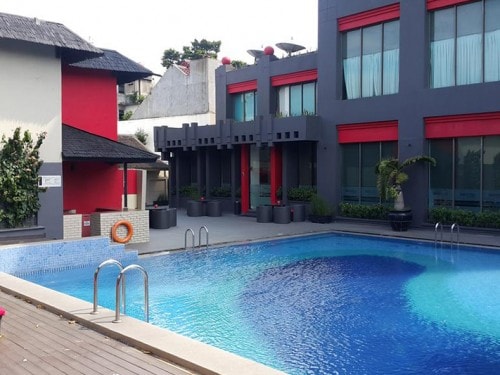 Photo source: www.booking.com/ibis-kemayoran

Labeled as an economy or budget hotel doesn't limit the service that Ibis Jakarta Kemayoran presents. This 3-star hotel is known give quick response when guests complain on just about anything.
It is not just its service that pulls in guests, but also its strategic location which adds to the value of the hotel. Plus, Ibis Jakarta Kemayoran offers facilities equal to 4-star hotels, also providing a swimming pool, free wifi, and much more!
Location:
Jalan Bungur Besar Raya No.79-81, Jakarta Pusat.
Reservation and Information:

http://www.ibis.com/gb/hotel-1671-ibis-jakarta-kemayoran/index.shtml
Prices start at IDR 445,000
Staying at one of these hotels is your best option, especially when you intend to join popular events like the Jakarta Fair or the Djakarta Warehouse Project (DWP).
Their strategic location plus best services and facilities should guarantee a most comfortable stay. Book right away and enjoy your trip to Jakarta Now!