Once a year, Buddhist pilgrims will gather at one of the UNESCO World Heritage sites in Magelang, Central Java, called Borobudur Temple. This ancient temple will be the last destination of a series of Waisak Festival, a celebration for the birth, enlightenment and death of Buddha. The series of rituals attract does not only attract pilgrims, but also tourists all over the world as it offers a magnificent yet sacred experience.
If you have a plan to join the festival and yearn to discover the authentic Javanese culture, you should consider staying at the homestays in one of these tourism villages. That way, you can enrich your journey while visiting this year's anticipated Waisak event. Every person is welcome to join the sacred rituals despite their religions, but please note to always be respectful to those who performing the prayers.
1 | Homestay in Karangrejo Village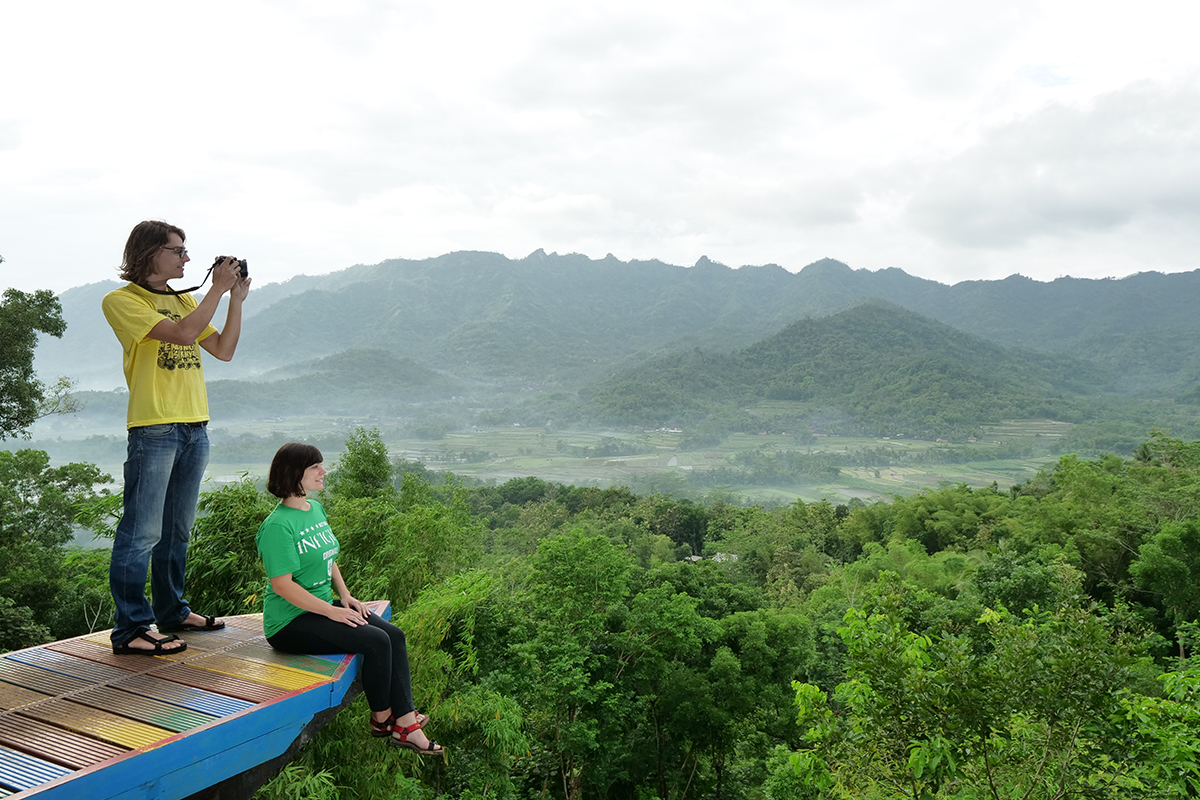 Image source: Morning sunrise in Punthuk Setumbu
Have you ever wished to live like locals in a peaceful village? Maybe you need to try to stay at a Homestay in Karangrejo. Located in a village near Borobudur Temple, it offers modest accommodation in Joglo style houses. The interior design is simple and equipped with comfortable furniture made of local materials. Greeneries will be the first thing to see as you look out the window because each room and house is surrounded by verdant garden. Besides lush surrounding, in Karangrejo Homestay, you can learn some artwork, cook delicious mendoan and watch the amazing dance performances that will be held occasionally on special evenings.
These homestays are located about 2 kilometers away from Borobudur Temple. Rented bike and a stylish Volkswagen tour are also available for you to go around casually to bask in the soothing ambiance of this village. Make sure you visit Punthuk Setumbu to enjoy a different angle of Borobudur.
Address: Jl. Borobudur, Ngadiharjo, Karangrejo, Borobudur, Magelang
Link: http://www.indonesia.travel/gb/en/destinations/village-tourism/karangrejo
2 | Homestay in Pentingsari Village
Image source: Learning to play Gamelan
This village is going to be your favorite destination to learn about many things about rural daily life. With a diverse activity to offer to the visitors, it is really hard to get bored here. From the fun step by step farming planting sessions in the muddy rice fields to the exciting moments where you get to play the gamelan music instruments, are available under the guidance of the charming locals. One special thing that you can't miss here is the chance you get to learn how to make the Wayang Suket, or the grass puppet. Pentingsari is also blessed with fertile soil and has variety of fruit plants, such as dragon fruit and the phenomenal durian!
Pentingsari is located around 40 kilometers away from Borobudur. The village has many options for homestay that you can choose to adjust your needs. For a better deal, you can also book a bundling package that includes activities, meals and accommodation.
Address: Umbulharjo, Cangkringan, Kabupaten Sleman, Yogyakarta
Link: http://www.indonesia.travel/gb/en/destinations/village-tourism/pentingsari
3 | Homestay in Tembi Village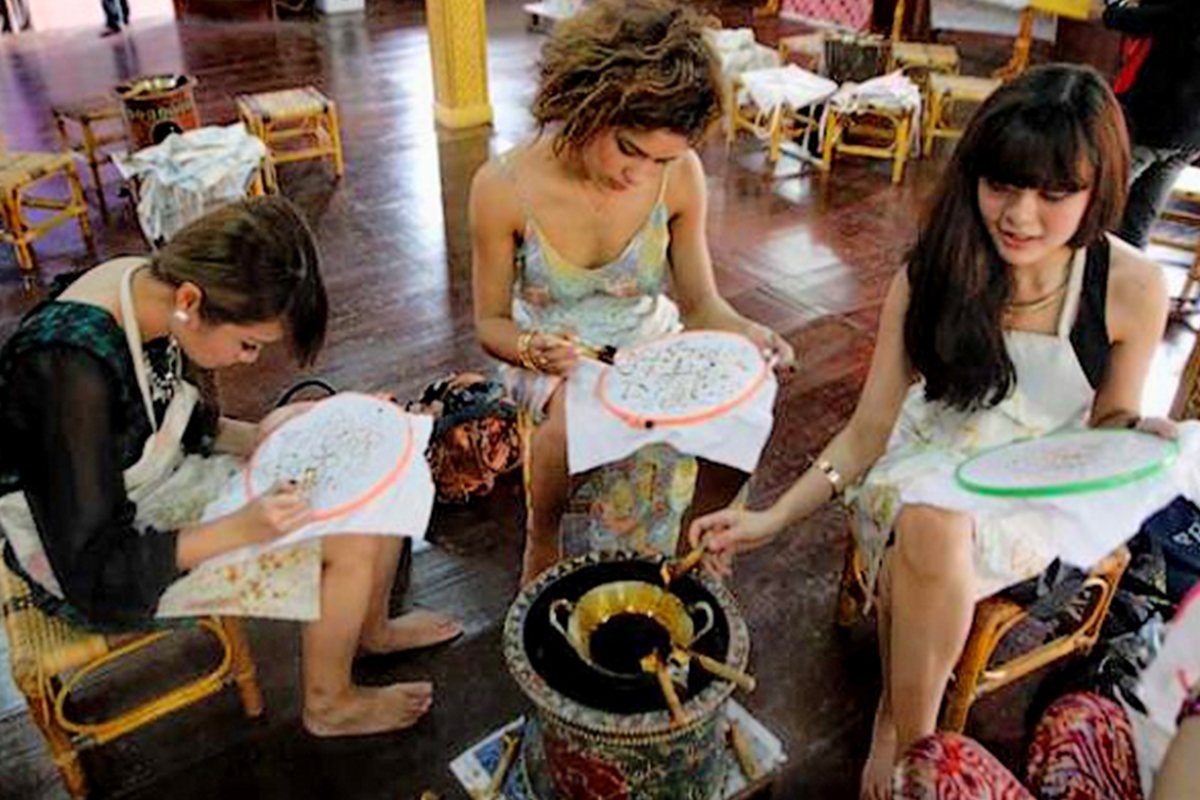 Image source: http://tembivillage.com
If you are still wondering about the details of Javanese architecture, you can stay and explore the Tembi village that is located in 54 kilometers away from Borobudur. Right at the heart of Tembi, is Museum Rumah Budaya Tembi, a charming gallery that will allure you to learn a glimpse of Javanese history, tradition, heritage and philosophy. The gallery also holds workshops featuring batik arts, musicals art and many more inspiring activities including the ones for your children!
Stroll around the village and choose where you would like to spend your quiet getaway. Homestays are commonly built in traditional style, without neglecting the modern amenities.
Address: KM 8,5 Timbulharjo, Sewon Bantul, Parangtritis, Yogyakarta
Link: http://www.indonesia.travel/gb/en/destinations/village-tourism/tembi-village
4 | Homestay in Nglanggeran Village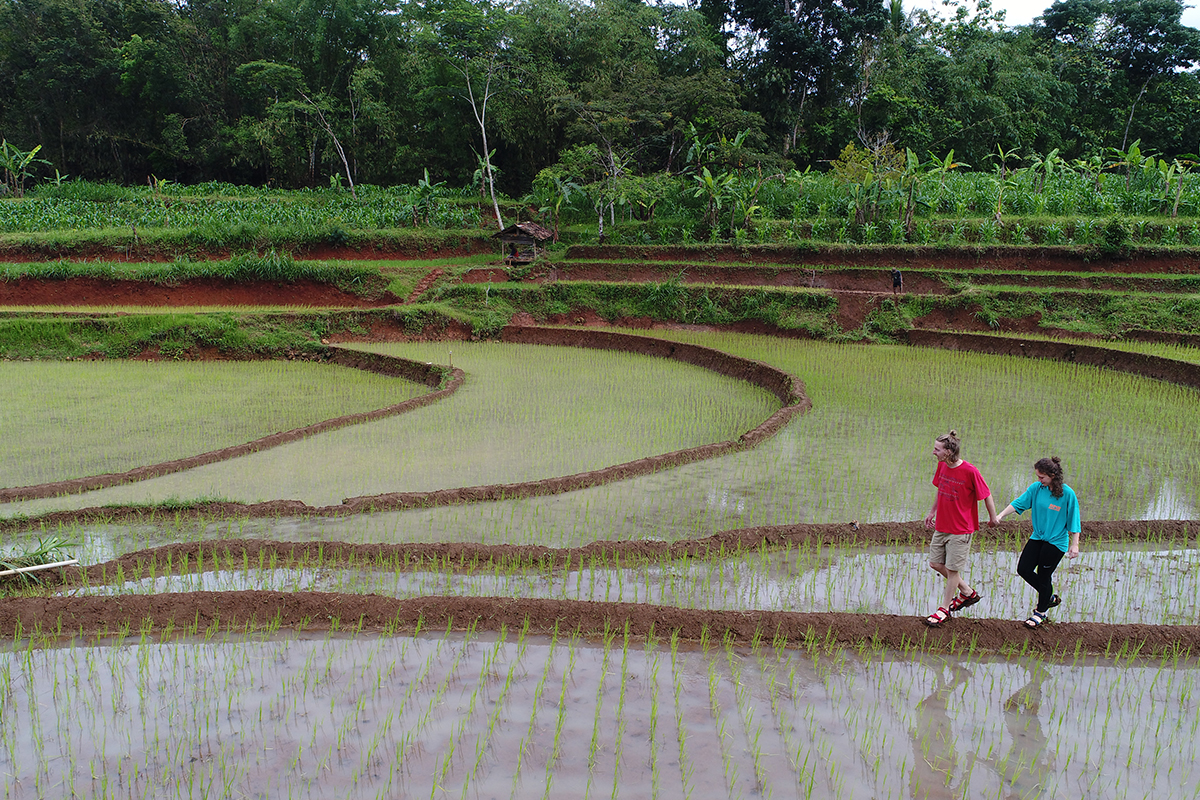 Image source: A walk in the rice fields
If you are that kind of the adventurous soul person, we recommend you to explore the ancient Nglanggeran Mountain. It is a 60 million years old volcano that holds some breathtaking panorama on its peaks. Nglanggeran is located 65 kilometers away from Borobudur and is blessed with exceptional view of giant boulders, flanked with the meandering rice fields. The village's famous product is chocolate! You can follow and learn the journey of traditional chocolate making right from its source.
Homestays are surrounded by epic scenery and are even more comfortable due to its cool mountain breeze. In the morning, you can head to the ettawa goat farm and see how the milk is produced onto various delicious items. While you are here, you can also visit the nearby village to join a wooden batik workshop where you can make your own signature souvenir.
Address: Patuk, Gunung Kidul, Yogyakarta 
Link: http://www.indonesia.travel/gb/en/destinations/village-tourism/nglanggeran-village
Photo source of header banner: Karangrejo, cycling tour