City life has pampered us with all its modern perks and conveniences, but haven't you ever wanted to run away from never-ending skyscrapers for just one day, and leave all your worries behind?
Guess what, you don't actually have to go far to find natural paradises where you can sit back, relax and just enjoy the view.
Indonesia's famed for unbelievably gorgeous natural scenery, but what's best is that you can enjoy your nature retreat in all the comfort you need (and tons of fun as well)!
Don't believe us? Check out our top 10 picks for Indonesia's best hotels, where you can go back-to-nature… in style.
1. Camp in ultimate style – Highland Park Resort (Bogor)
Camping is one of the best ways to get in touch with nature, but not everyone likes sleeping in flimsy tents with none of the modern facilities that we're so used to.
Thankfully, Highland Park Resort in Bogor offers some pretty amazing glamping (glamourous camping) options – from Mongolian-styled camps and Indian Apache tents to treehouse retreats and deluxe barracks, all the accommodations come equipped with modern amenities.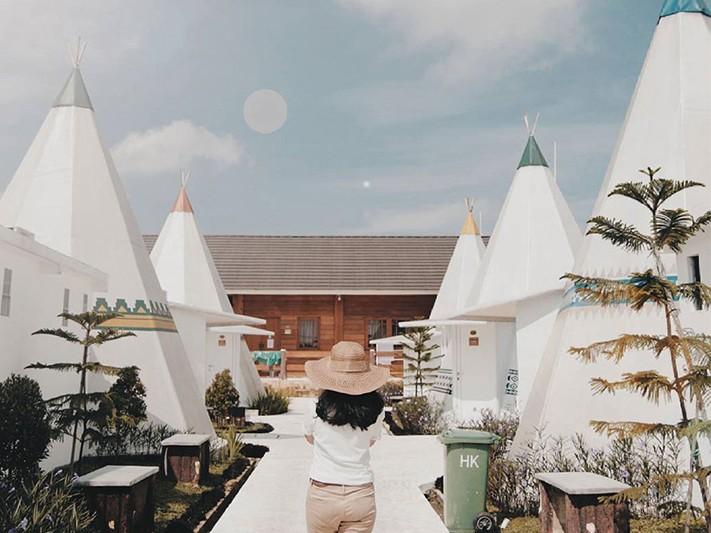 Photo by https://www.instagram.com/rifqiprbswr_/
You won't have to worry about being bored either, for the resort houses all kinds of activity areas, including the flying fox, horse riding, karaoke and many more. Who knew camping could be so fun?
Additional information:
Address: Jl. Curug Nangka,
Kp.Sinarwangi, Sukajadi, Kec.Tamansari
Kab.Bogor, 16610 Jawa Barat
Contact: +62 251 848 5 777
Website: http://www.thehighlandparkresortbogor.com/hpr/
2. Go on a safari adventure – Safari Lodge Puncak (Puncak)
At Puncak's Safari Lodge, an authentic safari experience comes along with some beautiful views.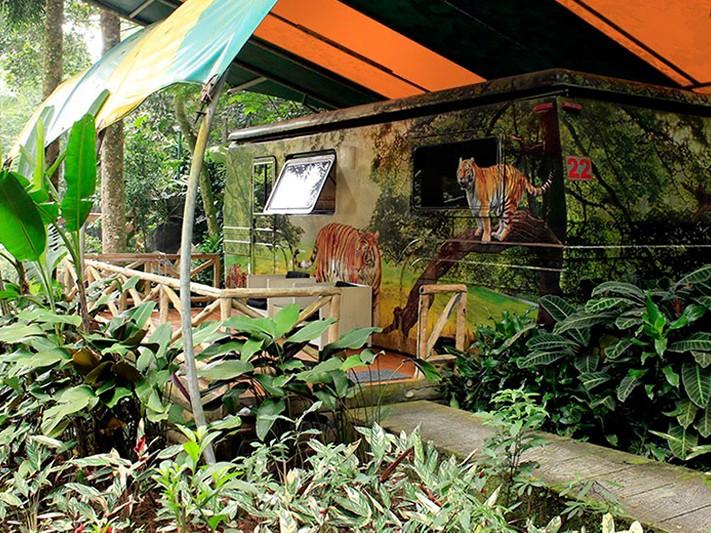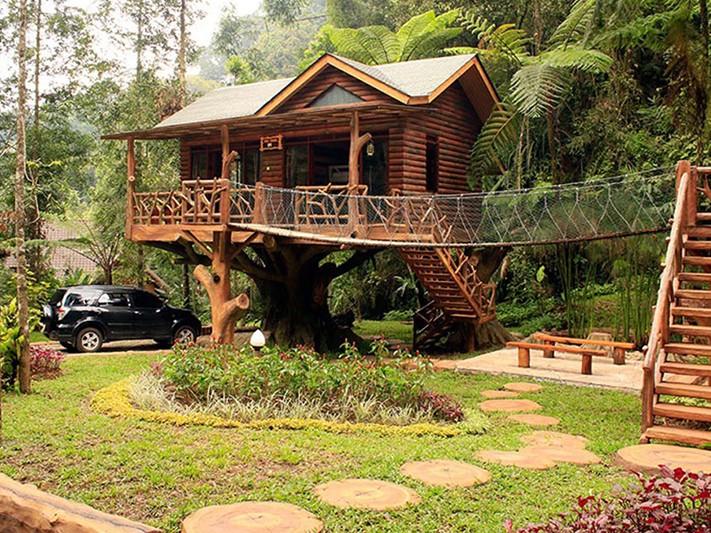 Choose between Safari Day or Night packages, and let the rangers take you through the best of Mother Nature in a private vehicle. If you're itching to try something else, there's also a theme park, water park and a 3D haunted house ready to rock your socks off.
Here, you'll get to choose between different types of accommodation, such as a caravan, hotel room, bungalow… and even a private treehouse with a suspended bridge. You'll also be sharing the space with the tigers, monkeys and other animals that you can watch... right from the comfort of your room!
Additional information:
Address: Cisarua, Puncak Pass,
Puncak, Indonesia
Contact: (+62251) 8250000
Website: http://bogor.tamansafari.com/stay-id 
3. Chill out (literally) to awesome lake views – Samosir Villa Resort (Lake Toba)
What does it feel like to live next to a painting? We reckon we could find out at Samosir Villa Resort, a lovely accommodation located right next to the scenic views of Lake Toba.
On days when you'd like a refreshing lake view more than forest views, why not head down to this humble resort? With 2 swimming pools, a playground for kids, and a fitness room, Samosir Villa Resort is also the perfect choice for families with little children.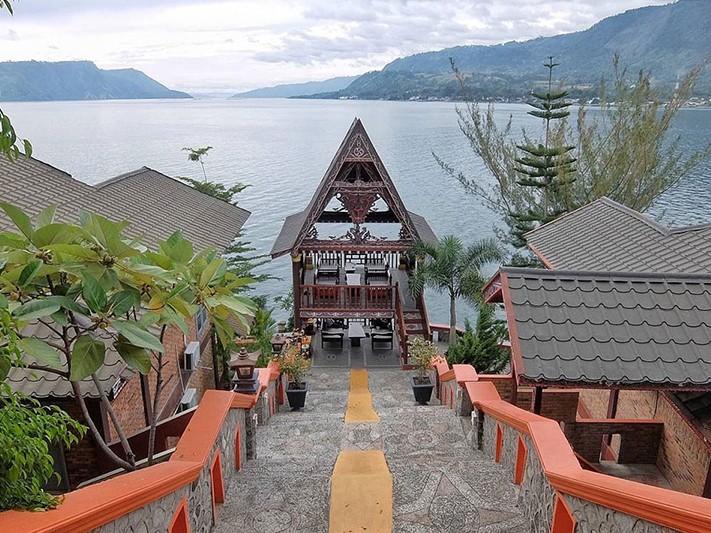 Photo by https://www.instagram.com/crotsky/
Besides, who could resist the air-conditioned weather that Lake Toba is so well-known for? A nature retreat with zero sweat – we like.
Additional information:
Address: Jl. Lingkar Tuktuk Siadong,
Simanindo, Samosir,
Sumatera Utara, Indonesia
Contact: +62 625 451399
Website: http://www.samosirvillaresort.com/

4. For the hipster child in you – Hideout (East Bali)
Grew up looking for the perfect hiding spot? The Hideout, a secluded wooden hut on the Gunung Agung highlands, is one place where your problems can't find you, and you can get back in touch with nature.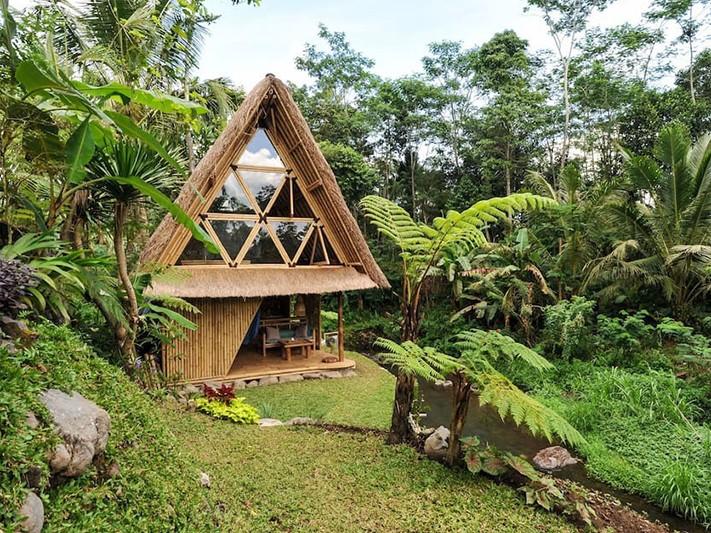 Photo by https://www.instagram.com/hideoutbali/
This unique hut was handcrafted out of wood, and is fully self-sustainable. All you need to survive here is the magnificent water wheel out back – the only source of water and electricity for the whole hut!
Sit back before a completely natural world and enjoy waking up to the flowing river and birdsong. As far as hiding places go, this is definitely five stars.
Additional information:
Address: Selat, Bali, Indonesia
Contact: N/A.
Website: https://hideoutbali.wordpress.com/ 
5. Stay in a bamboo work of art – Sharma Springs Bamboo House (Ubud, Bali)
Sharma Springs Bamboo House is made completely out of bamboo. If you want to get in touch with nature, what would possibly beat this?
This eco-friendly villa is located on the hills of Ubud, Bali, looking out towards a panoramic view of endless greenery, complete with a soothing mountain breeze.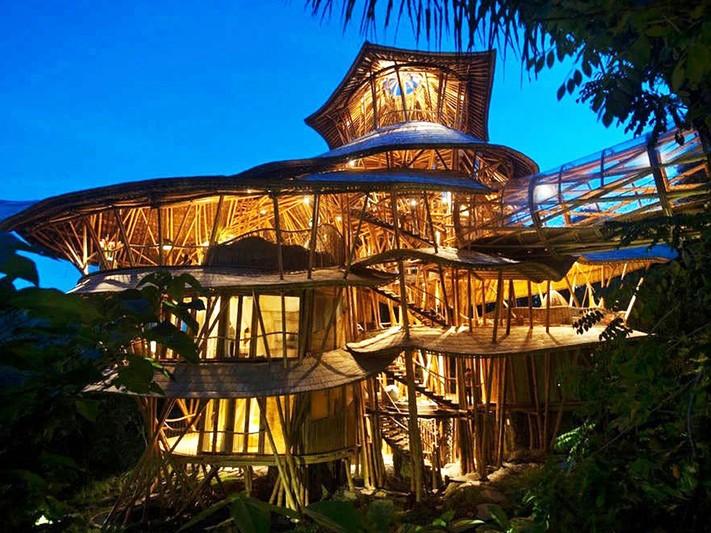 Photo by greenvillagebali.com
It's a testament to the wonders of nature itself that such a house exists, and it also happens to provide you with an ultra-comfy retreat into nature! What else could you possibly ask for?
Additional information:
Address: Tanah Ayu, Sibang Gede,
Abiansemal, Badung 80352
Bali, Indonesia
Contact: +62-8113922254
Website: http://greenvillagebali.com/ 
6. Enter a fairytale world – Sapulidi Sawah Cafe, Resort & Gallery (Lembang)
With little water villas surrounded by lush greenery and a gorgeous lake, Sapulidi looks just like what you'd see in fairytale land.
Each wooden villa is named uniquely after Sundanese culture and folklore, with names such as Putri No'ong, Kembang Desa, and Congklak.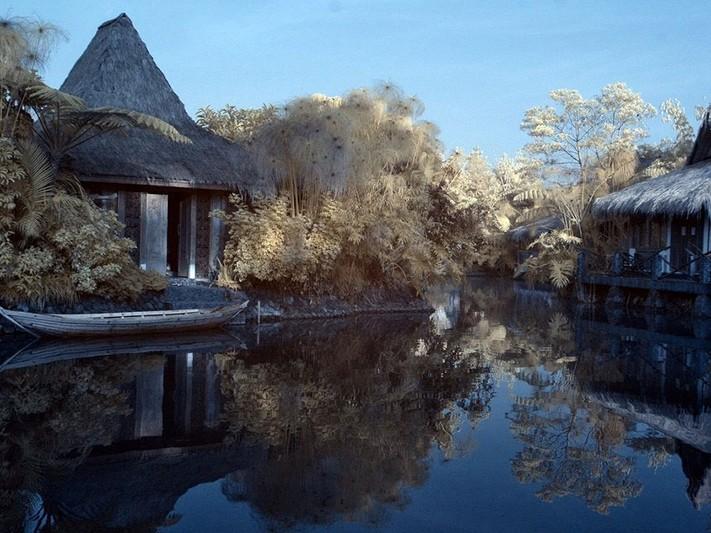 Photo by http://sapulidisawah.com/
Get onto one of the wooden boats and enjoy a relaxing row through the beautiful scenery. At night, the huts light up with a lovely golden glow, enhancing the magical atmosphere that surrounds – we think it would be hard to not forget your worries.
Additional information:
Address: Jl. Sersan Bajuri,
Kompleks Graha Puspa, Lembang,
Bandung, Indonesia
Contact: (+62) 222 786 461
Website: http://sapulidisawah.com/

7. Camp in hotel comfort – Grafika Cikole (Lembang)
Amongst all the camping options available out there in Lembang (Bandung), Grafika Cikole gives you a taste of something different.
Little wooden huts are furnished with all the comfort that a hotel could possibly give you. If you really want to try out camping, you can even stay in tents that come with soft bedding!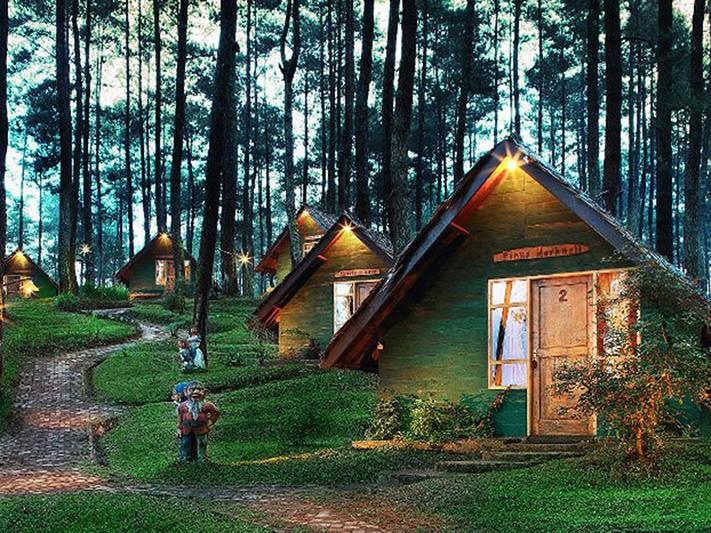 Photo by grafikacikole.com
You'll definitely be well taken care of, even out in the woods. Feed the deers who live on the grounds, or choose from plenty of kid-friendly activities like horse riding, flying fox, tree top adventures and many more! Camping will never be the same again.
Additional information:
Address: Jalan Tangkuban Perahu KM. 8,
Lembang, West Java,
Indonesia
Contact:  +62 22 82782441
Website: http://grafikacikole.com/ 
8. Enjoy nature from way up high – Omah Kayu Paralayang (Malang)
This treehouse in Malang not only gives you the complete nature experience, you'll even feel like you're at the top of the world.
Located 1,340 metres above sea level, Omah Kayu features six pinewood treehouses where you can return to the basics, and truly feel at one with the world around you.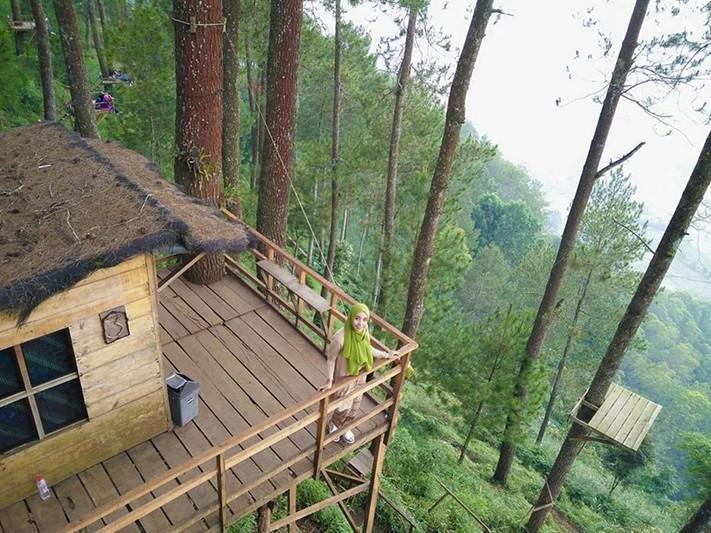 Photo by https://www.instagram.com/kharistauviatulismia/
In the mornings and evenings, hang out on your balcony and watch the world light up with an ethereal glow. You can even go for hikes at Hill Para nearby, or travel a bit further to reach civilisation at Malang and Batu – but with views like this, we doubt you'll be missing city life at all.
Additional information:
Address: Songgokerto, Batu Sub-District,
Batu City, East Java, Indonesia.
Coordinates here
Contact: Deddy at +628384 8020407 or Nanang at +628193 1843858
Website: https://www.facebook.com/Omah-Kayu-681193131999718/timeline/

9. Try out the marine life – Glamping Lakeside Rancabali (Bandung)
Was your childhood dream to be a sailor? If so, you'll love the marine-themed Glamping Lakeside Rancabali, where you can camp in cozy ship-themed tents.
You can easily have hours of role-play fun here – "steer" the wheel at the foot of your bed, or venture out onto the deck (the balcony) and enjoy sweeping views of the wide, blue sea (the lake)!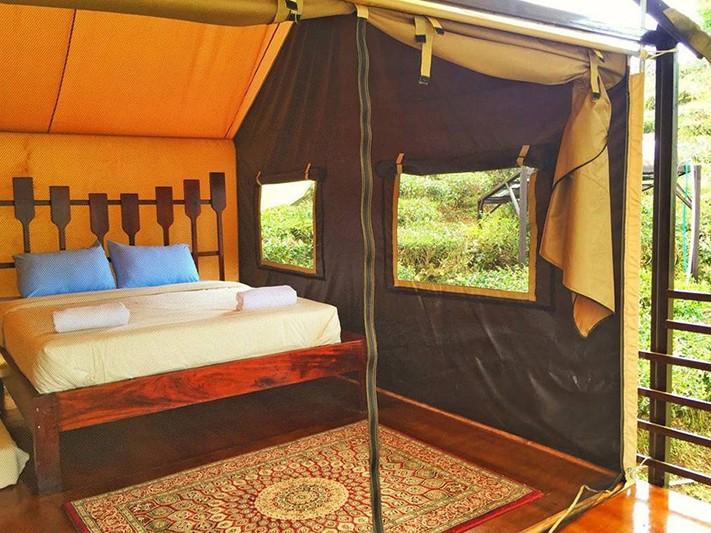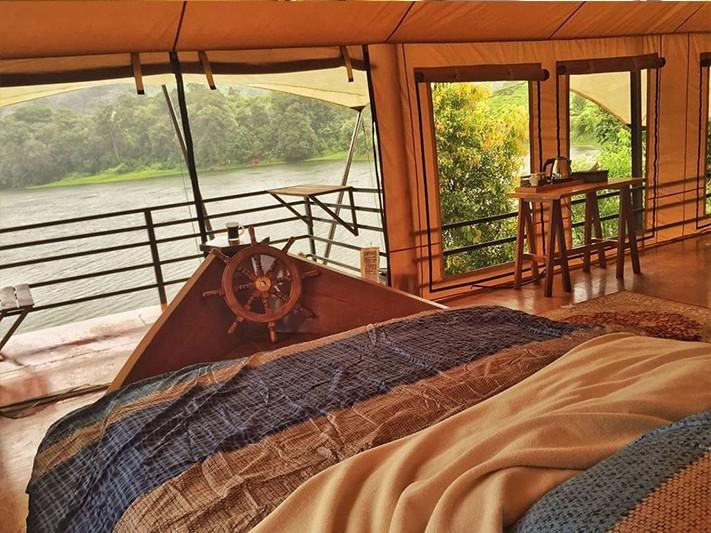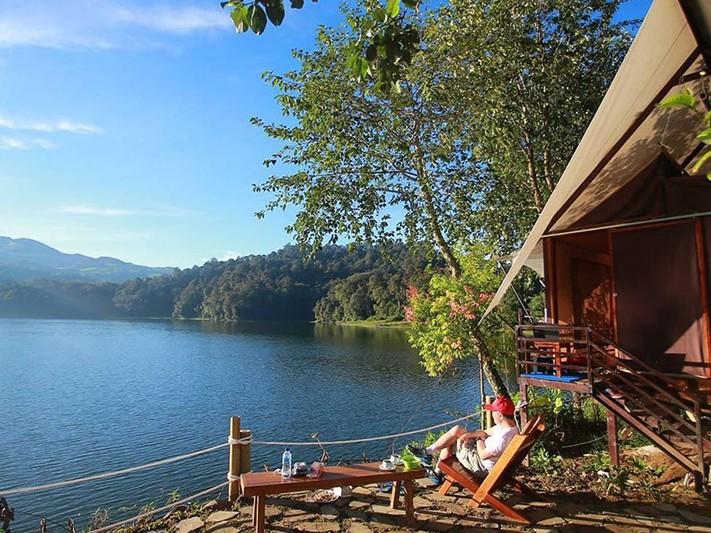 Photos by https://www.instagram.com/lakeside_glamping/
A restaurant aboard a traditional pinisi, the Pinisi Resto, is also located nearby. So if you're up for more adventures onboard a ship, head onto the two-storey vessel and stuff yourself like a sailor (we recommend the beautiful outdoor section!).
Additional information:
Address: Situ, Rancabali Region,
Ciwidey, Bandung regency
Contact: 0821 8002 8888 | 0812 2161 8888
Website: https://www.instagram.com/lakeside_glamping/
10. Infinite views like no other – Rinjani Lodge (Lombok)
If you're a pool baby who loves to lounge around in the pool all day, the gorgeous infinity pool at Rinjani Lodge (Lombok) can't be left out on your "Pools to Try" list.

That's because this pool, perched on the foot of a mountain, features almost unbelievable views of the beautiful green landscape and Indonesia's second highest mountain! As much as many infinity pools claim to have amazing views, it's going to be hard to find something that could top this.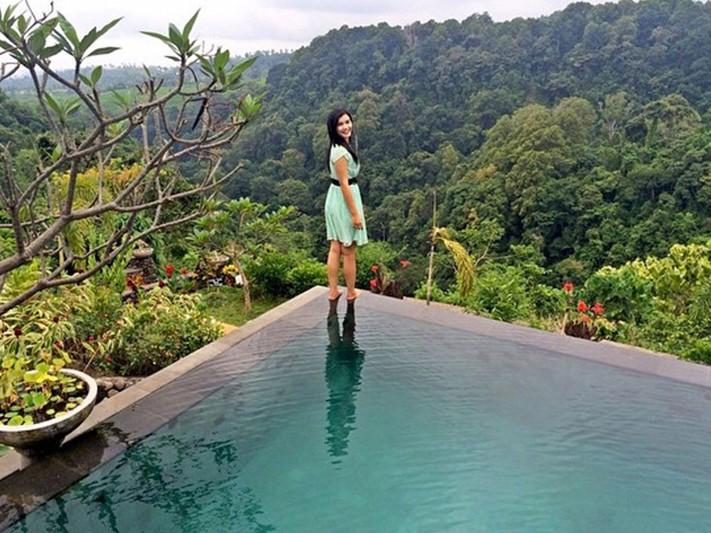 Photo by https://www.instagram.com/rosilinarose/
For more of nature's wonders, you could also take a 20-minute walk to Sendang Gile, a nearby waterfall. Or, we don't know, just embrace your love for the pool and laze around for days – that view is definitely worth it.
Additional information:
Address: Jalan Pariwisata Senaru Bayan,
Senaru, Kabupaten Lombok Utara,
Nusa Tenggara Bar. 83354,
Indonesia
Contact: +62 0819 0738 4944
Website: http://www.rinjanilodge.com/
---
Now that we know living amongst nature can be such an amazing experience, we're this close to ditching our responsibilities and hiding out in the woods.That might be pushing it a little, but now we have some alternative choices for our next holiday, instead of the usual run-of-the-mill hotels. What's your favourite pick?

---
This article is a collaboration between Indonesia Tourism Board and TripCanvas.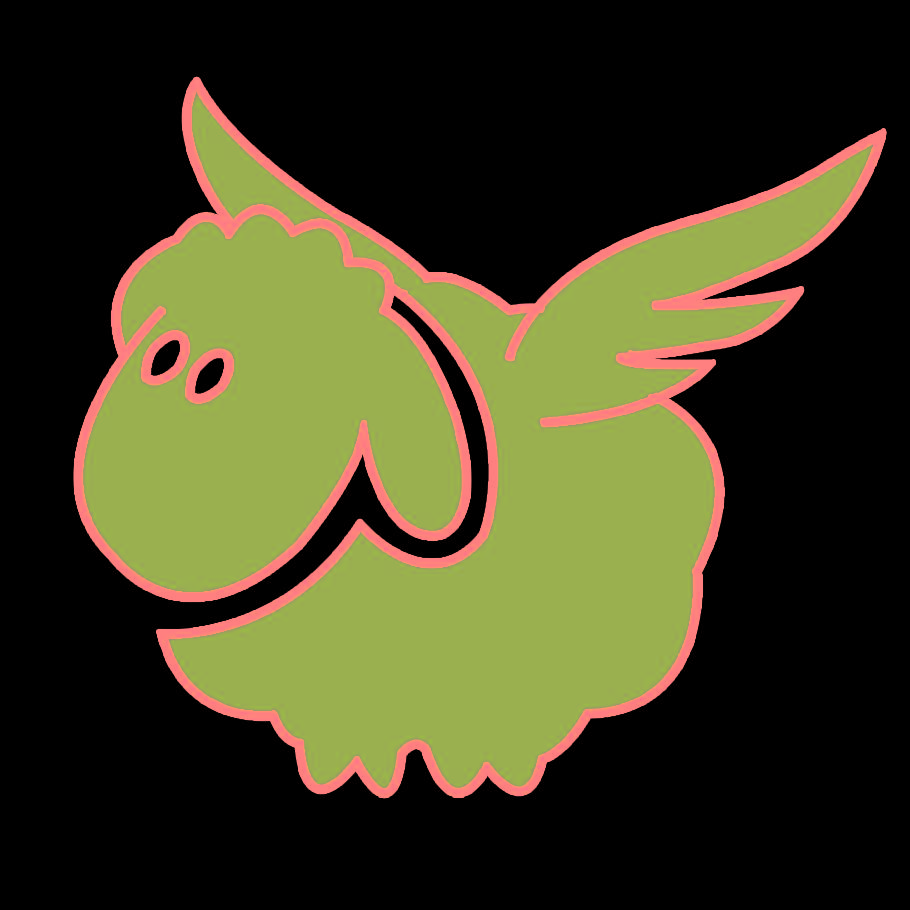 TripCanvas is an online travel magazine that inspires people to rethink about what they can do and where to stay in Indonesia. We redefine how travel guides are being served in a more useful way.