I have no idea how this place escaped my aqua blue water radar but I am so thankful that I got the opportunity to explore this amazing place. I now have a new No. 1 favourite destination in the world.
The Raja Ampat Islands are an Indonesian archipelago off the northwest tip of Bird's Head Peninsula in West Papua. Comprising hundreds of jungle-covered islands, Raja Ampat is known for its beaches and coral reefs rich with marine life.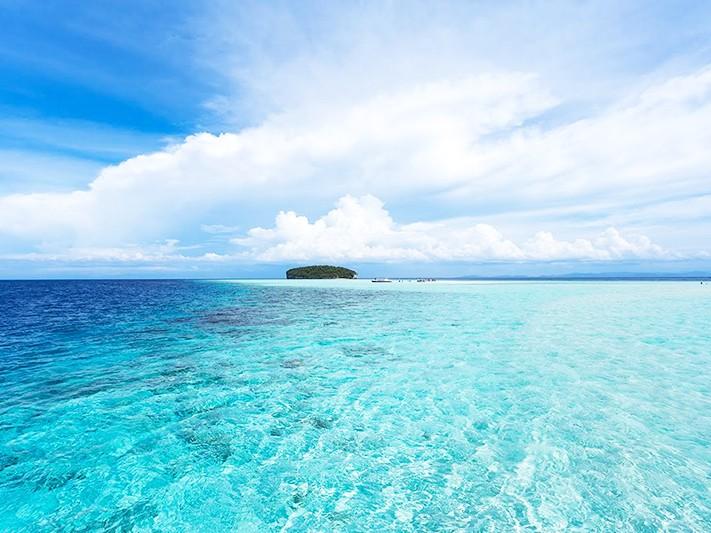 After arriving at Raja Ampat Dive Lodge it was straight off the boat and into the water for a swim in the warm tropical waters. It was so refreshing and I didn't want to get out but it was almost time for sunset and I wasn't missing out of photographing the crazy sunsets that you get in the tropics.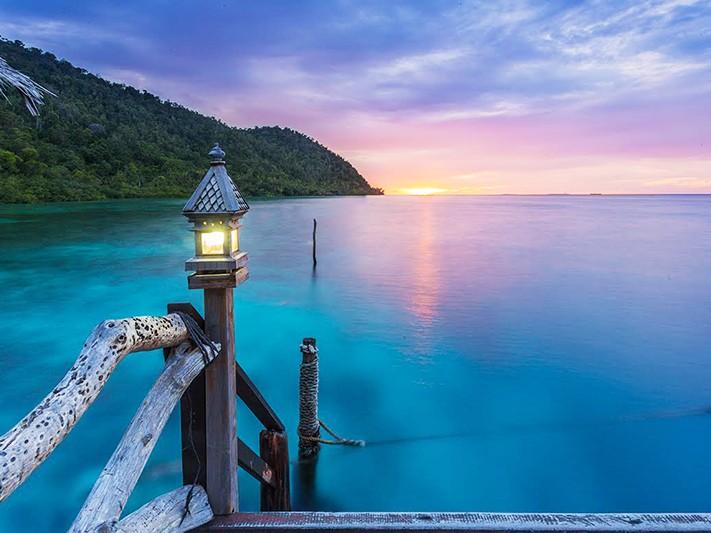 Tropical sunset bliss, Raja Ampat, Indonesia
The next day we jumped back on the boat and headed to Pianemo which was the No. 1 place I was so looking forward to seeing on this entire trip.
Pianemo
Raja Ampat is famous for its coral Islands and the most famous being Pianemo. The water surrounding these islands is clear blue and the perfect temperature. All of the islands as they are still in there raw, untampered state which is nice to see. The quantity and variety of marine life here is so great that scientists have described this area as a biological hotspot and believe that the reef systems here act to restock reefs throughout the South Pacific and Indian Oceans.
Our group stopped at the Cape Star hill which gave us views over the islands that make up a star as you can see in the picture below: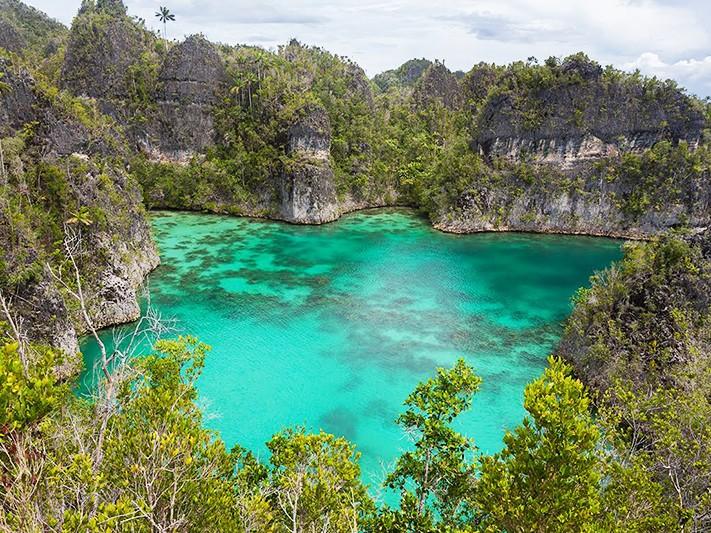 View from the top of Cape Star, Pianemo, Indonesia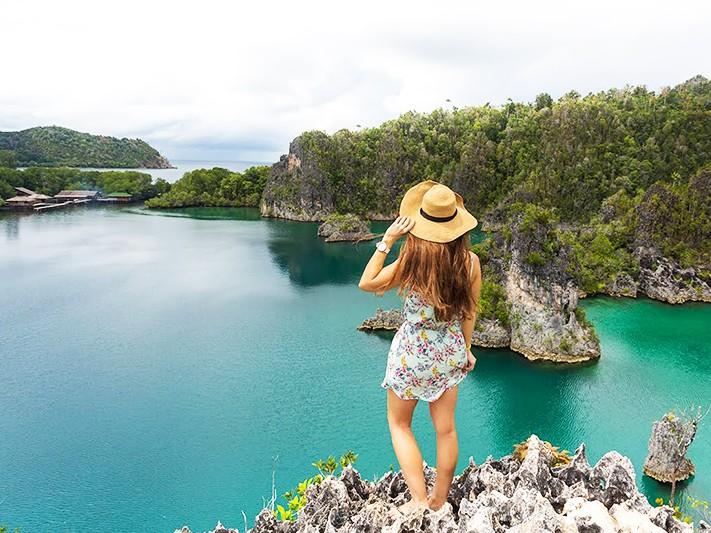 Views to the other way at Cape Star hill, Pianemo, Indonesia
After enjoying this amazing view we jumped back on the boat and headed over to the main Pianemo lookout. Climbing about 250 steps gets you to the top of the coral island that overlooks a huge area of Pianemo. There are two viewpoints from the top of this hill and they are breathtaking.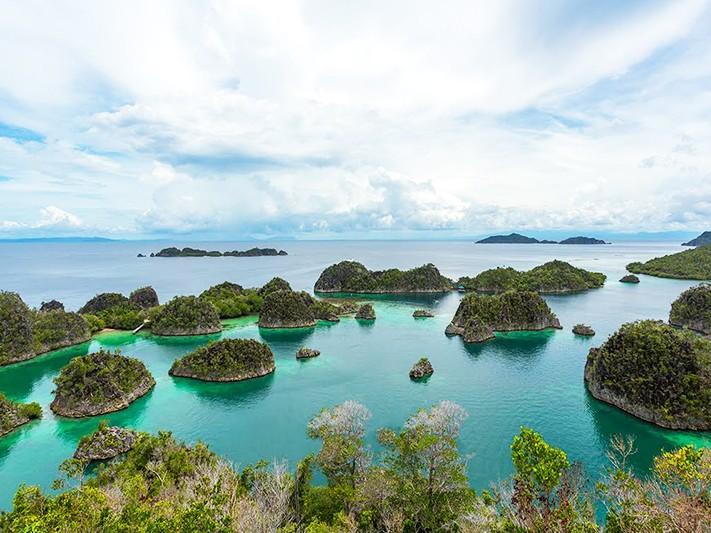 Views from Pianemo lookout, Indonesia
Mansuar Island
After lunch visited the other side of the island that we were staying on - Mansuar Island - for some snorkelling. When we arrived at the jetty there were kids everywhere swimming in the clearest water I have ever seen. They were having so much fun - even with the simplest thing like a foam box.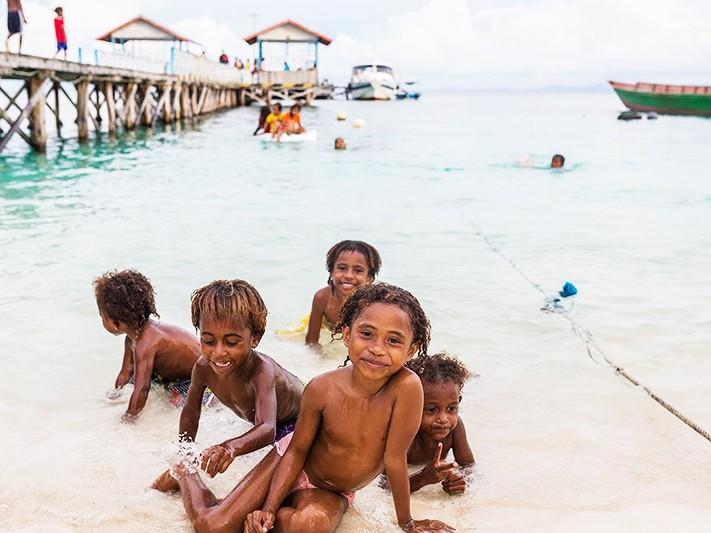 The gorgeous kids of Mansuar Island, Raja Ampat, Indonesia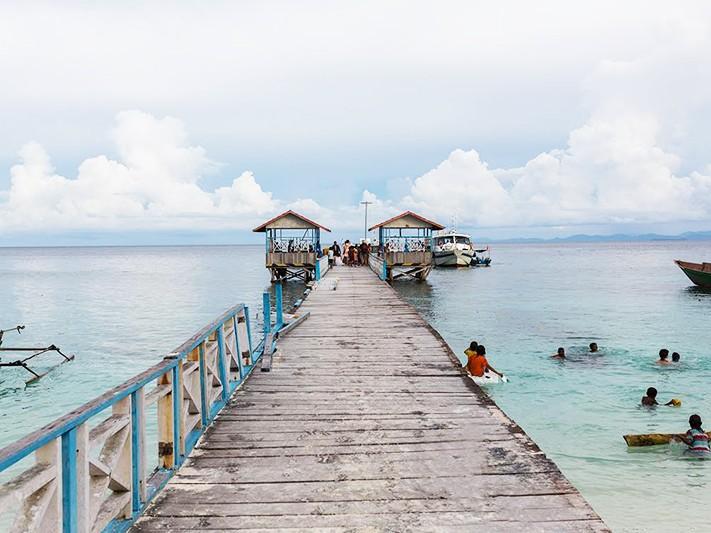 Mansuar Island, Raja Ampat, Indonesia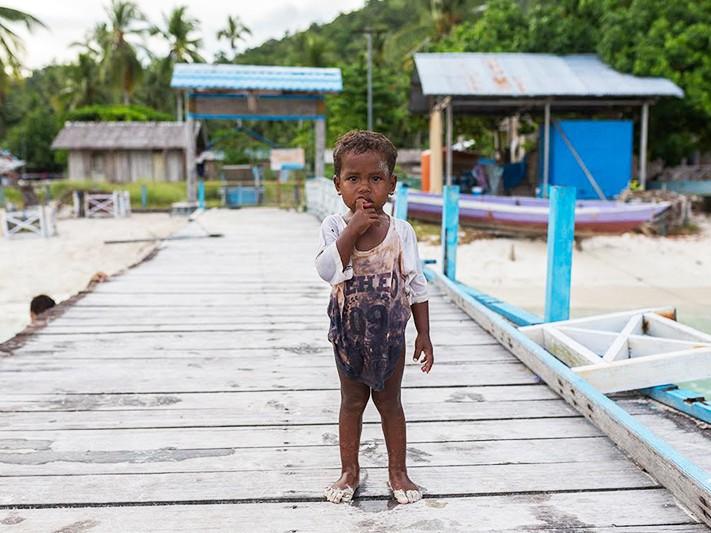 Such a little cutie! Mansuar Island, Raja Ampat, Indonesia
After having fun with the kids it was time to leave and quickly make our way by boat to Sawinggrai Village to catch the sunset.
Sawinggrai Village
Sawinggrai village has 36 families and is famous for the Bird of Paradise (not the plant like we have here in Australia, but the actual bird!). The Red Bird of Paradise is the special icon of the village of Sawinggrai.
I didn't end up seeing the Bird of Paradise while I was there but I did witness another magical sunset.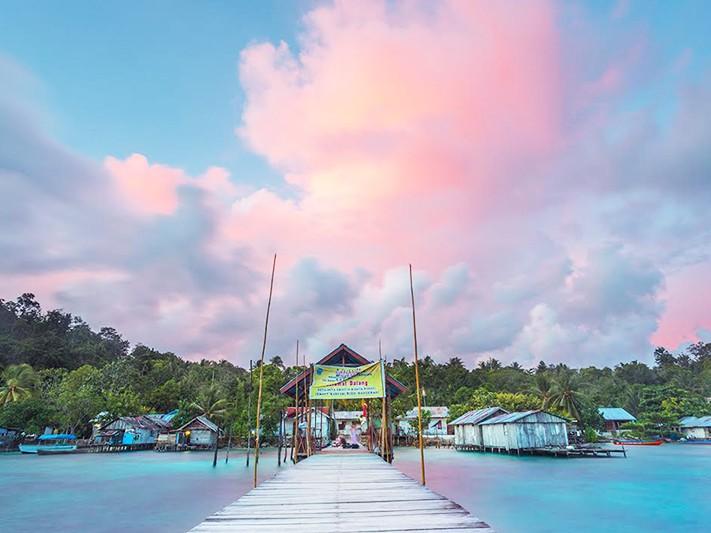 Sunsets at Sawinggrai Village, Raja Ampat, Indonesia
Pasir Timbul
The next day we caught the boat to a destination that now has been placed No.1 on my list of the most beautiful beaches in the world.
When the boat pulled up and anchored in the ocean and I looked out the window I couldn't believe my eyes. I honestly don't think my photos do this place justice. It truly is the closest thing to paradise that I have ever experienced.
Famous Indonesian singer songwriter Budi @budidoremi__ welcoming us with song, Pasir Timbal, Indonesia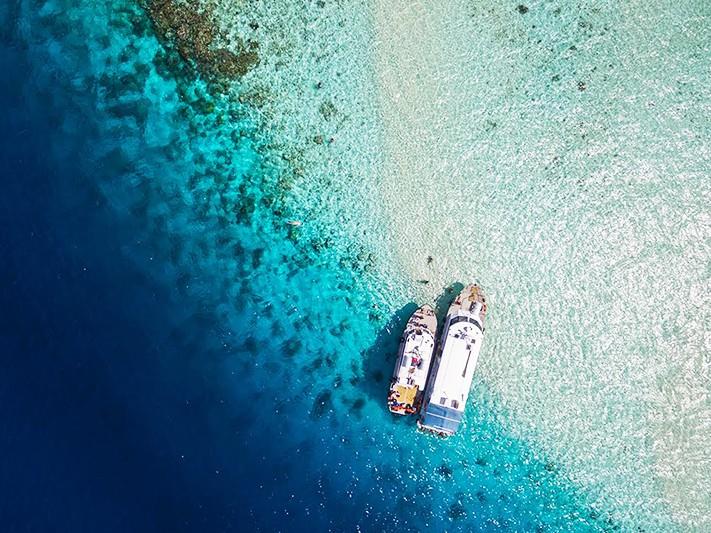 Floating around in paradise! Can you spot us? Photo by @_danieltran_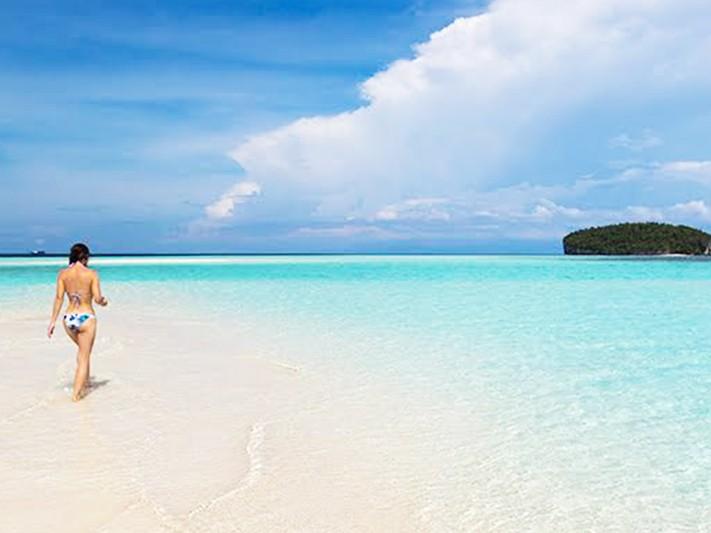 Trying to get my last fix of this amazing place, Pasir Timbal, Indonesia. Photo by @_danieltran_
I really didn't want to leave Pasir Timbal but the tide was coming in and unfortunately we had to leave.
Raja Ampat Dive Lodge
We headed back to Raja Ampat Dive Lodge for one more amazing sunset, one more swim and one last group dinner.

Dan and I making the most of our last afternoon in Raja Ampat. Photo by @lauraalycebell
Three days spent exploring this amazing part of the planet was so much fun and three days I will never forget. I cannot recommend this place enough and you should add it to your bucket list. I am so thankful that I got to experience this paradise.