JAKARTA November 17, 2022 - Another good news for the world of Indonesian tourism. Lonely Planet, a global tourism media providing trusted information for travelers across the globe, awarded the archipelago with the prestigious Lonely Planet's Best in Travel Destinations for 2023. Indonesia's Minister of Tourism and Creative Economy, Sandiaga Salahuddin Uno, received the award directly from Lonely Planet's Managing Director of Destinations, Jim Brody at the World Tourism Market in London, which took place from November 7 to 9, 2022.

Raja Ampat, West Papua, representing Indonesia, was selected as one of six destinations around the world, recommended for a must-visit location in 2023. Categorized as "Unwind Destination," Raja Ampat was considered suitable for relaxing, escaping from busy life, unwinding, and as a gateway to seeking serenity and peace. The other five destinations that received awards in the same category were Halkidiki in Greece, Jamaica, Dominica, Malta, and Jordan.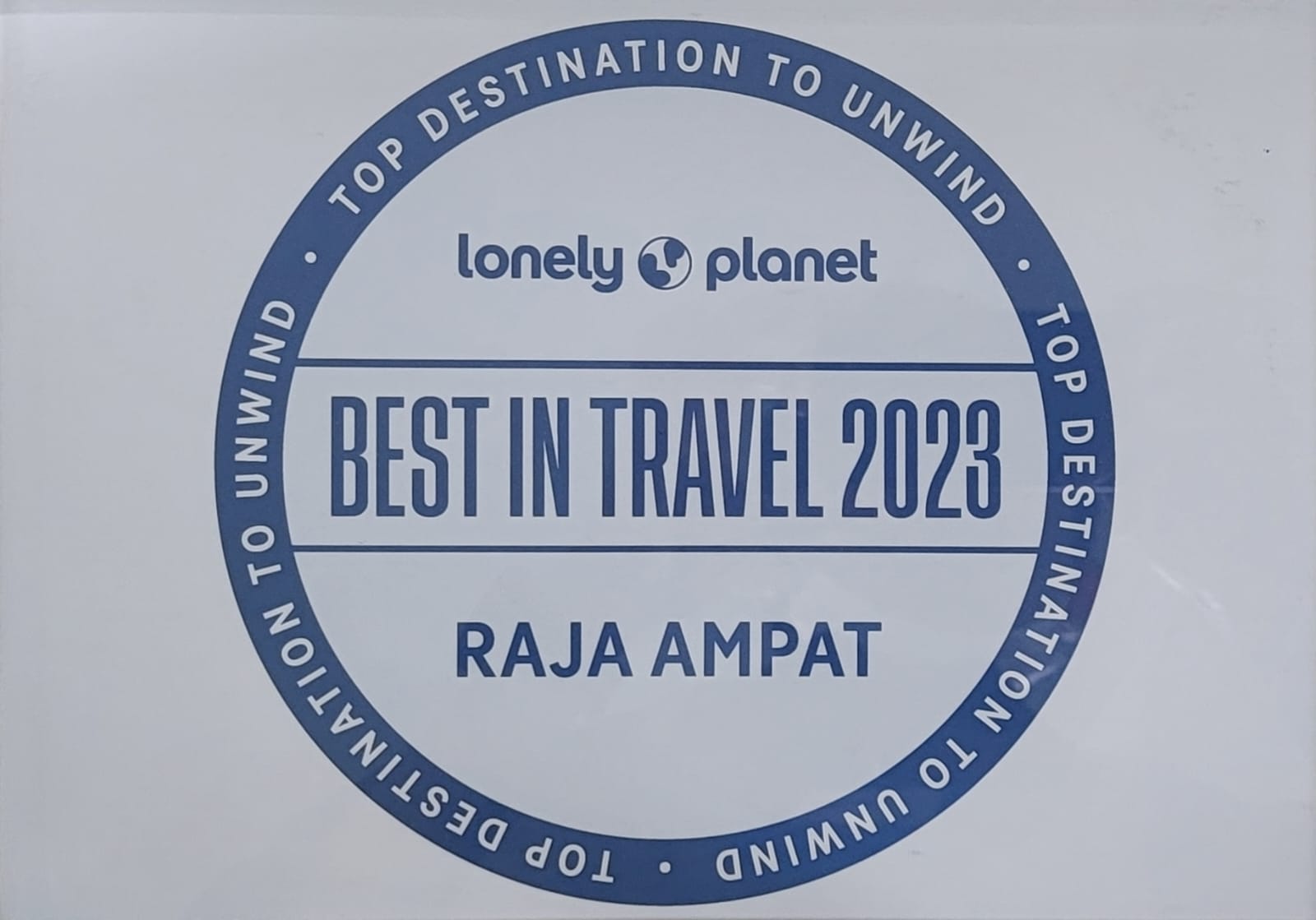 Image by : Lonely Planet
The Lonely Planet, in its official statement, regarded Raja Ampat as an alternative destination to other Indonesian islands, which are famous for their coral reefs, incredible diving spots, and beautiful beaches.
"This award brings hope to the rising quality and world-class Indonesian tourism destinations, as well as proving that the global trend of tourism in the future has changed from the old 3S; standing for Sand, Sun, and Sea, into the new 3S; namely Spirituality, Serenity, and Sustainability. Raja Ampat is an example of a destination that fulfilled the new 3S," uttered Sandiaga.
The Minister also informed about Raja Ampat's excellent tourism village. "For further information, Arborek; a tourism village that has been developed successfully in this region, is a pilot project for a tourism village that has managed to become a quality and sustainable destination," he noted.
Moreover, Indonesia's Tourism and Creative Economy Deputy for Marketing, Ni Made Ayu Marthini, added, "Raja Ampat was chosen because the coral reefs and diving spots of this region are globally unmatched, its less-crowded atmosphere can become an alternative to Indonesia's new island for foreign tourists."
She then expressed her aspiration for Indonesia's tourism. "We hope this award will help increase international awareness towards Raja Ampat and Indonesia, as well as encourage all Indonesian tourism actors to improve the management of the new 3S destinations even more actively," declared the deputy.
This award given by Lonely Planet became another addition to the collection of awards that Wonderful Indonesia has received throughout 2022. Moments ago, Bali was ranked first in the "10 Happiest Holiday Destinations in the World" issued by Club Med, a Travel and Tourism Operator based in France.
For Further Information:
Cecep Rukendi
Direktur Pemasaran Pariwisata Regional II
E-mail: europe1@indonesia.travel
Telephone: +62 21 383 8353