As the world's largest Archipelago, Indonesia has an abundance of some of the most spellbinding underwater splendors on this planet. Straddling the equator between the Pacific and the Indian Oceans, and located right at the heart of the "Coral Triangle", Indonesia is where you will find more marine diversity than anywhere else on earth.

Raja Ampat, Wakatobi, Bunaken, Banda, the Alor islands, Bali's Nusa Lembongan, are just a few spots recognized by professional divers where are found some of the world's most stunning underwater treasures.

With approximately 20% of the world's coral reefs, over 3,000 different species of fish and 600 coral species, deep water trenches, volcanic sea mountains, World War II wrecks, and an endless variety of macro life, Indonesia definitely offers the ultimate diving experience for all.

Dive sites such as the Anambas and Natuna Islands off the coast of Sumatra, The Thousand Islands near Jakarta and Karimun Jawa north of Java, the waters around Bali, Lombok, Komodo and the Nusa Tenggara Islands; Derawan Islands in Kalimantan, Wakatobi , Bunaken and the Lembeh Strait in Sulawesi, are to name a few: Indonesia is truly an endless divers' paradise offering deep trenches, diving with manta rays, mola-molas, whale sharks, to meeting minute critters for macros. Indonesia has it all.

As divemagazine.co uk is conducting an ongoing poll to determine the Top 15 Diving Destinations 2017, this is your perfect opportunity to express your support confirming Indonesia as the best diving destination in the world.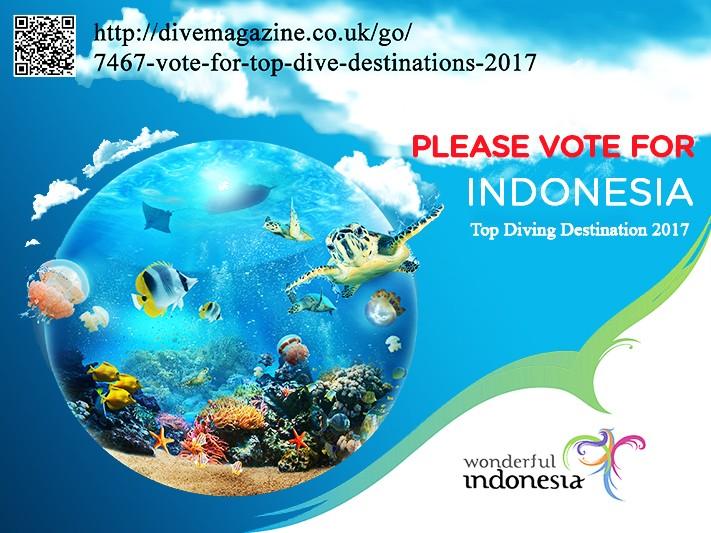 Closing on 31st December 2016, more than 5,000 people have already voted on their top diving destination choice –and so far Indonesia is storming ahead. So what are you waiting for? Cast your vote now, and spread the news to the rest of the world of the wonders that are the Indonesian seas.
To cast your vote, go to: http://divemagazine.co.uk/go/7467-vote-for-top-dive-destinations-2017