As the country with the largest Muslim population in the world, Indonesia is definitely on the front line when it comes to Halal Tourism. In most of the major cities, the Adzhan, the call to prayers is heard reverberating from the many mosques, prayer rooms or mushalla are easily found in almost every building, and a wide range of halal dining options can easily be found. Showcasing the diverse unique halal tourism attractions of the country, Indonesia will be participating in the World Halal Tourism Summit 2016 (WHTS 2016) to take place on 22nd to 23rd November 2016 at the Abu Dhabi National Exhibition Centre in Abu Dhabi, United Arab Emirates.
In last year's event, the enchanting island of Lombok successfully took the title of the World's Best Halal Tourism Destination and the World's Best Halal Honeymoon Destination. Along with Lombok, Indonesia's Sofyan Hotel Group also successfully won World's Best Family Friendly Hotel award. This year, the Ministry of Tourism is again calling for various halal tourism industries and stakeholders from all over the archipelago to participate in the event.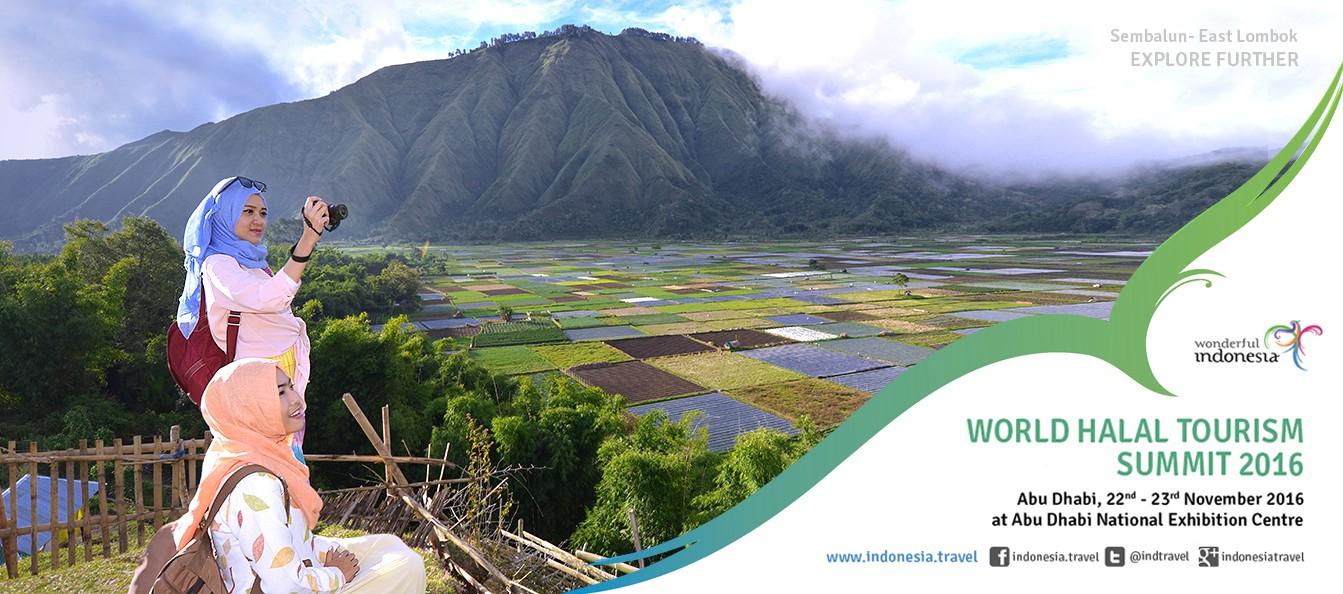 The Indonesia 180 square meter pavilion provides available slots for 22 participants including 2 slots for Provinces/Cities/Regencies Tourism Office, 4 slots for Travel Agents, 4 slots for Hotels and 4 slots for recreation parks. Those who intend to promote their halal tourism package are cordially invited on a self –funded basis.
Considering limited numbers that can be accommodated, participants will be selected on a "first come, first served" basis. For this reason, those interested are encouraged to submit their application before 31st August 2016 and send the completed form to wonderfulindonesia.middleeast@gmail.com, contact person Ms. Annissa/ Mr. Muchlas (021) 383-8309.
WHTS 2016 is the world's largest unique event offering two days of exhibition and conference. This event is designed to match trade buyers with leading tourism brands operating exclusively in the Halal travel sector. WHTS 2016 creates the opportunity for strategic partners to co-create innovative tourism solutions that are relevant for today's fast moving travel industry. This is a B2B (Business to Business) gathering of global Halal travel specialists and with a largest showcase of Halal travel & tourism solutions. In partnership with Abu Dhabi government, this event will be attended by more than 6,000 travel professionals including travel agents, hospitality groups, hoteliers, developers and key international decision makers from around the world. The 2015 event generated impressive results with 202 exhibitors including the UAE, Iran, Turkey, Malaysia, Indonesia, Oman, Sri Lanka, Egypt, Croatia, Tanzania, UK, Jordan, Canada, Kenya, and Lebanon.
The Indonesian Archipelago is where you can find the perfect fusion of Islamic culture and authentic indigenous traditions. This is best experienced at a number of cities such as Banda Aceh in Aceh Province, Padang in West Sumatra, Demak in Central Java, the Island of Lombok just east of Bali, and more.
More information on WHTS available at: http://whtsexpo.com/