Recognized as the largest Buddhist monument in the world, the magnificent Borobudur Temple in Central Java has again received worldwide acknowledgement: National Geographic placed Borobudur in the Top 3 of 15 in World's Iconic Adventures Worth the Effort, after the awesome Machu Picchu in Peru and Petra in Jordan, as published on 26th April 2017.
Placed third on the list, Borobudur's rising popularity outranked other of world's other favorite destinations that include The Great Wall of China, Provence's Lavender Route in France, and the Leaning Tower of Pisa in Italy.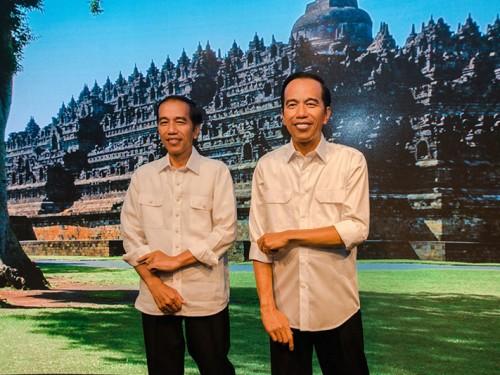 Photo source : www.thejakartapost.com
As quoted from www.nationalgeographic.com/travel/:";We've chosen 15 celebrated places worth the trek or climb. Whether you're a Sunday stroller or a Sherpa, you'll find an adventure to match your stamina. The ultimate reward waiting at the end? An inspiring perspective on the world."
Portraying the wonders of Borobudur, the site wrote: ";On the island of Java, Mahayana Buddhist pilgrims climb the 95-foot-high, multi-tiered structure (the single largest Buddhist temple on Earth) as a symbolic journey to enlightenment. Apex views of surrounding volcanoes are breathtaking, but the nearly 3,000 bas-reliefs deserve a closer look."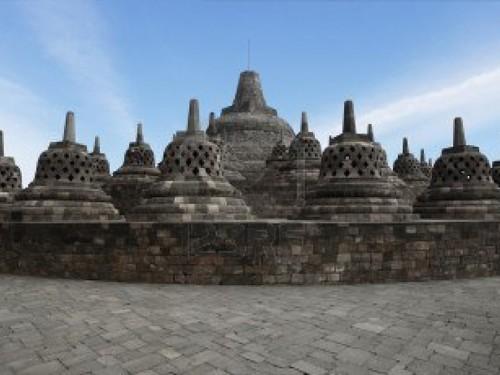 Photo source : www.arielnumpangnulis.blogdetik.com
Borobudur covers an enormous area, measuring a solid 123 x 123 meters. The monument is a marvel of design, decorated with 2,672 relief panels and 504 Buddha statues. The architecture and stonework of this temple has no equal, and since 1991 the temple has been listed UNESCO World Heritage site. Borobudur sits on a hill and overlooks an unforgettable panorama of mountains and lush green valleys.
Recently, on 1st May 2017, Indonesia's President President, Joko Widodo, - popularly known as President Jokowi - also promoted Borobudur Temple in Hong Kong. At Madame Tussaud's Museum in Hong Kong, President Jokowi decided that the image of Borobudur Temple be used as backdrop to his life-sized wax statue.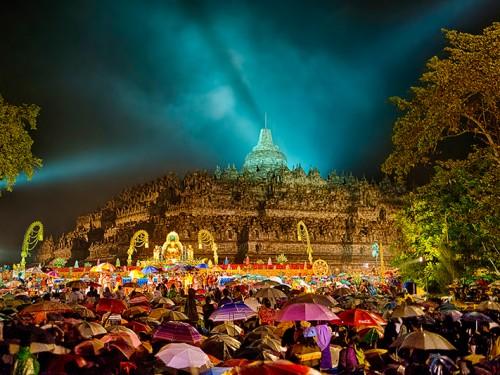 Photo source : www.bemyguest.com.sg
To furthermore improve connectivity for easier and wider access to the Borobudur Temple, President Jokowi has led the ground breaking for the New Jogja International Airport at Kulonprogo Regency on 27th January 2017.
Indonesia's Tourism Minister, Arief Yahya expressed his joy and appreciation to the National Geographic who have placed Indonesia;s Borobudur on a most prestigious ranking. The Minister viewed that the cultural masterpiece of Indonesia that has been recognized by UNESCO, is indeed a world icon. ";It is ranked and evaluated by world class establishments, and this heritage site is indeed of world class. Thereby confirming that Borobudur is indeed acknowledged as a world's icon" said Minister Arief Yahya.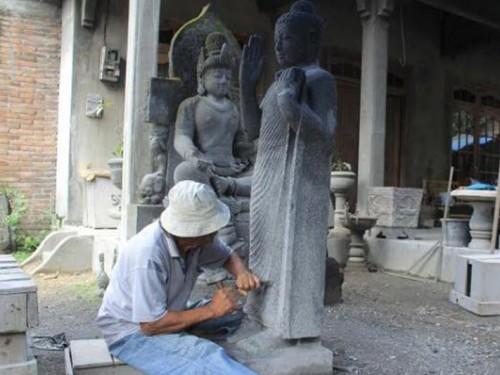 Photo source : www.jogja.tribunnews.com
Minister Yahya further underscored that the review made by National Geographic will have significant impact. ";This will drive national Geographic loyal readers to look for more information about the Borobudur Temple in all its splendor which will lead to increased interest to come and visit the temple." The Minister also added that currently Borobudur is now further improved to be a world class destinations by applying world class standards.
As listed by National Geographic, the 15 Iconic Adventures worth the Effort are as follows:
Machu Picchu, Peru

Petra, Jordan

Borobudur, Indonesia

The Acropolis, Greece

The Great Wall, China

Sigiriya, Sri Lanka

Plitvice Lakes National Park, Croatia

Mammoth Cave National Park, Kentucky

Provence's Lavender Route, France

Avenue of the Baobabs, Madagascar

Potala Palace, Lhasa, Tibet

Amber Fort, Jaipur, India

Sydney Harbour Bridge, Australia

The Leaning Tower, Pisa, Italia

Reichstag, Berlin, Germany
Photo source of header banner : www.ourglobaltrek.com

Related Articles :
8 Beautiful ​Hotels Closest to Magnificent ​​BOROBUDUR
Homey Homestays in Yogyakarta and Magelang, Central Java
6 Magical Places in Indonesia to await the First Sunrise of 2017
Be Delighted with Yogyakarta's Delicious and Luscious Delicacies
Inspiring Vesak Day Rituals at The Magnificent Borobudur Temple