For centuries, Bali has been known as an exotic oasis with some of the world's best beaches, bargain shopping, vibrant nightlife and rich culture. There really is something here for everyone; families, couples, groups and young travelers. Bali is an island full of experiences unlike any other. Bali is great value for money where affordable accommodation packages are available in abundance. Tourists are really spoilt for choice. But how to choose a place where you will be happy to hang your hat for a few days, or weeks, when in Bali? Bali has its own unique and here are among the list.
1. Bambu Indah Ubud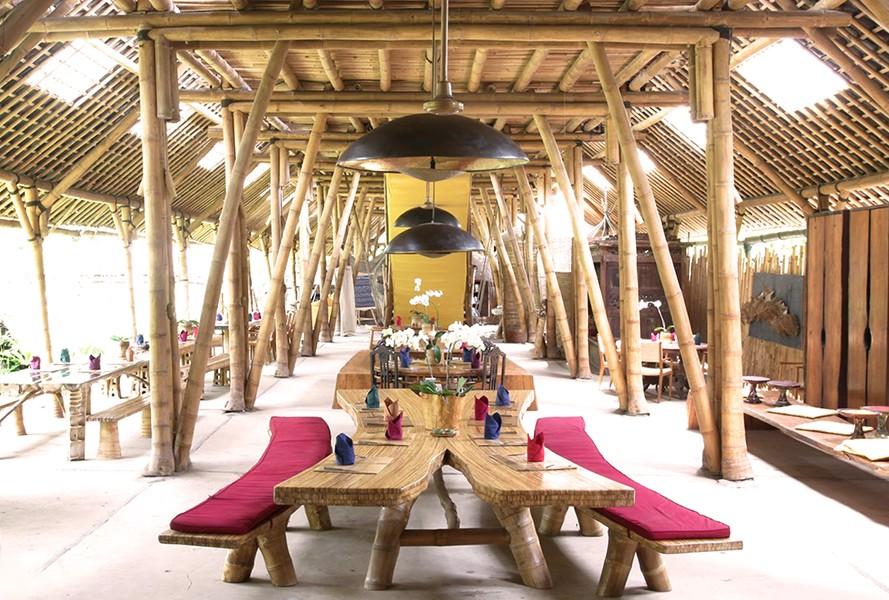 Ubud will not only experience a fascinating culture, is like a magnet for those who visit Bali. The eco-luxury boutique Bambu Indah offers a truly unique and unforgettable experience when you're in Ubud. Surrounded with lush gardens and combined traditional with modern achieving stunning results, guests are accommodated in the antique Javanese teak wood villas, built 100 years ago and now restored to fully match the world-class quality. Each house is individual, charming and decked out with traditional Javanese furnishings and a smattering of collectables from the owners' travels. The beautiful open-air bamboo restaurant serves meals throughout the day, and special private dining can also be arranged for your romantic dinner. If crowded beachside resorts aren't your thing in Bali, then Bambu Indah may just be what you're looking for.
2. Sandat Glamping Tents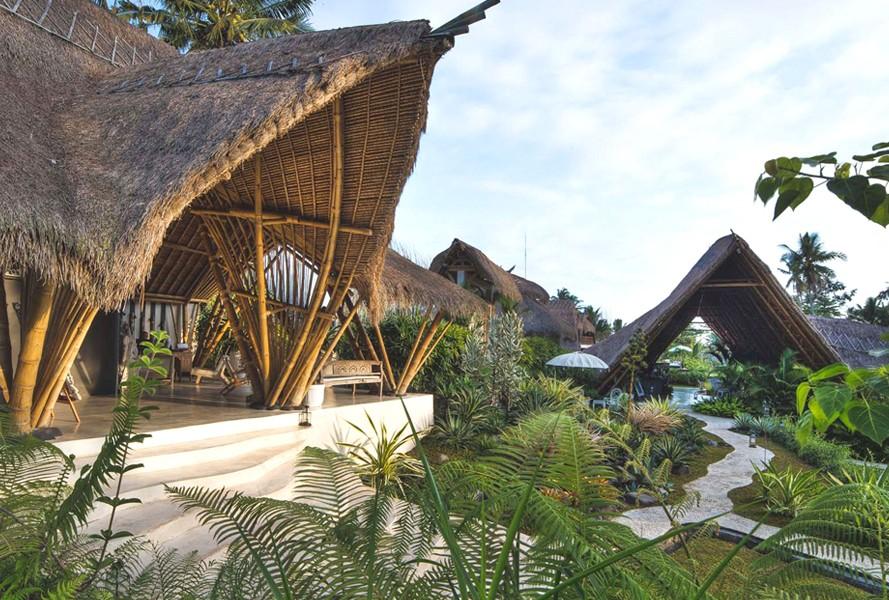 Bali also got new challenge to stay. Try Glamping, a glamorous camping! The Sandat Glamping Tents makes you forget about tent to pitch or sleeping bag to unroll. Here you can stay in one of five tents, decorated in traditional-contemporary Balinese style, each with its own individual color-focused décor, pitched securely amid the paddy fields, and boasting its own private pool. Offering an outdoor pool and an onsite restaurant, Sandat Glamping Tents presents a unique yet luxurious getaway in Ubud.
3. Mara River Safari Lodge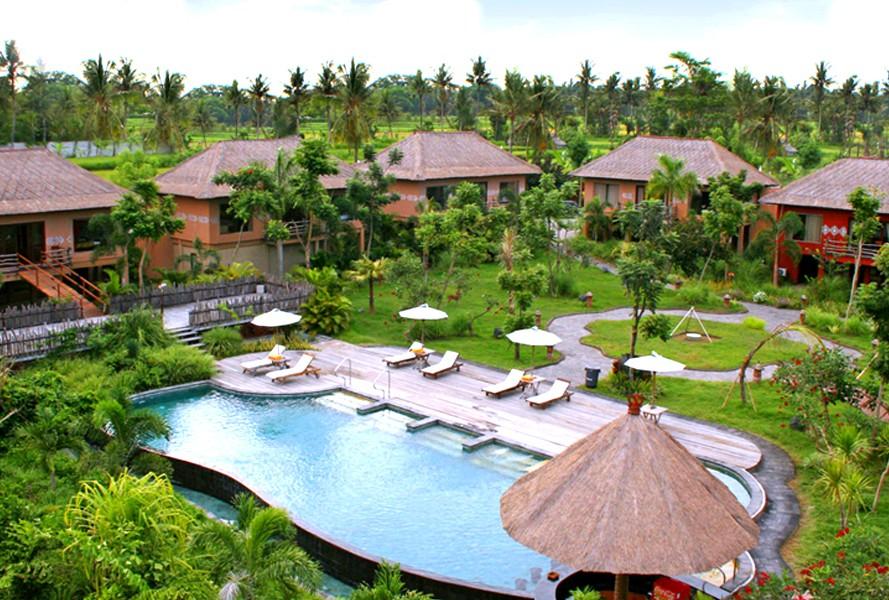 Mara River Safari Lodge is a themed resort that offers a truly unique experience. Accommodation is composed of a series of comfortably appointed thatched dwellings orientated towards a landscape inhabited by wildlife. Mara River Safari Lodge provides an African themed experience, featuring 38 rooms and suites with ethnic décor. The hotel also can arrange for night safaris, tours, cultural shows and water sports activities. Ready to hear the magnificent roar of a majestic lion right from your bedroom window?
4. Le Pirate Beach Club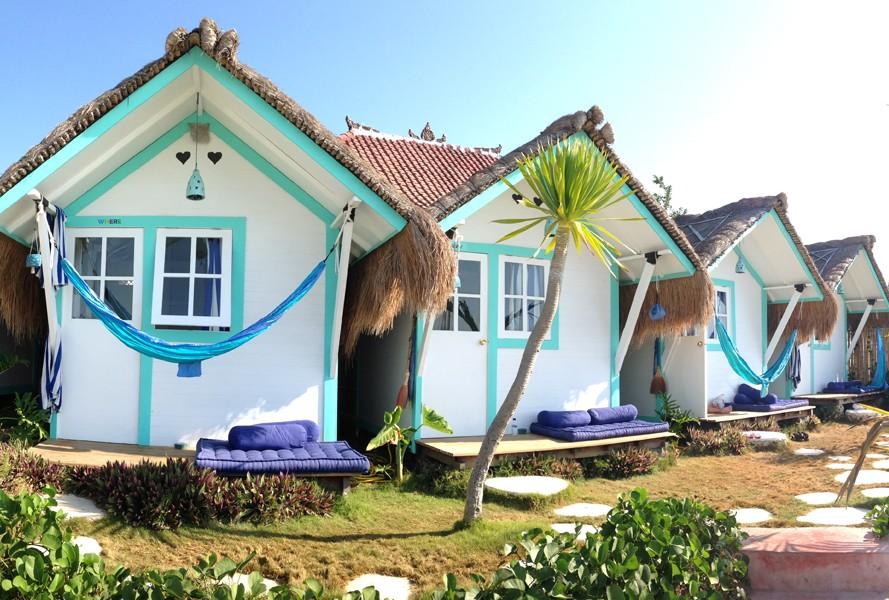 Set on an exceptional location along a low cliff with beach access, Le pirate is primarily a Beach Club fitted with ten Beach Boxes for overnight stays. Located 20 km off the east coast of Bali, you can start your adventure by set sail for Nusa Ceningan. With a color scheme of sprightly white and blue, the theme here is retro-chic island kitsch. It features an outdoor swimming pool overlooking the turquoise waters, Lembongan Island and stunning sunset. This is the wonderful simple resort to ensure you're on holiday mood.


5. Bali Dynasty Resort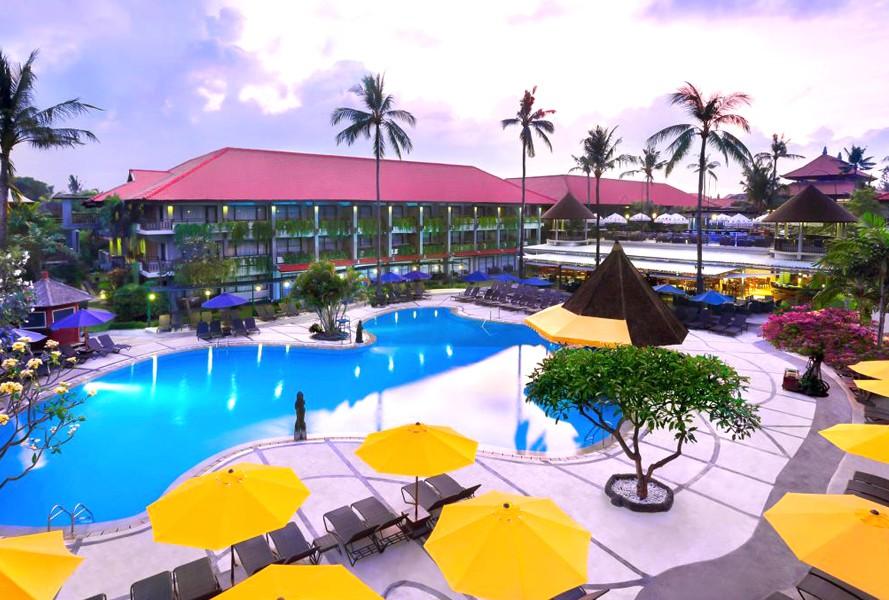 Just steps from Kuta Beach, the Bali Dynasty Resort offers spacious rooms and suites boasting garden or lagoon pool views, and luxury tent villas overlooking the ocean. Facilities include a day spa, trapeze classes, kids' club and three pools, with a dedicated adults-only pool and kids' play area, complete with 56-metre waterslide. It is nestled in beautiful tropical gardens within walking distance to the nightlife and excitement of the central Kuta area. With 312 guest rooms, six restaurants, four bars, three swimming pools, spa villa, exercise room, beach club, kids' club and meeting facilities, this resort has everything you need to enjoy a relaxing holiday.