Facing the wide Indian Ocean, the island of Sumba near Komodo Island in the province of East Nusa Tenggara is probably more popular as a surfers' paradise and an exclusive secluded hideaway. However, Sumba was for centuries known as Sandalwood Island for its fragrant wood sought particularly by Chinese noblemen. For this reason, the swift Sumba horses are called Sandalwood Ponies,That are most popular for horse racing. These horses are the highlight of the exciting annual tradition of the Pasola Jousting Festival.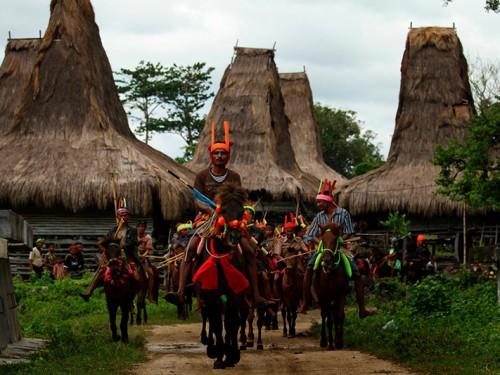 Photo source : www.worldfpa.org
On 3rd to 10th July 2017, these amazing horses with all their outstanding features will be the center piece of the 1001 Sandalwood Horses Festival.
The event will be held in several towns and regencies across the island starting from 3rd to 4th July at Waingapu, capital of East Sumba Regency. The festival will then move and continue on 5th to 6th July at Anakalang, Central Sumba, to shift again to Waikabubak in West Sumba on 7th to 8th July, before the grand closure on 9th to 10th July at Tambolaka in Southwest Sumba.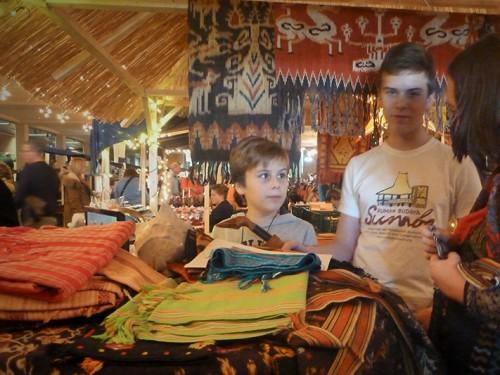 Photo source : www.kompasiana.com
Adding to the festivities, the event will be combined with the Tenun Ikat traditional handwoven fabric Festival for which Sumba is also famous, that will feature no less than 2,000 of Sumba's finest weaving artisans.
The Sandalwood pony got its name from the sandalwood tree which used to flourish on Sumba and was long associated with the island. In China this fragrant wood is used to make beautifully carved treasure chests to preserve its precious contents from decay and insects.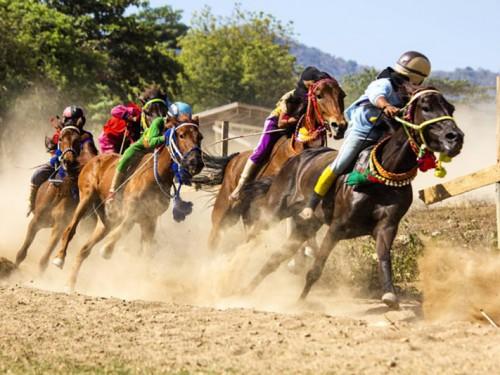 Photo source : www.adventurezonebima.blogspot.co.id
The Sandalwood pony is one of the finest breed of horses in Indonesia, partly due to the fact that these are a mixed breed with Arabian horses.They are especially popular in horse racing, both on the flat or in harness. They are also used in bareback races held on the islands, with tracks often covering over three miles. Traditionally, The Sandalwood is used for light draft, pack, farm, and riding work. They make suitable children ponies, and have been exported to Australia for this purpose. They have also been exported to other Southeast Asian countries for use as racing ponies.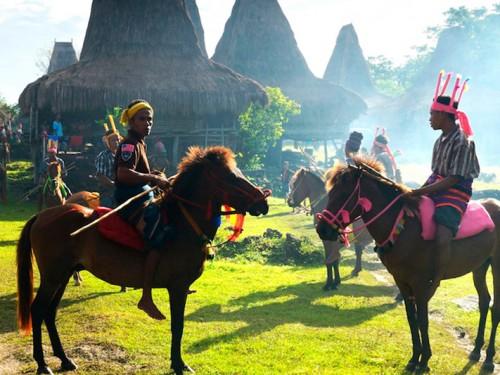 Photo source : www.merdeka.com
Sandalwood ponies have excellent endurance, and are considered easy to manage. They usually have a handsome head with small ears, a short, muscular neck, and a deep chest with sloping shoulders. Its back is usually long, and the croup slopes. The ponies are usually 12-13 hands (48-52 inches, 122-132 cm) and may be of any color.
Head of the Tourism Office and Creative Economy of East Nusa Tenggara Province, Marius Jelamu explained that the event will be truly special since it presents unique attractions for tourists. "Usually, a carnival features people in decorated costumes. This time we will feature a thousand and one Sumba horses with their riders wearing various colorful traditional costumes originating from all across East Nusa Tenggara". Said Marius Jelamu. He further added that the event will show the world that East Nusa Tenggara still has an abundance of attractions to show next to the Komodo Dragons, the Tri-Colored Lake of Mount Kelimutu, and the exclusive Nihiwatu Resort.
Separately, Tourism Minister, Arief Yahya also shared his enthusiasm in the event. "As an attraction, the horse parade is definitely exceptional! No other place on earth has ever staged a parade of 1001 horses aside from Sumba!" said the Minister. Therefore, Minister Arief Yahya, invites tourists from across the globe to explore the spellbinding beauty of Sumba. "Please come to Sumba. There you will also be speelbound by the amazing natural scenery and enchanting beautiful beaches. We guarantee that you will not be disappointed" added Minister Arief Yahya.
To reach Sumba, Garuda Indonesia has regular flights to Tambolaka from Jakarta with stopover in Bali, while multiple airlines serve the Bali-Waingapu route. For your accommodation do check your travel agent or find these online.
Photo source of header banner : www.worldfpa.org
Related Articles:
1. Homestays on Fascinating Flores, Sumba and Timor Island
2. Tasty Traditional Treats of Flores Island
3. Top Spots to shoot Spectacular Photos in Komodo National Park
4. Atambua International Motocross 2017: Motocross Battle of Two Countries
5. Explore Indonesia Anew! 10 Magical Places You Never Knew Existed