The exciting Bintan Triathlon 2017 is here again! Held from 20-21 May 2017, the event is expected to be participated by over 1,400 athletes from 30 countries who will race in three different consecutive sports: swimming, cycling and running. The Bintan Triathlon prepares athletes for Ironman 70.3, to be held in August 2017.
Bintan is located a one hour's ferry ride from Singapore, and is the largest island in the Riau Archipelago.
Registered participants to date are among others from Australia, England, France, the Netherlands, Germany, USA, Malaysia, Singapore and, of course Indonesia, said Head of the Tourism and Culture Office of Bintan, Luki Zaiman Prawira on Friday 5th May.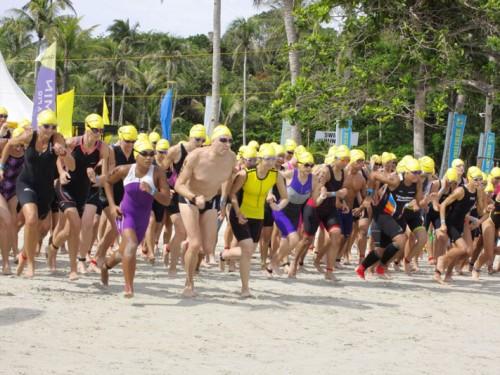 Photo source : www.bintantriathlon.com
Competitiors will first have to swim through relatively quiet seas, but then bike across routes that have many bends and turns and steep climbs over hilly terrain. In the third stage, runners will be challenged by the hot and steamy tropical weather.
The event is divided into 5 categories, which are: the Olympic Distance (covering 1.5 km swim, bicycle race over a 40 km route, and run 10 km). In the Sprint Distance this comprises 750 meters swim, 20km cycling, and 5km run; The Youth Distance covers 300meters swim, 12K cycling and 3K run. Additionally there is the Kids Distance, covering 150 meters swim, 6K cycling, and 1.5K run.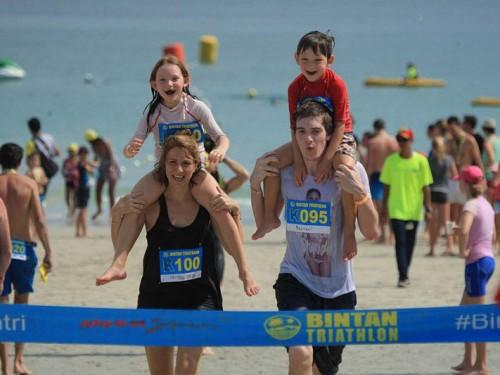 Photo source : www.bintantriathlon.com
While the Fun Race Challenge covers 1.5 km run, 150 meters swim and run to the finish line. This is a favorite for family sports tourism.
All races will start at the Nirwana Gardens Beach Resort. Having finished the swimming stage, athletes will continue with the cycling race taking the route: Nirwana Gardens Resort - Ria Bintan - Lagoi Reservoir - Ole-ole Market and return to the finish line.
All atheletes will have done their warming up the previous day through special swimming or classic swimming session, so that all will be in peak condition to start this most challenging competition the next morning, said Luki.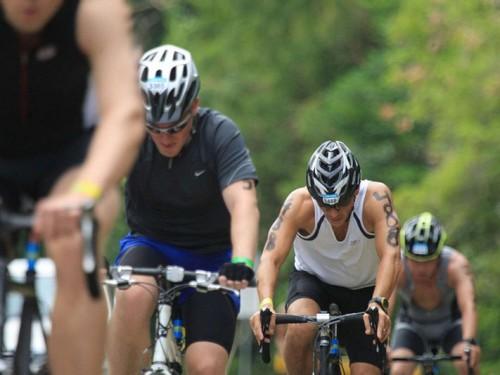 Photo source : www.bintantriathlon.com
Meanwhile, Group GM of PT BRC, Agdul Wahab explained that annually, participants in the Triathlon keeps increasing, where 90% of participants come from overseas.
The International BintanTriathlon now enters its 13th year, and as per usual is held around the Nirwana Gardens Resort. Over 2,000 participants, supporters, family and friends are expected to crowd at Bintan resort, which is also participated by local athletes, said Wahab.
The timing is very attractive, since it takes place in the spring. Moreover, BintanTriathlon competes across the longest route in Asia.
Bintan promises a great day and an unforgettable experience for all, said Wahab.
On his side, Indonesia's Tourism Minister, Arief Yahya congratulates Bintan for organizing this impressive international event. "Bintan has the resort and man-made sports amenities, smooth roads, a swathe of white beaches, mangrove forests and undersea life to attract world tourists.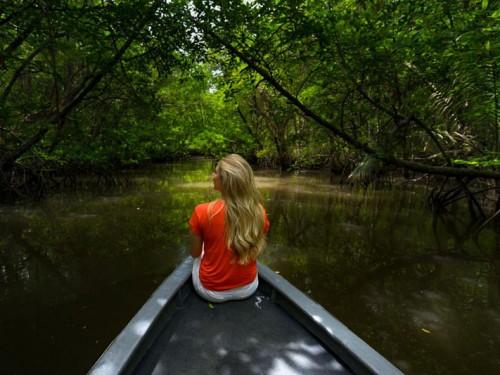 Photo source : www.journeyera.com
It is expected though, that with the rapid increase in tourist arrivals to Bintan, being easily accessible from Singapore and Malaysia, the number of hotel rooms and other attractions on this island will need to be increased.
For more information, log on to: www.bintantriathlon.com
Related articles :
1. 8 UNIQUE EXPERIENCES AND ADVENTURES IN INDONESIA
2. BEST PLACES TO ENJOY FESTIVE CHINESE NEW YEAR CELEBRATIONS IN INDONESIA
3. HUTA SIALLAGAN: ANCIENT BATAK VILLAGE ON SAMOSIR ISLAND
4. THE EXQUISITE FLAVORS OF NASI GURIH
5. THE CHALLENGING INTERNATIONAL BINTAN TRIATHLON 2017: DON'T MISS IT!