Although Chinese New Year celebrations are behind us, it is still interesting to talk about the signature dish that is a must to be served at the family dinner table for Cap Go Meh, the 15th and final day of festivities at the start of the Lunar New Year.
In Indonesia , Chinese Peranakan (of mixed descent) families usually gather on the 15th day of the first month in the New Lunar Year, when everyone joyfully shares this special cuisine known as Lontong Cap Go Meh. This is a fusion dish that has been adapted from Javanese cooking. The spread consists of many side dishes and ingredients that are put together to become one festive and scrumptious delight.

Image via resepcaramemasak
There are a number of versions on the history of this savoury dish. The more mundane is that since Chinese immigrants in the 14th century were not allowed to bring women with them, they married local Javanese women, thereby creating a Chinese-Javanese Peranakan culture. As they settled on Java, they also became accustomed to their wives' traditional cuisine. From then on, every Lunar New Year the traditional Yuanxiao (rice ball) was replaced with lontong, the local rice cake that is then served with various Javanese dishes.
Lontong Cap Go Meh, therefore, is believed to symbolize the assimilation of two cultures, the festive ambiance of New Year and the symbol of good fortune, where the elongated form of the Lontong rice cake is said to be the symbol of Longevity. The eggs cooked as Pindang symbolize fortune and the turmeric coconut milk broth represents Gold as symbol for wealth.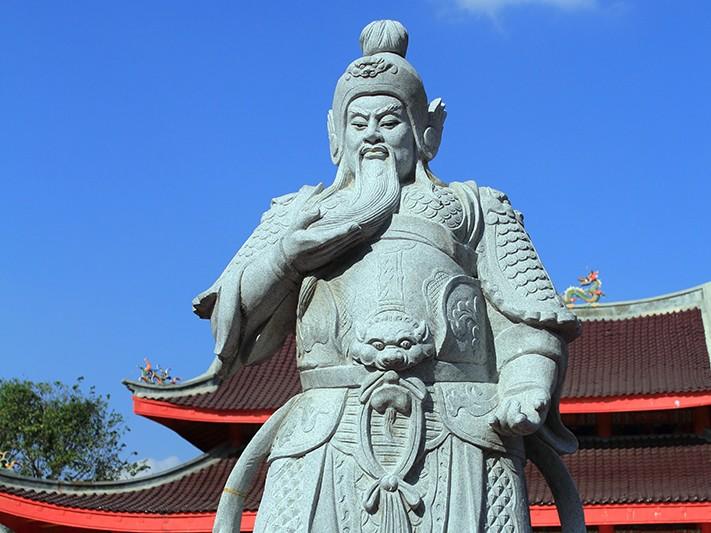 The name Lontong Cap Go Meh itself, has a legendary history dating back to the year when Sam Po Kong, better known as Admiral Zheng He, first set foot in Semarang in Central Java. Here he announced that he will hold a competition for Cap Go Meh celebrations, as to who can make the best soup for that auspicious day. As the news spread, a local headman or Datuk heard of this challenge, a mere one day before, but he still decided to join despite the urgent timing.
He cooked everything that was available nearby and created his version of soup. Sam Po Kong tasted each soup that was created by every participant who came from across the region, each made with their special recipes.
When the winners were about to be finalized, Datuk asked what about his soup. Sam Po Kong then asked one of his troops to register Datuk's accomplishment as "Luang Tang Shiwu Ming", meaning this soup with many kinds of ingredients comes in rank 15. In the Hokkien dialect, the troop pronounced it slightly different to: " Luan Dang Cap Go Mia " which he announced out loudly. Datuk and other participants then assumed that Sam Po Kong named the soup "Lontong Cap Go Meh" because the dish did contain Lontong as one of its main dishes. Since then, Datuk's original soup's creation became famous by that name until this day.
There are at least 9 individually cooked dishes to prepare prior to serving the Lontong Cap Go Meh. These comprise : the Lontong, an elongated rice cake cooked in banana leaf wraps; Opor Ayam or chicken stewed in coconut milk; Sayur Lodeh, a vegetable soup with coconut milk broth; Sambal Goreng Ati, fried liver sauted with chillis; Pindang Egg: sweet flavoured hardboiled eggs; Koya: a powder made of dried shrimp and soy; Sambal Terasi: a spicy chilli paste; Pickles made from cucumber-carrot-shallot-birds eye chilli; and topped off with crunchy Prawn Crackers. This sumptuous spread is the signature dish to be served in the Chinese New Year tradition, still carried out in most cities in Central and East Java, including Semarang.
Nowadays, though, throughout Indonesia, Lontong Cap Go Meh is served on the daily Menu of restaurants serving Peranakan and Indonesian cuisine, such as at Merah Delima, Satay House Senayan and others in Jakarta and other cities.
In the western part of Java, however, a different custom is upheld for Cap Goh Meh. The Peranakan Betawi (Chinese descendents around Jakarta) have another assimilated culture, celebrating the day with a special different dish.
In the old Batavia or Kota Tua area of Jakarta, in Tangki, in the city of Tangerang and at Mauk, it is the custom for children-in-law to bring Bandeng fish to be cooked by the parents in law in Pindang style complete with spicy chilli paste. A similar tradition also applies in Cirebon, Tegal, Pemalang and Pekalongan along the north coast of Java.