Next to the wide range of attractions, the Magelang Regency prides itself on a number of luxurious resorts and hotels. Most of which offer the best views on Borobudur Temple, but they also offer their own exclusive experience with particular special facilities and services. Here is a glimpse of these special accommodations easily reachable  overland from Yogyakarta or Semarang :
1 | Amanjiwo Resort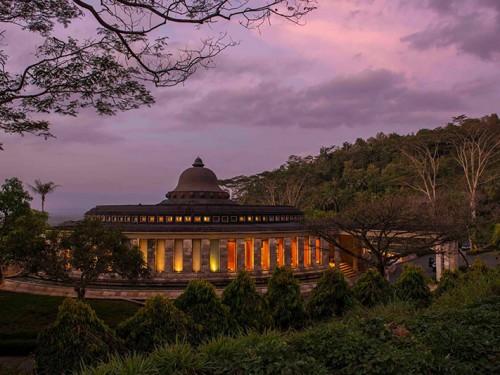 Photo source : www.maxuri.com
Set within an amphitheater of lush palm trees and rice fields, the Amanjiwo , a hotel like no other.  The Amanjiwo is a sanctuary inspired by Java's ancient past and vibrant present.  Taking to the 9th-century Buddhist sanctuary of Borobudur, Amanjiwo's Suites feature four-pillar king-sized beds on raised terrazzo platforms, spacious garden terraces, some with private swimming pools, and lounging pavilions. Views include terraced farmland and the Menoreh Hills, the valley and spectacular Borobodur itself.
Website : https://www.aman.com/resorts/amanjiwo/
2 | Mesa Stila Hotels and Resorts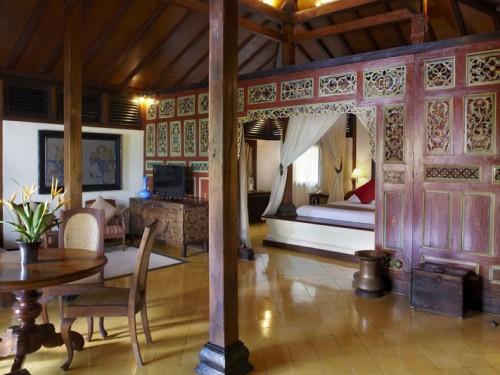 Photo source : www.booking.com/losari-spa-retreat-and-coffee-plantation
Mesa Stila (previously known as Losari Coffee Plantation) is a luxury five star resort & spa that incorporates an unparalleled collection of remarkable antiques and enchanting buildings; including Central Java's icons such as a Colonial railway station and historic Joglo-villas. Only 45 minutes from the magnificent Borobudur Temple, Mesa Stila is set within an area of twenty-two hectares of outstanding natural beauty; surrounded by cool highland-air, eight mountains, tropical gardens and lush vegetation.
Website: http://www.mesahotelsandresorts.com/mesastila/
3 | Villa Borobudur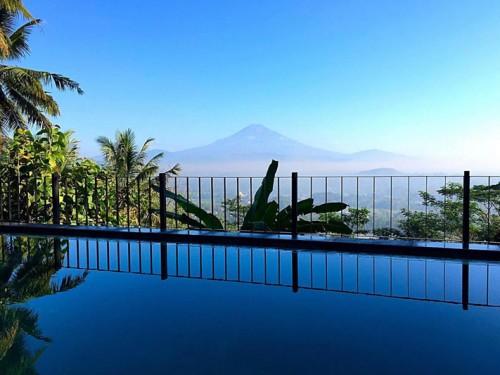 Photo source : www.booking.com/villa-borobudur
Discover and experience the rich culture and beauty of Central Java with luxury, privacy, genuine hospitality and personalized service at Villa Borobudur. Set on the slopes of the Menoreh Mountains, just an hour from Yogyakarta, the private villas and suites offer unsurpassed views of the 9th Century Borobudur, its surrounding valley with rice fields, lush green hills, small villages and volcanoes that include Mt. Merapi,  the Sumbing and Merbabu. The villas and suites combine ancient heritage with modern day luxury, all designed according to Javanese building principles, hand carved teak wooden joglos.
Website: https://villaborobudur.com/
4 | Plataran Borobudur Resort & Spa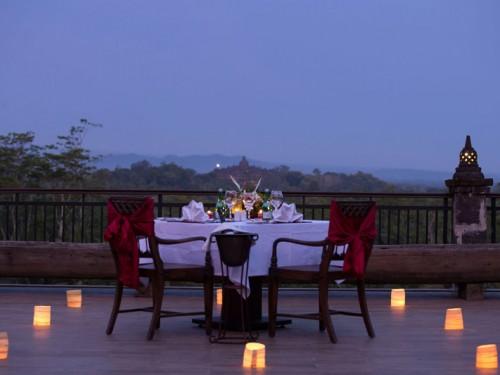 Photo source : www.homeaway.co.id
Surrounded by lush teak forests,  the Plataran Borobudur Resort & Spa transports guests to another time and place, where days gently unfold against the backdrop of the majestic Borobudur Temple and the picturesque Menoreh Hills. Amid this unbelievably beautiful and atmospheric setting, experience the utmost peace and privacy within traditional Javanese villas, spacious havens of supreme comfort with a private pool. Walk the long corridor that stretches between Patio restaurant's Joglo and colonial buildings, and be awed by the feeling that wherever you stand, "Borobudur Follows" - an experience unique to Plataran Borobudur.
Website: http://www.plataran.com/borobudur
5 | Manohara Hotel Borobudur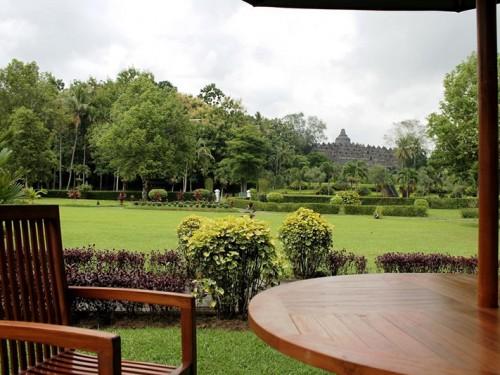 Photo source : www.booking.com/manohara-resort
Manohara Hotel is the only place where you can stay within the Borobudur Temple Complex. Manohara provides the opportunity for immersion in Javanese culture, offering trips to ceremonies, temples and antique shops. Private dawn and sunset visits to Borobudur and other archaeological monuments in the vicinity are a highlight of a stay at Manohara. You can start your day with a pre-dawn stroll through the dewy grass of a lush tropical garden and solemnly ascend to the top of the Borobudur temple to enjoy an unforgettable sunrise with a breathtaking scenic view. From the top of  the temple, beautiful views of Central Java unroll.
Website: http://www.manoharaborobudur.com/
Photo source of header banner : www.booking.com
Related articles:
1. Best Places to Get Close to Fresh Green Nature in Magelang
2. 8 Beautiful ​Hotels Closest to Magnificent ​​BOROBUDUR