Glamping. The latest trend that has spread faster than wildfire across the globe. What exactly is it? Glamping, or "glamor camping", is a new way to experience the outdoors without sacrificing luxury. This way, it could be a fun experience for everyone, not just for nature lovers or backpackers.
The new way to camp does not involve the arduous task of pitching tents, humongous backpacks filled with sleeping bags and outdoor tools or attempts at building a fire by rubbing sticks together. Many glamping resorts offer comfortable rooms in the shapes of tents right smack in the middle of nature, some even equipped with air conditioners and comfortable beds, kitchenware, and others. It's camping without the hassle, camping in luxury, thus glamor camping.

Indonesia has not fallen behind on this global trend as West Java's Bandung offers some of the nation's best glamping sites in and around the city. Instead of staying at a plain old hotel, why not check out one of these top 5 glamping locations on your next visit to Bandung?
1 | The Lodge Maribaya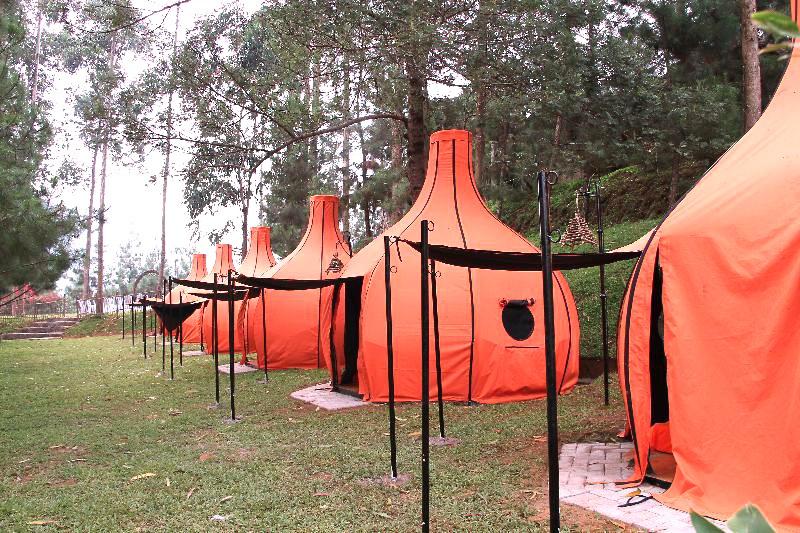 For a more classic yet luxurious camping experience, come to The Lodge Maribaya and spend the night in one of its cute pumpkin-shaped permanently pitched tents. Each tent is equipped with two foam mattresses, a trip-protected power supply, internal light, power socket, and cooling fan to ensure a good night's sleep and a pleasant stay. This site also has a lot of exciting things to do during your stays, such as trekking through the forest, camping, flying fox and other fun-tastic activities. If you have time to venture out of the campsite for a bit, only some 5 km away from the spectacular Maribaya Waterfalls.

For more information, go to http://thelodgemaribaya.com
2 | Dusun Bambu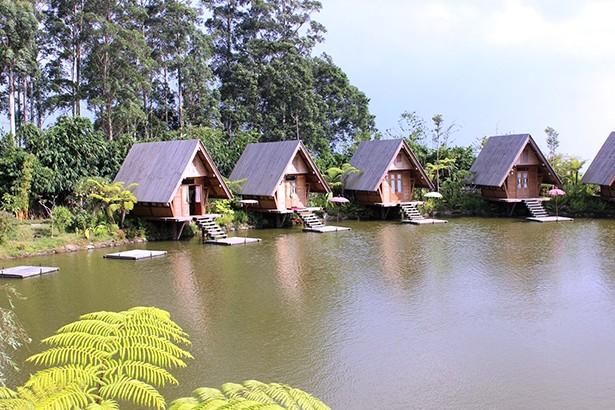 Aspiring to be the #1 eco-tourism spot in West Java, Dusun Bambu is the perfect place for those who desire to become one with nature, but in style. The eco-park that synchronizes traditional culture and modern sustainable living is a vast green spread of shady trees, refreshing lake and fields of grass. This is an eco-tourism complex that includes a luxury camping ground that is perfect for families or groups aching for a luxury adventure in nature. Want to fancy yourself a bird? Try dining in one of Dusun Bambu's iconic Lutung Kasarung birdcages that seem to float in the air. This unique way of dining will not only be an unforgettable experience, but a perfect moment to post selfies on your social media.
For more information, go to http://dusunbambu.com

3 | Legok Kondang Lodge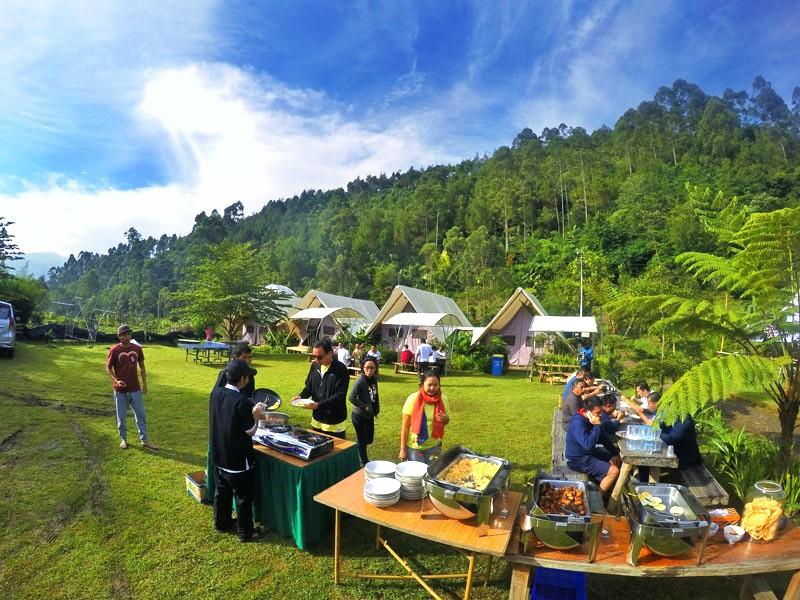 Located in the Ciwidey area to the south of Bandung, the Legok Kondang Lodge has over 20 tents available that can hold four to 10 people per tent. Each area of tents has different views, such as the hill, fish pond, garden, and sunrise. Can't seem to let go of technology during your au naturel vacation? This place is complete with cable TV! So it's like staying in an awesome hotel shaped like a tent. But who wants to watch TV when there are so many other fun things to do? Here, you can go trekking, strawberry picking, rafting or take a moment to drift away from the site to visit the nearby volcanic crater known as Kawah Putih. At night, try roasting a few marshmallows in the available campfire while stargazing. Glamor or not, a campfire is a must when camping!
For more information, go to http://www.legok-kondang.com/
4 | Trizara Resort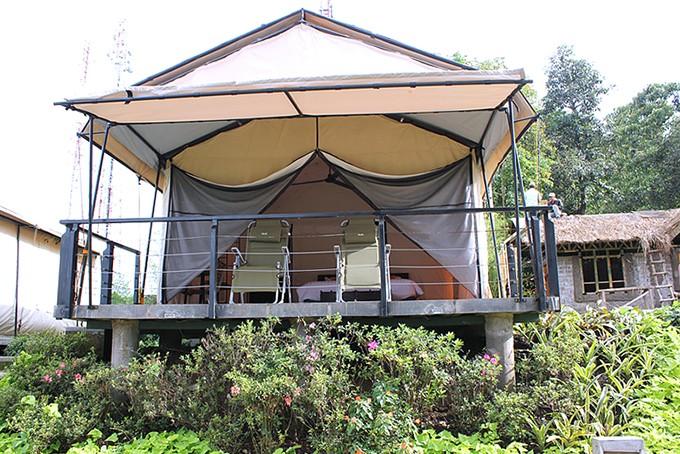 This is the ultimate place for luxury camping and becoming one with nature without discomfort. This site offers the experience of camping without having to "rough it out", as the resort's web describes. This is truly a place where you can camp in glamor. The resort offers a plethora of activities to do during your stays, such as morning yoga, classic bonfires, evening barbecues, outbound games for groups, board games, zumba, boxing and many others. Be warned, there is no TV available in the rooms so you will be forced to bond with whoever you come to this resort. Is there any better way to bond with your loved ones?

For more information, go to http://www.trizara.com/
5 | Grafika Cikole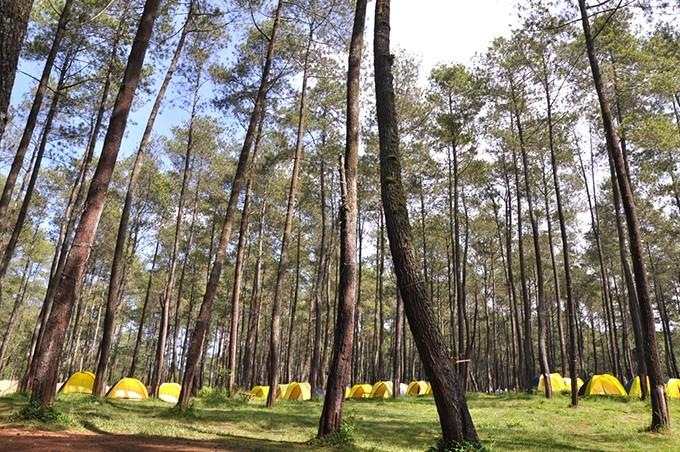 Camping at Grafika Cikole is the closest you could get to an authentic and classic camping experience while maintaining the comfort of modern facilities. There are two types of camping locations available, one for huge groups, such as office outings, workshops, and another for families. An abundance of fun outdoor activities is also available, from flying fox to paintball. All tents here come with sleeping bags, electricity, firewood and corn. Yes, corn for you to roast on the fire! Authentic right? However, there are no private toilets, but clean toilets are available near the camping site. As we said, this is the closest to an authentic classic camping experience.
For more information, go to http://grafikacikole.com/