Yogyakarta is a well known tourist destination, at the heart of Java's age old herigate, art and culture. The city's surrounding natural landscape is luxuriant with green paddy fields, streams of rivers, hills, looming volcanoes, beaches, and waterfalls.
One favorite destination in the province of Yogya is Kaliurang — a hill resort on the slopes of Mount Merapi Volcano, that offers a perfect cool climate for your getaway. Originally built as a holiday retreat for Dutch planters during colonial times, Kaliurang is located just around 25 kilometers north of the city center of Yogya.
This area has many holiday villas and has grown into a refreshing site, popular with visitors of all ages. Here one can enjoy nature by trekking, dip into cool waterfalls, visit museums, get spiritually inspired or wander through galleries relating to the history and heritage of Java's royal houses.
The town was heavily affected by the latest eruption of Mt. Merapi some years back, but has fortunately since recovered from its aftermath, even adding more tourism magnets, some of which are listed below:
1 | Marvel at Javanese Royal Heritage at Ullen Sentalu Museum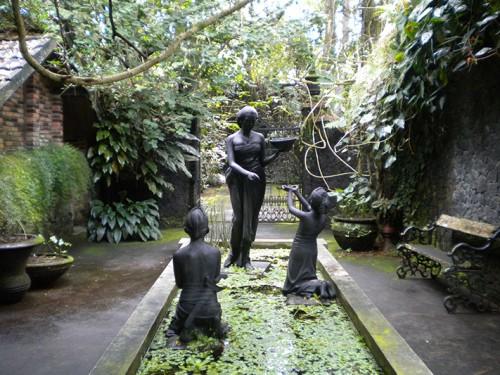 Photo source : www.topindonesiaholidays.com
This is everybody's highlight for a visit to Kaliurang: the Ullen Sentalu, a private museum initiated by the Haryono family and managed by Ulating Blencong Foundation that showcases images and information about prominent personalities in Java's royal lineage. Inaugurated on March 1, 1997 the Museum displays artifacts from royal houses and keratons (palaces)of Java descending from the Mataram kingdom, namely Yogyakarta, Pakualaman, Surakarta, and Mangkunegaran.
The museum is located near the Ngeksigondo resthouse owned by the Palace. This particular location was chosen for the Museum following Javanese belief that regards Mount Merapi as a sacred place.
The name Ullen Sentalu is an acronym for "Ulating Blencong Sejatine Tataning Lumaku" which means "the light of life's journey".Visitors are not allowed to take photographs here during the guided tour, but you will be given the chance for photo shots in certain areas only. This way, you can focus more on the interesting story,guided through each room and the collections exhibited.
Address: Jalan Boyong KM 25, Kaliurang Barat, Hargobinangun, Sleman, Kabupaten Sleman, Daerah Istimewa Yogyakarta 55582
2 | Spiritual Devotion at the Emalta prayer caves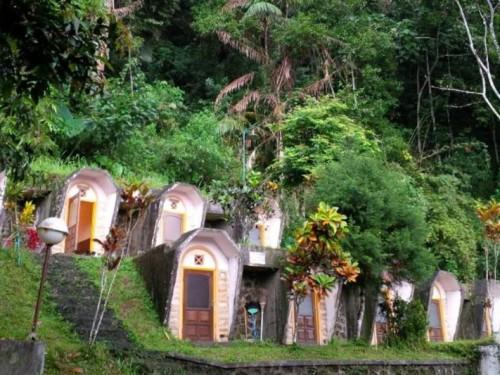 Photo source : www.pictaram.club
Located only about 150 meters from Kaliurang's bus terminal, Bukit Doa Emalta is a prayer site for Catholics. It holds 16 individual prayer caves named after the Bible's Prophets, 48 prayer chambers, a function hall big enough for 250 people, dormitory, library and the prayer tower of Habakuk. The facility nestles among lush green surroundings in a cool temperature of 20-25 degrees Celsius all year round.
Address: Jl. Telogo Putri, Kaliurang, Hargobinangun, Pakem, KabupatenSleman, Daerah Istimewa Yogyakarta 55582
3 | Living with the locals at Pentingsari Tourism Village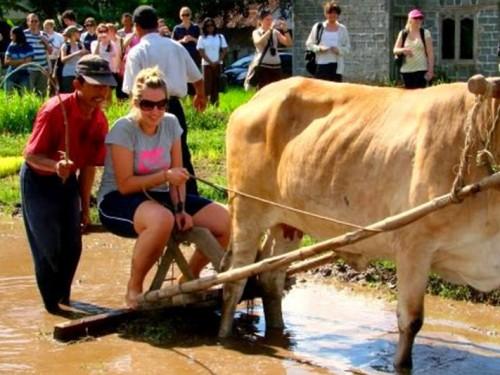 Photo source : www.javaheritagetour.com
The village is also called Dewi Peri, acronym for Desa Wisata Pentingsari. Here you will have the opportunity to stay at villagers' homes and enjoy the local way of living. Stroll around the village to find out how people lead their daily life. The locals will provide you with interesting activities such as batik painting, a visit to local coffee processing, herbal plantation education and a refreshing walk to enjoy the nearby river.
Address: Pentingsari, Umbulharjo, Cangkringan, Yogyakarta, Umbulharjo, Sleman, KabupatenSleman, Daerah Istimewa Yogyakarta 55583
4 | Get to know Salak Pondoh, the local fruit at Pulesari Tourist Village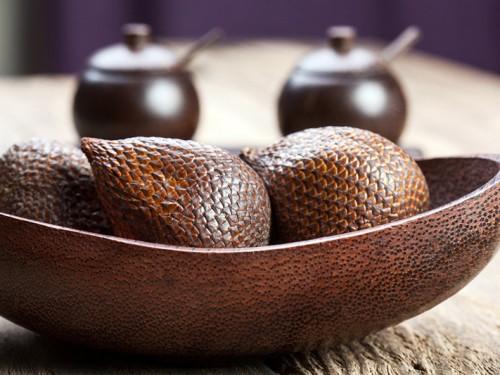 Photo source : www.thejakartapost.com
Opened in 2012, the tourist village of Pulesari will give you an opportunity to learn a lot about the cultivation of the local variety of the best Salak called Salak Pondoh. This is a popular brown fruit covered by a snake-like skin. Its flesh is crunchy white with a sweet sour taste, and has a large seed inside. So watch out not to bite in it or you may break your tooth. Located on 400-900 meters above sea level, the village also houses popular tourist attractions such as Adat Pager Bumi, KubroSiswo, river trekking, jathilan and karawitan performances.
Address: Dusun Pulesari RT.01 / RW.22, DesaWonokerto, KecamatanTuri, WonoKerto, Turi, KabupatenSleman, Daerah Istimewa Yogyakarta 55551
5 | Back to Nature at the Plawangan Turgo National Park

Photo source : www.tripadvisor.com/Mt_Merapi_National_Park-Kaliurang
Smell the leafy scent of nature in this huge outdoor greatness. You can enjoy a good hike to some hilly area inside the park — just make sure to prepare suitable clothing and shoes, because some of the uphill routes are steep, slippery and the temperature can drop from hot and humid to chill and cool. You can see wild monkeys around the premises, so you need to be extra careful that they don't snatch your belongings. The Goa Jepang (Japanese Cave) is a historical site that you can stop by and explore during your stay.
Address: Turgo, Hargobinangun, Pakem, Sleman Regency, Special Region of Yogyakarta
6 | Dip in the Blue Lagoon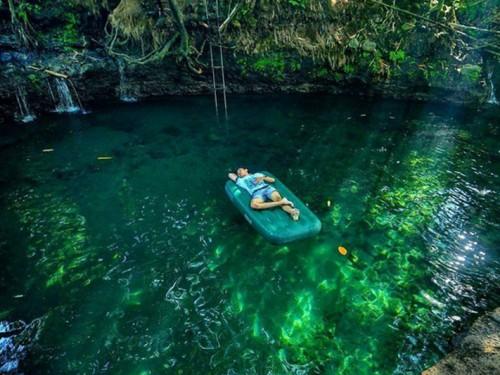 Photo source : www.lookjogja.blogspot.co.id
This is a natural pond with its water sourceflowing downfrom Sungai Tepus. Bathe innatural forest surroundings and pristine fresh water of this Blue Lagoon. It is also the habitat of small fish that feed on dead skin cells. People come here to enjoy the natural "fish therapy" believed to also have healthy benefits.
Address: Dusun Dalem, Widodomartani, KecamatanNgemplak, Kabupaten Sleman, Daerah Istimewa Yogyakarta.
7 | Bathe in the Tlogo Muncar waterfall

Photo source : www.hello-pet.com
After spending some time walking to seek refreshment, you will be excited to find the Tlogo Muncar. This waterfall is perched at an altitude of 878 meters above sea level. The water source runs from the slopes down Plawangan hills. During dry season, the waterfall may actually run dry.
Address:Hargo Binangun, Pakem, Sleman, Special Region of Yogyakarta
If you have more days to explore Kaliurang, do try the many delicious culinary specials of Kaliurang area. The most famous are Jadah Tempe, Rabbit Satay, Duck Satay and Wedang Gedang. Don't they all sound so delicious? See you here soon
Photo source of header banner : www.topindonesiaholidays.com
Related articles:
1. The Kraton, Reflection of Javanese Cosmos
2. Homey Homestays in Yogyakarta and Magelang, Central Java
3. 8 Beautiful ​Hotels Closest to Magnificent ​​BOROBUDUR
4. Indonesia's Best Mountain Climbing Experiences