Road-tripping around Indonesia is one of the best things you could do on this diverse island. The tolls and highways connecting city to city in Java are of great help during your exploration trip. The best part about road trips is you can stop and visit the places that you're driving by anytime! From the western tip of Java all the way to the eastern, here are 8 of the best places you can explore on your road trip around the beautiful Java Island!

1| Anyer Beach - exit Cilegon Barat
Starting from the western-most part of Java island, the first spot you should definitely visit is Anyer Beach in the province of Banten. To get here, you can take the exit toll of Cilegon Barat. It is one of the most visited beaches, especially from Jakarta.



Not only is it visually pleasing to the eyes with its mesmerizing sunset, but also, Anyer Beach takes you on a trip through history because it faces the Rakata volcanic mountain, the remains of Krakatoa Mountain. Here you can also play some water activities like jet skiing, speed boats, parasailing, and other water sports. You can also visit an old lighthouse settled in Cikoneng to have a better view of the sunsets.
From Anyer, you can go back to the toll and explore Jakarta, Bekasi, Bandung or other nearby cities, accessible all throughout your road trip via the toll.
2| Pasar Batik Trusmi Center - exit Plumbon

Another spot you might be interested to visit is the Trusmi Center Batik Market at Cirebon, just a short 5 hours drive away from Anyer and 3 hours from Jakarta. To get here, from the Cipali toll (Cikampek- Palimanan), you just have to exit the Plumbon toll gate. Not far from the toll gate, you'll find the gate to the Batik Market, the biggest Batik center in Cirebon.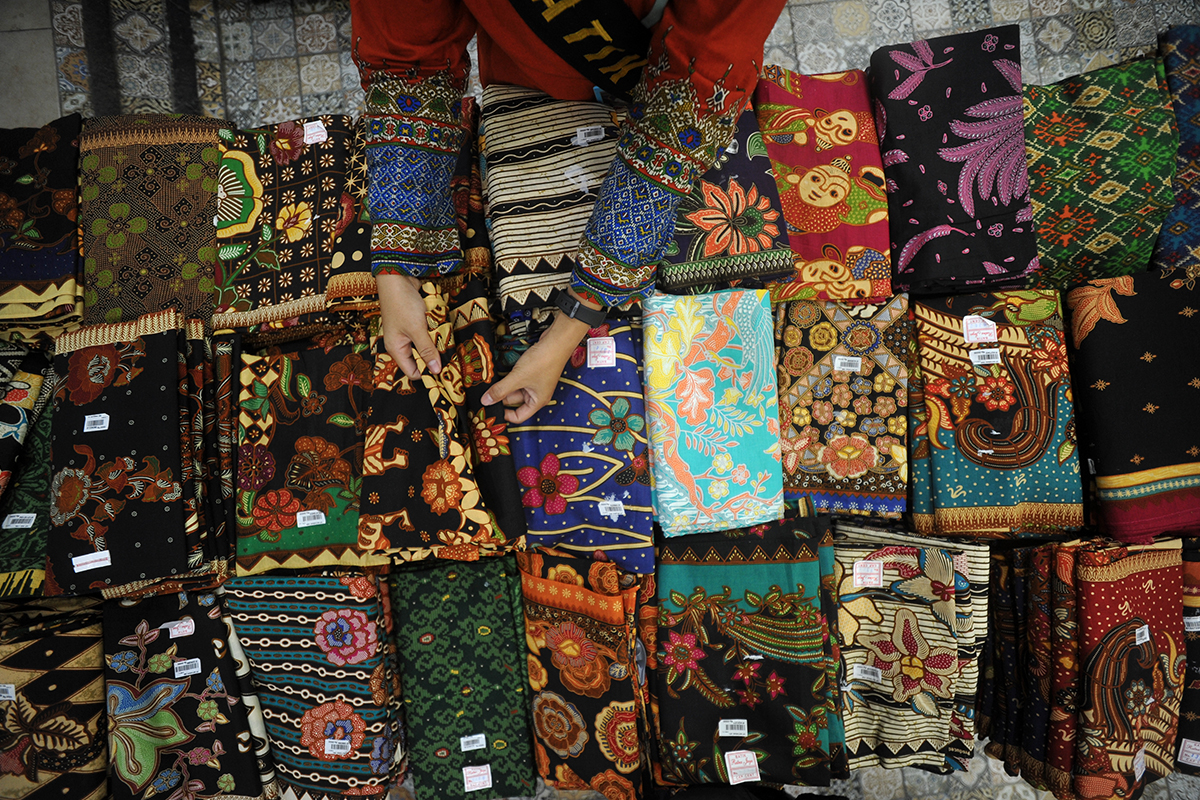 You can find all kinds of Batik clothing at the Trusmi Center and the price range is very affordable. Every region of Indonesia has its special batik design, here in Cirebon, it is known for its Megamendung design. The design is primarily a cloudy pattern and usually consists of bold colors. It makes a perfect Indonesian souvenir for you to take back home.
You can check out a few other places in Cirebon while you're there since Cirebon is the perfect place to find out more about Islamic History in Indonesia. You can check out the Kasepuhan Palace, a remnant of the legacy of the Islamic empire in Cirebon or other museums like the Linggarjati. Not far from Cirebon, you can continue your road trip to Tegal, just an hour away.
3| Guci Hot Springs - exit Slawi



Stop by Tegal by exiting at the Slawi toll gate and make your way near Slamet Mountain where you can find Guci Hot Springs right at its northern slope. Since the atmosphere is cool, the warmth of the hot springs water is the perfect fit for your visit there. It even has a great view of the mountainous area of Mount Slamet. The water of the hot springs is known to cure diseases and also to bless people with clear skin.
From here, you can also make your way around and continue your road trip to Brebes or Pemalang. You can also explore Pekalongan, which is also famous for Batik crafts, just 2 hours away from the hot springs.
4| Sigandu Beach - exit tol Batang



Pekalongan city and its surroundings are one of Java's most beautiful coastal areas, so it is not a shock that the beaches are what you should look out for during your visit here. Just a border away from Pekalongan is the Batang region which is home to one of the most popular beaches in the area which is the Sigandu Beach.
This popular tourist attraction is located in the village of Kidung Lor. Although a favorite destination for locals and foreigners, the traditional touch of Sigandu Beach can still be seen and felt. You can still witness fishermen going about their activities in the early mornings and in the late afternoon. 
From here, you can continue your road trip and make your way to Semarang, to visit the famous Sam Poo Kong temple and its neighboring cities.
5| Eling Bening - exit Ambarawa


Not far from Semarang and Salatiga, you can also visit Ambarawa City, home to Mount Merbabu and the Indonesian Railway Museum. Another great spot to visit is the relatively new tourist attraction Eling Bening that just opened in 2015. This natural recreation area offers visitors a taste of modern luxury with the untouched natural scenery. 
Where else can you visit a family-friendly resort with adventurous outdoor activities like the flying fox, camping ground or chill at a cafe or the swimming pool all while being surrounded by eight mountains?
6| Umbul Sidomukti - exit tol Bawen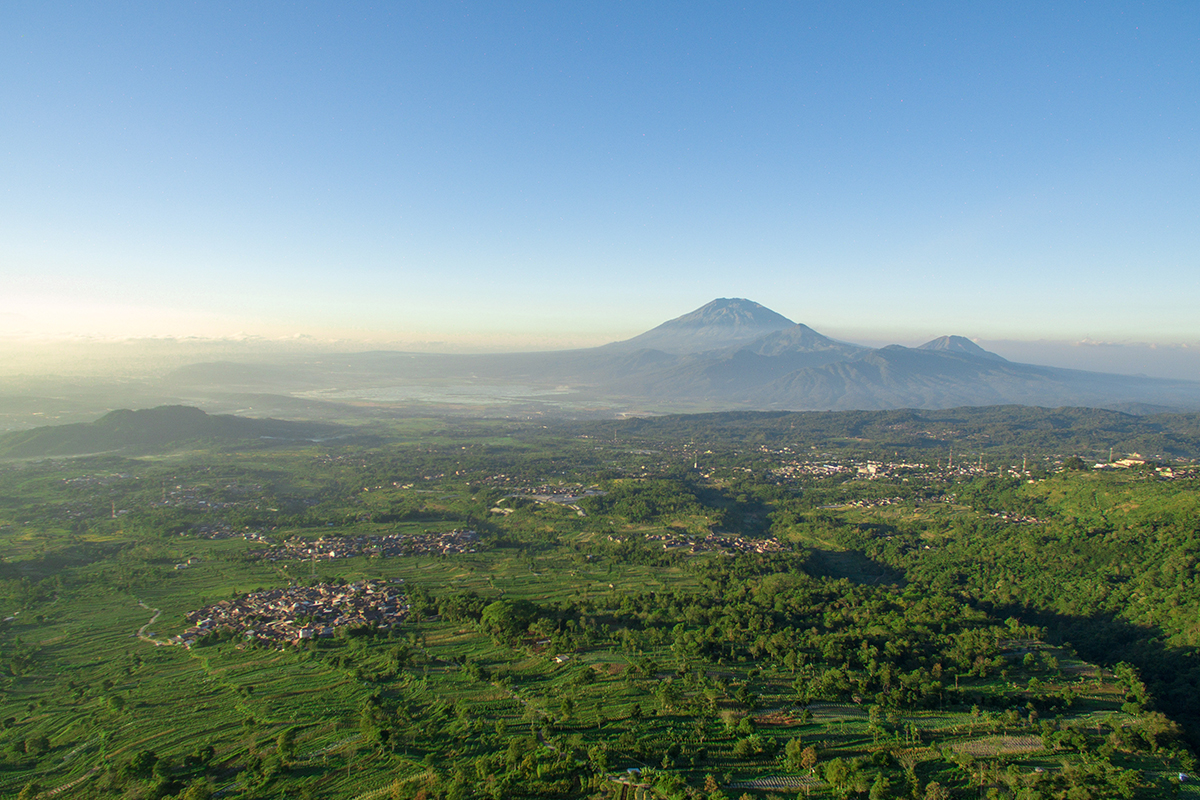 Just 30 minutes away you can get off the highway at the Bawen exit toll and visit the stunning Umbul Sidomukti at Semarang City. A popular destination is known for its iconic 4-level swimming pools and a breathtaking view of the lush trees and majestic mountains surrounding it. It is also  1200 meters above sea level and the cool atmosphere is what catches the visitors' hearts. Prepare for a true trip of relaxation right here in Umbul Sidomukti!

7| Monumen Simpang Lima - exit tol Bandar

A few hours away, you can visit some other places like Boyolali, Sragen, and Madiun before visiting Monumen Simpang Lima right here at Kediri.
Resembling the Arc de Triomphe de l'Étoile of Paris, Simpang Lima is known for the icon of direction in East Java. This monument is a five-way-intersection that could lead you to Pare, Kediri, Plosokaten, Wates, and Menang.  Simpang Lima has different functions, making it even more unique. This consists of auditoriums, a conventional hall, multipurpose room, diorama room, and also souvenir shops. On all four sides of the monument, there is the Ganesha statue, the symbol of Kediri City. If you are lucky on that day, you can watch some traditional martial arts training and dance rehearsals. Just pick the directions you want to try and visit the most and make way to your next road trip destinations easily accessed through highways.

8| Bromo Pananjakan - exit tol Grati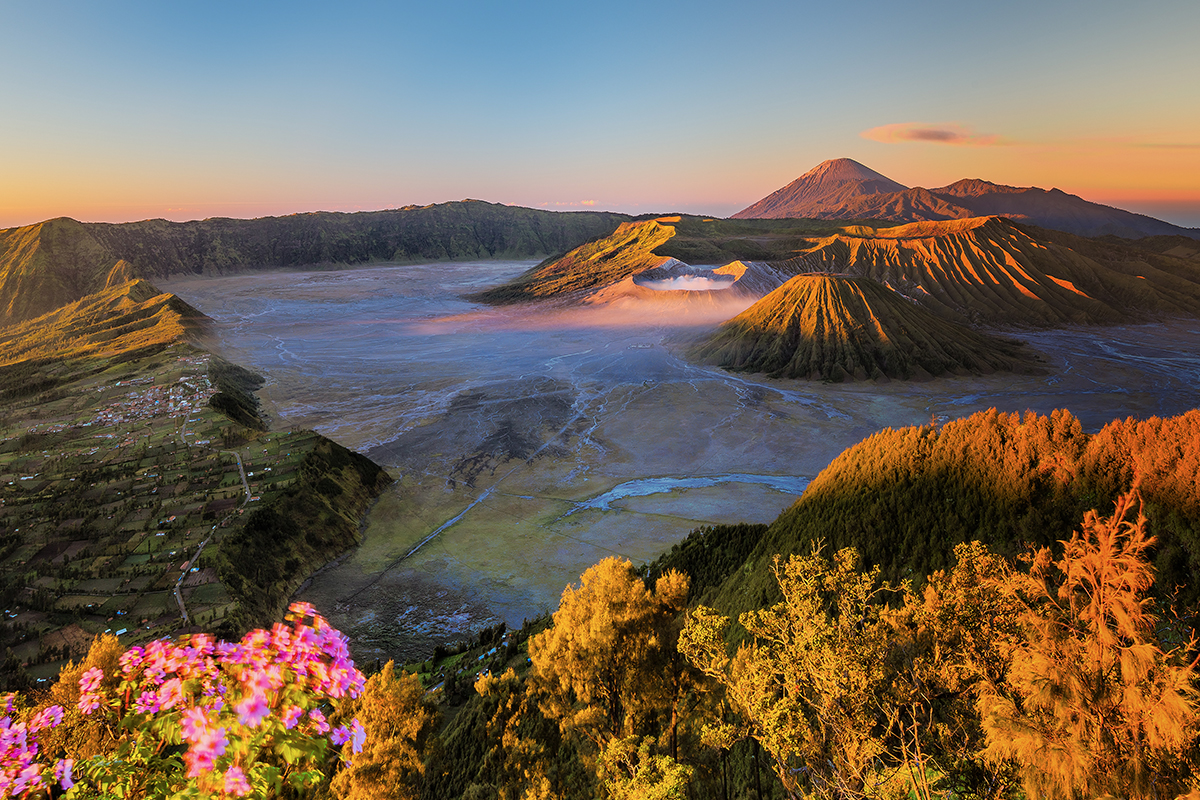 Just a few hours drive away from Kediri, Bromo should definitely be a pit stop on your road trip list. This place offers beautiful views in high mountain areas. By renting a jeep and a driver that can be provided by the tourism management, you can visit various places without having to worry about steep and winding roads before reaching one of the most visited tourist spots to see the stunning sunrise. After that, you can go to the savanna hill and see the temple in the middle of the sea of sand. You should also check out the crater of Mount Bromo which is easily accessed by walking or riding a horse rented by local residents. After that, you can visit Teletubbies Hill, which is located right on the side of Mount Bromo. This hill offers a beautiful view, especially when it is basked in the morning sunlight.
Java Island really does have a lot to offer with different cities having their own magical charm. By visiting all these recommended spots around Java, you may find a new way to enjoy unique experiences while passing along each city. Plan your next trip to Indonesia and get ready for some epic road trip adventure to enjoy what Java has in store for you!