Tomohon is located 23 kilometer south of Manado, capital city of North Sulawesi province, or a mere one hour drive from Manado. Perched at an altitude of 750-1,000 meters above sea level, it became an autonomous city only in 2005. Covering an area of 147,12 km2, the city is flanked by two active volcanoes namely Mount Lokon and Mount Mahawu. The subsequent cool temperature has made Tomohon famous for its fertile soil that produces fresh fruits, vegetables and lovely flowers.
The phenomenal Tomohon Flower Festival
The Tomohon Flower Festival held annually, is a fantastic display of the local flower species which grow luxuriantly in these highlands. First held in 2008, the festival became famous for breaking three national records of MURI, Indonesia's very own Museum of Records.
First, the festival had the longest flower garlands that extended 8 kilometers long. Secondly was the achievement of the use of 100% fresh flowers to decorate all 46 vehicles that participated in the grand parade. And third, for having the largest flower carpet ever assembled, taking a massive dimension of 50x80 meters, using no less then 7 million flowers. The flower carpet was also recognized as one of the largest ever made in the world back in 2008, beating Amsterdam's 50x50 meters floral carpet. Such a phenomenal achievement placed Tomohon onto the world's radar, as The City of Flowers.
Since then the flower festivals were held once every two years in 2008, 2010, 2012. But starting 2014, the events were held annually by public demand and to attract more tourists. This year, 2017 the Tomohon International Flower Festival celebrate their 7th year. It will be opened on August 7th, highlighting the theme of "The 7 wonders of Tomohon". The grand theme will feature 7 natural wonders around Tomohon, comprising 7 Mountains -7 Lakes - 7 Waterfalls. The 7 mountains are: Mt. Lokon, Mt. Empung, Mt. Tatawiran, Mt. Mahawu, Mt. Tampusu, Mt. Masarang, and Mt. Kasuratan. The 7 lakes are: Tampusu, Linow, Pangolombian, Sineleyan, Panunuzaen, Linow Oki, and Kasewean. And the 7 Waterfalls are the Tapahan, Rinokrok, Tumimperas, Regesan, Ranowawa, TekaanTelu, Kanderawatu, and Kinapesutan. So be sure to mark your date right now!
Where to find the flowers
Have you wondered where exactly to look for these wonderful flowers? Taman Bunga Tomohon or Tomohon Flower Garden is located in the Rurukan Village at the easten side of Tomohon. Set at the foot of Mount Lokon, the morning view of the vivid flowers with the mighty mountain as background is just breathtaking. Another site that you can go to for the lovely scent of flowers is called the Show Window. It is located in Kakaskasen area in the northern part of Tomohon. Around 3 km from the city center, this settlement became the forerunner of Tomohon's floriculture. The Show Window is particularly intended to serve skilled education on the cultivation of fine varieties of flowers. Visitors can also learn about the variety of flowers grown around the facility. At harvest time, it's easy to find charming flowers all along the streets of Kakaskasen, In stalls or decorating the front yards of local homes.
Beautiful Flowers cultivated in Tomohon:
Say it with flowers that's what they say, but what kind flowers to pick to convey your sentiments or mood? These are some of the most popular flowers produced in Tomohon among many other species nurtured around the town:
1. Chrysantemums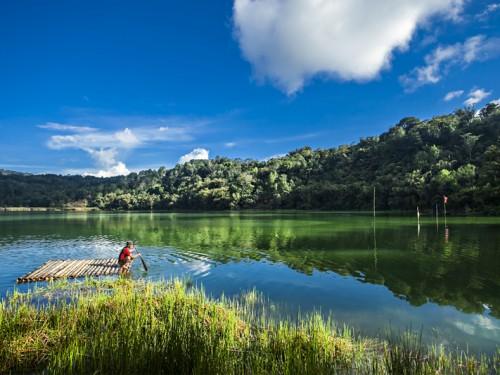 Locally called Krisan, this flower is known in China as the Golden Flower, believed to have the power of life, thus are often used for medication. There are at least 10 varieties of Krisan in Tomohon: Krisan Kulo (white lokon), Krisan Ririh (yellow lokon), Krisan Solinda Pelangi, Krisan Limeron, Krisan Merahayani, Krisan Pasopati, Krisan Arosuka Pelangi, Krisan Kineta, Krisan Salzieta and Krisan Elora. Each one has a distinct form and attractive colors that make them the main flowers used to decorate the flower floats.
2. Perennial Asters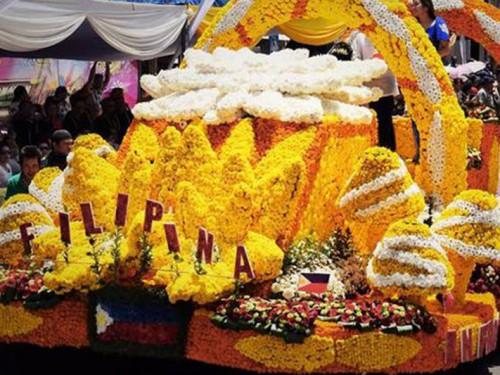 Photo source : www.regional.liputan6.com
The name Aster comes from the Greek word meaning 'star'. The shape of this flower is similar to daisies and have also many varieties. Tomohon's asters are largely from the Aster Chinensis type, with multiple colors for each variety. Some are called Aster Chinensis Princes (pink, light blue, bold blue, light yellow and white), the America type (blue, red, white), the Liliput type (white, pink, red and blue), the Giant Cornet (pink, red, white), the Novae-Angliae (light violet) and the Incisus type (bluish tint and violet).
3. Marigolds
In Indonesia, the flowers that were introduced as Mary's Gold are also known as marigold, calendula, gemitir or telek-telekan flower. Besides Tomohon, a famous field of this bright flower can be found in Bali, around the Bedugul and Kintamani area. Most varieties are easily grown and come in the hues of white, yellow, orange and reddish tint. The strong scent of this flower is believed to repel insects, and it's flavonoids ingredient also make them known as remedies mixed in ointment to help heal wounds faster, such as for sunburn and diaper rash.
4. Easter Lilies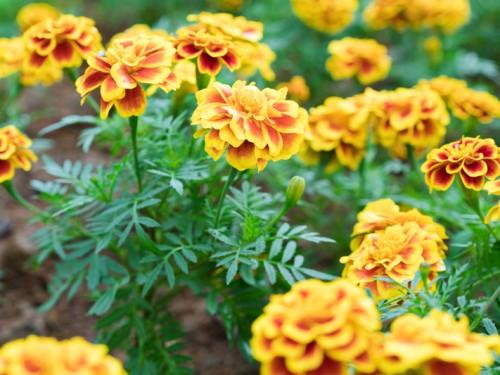 Also known as Lilium longiflorum, the Snow Queen, Easter Lily flower is known as Bunga Bakung in Indonesia. A trumpet shaped bloom that emits such a sweet scent the Easter Lily is popular for special ceremonies such as weddings and church ceremonies due to its grace and elegance. There are around 110 types of Lilies known around the world, and some contain substances that are unfortunately toxic for cats.
5. Orchids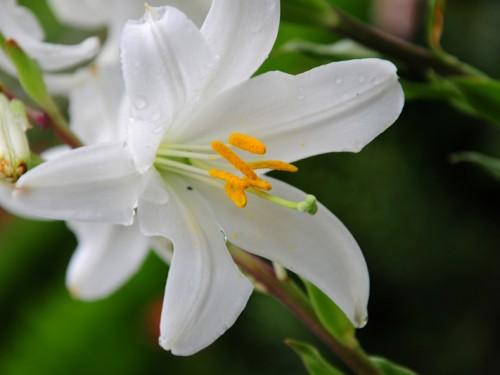 Phaius tancarvilleae is a terrestrial orchid, which,unlike other orchids,grows from the soil up. Known locally as Anggrek Kelapa or Anggrek Payus, the flower has become one of the signature buds of Tomohon. It can reach a height of 2 m (7 ft) and bear up to 16 flower buds each. It was also reported that a rare species of Grammatophyllum speciosum, largely known as Giant Orchids or Anggrek Tebu was once found growing in the Tara Tara village of Tomohon. This special flower only blooms for 2 months every 2 years, and can be seen as one of the most treasured collections of the Bogor Botanical Garden in West Java.
6. Gladioli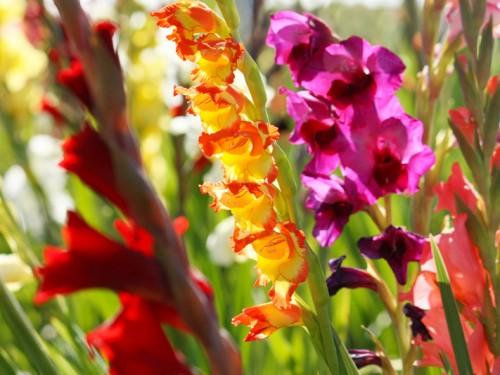 This is an eye catching flower that has also been called the Sword Lily, due to it's elongated stem. The Tomohon farmers are known to breed the Gladiolus hollandii or Holland Gladioli, and even managed to attract Netherlands' flower investors to supply fine quality seeds to be grown in Tomohon soil. You can see them in the Show Window area at Kakaskasen to learn about this colorful flower. Around ten thousand seeds are already grown to support the Easter events and the highly anticipated Tomohon International Flower Festival 2017 coming this August.
As Ralph Waldo Emerson said "The Earth Laughs in Flowers", this has become the hope of Tomohon's city slogan "To Greet the World with Flowers", that visiting Tomohon and the Tomohon International Flower Festival, all visitors will return happy, refreshed and smile!
Related articles:
1. Watch the Tomohon International Flower Festival 2017 in the Cool Mountain air
2. The Enchanting Tomohon International Flower Festival 2016
3. Exciting Experiences in and around Manado