As an archipelago country, Indonesia is blessed with diverse natural wonders and cultural heritage. The diversity reflects in its arts, architectures, songs, languages, and of course, foods! If you are visiting Indonesia, make sure you don't miss a chance to taste these 12 delicious cuisines!
1 | Nasi Goreng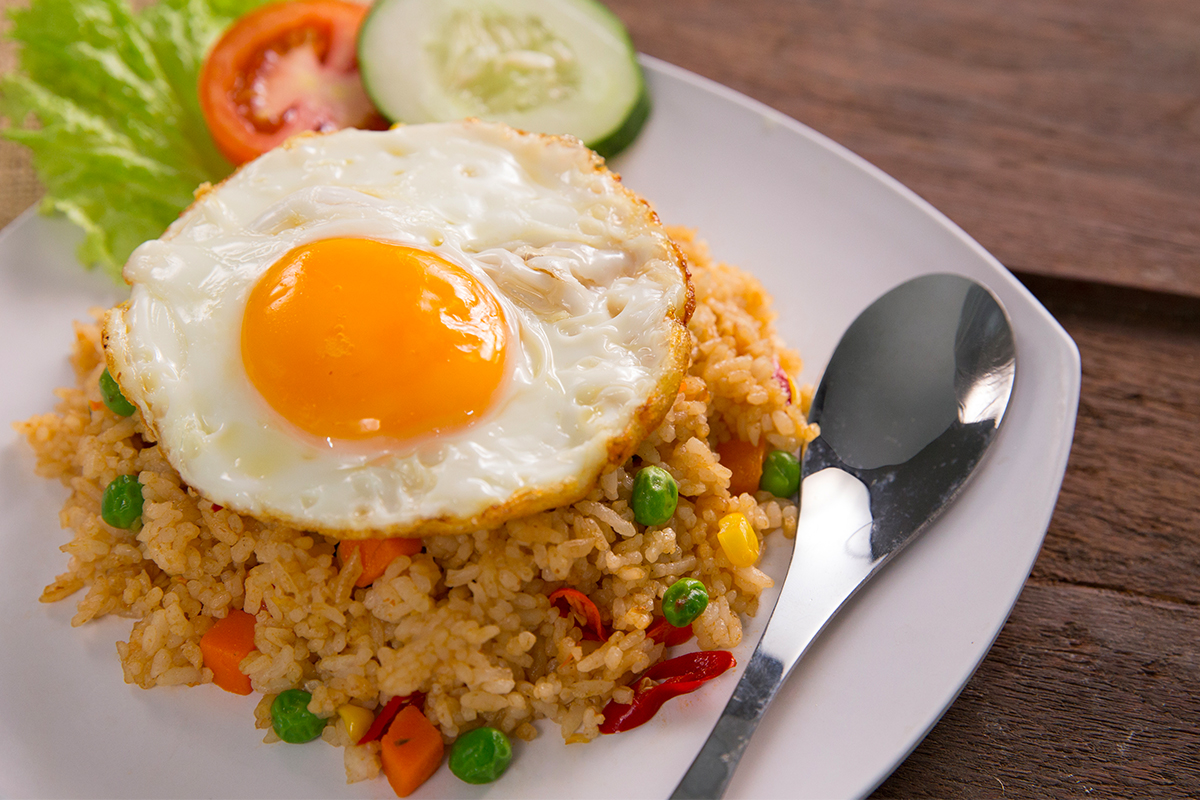 Nasi Goreng means Fried Rice. The idea of this cuisine is actually to avoid food waste because, originally, the rice for the dish is a leftover from dinner or lunch. You can find Nasi Goreng in almost every place, from five-star hotel restaurant to street stall. The right timing to eat the dish is also quite versatile; either for breakfast or dinner, it's absolutely up to you.
The taste of this cuisine is typically a mix between sweet, savory and a little bit of spicy. There are many types of toping for Nasi Goreng, for instance, shredded chicken, sausage or fish. No matter what the topping is, usually the dish will be served along with slices of cucumber and egg.
2 | Sate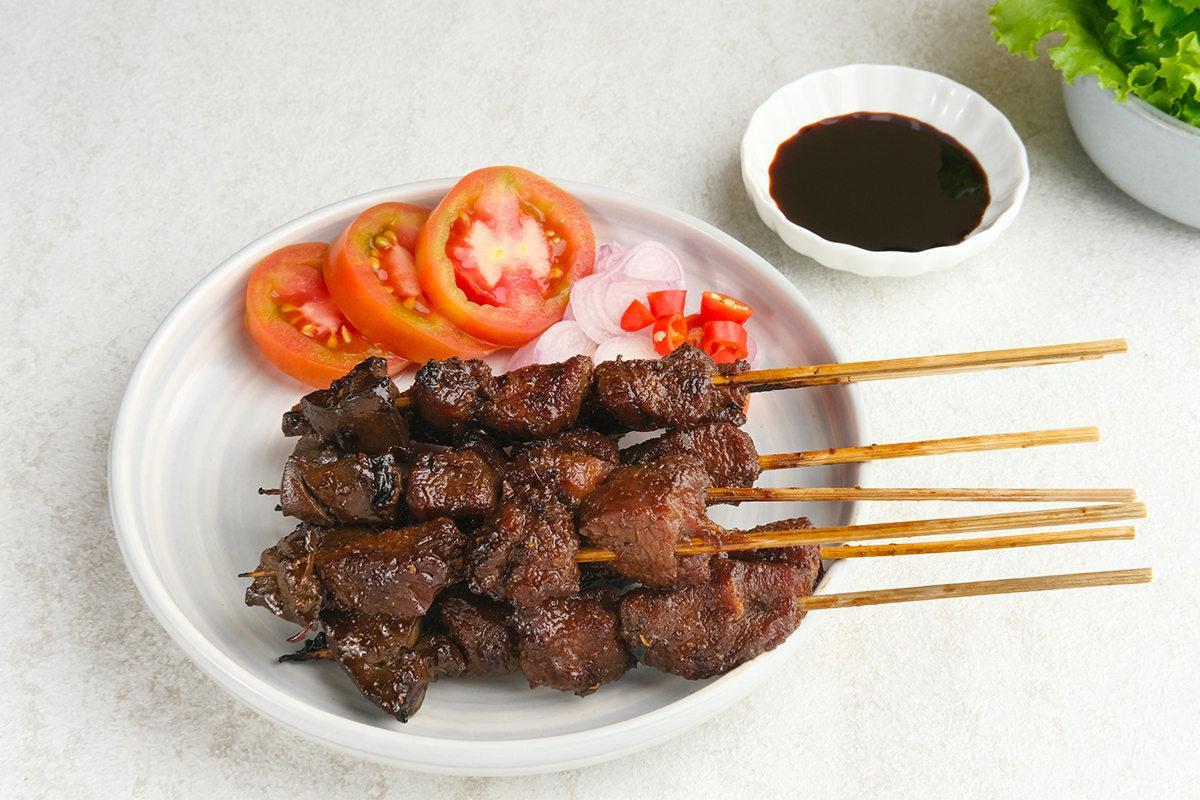 Sate is basically slices of marinated meat grilled in bamboo skewers on a charcoal open fire. In Indonesia, you can find sate made of various kinds of meats, such as chicken, beef, lamb, scallops, and fish. Before it is grilled, the meat will be marinated first with a savory sauce. It is then served with many types of toppings, like peanut sauce, sliced shallots, and diced tomatoes or spicy yellow sauce.
Almost every region in Indonesia has their own kind of sate. For example, Sate Ayam or Chicken Satay and Sate Kambing or Lamb Satay are the most popular sate in the entire Java island. Meanwhile, in Bali, they have Sate Lilit that is made of grinded chicken, fish or pork with shredded coconut and coconut milk.
3 | Soto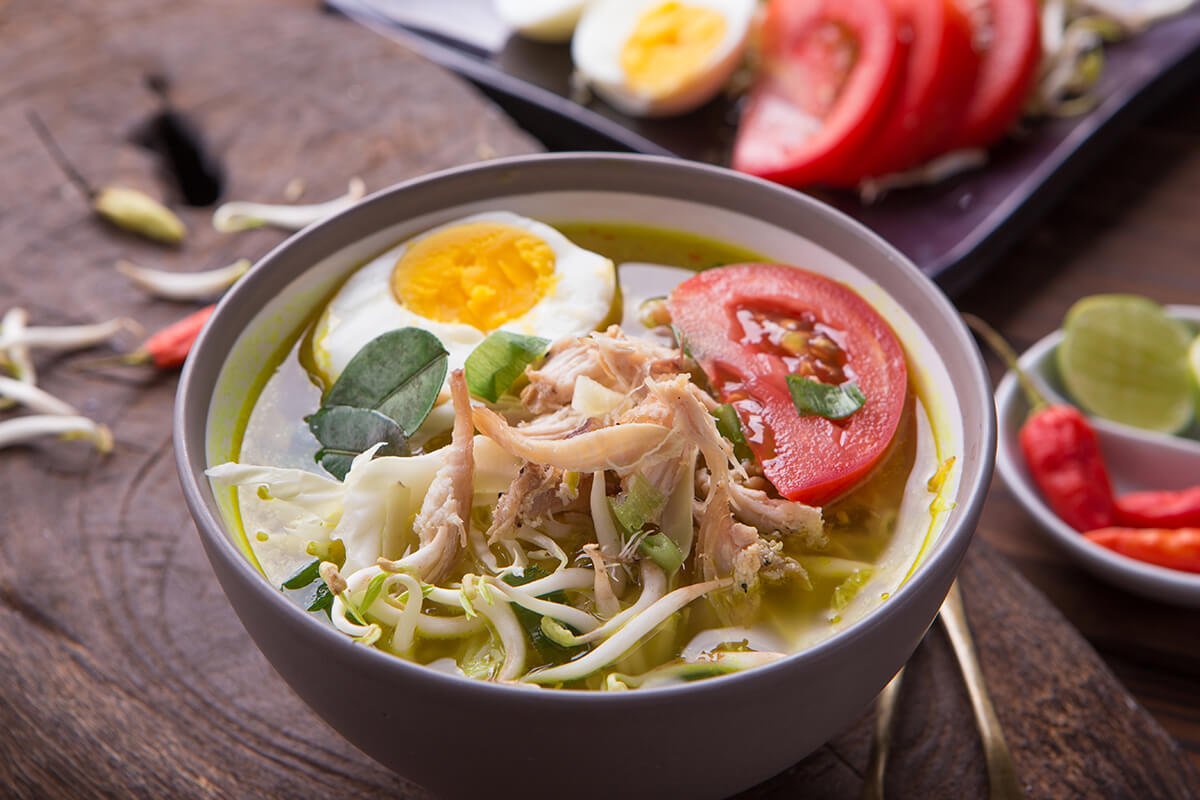 Another food that can be found in almost every place in Indonesia is Soto or Soup. A bowl of soto basically contains bihun or rice vermicelli, slices of cabbage, a handful of bean sprouts and meats. It is poured with clear broth mixed with spices like turmeric, lemongrass, shallot, and garlic. 
The kind of meat used for soto may vary, depends on its originality and where it is served. For example, there is a Soto Babi or Pork Soup in Bali where Hindu is the majority of religion. The most common soto you can find in almost all areas in Indonesia is Soto Ayam or Chicken Soup and Soto Babat or soup from cow or goat's tripe. You can also taste Soto Betawi in Jakarta which has thick and creamy broth.
4 | Gado-gado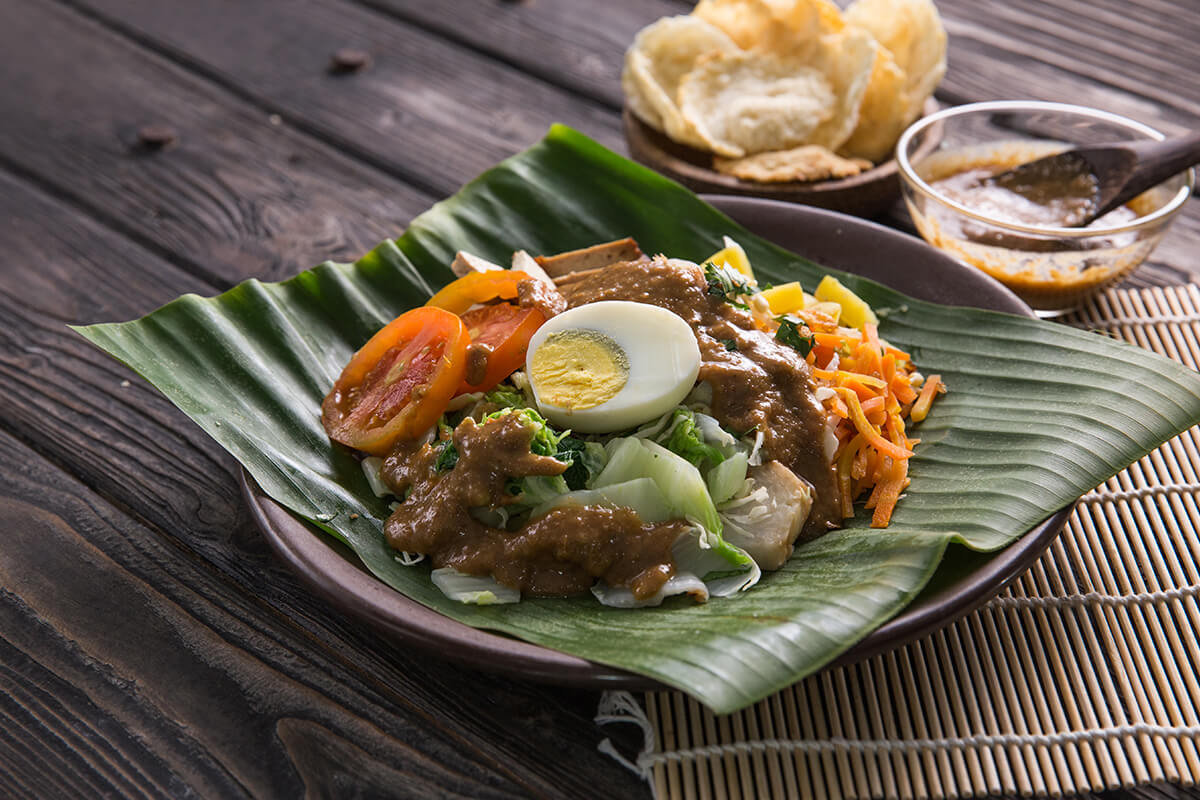 If you are a vegetarian or simply a person who do not enjoy eating meats, then you can try having this Indonesian traditional salad called Gado-gado. Gado-gado is basically meant "a mixture", derived from the way it is served which mix steamed vegetables all together with peanut sauce as the topping.
A plate of Gado-gado usually contains steamed spinach, bean sprouts, string bean, green bean, and corn. It also includes slices of raw cucumber, boiled potato, and egg, along with fried tofu and tempeh. As a final touch, all ingredients will be poured with creamy peanut sauce to be mixed together. You can also choose the variety of vegetables and the taste of the peanut sauce, whether you like it spicy or sweet.
5 | Rendang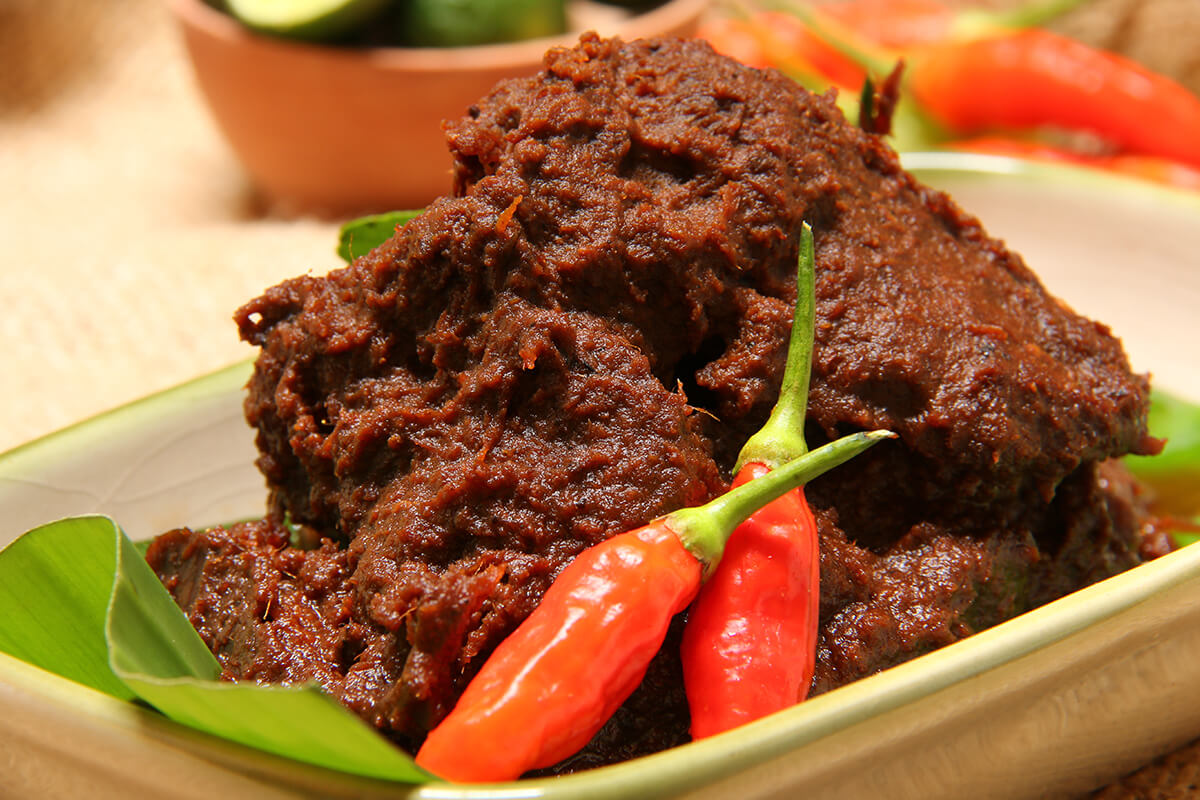 Rendang is actually a spicy meat dish. It can be made from either beef or lamb. A plate of Rendang will offer a mix of spicy and creamy taste as a result of a combination between chili and coconut milk. Some people think Rendang is similar to Curry, but this food actually does not have plenty of soup like the later.
This cuisine is originally come from Minangkabau, a tribe in West Sumatra, and is usually served in a special occasion like Eid al-Fitr. However, you can easily find this dish throughout Indonesia, especially in Padangnese restaurants. 
6 | Bakso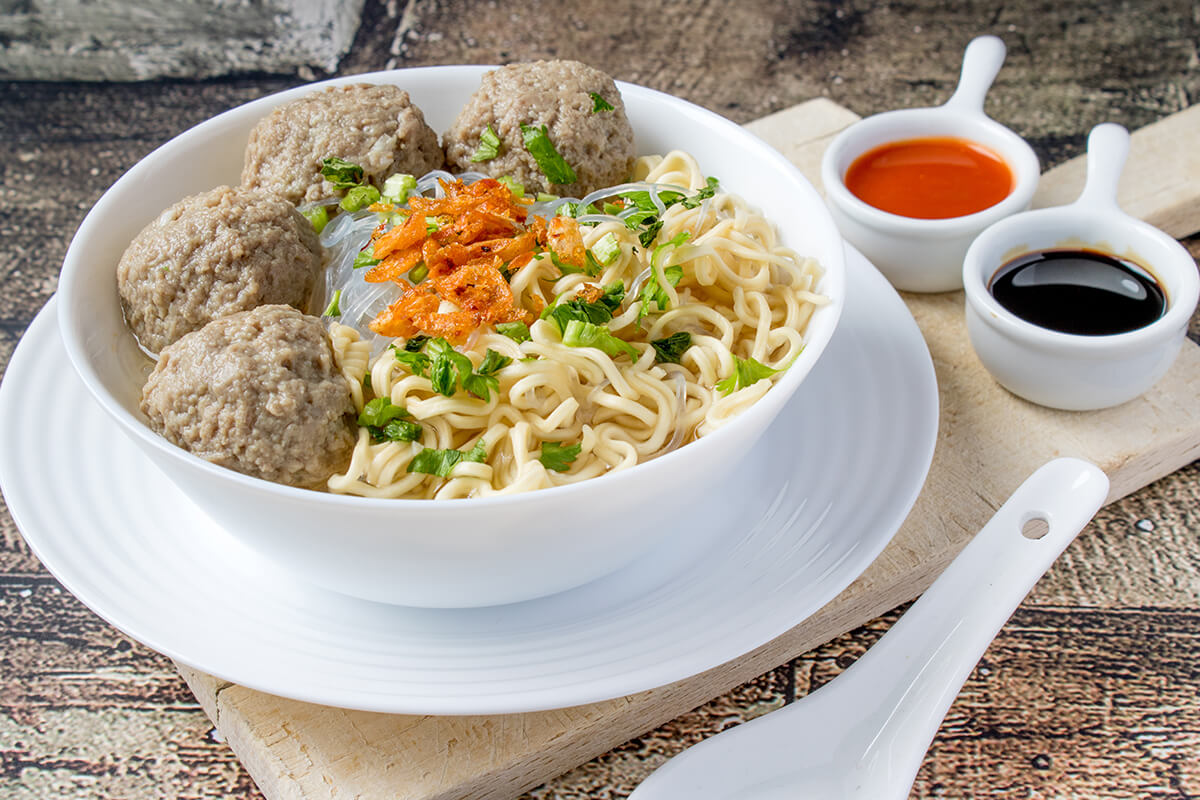 Another popular street food in Indonesia is Bakso or Meatball Soup. The meatball is usually made from a mixture of tapioca flour, salt, and ground beef, but you can also find chicken, fish, pork or shrimp meatball in some restaurants or stalls. Sometimes, the meatball is also filled with various contents, like eggs or cheese.
A bowl of Bakso consists of the broth, meatballs, rice vermicelli, vegetables, tofu, bean sprouts, and meat dumplings. Fried shallots and celery will be sprinkled on top of it, sometimes added with fried wonton.
7 | Mie Ayam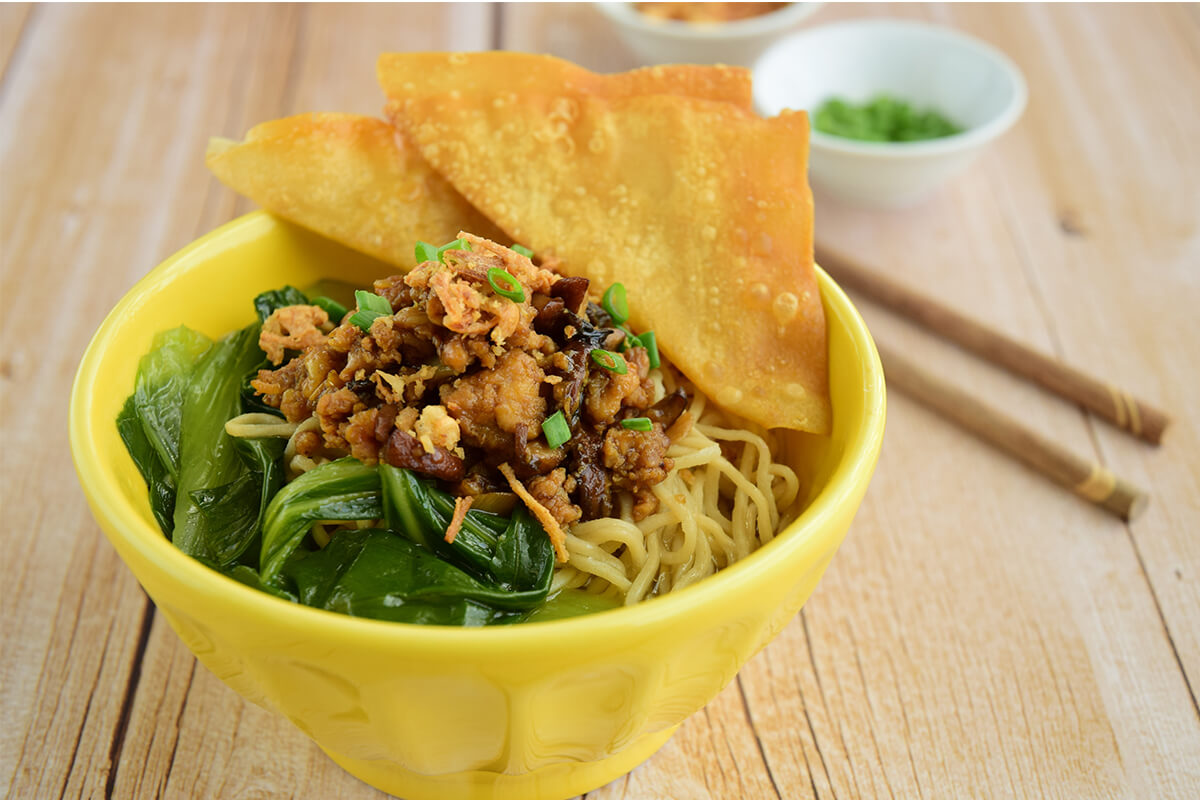 Mie Ayam is as known as Chicken Noodle. It is one of the popular dishes that you can easily find at the street stalls everywhere, usually, it also comes with Bakso.
A bowl of Mie Ayam contains a handful of boiled wheat noodle topped with diced chicken. After boiled, the noodle is seasoned with a mixture of cooking oil, soy sauce, and garlic. The combination of those ingredients creates a fusion of sweet and savory tastes that melt in your mouth. So delightful!
8 | Batagor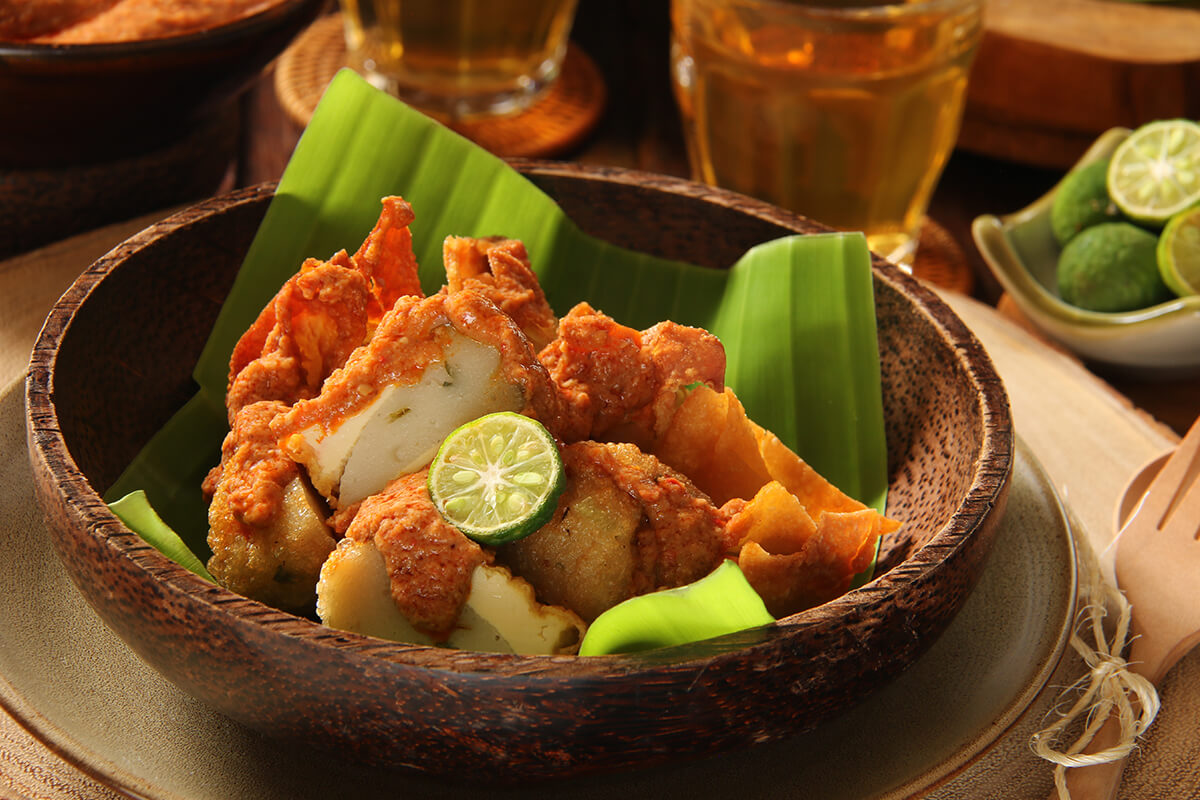 Batagor is an acronym for 'bakso tahu goreng' which means fried tofu filled with fish meatball. This food looks like a fried dumpling, it is an authentic snack that created by Sundanese people, a tribe originated in West Java. 
At first, the mixture of tofu and fish meatball will be covered with wonton skin before it is fried. Later on, the dish will be served with peanut sauce as a topping and lime juice. You can also request for a spicy condiment to add more taste.
9 | Tongseng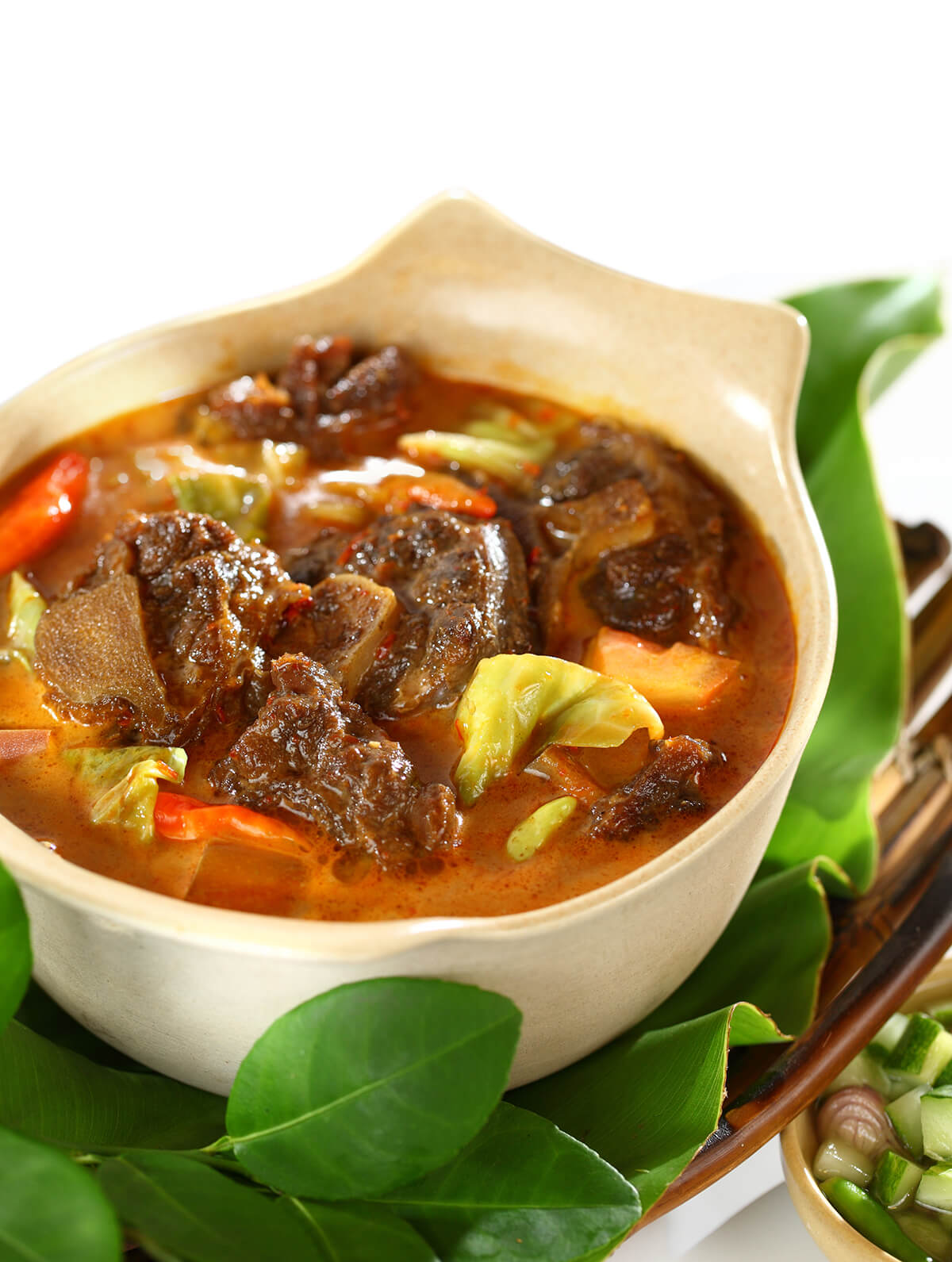 Another dish that has to be on your Indonesia culinary list is stewed meat with curry soup named Tongseng. Lamb, mutton or beef is usually used for this cuisine. The food tastes creamy yet spicy because it contains coconut milk and herbs like garlic, shallot, black pepper, ginger, coriander, galangal and lemongrass as its ingredients.
The word tongseng comes from the friction sound of spatula and wok pan while frying the meat. The cuisine is originated from Central Java, where you can find the restaurants or food stalls selling this food easily.
10 | Ketupat Sayur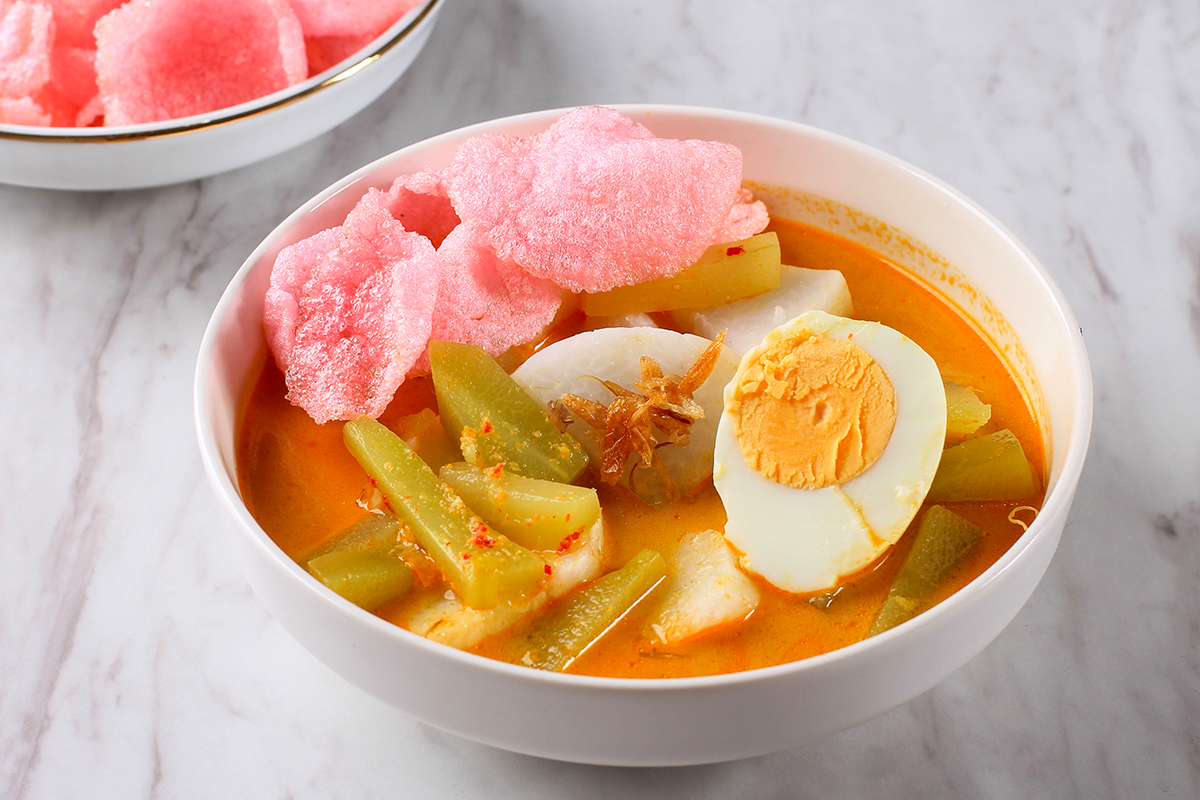 A plate of Ketupat Sayur contains sliced ketupat (rice cakes boiled in plaited coconut leaves) and vegetable stew in coconut milk. Sometimes it is accompanied with tofu and tempeh cooked with soy sauce.
Usually, you can find the Ketupat Sayur seller going around the street pushing the food carts or carrying the food baskets on his shoulder. This dish is quite versatile. You can eat it for breakfast or dinner.
11 | Ketoprak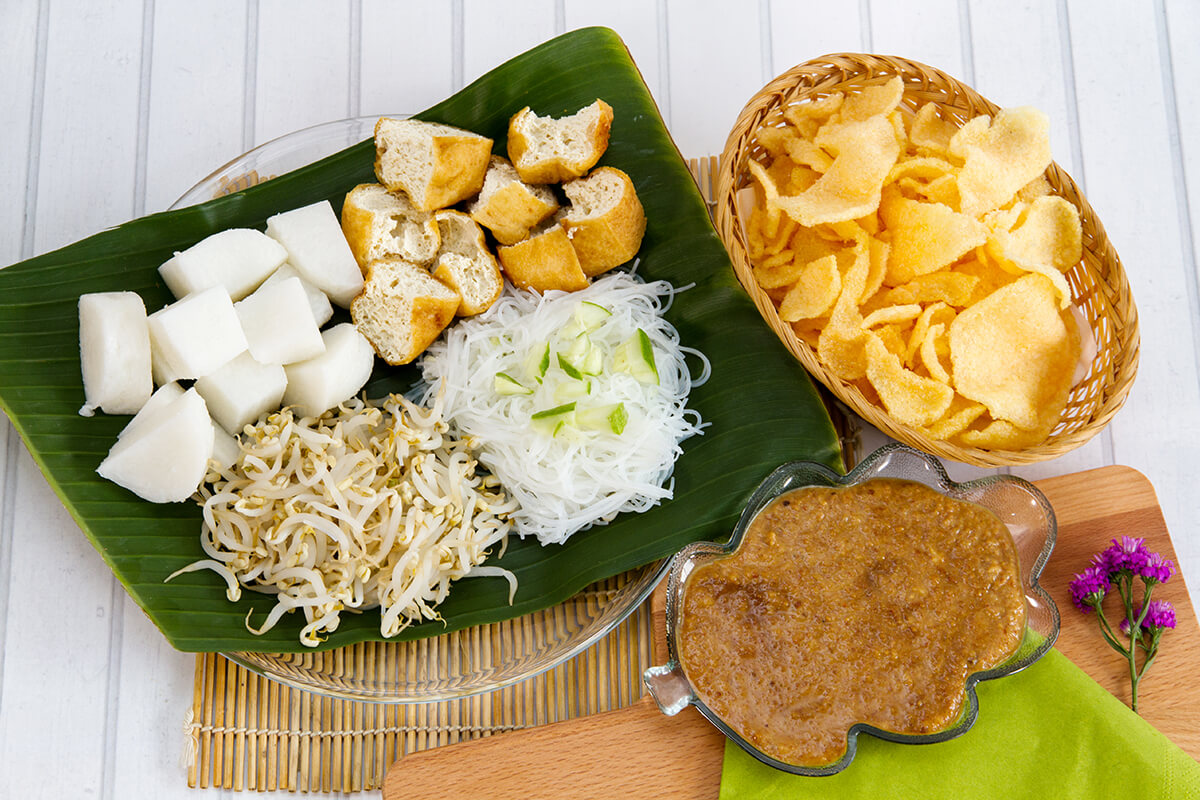 This vegetarian street food is originated from Jakarta, the capital city of Indonesia. It is basically a plate of rice vermicelli mixed with fried tofu, vegetables, rice cake, blanched bean sprouts and shrimp crackers topped with peanut sauce and sweet soy sauce.
Fun fact, this dish has a shared name with a Javanese theatrical performance that also called Ketoprak!
12 | Bubur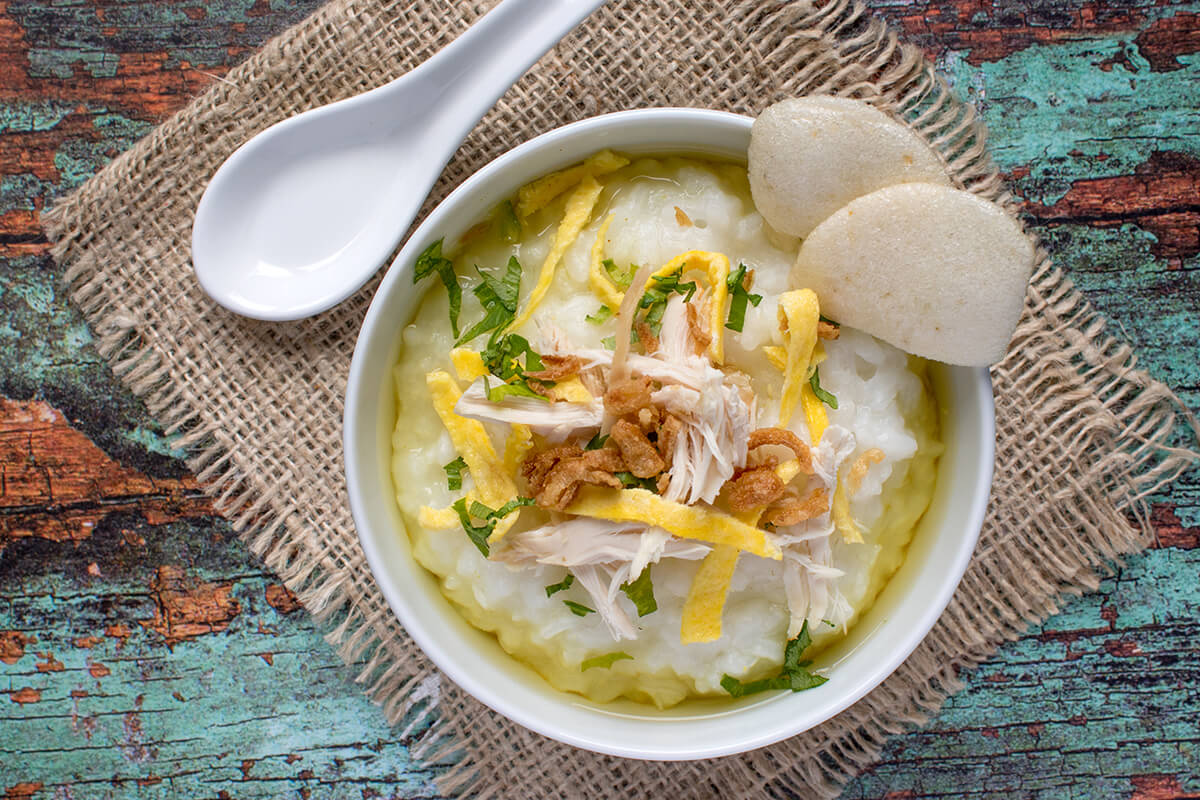 In Indonesia, porridge is not always made from rice congee with savory taste, like Chicken Porridge or Bubur Ayam. It can also has a creamy and sweet taste from rice flour, coconut milk, and palm sugar. Unlike Bubur Ayam, variants of Indonesian sweet porridge-like Bubur Sumsum and Bubur Candil are usually served as a dessert on a banana leave plate. You can easily find this dish in a traditional market.