The stunning underwater life of Bunaken is not the only highlight of your visit to Manado and North Sulawesi. Known for its tasty and extra hot dishes and condiments Manado Cuisine has risen to be the second reason why people travel to Manado.  Manado restaurants have fast gained popularity throughout Indonesia because of its delectable, well chosen combination and use of flavored herbs and spices such as garlic, ginger, galangal, basil leaf and lemongrass, that provide each dish with a unique and unforgettable taste on your tongue. However, to keep its clientele outside the province, Manado restaurants in other major cities in Indonesia will not serve meats except fish dishes.  
Although wellknown for its extra hot.spicy foods, but those whose tongues and stomach cannot take spicy food can rest assured that many dishes are not hot, but for sure hot condiments will always be served for those who long for spicy food.
Best place to find yummy  Manado foods is along the Pierre Tendean Boulevard, along Jalan Wakeke, and Seafood along Kalasey Beachand around Bitung harbor.
Below is a list of unique Manado dishes for you to try :
1 | Tinu'tuan (or Bubur Manado)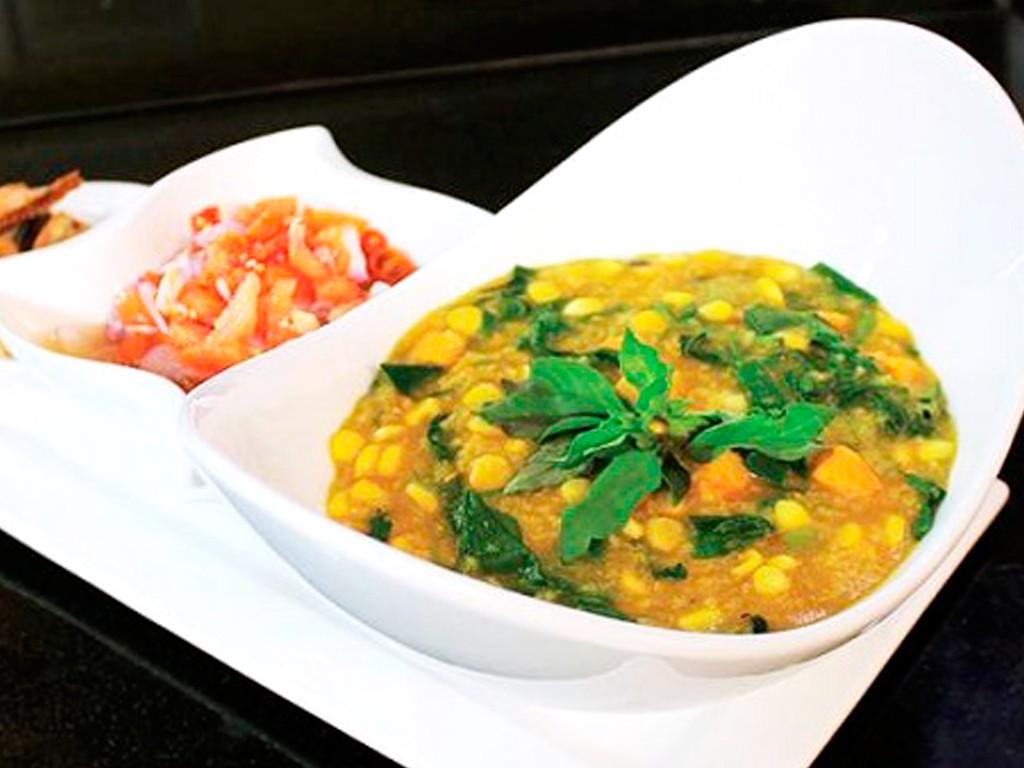 Tinu'tuan is traditional Manado porridge. Known as "Bubur Manado", it has a base of rice porridge mixed with slices of pumpkin, sweet potatoes, sweet corn and vegetables such as morning glory, spinach or watercress and special gedi leaves (available only in Manado).Together they make a yummy and most nutritious breakfast. Manado porridge indeed contains many diverse vegetables, so that if you're a vegetarian, then this is definitely your choice for breakfast. With flavors of lemongrass and basil leaf mixed with cuts of fresh green tomatoesand red onion slices, and add to which the hot 'Dabu-Dabu' sambal and fish cakes made from the tiny fish called nike found in Lake Tondano, this bowl of Tinu'tuan is a much-loved dish that locals enjoy any time of the day.
2 | Ayam Rica-Rica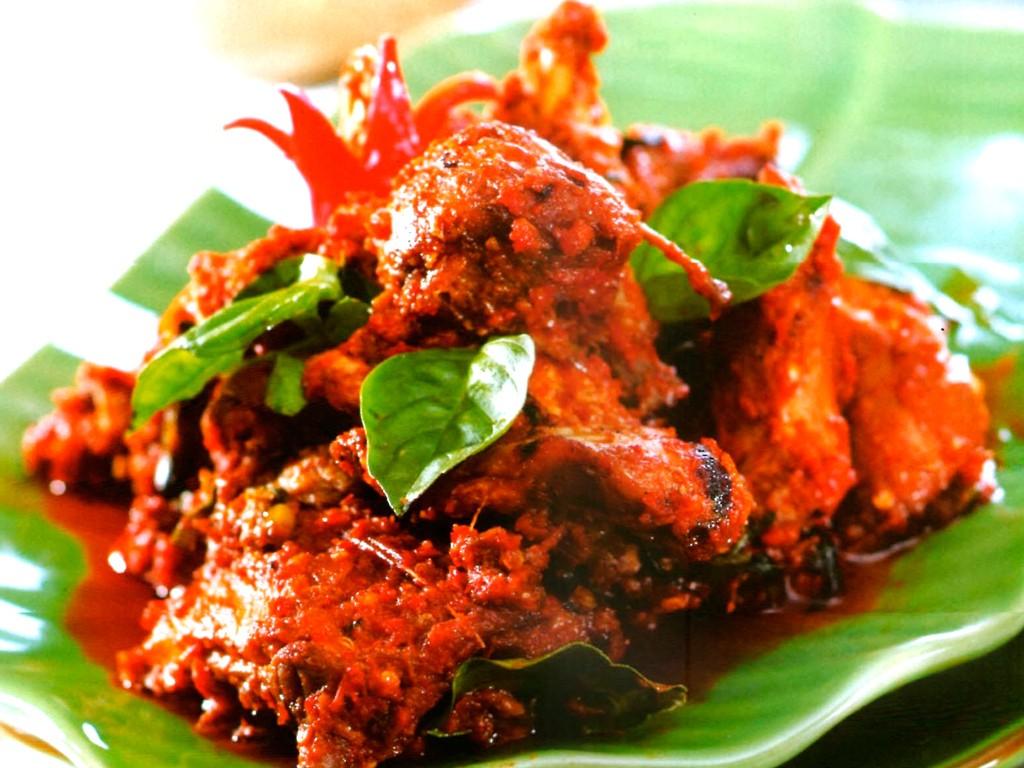 In Manado be prepared to  be served a dish labelled 'Rica-Rica', which in the local language means spicy and hot, describing the taste of a variety of chilis. This delicious condiment which is also a sauce is a well-known recipe that comes from Manado. The basic ingredients arefresh tomato, chilli, garlic, shallots and ginger which are blended together and cooked in coconut oil, then further mixed with lime leaf, slices of lemongrass and sprayed with lime juice. The rica-rica sauce is then usually spread over barbequed fish, any kind of meats, seafood orpoultry. The most popular rica-rica dish are probably ayam rica-rica  or chicken rica-rica and tuna rica-rica.
3 | Garo Bunga Pepaya (Garo Papaya Flower)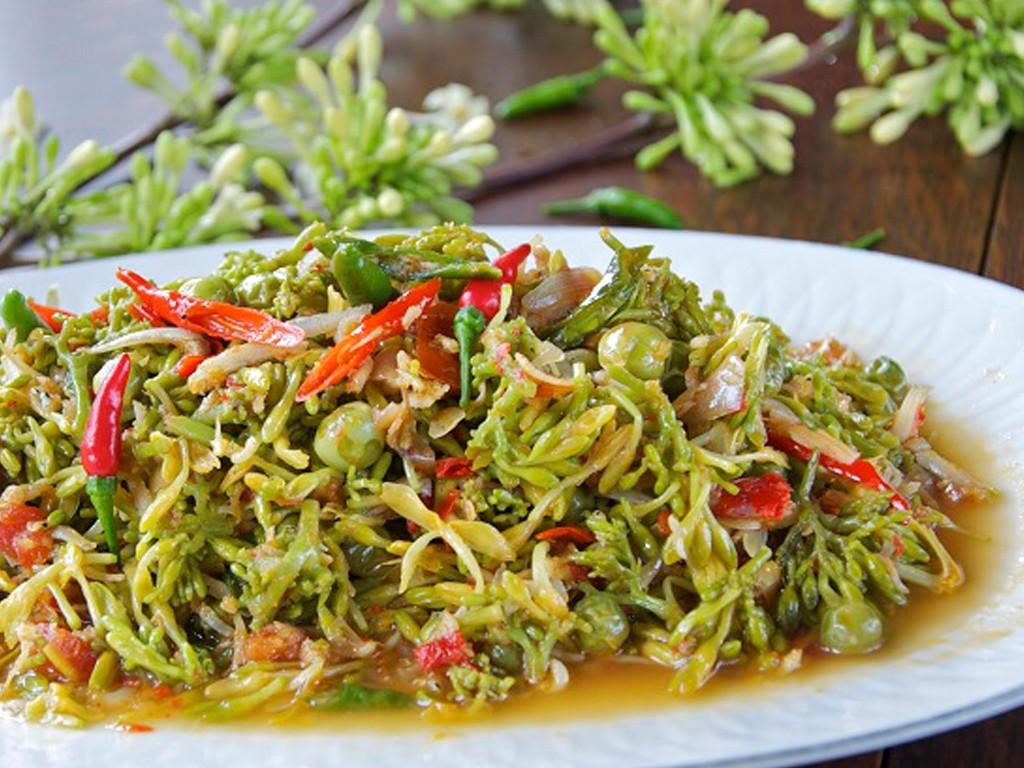 Besides eating plenty of fish and meats, the Manadonese also consume a healthy amount of vegetables. A popular Manado's vegetable dish is  the Garo Bunga Pepaya.  Garo meaning mixed or stirred, while Papaya Flowers are actually flower buds from the Papaya male plant. Garo Bunga Papaya is typically a hot and spicy dish with a pleasant bitter after taste. There are variant recipes of this dish, some will mix it together with papaya leaf, morning glory or gnetum gnemon leaf (daun melinjo) to reduce its bitter taste.  This is usually served with smokedskipjack tuna (Cakalang Fufu). The best Cakalang Fufu can be found around the port of Bitung.
4 | Cakalang Fufu and other Seafood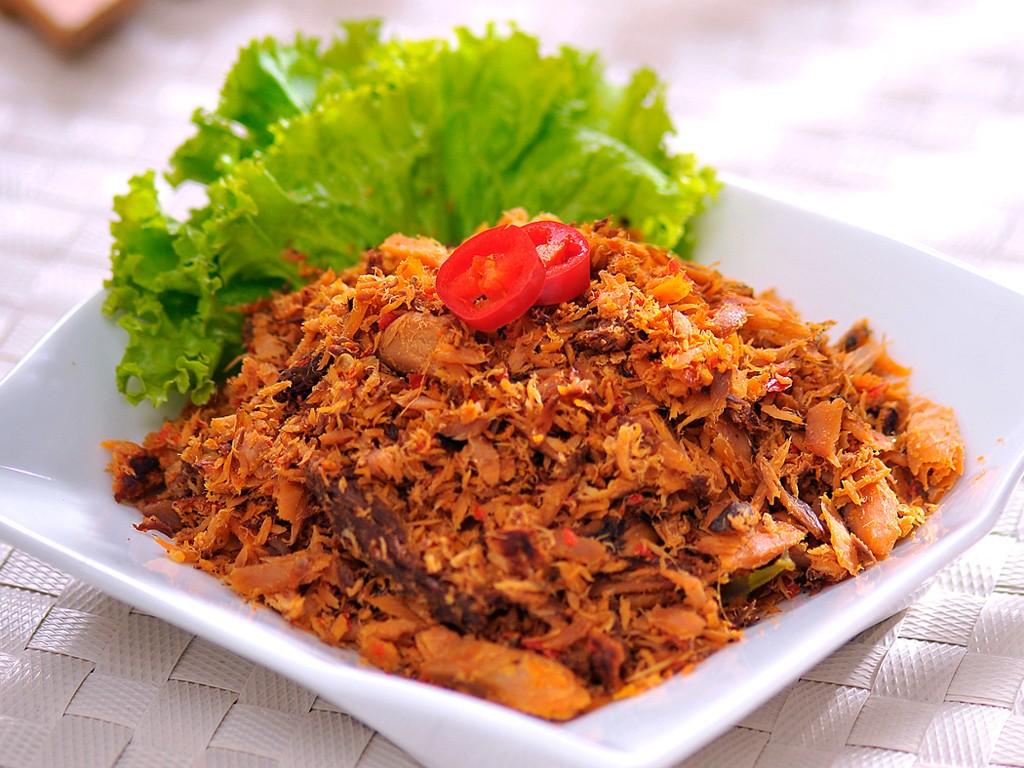 The harbor cities of Manado are the center of the fishing industry in the area. Years ago, the coastal strip was a beach used by local fisherman to keep their small outrigger fishing boats, therefore fresh seafood is popular as a main dish. Most popular are the Cakalang (Skipjack Tuna), Tude (Mackerel), Ikan Kuah Asam (Soup Fish with tamarind sauce), Cumi woku (sautéed squid with spicy green chili sauce). While others are mostly charcoal grilled and served with Dabu-Dabu sambal.
5 | Mouthwatering Satay or Sate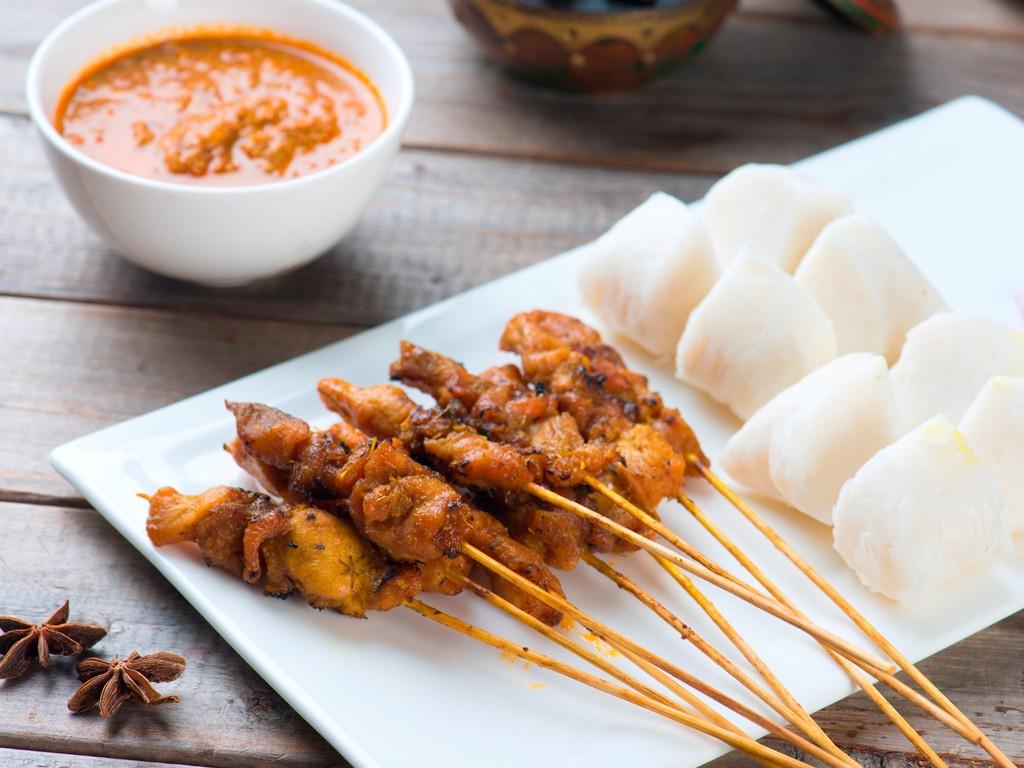 Basically, Satay are skewered grilled meats that you can find anywhere in Indonesia, and is in fact one of Indonesia's hallmark cuisine.  Here in Manado you can find  Sate made from beef, goat, pork to seafood satays, charcoal grilled to perfection with accompanying sides of local spicy sauces.These cubed chunks of marinated meat are threaded onto bamboo skewers and grilled or barbecued over a wood or charcoalopen fire, then served with Dabu-Dabu.
 
6 | Klappertaart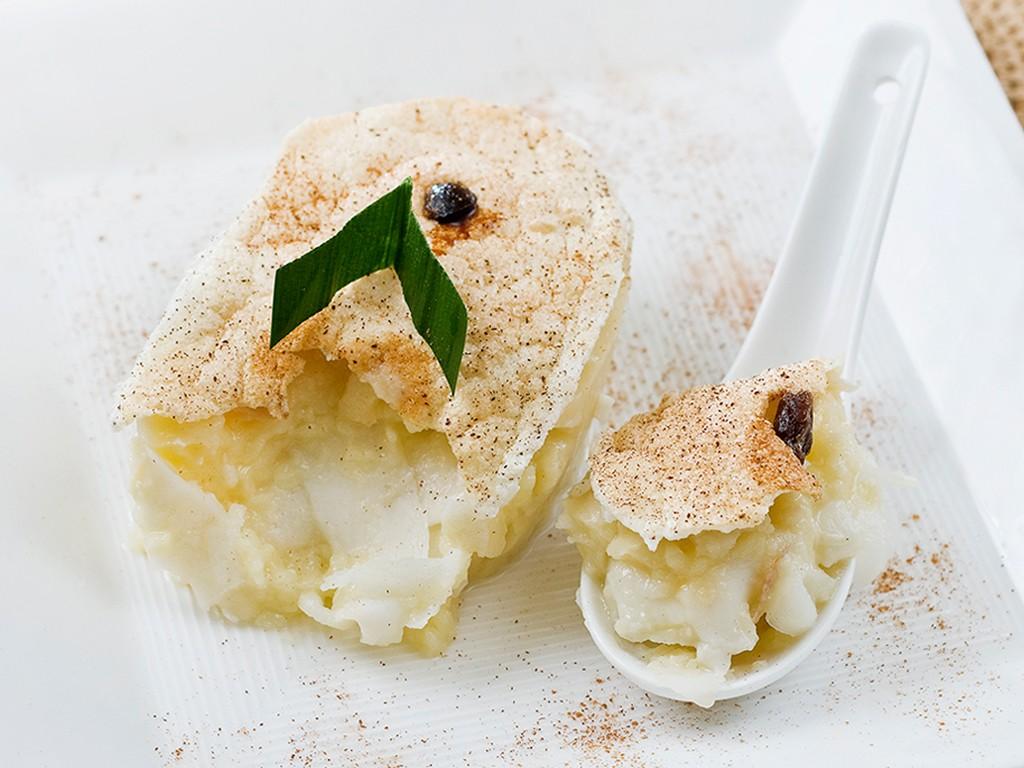 This yummy desert uniquely spells Manado. Simply known as Coconut Tart, Klappertaart is a Dutch–influenced desert originally from Manado which is a sweet custard pie filled with soft egg white flour and long slivers of yummy young freshly cut coconut meat, topped with walnutsand raisins and a taste of rum. This the best desert to cool your tongue and finish your meal. This pie is difficult to find in other places since only Manado offers fresh young coconuts slices in a pie, which should  be stored, or at best kept a while in your fridge to retain its true freshness.
 
7 | Nasi Jaha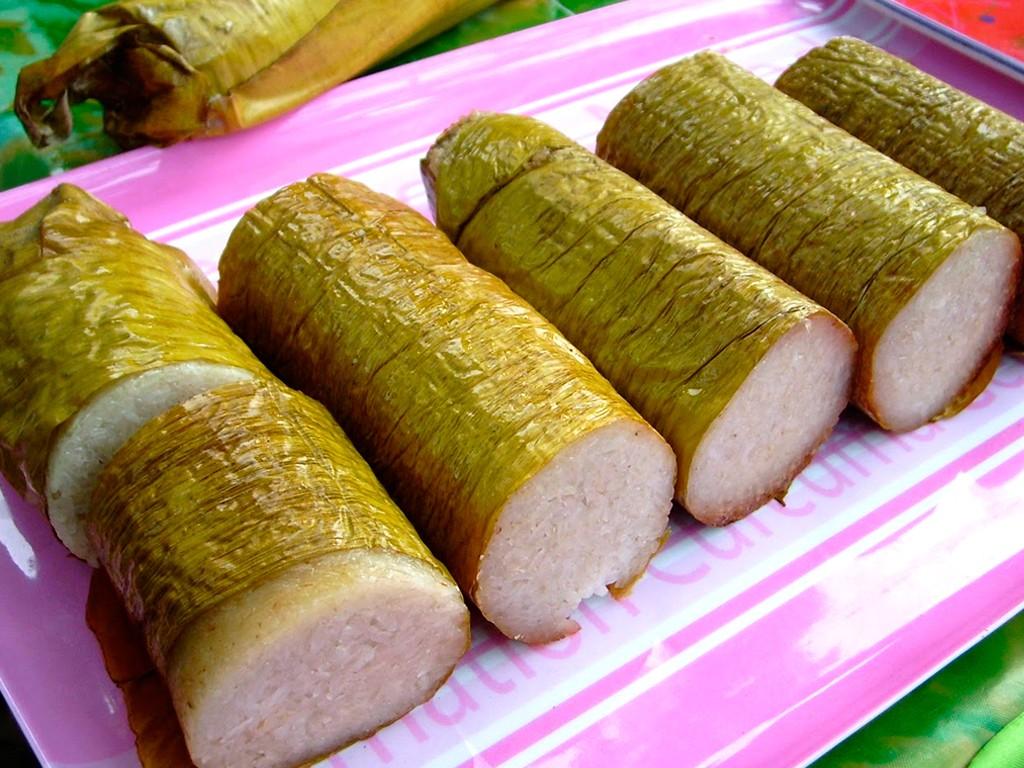 Nasi Jaha is a traditional Manado heavy snack, a combination of glutinous (sticky) rice, ginger (jahe or jaha), pandan leaves, coconut milk, lemongrass and lime leaf further cooked in bamboo tubes lined with banana leaves. The filled bamboos are then placed over a slow burning wood fire until the filling is done or "roasted". The Nasi Jaha is then sliced into discs and served with Cakalang (Skipjack Tuna Floss).
8 | Panada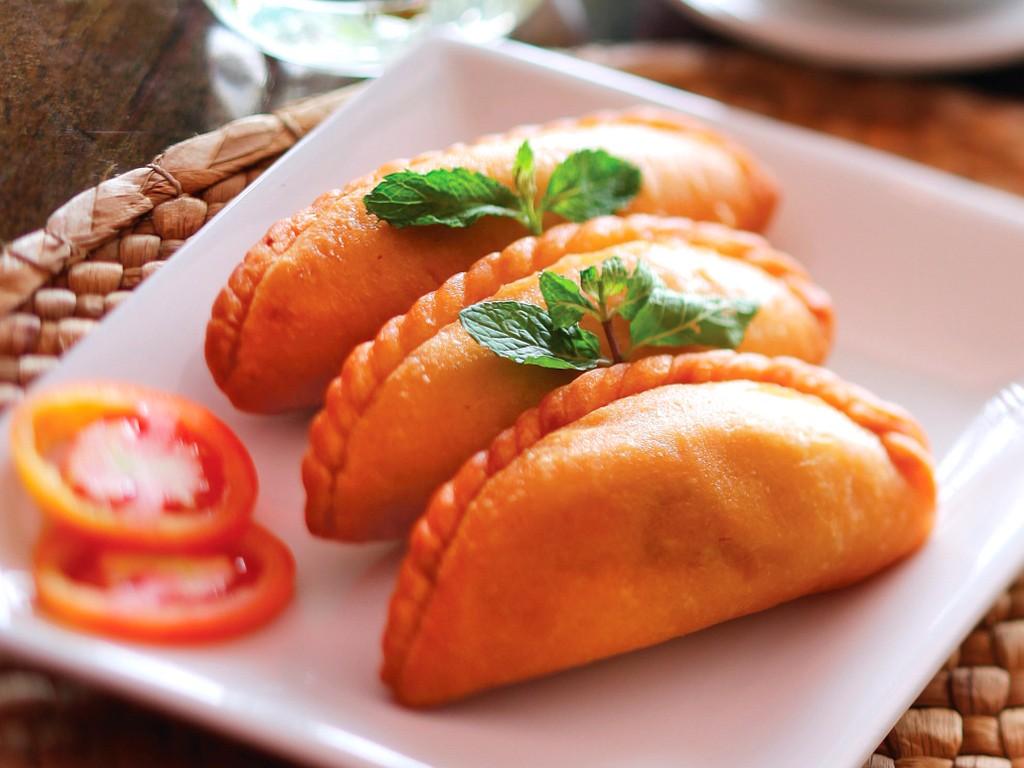 Panada is similar to the Latin American empanada. Since the Manadonese love spicy food, they have added their own twist to these fried bread packets and stuffed it with spicy tuna floss, which is now known as Panada.