The month of love is finally coming to us. It is the right time to use this romantic moment to treat your loved ones with a romantic dinner. If you happen to be in Yogyakarta, we recommend you to make a reservation in one of these eight restaurants.  It's not only delicious dishes that are going to wait for you there, but also a warm ambiance from their unique concept and decoration.
1 | Abhayagiri Restaurant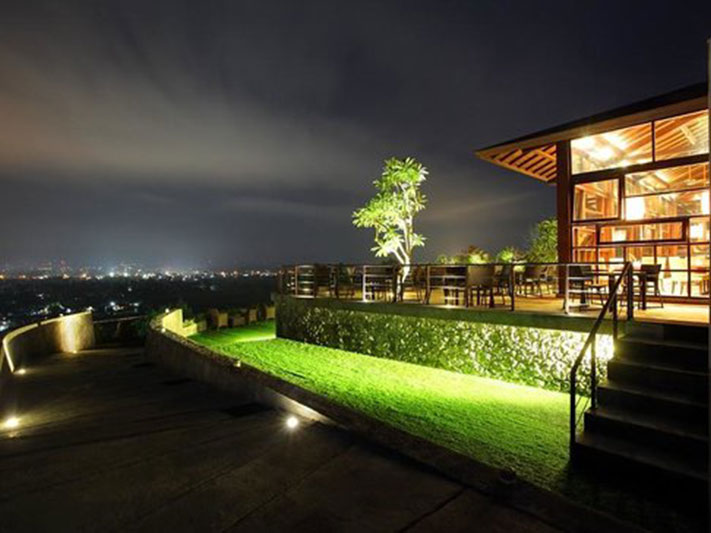 Image source:  http://panduanwisata.id

This restaurant is situated on the hills of Sumberwatu Village, Prambanan. You can have lunch at its terrace with the mesmerizing view of Mount Merapi and Prambanan Temple as the background. During dinner,  the background will turn into a sea of city lights. The architecture design of this restaurant is "luxury meets nature" with a touch of traditional. While enjoying the delightful meal and comforting ambience, you will be entertained with performances like live acoustic, coke'an (Javanese traditional acoustic music) and, occasionally, Javanese traditional dance Jonggrang Sendratari.
Address: Sumberwatu Village, Prambanan
Contact: (+62274) 4469277
Opening hours: 11am-10pm
2 | Joglo Mlati Traditional Restaurant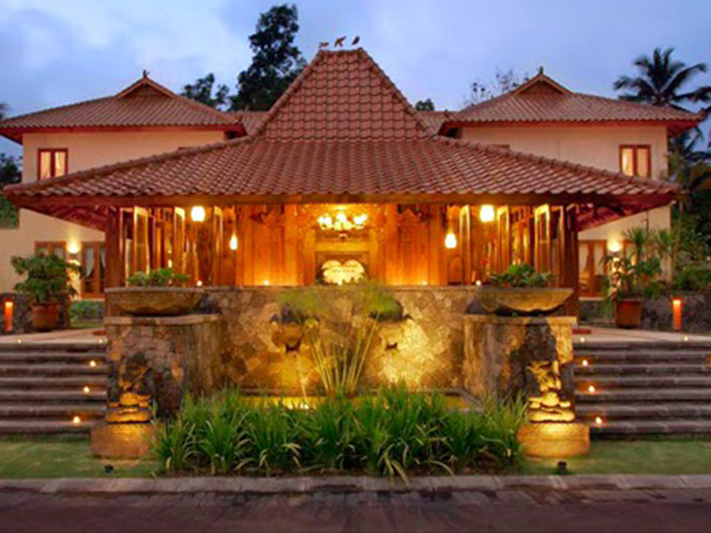 Image source:   http://4.bp.blogspot.com

Established in 1995, Joglo Mlati is a restaurant that combines traditional ambience and antique furniture, creating an old-timey atmosphere. Its building adopted the architecture of Javanese traditional house, Joglo, using teak woods as the main materials. The cozy and homey vibe is perfect for couples who enjoy vintage arts and crafts to go along with traditional Javanese dishes.
Address: Jl. Kb. Agung No. 170, Sendangadi, Mlati, Sleman
Contact: (+62274) 866700
Opening hours: 8am-8pm
3 | Indische Koffie
Image source:  www.2.bp.blogspot.com

This cafe perfectly combines history and leisure. Located inside the complex of Vredeburg Fortress Museum, a historic heritage from the Dutch colonial era in the 18th century. The cafe interior design is strongly influenced by  Indonesian oldies concept, with vintage chairs made of rattan and wood. The cafe will serve you an exceptional quality time accompanied with subtle music for your Valentine's dinner.
Address:  Jl. Jend. A. Yani No. 6, Yogyakarta
Contact: (+62274) 580004
Opening hours: Tuesday to Sunday, 10am-5pm
4 | Mang Engking Soragan Castle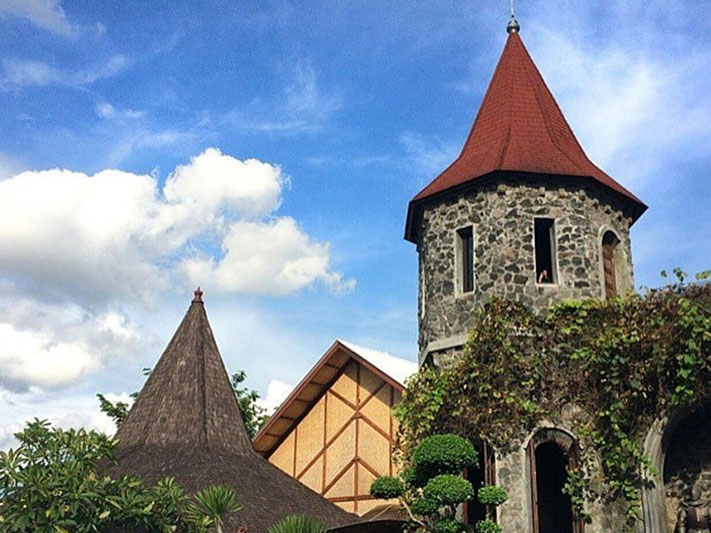 Image source:  www.trivindo.com

Take the queen of your heart to dine in a "castle". Mang Engking restaurant adopted the architecture of an ancient medieval castle for its building, making it to be the distinguished one among all the restaurants in Yogyakarta. This family restaurant specializes in seafood. While waiting for the food to come, you are welcome to dip your feet into a small pond inside the restaurant for a fish therapy.
Address: Jl. Soragan No. 13, Ngestiharjo, Kasihan, Bantul
Opening hours: 10am to 9pm
Contact: (+62274) 622972
5 | Omah Dhuwur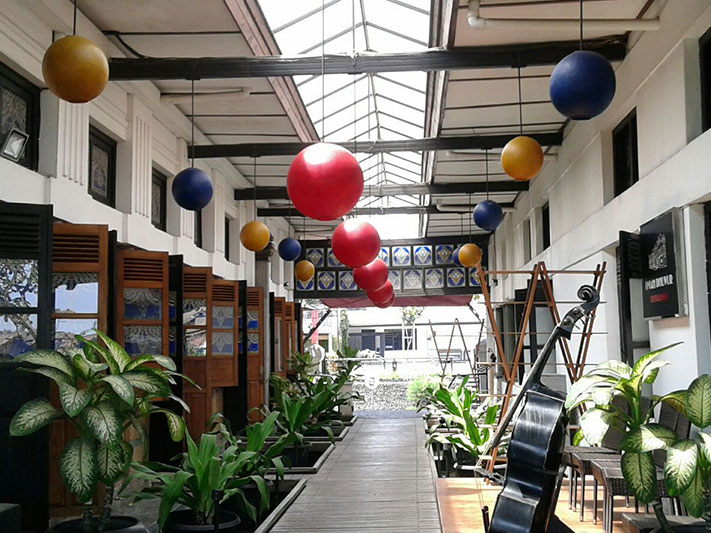 Image source:  www.infomakan.com
The name Omah Dhuwur means "tall house". It is located in Kotagede, the center of silver crafts and jewelleries. The architecture is a combination of Dutch colonial era, traditional Javanese house, 1900s art deco, with a touch of modern concept. The restaurant can accommodate up to 100 people. They serve delicious Indonesian and international cuisines, as well as vegan menus. The oxtail soup and beef satay are on top of the favorite list.
Address: Jl. Mondorakan No. 252, Kotagede
Opening hours: 11am-10pm
Contact: (+62274) 374952
6 | Pasta Banget Signature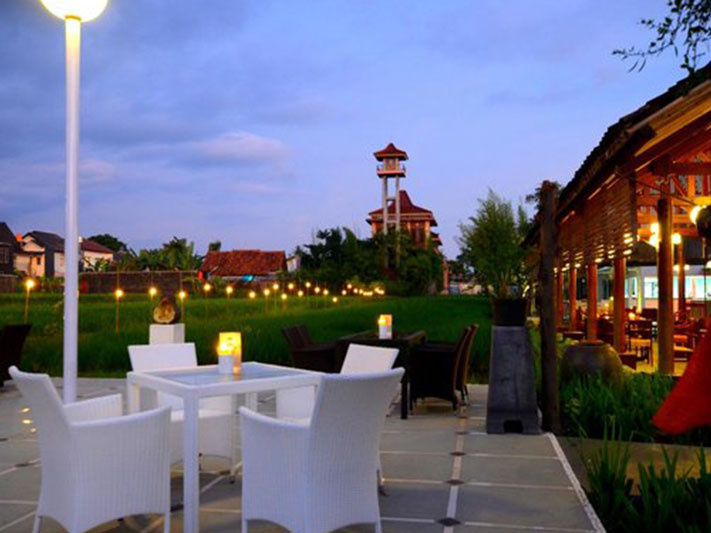 Image source:   https://media-cdn.tripadvisor.com

Imagine having a candlelight dinner in the middle of a rice field. Although it is still around the downtown of Yogyakarta, the restaurant is far away from the busy streets. As the name suggests, the restaurant serves Italian cuisine. It also uses a touch of vintage wooden decoration to create a romantic ambiance. The restaurant will also gladly arrange flower bouquets and candles for your romantic dinner.
Address: Jl. Watugede No. 2A, Ngaglik, Sleman, YK
Opening hours: 11am to 11pm
Contact: (+62274) 4533289
7 | Secret Garden Coffee and Chocolate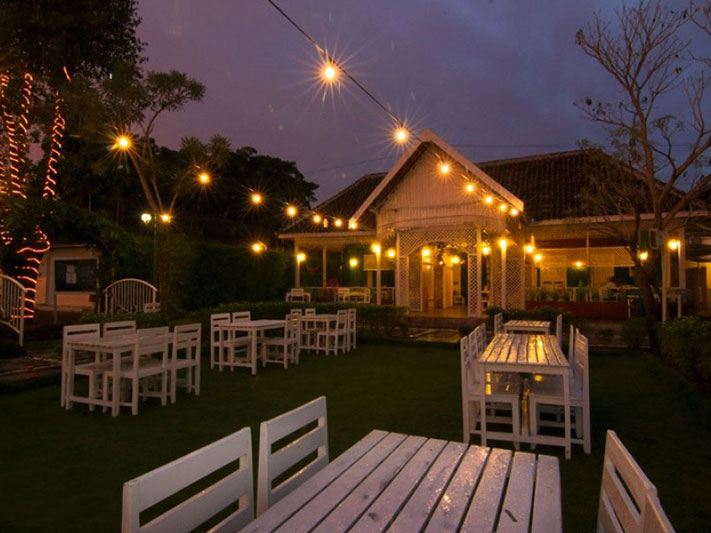 Image source:  http://www.spotunik.com

As the name suggests, the location is hidden from sight. You will need to go through an alley to reach this restaurant.  However, it is no secret that this establishment is one of the most romantic restaurants in Yogyakarta as it is often used as a wedding venue. The outdoor garden restaurant combines classic Javanese style with modern concept. It serves local Indonesian food like fried rice, as well as western dishes such as beef schnitzel and chicken cordon bleu.
Address: Jl. Amri Yahya No. 2, yk
Opening hours: 5pm to 12am
Contact: (+62274) 512252
8 | Six Senses Kitchen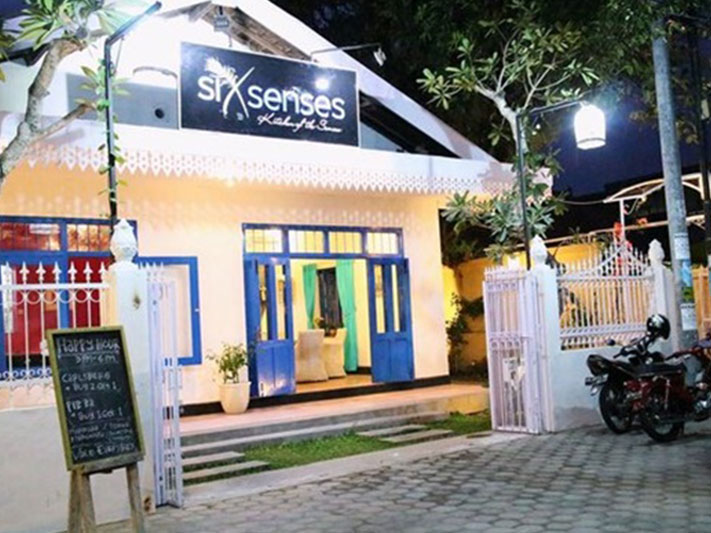 Image source: https://bonvoyagejogja.com

If you want to have an authentic western cuisines in a Javanese-themed fine dining restaurant for your Valentine's dinner, then you need to consider Six Senses Kitchen. Chef Sergio serves Spanish and Mediterranean fusion foods, such as Paella and Risotto. This open space restaurant also has a beautiful garden and a swimming pool for kids. An interesting place for dinner, isn't it?
Address: Jl. DI Panjaitan No. 39, Mantrijeron
Opening hours: Tuesday to Sunday, 11am-11pm
Contact: (+62274) 374180
Enjoy more intimate experiences with your loved ones in Yogyakarta.