Valentine's day is not always about romantic candlelight dinner with your spouse. If you already have children, Valentine's day can be a perfect moment to show your love and affection by spoiling them with fun activities. Check out our recommendation of seven playgrounds in Jakarta to have a fun quality time with your children.
1 | Playparq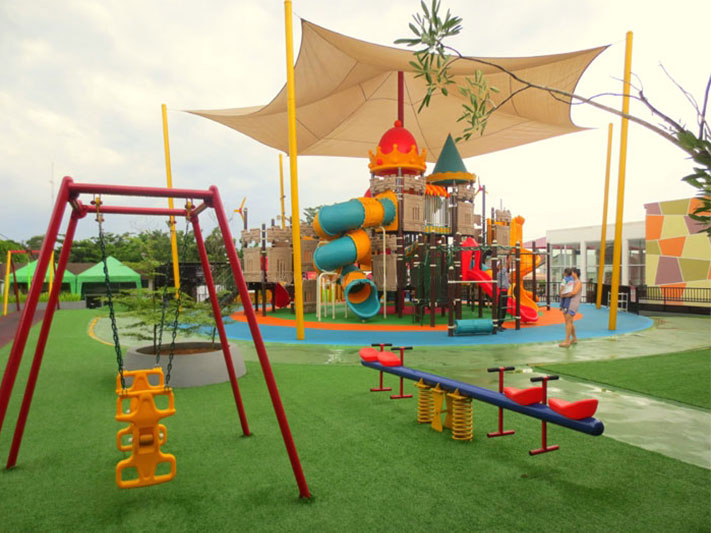 Photo source: www..liburananak.com
This playground has two locations in South Jakarta, namely in Kemang and Bintaro. It is suitable for children ranging from 1 year old to 12 years old. The place provides outdoor and indoor games like flying fox, slide, big trampoline and ball pit. It also provides a playing space for babies. Your children also can join regular activities such as cooking class for age 5 to 10 years old and holiday camp for age 3 to 12 years old, where they will engage in art and cooking class for three days during school holiday.
Playparq Kemang
Address: Jl. Kemang Timur Raya No. 72, Kemang, South Jakarta
Opening hours: Wednesday-Monday: 10am-6pm, Tuesday: 2-6pm
Fee: Monday, Wednesday and Friday: IDR 60,000/children
Tuesday: IDR 35,000/children
Thursday: IDR 60,000 buy one get one
Saturday and Sunday: IDR 100,000/children
Playparq Bintaro
Address: Jl. Bintaro Taman Barat Kav. 10, Bintaro, South Jakarta
Opening hours: Wednesday to Sunday: 10am-6pm
Fee: Wednesday: IDR 35,000/children
Thursday: IDR 60,000 buy one get one
Friday: IDR 60,000/children
Saturday and Sunday IDR 100,000/children
At both places, one adult who come to accompany the children will get a free admission, while the rest have to pay IDR 10,000 per person.
2 | Ocean Eco Park Ancol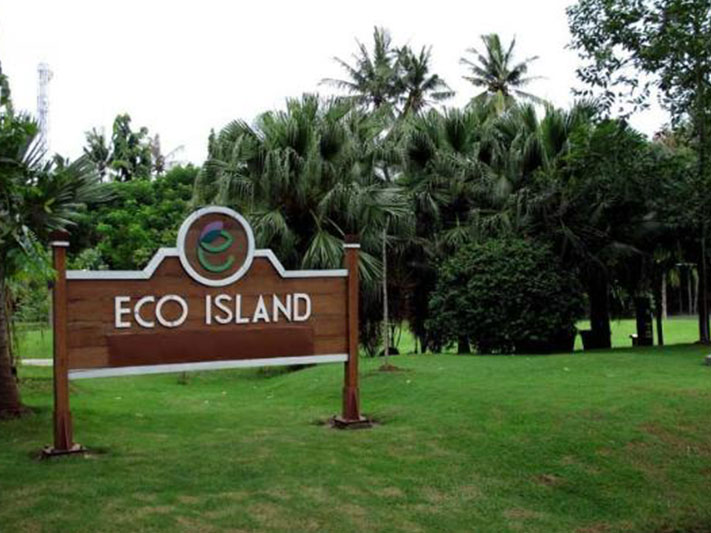 Photo source: www.jakarta.panduanwisata.id
Previously, this was a golf park which only allowed limited people to enter the area. However, the park is now transformed into an open green space with many unique plants. This park comprises of four parts that you can explore with your children.
At Eco-Care area, you can let the children to learn the ways and methods of planting. You can also take them to Eco-Nature area where they can observe animals like cassowary birds, pelicans and deers. You can teach your kids about water animals like koi fish and catfish at Eco-Island. When you're tired of walking and exploring, you can take your children to watch stage performance about Indonesian folklore at Eco-Art area. Valentine's day well spent!
Address: Jl. Lodan Timur No. 7, Ancol, North Jakarta
Opening hours: 8am-5pm
Fee: free, but need to pay IDR 15,000 to enter Ancol area
3 | Scientia Square BSD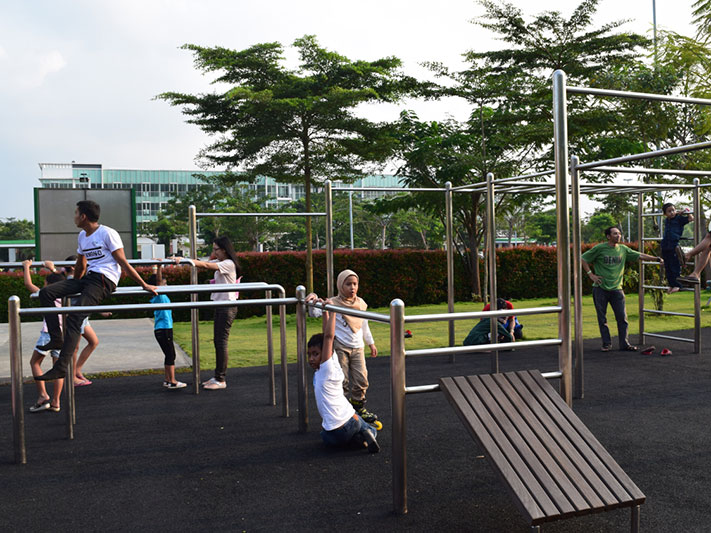 Photo source: www.jendelakeluarga.com
Scientia Square is a public park located on the outskirt of the metropolis, in the Gading Serpong, Tangerang area, west of Jakarta. This park is all about doing activities together with your children. They will have lots of fun doing outdoor activities such as learning about butterflies, inline skating, cycling, even wall climbing. This park also provides an area for teens to play dirt bikes or skateboarding at the Velocity Skatepark.
Parents can enjoy yoga or baby strolling at the Universe Amphitheatre, where slow music is played to keep your baby asleep as you stroll.
Address: Jl. Scientia Boulevard Gading Serpong, Tangerang
Opening hours: Weekday: 6am-9pm
Weekend: 6am-11pm
Fee: Weekdays: IDR 25,000
Weekend: IDR 50,000
Member weekly pass: IDR 88,000
Member monthly pass: IDR 150,000
Member annual pass: IDR 1,000,000
4 | Kidzania at Mall Pacific Place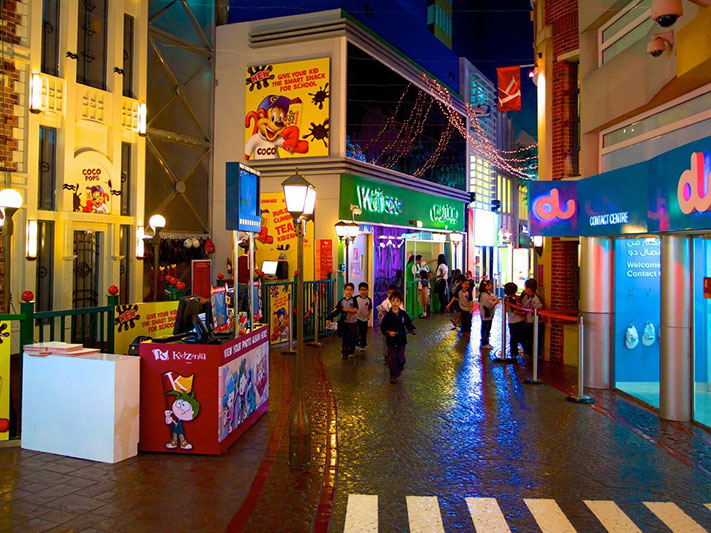 Photo source: www.i2.wp.com
Having early aspiration is important for your kids. Kidzania is just the perfect place if you want to teach your children about what they want to be when they grow up.
This amusement center is developed with a "kid's town" edutainment concept for children age 2 to 16 years old, the first of its kind in Southeast Asia. It displays replicas of police station, school, even hospital and bank. While visiting this place, your children can roleplay as a nurse, doctor, pilot, chef, scientist and other jobs that they may encounter in the future.
Address: 6th floor at Pacific Place Mall, Jl. Jend. Sudirman Kav. 52-53, Central Jakarta
Opening hours: Monday-Thursday: 9am-4pm
Friday, Saturday, Sunday: 9am-8pm
Fee: Weekday: IDR 50,000 – IDR 150,000
Weekend: IDR 75,000 – IDR 250,000
5 | Aqua Playground at Shangri-La Hotel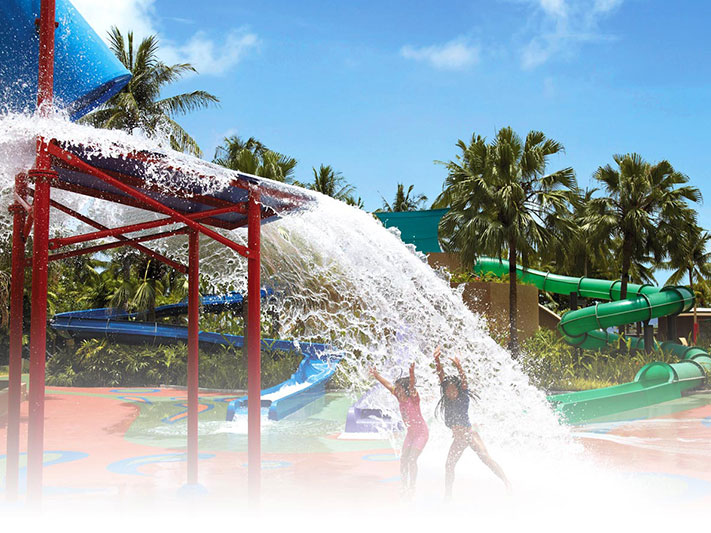 Photo source: www..shangri-la.com
For a special occasion like Valentine's day, take your children's love of playing water to the next level at this playground. This water park was designed with children's safety as its priority. They can run around while playing water sprays, splash buckets or fountains without being afraid of slipping because the floor is made of rubber. The Aqua Playground is open daily from 8 a.m. until 6 p.m. and suitable for children aged 2 to 12 years old. Children can have fun and you can relax, so it's a win-win solution.
Address: BNI City, Jl. Jend Sudirman Kv. 1, central Jakarta
Opening hours: 8am-6pm
Fee: IDR 330,000
6 | Jakarta Aquarium at Neo Soho Mall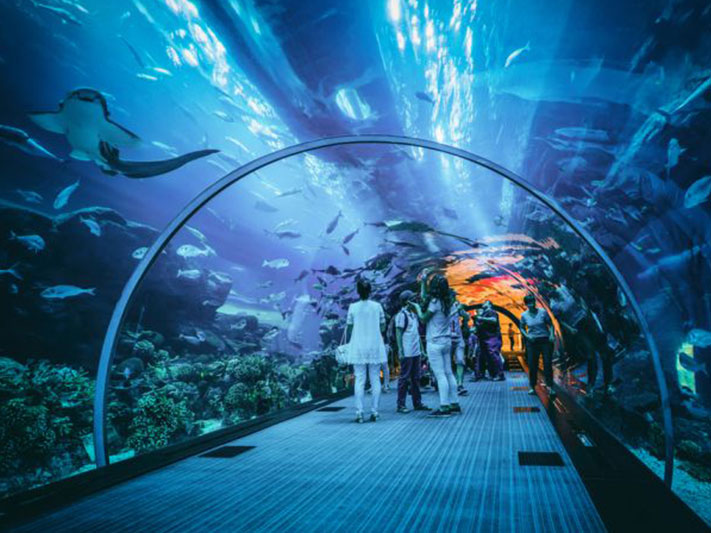 Photo source: www.aws-dist.brta.in
Another place where you can take your children to have some fun while, at the same time, learning something new. This marine conservation inside a mall is home for more than 600 species. It aims to provide education and recreation space for everyone of all ages.
Aside from observing various fishes through thick glasses, you can also take your children to swim or walk inside the aquarium in the Seatrekking facility. Your children can also feed the penguin and watch theatrical acts about Indonesian folklore, performed using underwater dance.
Address: Floor LG 101 – LGM 101 at Neo Soho Mall, Jl. Letjen S. Parman Kav. 28, West Jakarta
Opening hours: 10am-8pm
Fee: Weekdays: IDR 95,000 – IDR 200,000
Weekend: IDR 135,000 – IDR 225,000
7 | Houbii Urban Adventure Park Pondok Indah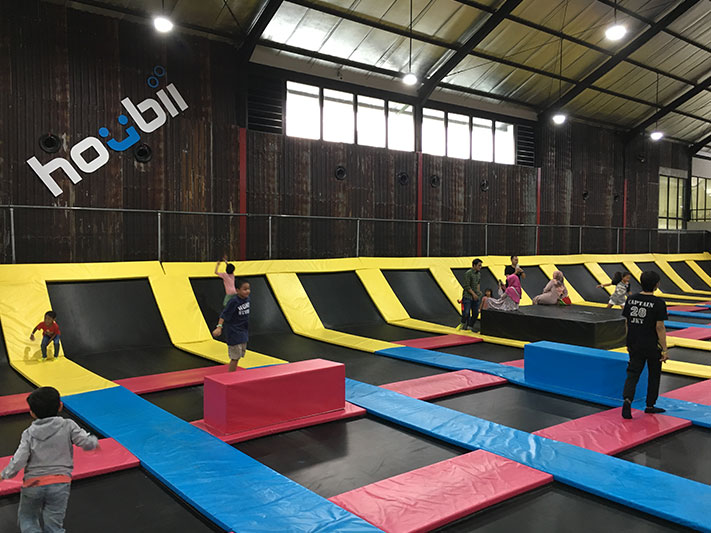 Photo source: www.growingwiththetans.com
Dozens of trampolines will welcome you and your children when entering this indoor park. Your children can freely jump  as high as they want on the trampolines. They can also play on the rope course, dip into a foam pit, play on a ninja warrior track for kids, and slide on a near 90 degrees slide from 7 meter height. The park operator only allows a maximum 300 people per batch every 15 minutes to explore the park in order to maintain visitors convenience.
Address: Jl. Metro Pondok Indah Blok 3, Kebayoran Lama, South Jakarta
Opening hours: Monday, Wednesday, Thursday: 10am-9pm
Tuesday: 2pm-9pm
Friday, Saturday and public holidays: 9am-11pm
Sunday: 10am-9pm
Fee: IDR 180,000 – IDR 225,000 for 120 minutes
Photo source of header banner: www.i.ytimg.com