Recognized as Indonesia's all time favorite dish, Nasi Goreng or Fried rice is a meal that can be taken any time; for breakfast, lunch or even dinner. It is said that the original recipe was brought by Chinese migrants to these islands and through the centuries it was adapted to local taste.
To prepare 'Nasi Goreng' simply fry cooked rice along with basic ingredients that include a garlic, shallots, chili and sweet soy sauce. You can also break an egg then stir-fry this together with the rice and shredded chicken pieces. Many Indonesians prefer to cook it at home to get their own preferred flavor instead of buying this from restaurants so as to adjust the dish to taste, adding ingredients such as shrimp paste, salted fish, prawn, meatballs, sausages, vegetables and meats. Normally, fried rice is served with various kinds of crackers and pickle on top. In Indonesia it is understood,  - and has become a joke  - that when you order Nasi Goreng Spesial, this means you will be served fried rice with a bonus sunny-side-up fried egg on top.  
Fried rice has also become a popular option for late supper, mostly plied by street vendors. In Jakarta fried rice is sold at many street food stalls, known as kaki lima. Here are recommended Fried Rice varieties in Jakarta that tourists can enjoy any time.

1. The "Crazy" Fried Rice for extreme spiciness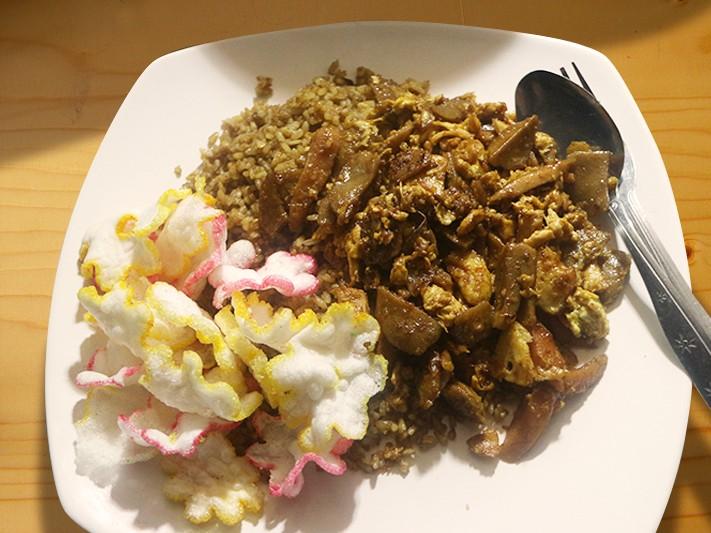 The "Crazy" Fried Rice or 'Nasi Goreng Gila'
is one of the best innovation that ever happened to 
fried rice
. Why is it called Crazy? This is the most iconic Fried Rice in Jakarta because of its extreme spiciness that will set your tongue on fire. With prices starting from IDR 15,000, you can ask for non-spicy, medium spicy or very spicy rice. Taman Menteng in Central Jakarta is the best spot where you can find this Crazy Fried Rice, as well as at other street vendors. 
2. The Goat Fried Rice – Nasi Goreng Kambing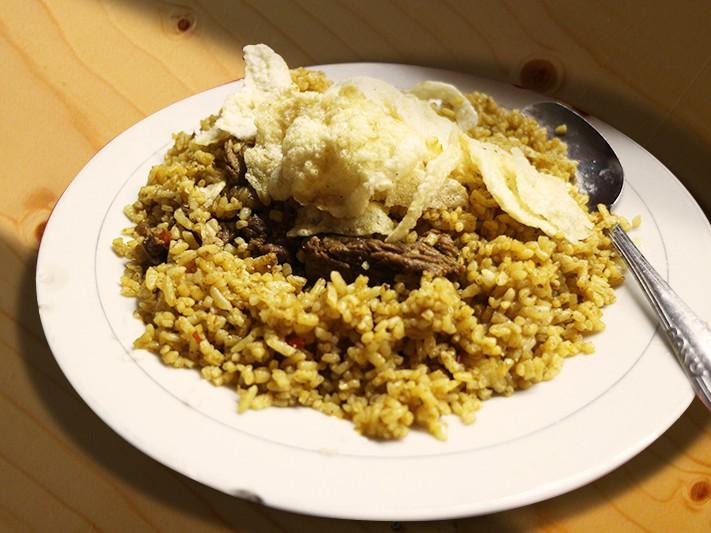 Located on the corner of bustling Jl. Kebon Sirih Raya in Menteng, Central Jakarta, this outlet is open daily from 5pm -3 am. This legendary Jakarta fried rice is popularly known as Nasi Goreng Kambing Kebon Sirih. They serve fried rice mixed with mutton or goat whose recipe was initiated around 50 years ago. This food outlet takes up almost a whole back street and is always packed with a never ending line of customers. The main ingredient of the fried rice is ghee which gives the nasi goreng its special taste. 

3. Kebuli Fried Rice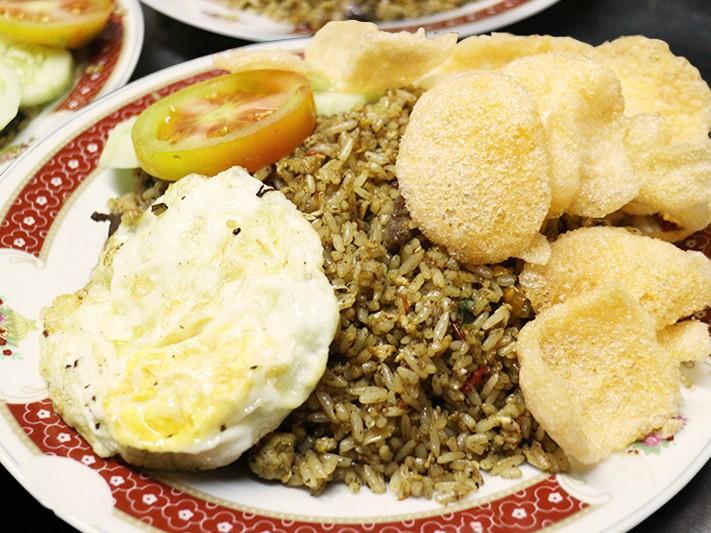 Another style of Indonesian fried rice,  Nasi Goreng Kebuli was influenced by traders from India and the Middle East. This uses India's Biryanias base, which is cooked with various kind of spices such as garlic, black pepper, clove, cinnamon, nutmeg, ginger, shallot and caraway. The original recipe requires frying the rice with goat meat, broth, gee and milk. The taste of Kebuli becomes another version of fried rice. The famous food stall Kebuli Fried Rice Apjay is located at Panglima Polim, South Jakarta. Make sure not to miss this when you are a street food lover. 

4. "Cabe Rawit" Fried Rice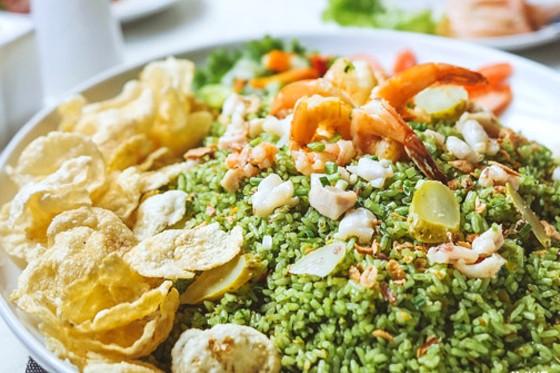 Cabe Rawit literally means Bird's eye chili. Bird's eye chilis are small green or sometimes red peppers, but beware, the smaller they are the hotter they get. These are the hottest chilis available. The process of cooking which does not use oil makes this dish different from the regular fried rice, and it is served with fresh bird's eye chili instead "sambal", and topped with pickle and emping (a kind of crisp crackers made of belinjo nuts). You can easily find the location of this food stall at Jalan Daksa II Kebayoran Baru, South Jakarta.

5. Republic Fried Rice or Rendang Fried Rice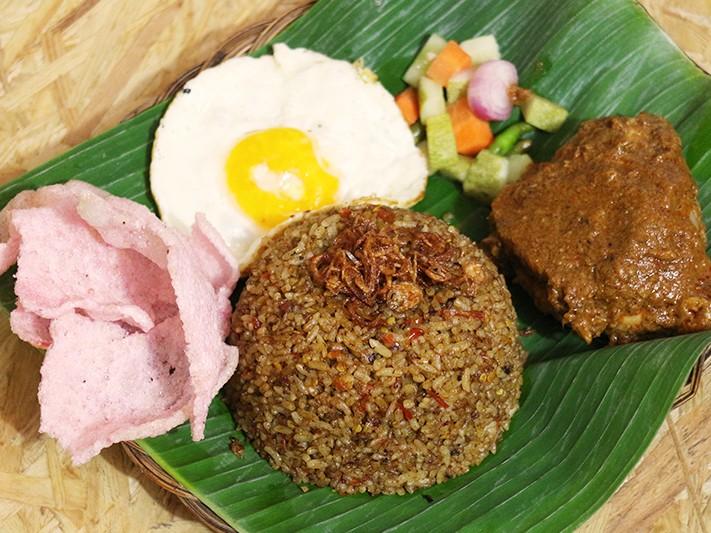 If you want to give a different experience to your tastebuds to try the world's best food of Indonesian Rendang on fried rice, then point your way to Mampang Prapatan, where you can have Rendang Fried Rice. Based on the concept of typical of Indonesian Food, the Republic, moreover, offers many kinds of fried rice added with the authentic taste of Indonesian cuisine such a Sundanese flavor, Ambon (Moluccas) flavor, and the favorite one Salmon Fried Rice. It is totally yum!