Once upon a time in Bali, during one of my many vacations to this heavenly island, I decided to dedicate one entire day to exploring some of Bali's finest beaches. Although I was only able to explore some of the beaches in Bali's southern region due to traffic (yes people! Jakarta is not the only place where traffic annoys the hell outta me), I was lucky enough to immerse myself in some of the best seaside escapades Mother Nature has to offer.
Our first stop? Yes, the ever so popular Seminyak beach. This is a great alternative to the now dirty and overpopulated Kuta beach. This beach stretches along many beach clubs, local vendors and has so many exciting things to do. Why did we choose this popular location? Because this is also the perfect spot for those who want to learn how to surf. So we woke up early at 7 a.m. to catch just the right waves to learn how to surf. Oh, by the way, I just decided to lounge on one of the lazy chairs while my friends learned how to surf.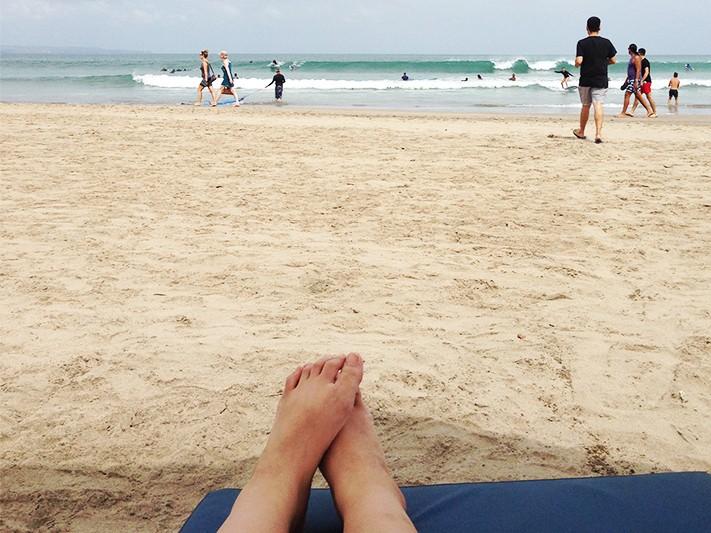 Morning on Seminyak Beach
After a tiring morning (for those who tried to surf) and a relaxing morning for myself, we decided to go to Finn's Beach Club, now called Sundays Beach Club, to have some brunch and have some fun in the sun on the club's exclusive beach. The entrance fee, however, was quite pricey at IDR 350,000, but the funds can be used as credit for buying food and drinks inside. FYI, the food and beverages are also quite pricey so this would not be a destination for those on a tight budget. Another FYI, it's a bit difficult to swim because of the rocky terrain hidden beneath the waters onshore at the edge of the beach.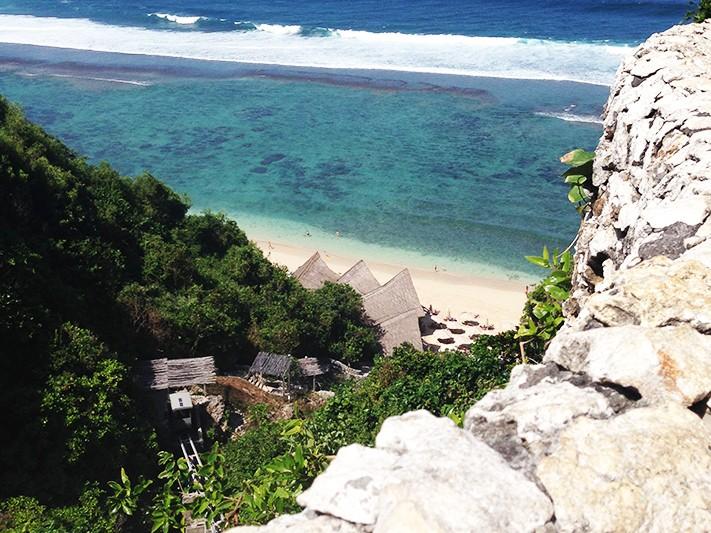 Path leading to Sundays Beach Club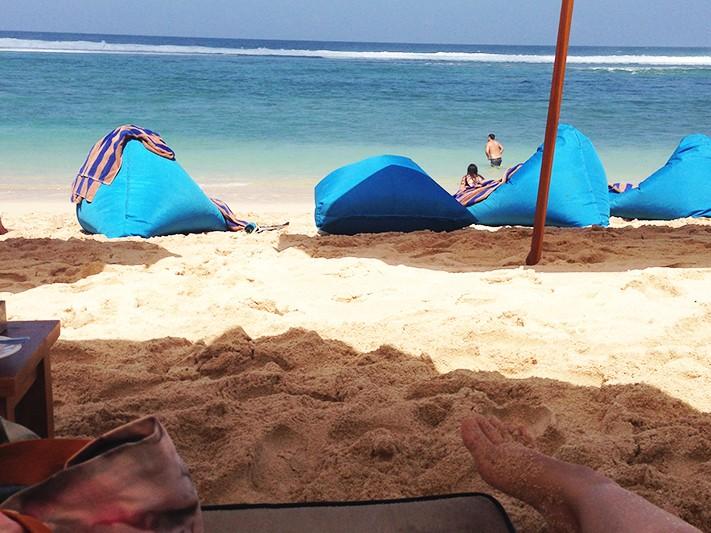 My view of the beach from beneath the umbrella
After a filling and yummy brunch, we went to Balangan Beach to play in the sand and simply admire the view. I was so curious about this place because I often saw people posting the view of this beach on social media. And in reality? This was definitely not a disappointing experience. It was fun to jump and swim across the water to the tiny corner of land that seems like a secluded fairy tale beach. Just be careful of the vendors walking around trying to sell you their products. We bought two selfie sticks that broke after using them only 3 times! Don't forget to haggle people because what you buy may not be worth it!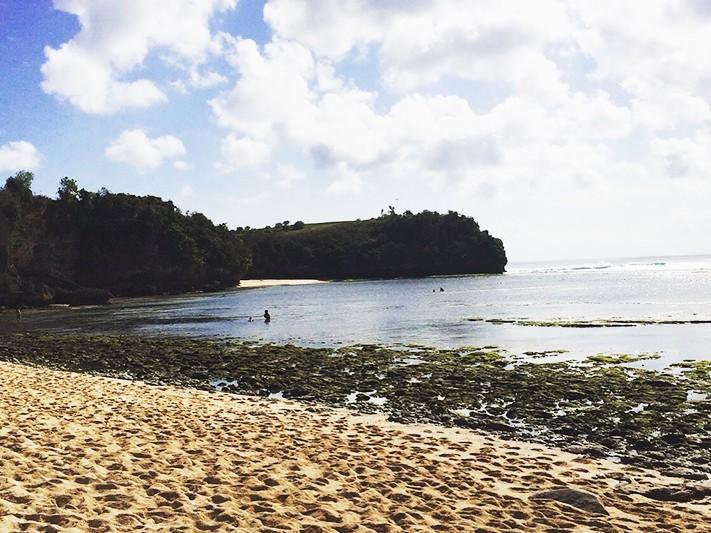 Balangan Beach
We then opted to stop by Jimbaran Bay Beach because of its soft cuddly sand and crystal clear water before our next beach destination. I always love love and absolutely love to play around and swim on this beach.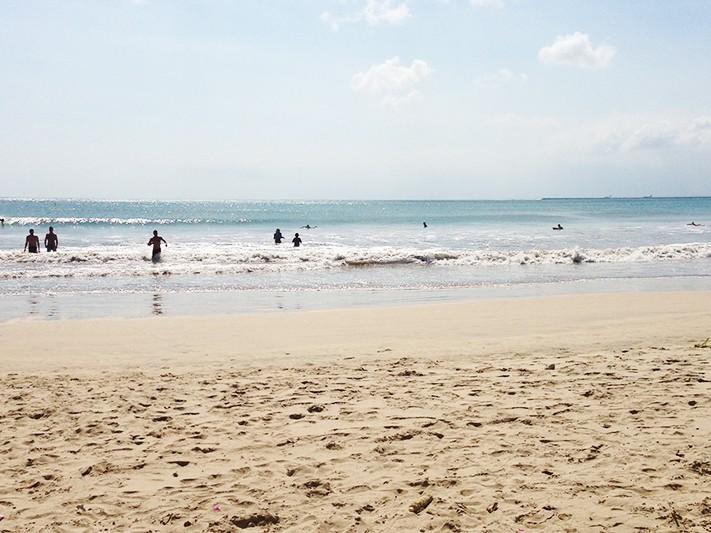 Jimbaran Bay Beach
Where to next? Mengiat Beach! This was also mainly due to social media, Instagram to be exact. I saw a friend post a picture of this beach and it was so inviting we just had to go there. Once we got there, of course we sought some empty beach chairs, and then decided to swim and frolic in the sand and sea. My friend and I jogged across the beach and immersed ourselves in the clear blue ocean. Some seaweed even got tangled in my feet.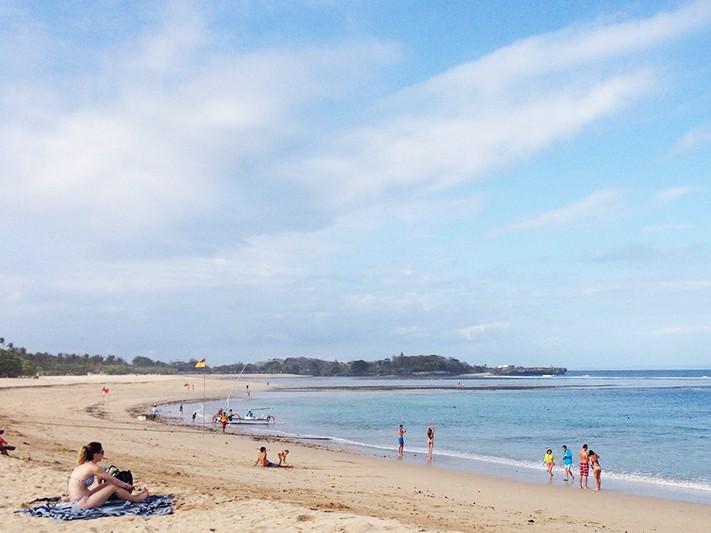 Mengiat Beach
Our last destination of the day? Well, I planned to meet up some friends for dinner at this Aussie bar called Old Man's in the Canggu area so we decided to explore the beach in front of the bar first. Although the beach was not as amazing as the other ones I went to earlier on that day, it turned out to be the most fun beach because of the friendly locals. My friend even got a chance to play soccer with some of the local children before we enjoyed a marvelous view of the sunset.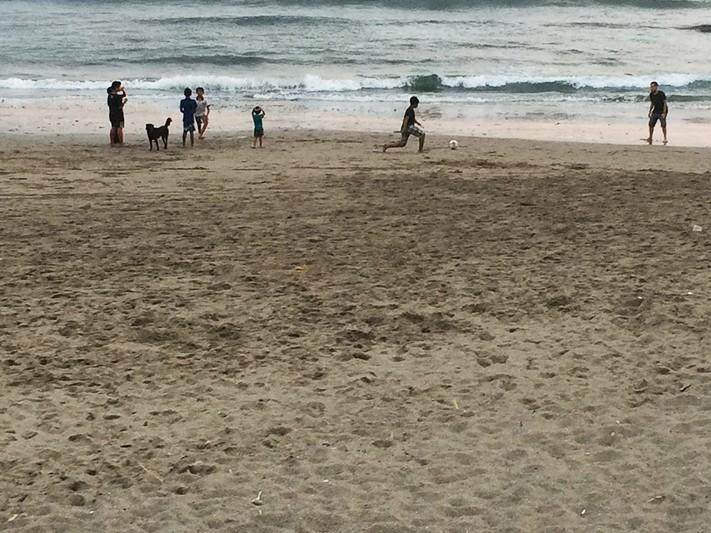 Playing soccer with the locals at Canggu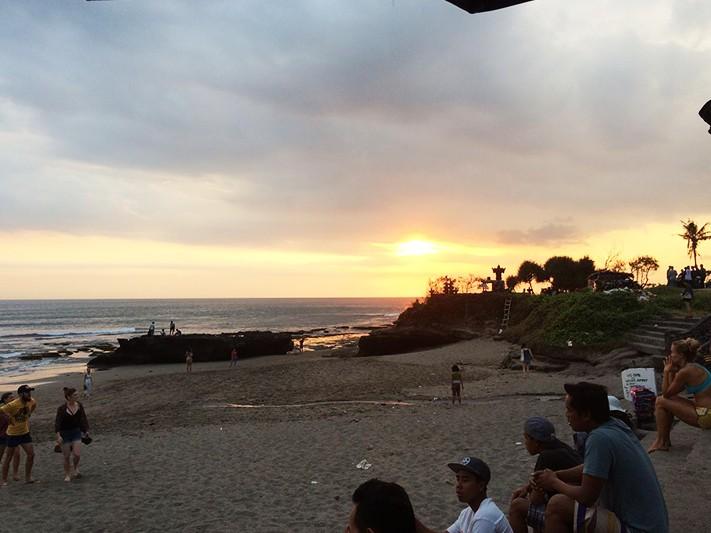 Sunset at Canggu
When the darkness finally swooped in and blanketed the entire island, we ended our day of exploring the beaches and went to Old Man's to chow down some delish food and enjoy some yummy cocktails.