Presenting the extraordinary wonders of Indonesia, the Wonderful Indonesia Festival will light up the city of New Orleans, Louisiana, USA from 29th to 30th April 2016. Organized by the Indonesian Diaspora Network USA (IDN-USA) in collaboration with the Indonesian Diaspora Business Council (IDBC) and IDN Louisiana Chapter, the festival is centered in downtown New Orleans at the Hilton New Orleans Riverside Hotel and the Riverwalk's Spanish Plaza.
Setting its stage in
From 10 March - 2 April 2017 airline passengers transiting Terminal III, at Singapore's Changi Airport will be surprised with a welcome of a whiff of aromatic coffee drawing them to the Wonderful Indonesia booth. Do stop here a moment and taste the many flavors of superb Indonesian coffee offered here, and take a pack home for family and friends.
Here the Indonesian Embassy in Singapore and Changi International Airport are collaborating in this Wonderful Indonesia Festival showcasing Indonesia's many destinations, as you sip a cup of invigorating coffee .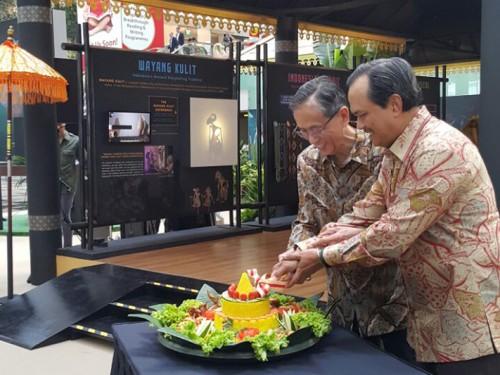 For, besides inviting passengers to travel on to Indonesia's many attractions including to the neighboring islands of Batam and Bintan, The Wonderful Indonesia Festival at Changi Airport also presents traditional art and cultural performances. Passengers waiting for connecting flights can spend time here enjoying the captivating performances of Betawi traditional dances from Jakarta, Sundanese dances from Bandung, and Batak Dances from Lake Toba, in North Sumatra
Since opening day, the Coffee Booth has proven to be a great hit, being always crowded with passengers who line up to try some of Indonesia's finest coffee.

Said Indonesia's Tourism Minister Arief Yahya: "Indonesia is the King of Coffee, we have a lots of different varieties of coffee with each its own distinct taste and sensation , recognized the world over. Sulawesi's Toraja Coffee, Aceh's Gayo Coffee, Amugmeapua's Coffee, Mandailing Coffee, Java Coffee, Lampung Coffe, and Flores Bajawa Coffee are just a few among the many kinds of coffees of the Archipelago. Do visit Indonesia and try these tasty coffees for yourself".
From tasting the legendary "Kopi Luwak" or Civet Coffee which is known as the world's most expensive coffee, to Coffee from Java which has become synonymous with the word coffee itself, Toraja coffee that has its own unique exquisite taste and is popular in Europe and Japan, to Balinese Coffee and more, passengers at Changi Airport are being indulged with various tastes and sensations as they wait for their flights.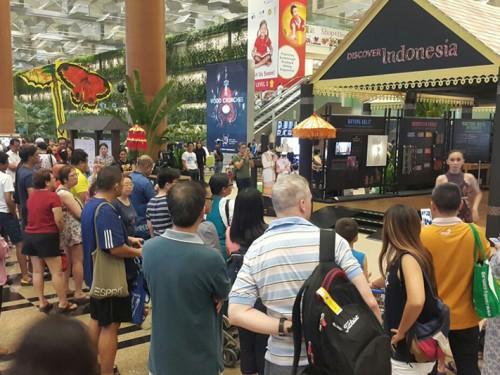 "Changi Airport accommodates over 15 million visitors to Singapore. The Jakarta-Singapore flights are also known as the 2nd busiest route in the world. Taking these into account, we hope to attract at least some 50% of passengers transiting in Singapore to continue their trip to Indonesia" said Deputy Marketing of Indonesia's Tourism Ministry, I Gde Pitana. There are also a large number of expatriates in Singapore and their response to visit Indonesia is great". " Singapore is one of the top tourist markets for Indonesia. In 2016, some 1,472,767 tourists from Singapore visited Indonesia . This year, we project the number to increase significantly to 2,275,000", added Pitana.
Last year, the President of Indonesia, Joko Widodo and Prime Minister of Singapore, Lee Hsien Loong signed a Memorandum of Understanding on Tourism Development. In its implementation, currently, efforts are undertaken to jointly promote destinations in Singapore together with Indonesia. "Tourists who visit Singapore for say two weeks, are now enticed to spend a week in Singapore and another week in Indonesia" said Ambassador of Indonesia for Singapore, Ngurah Swajaya, who officially opened the Wonderful Indonesia Festival at Changi Airport.
the birthplace of Jazz, the festival presents as special highlight the "Jamming" Music Show featuring most talented Indonesian musicians currently residing in the US including the legendary Pop-Rock Diva Atiek CB, Rey Wowor, Shakila, Anto & Diar, and 4for6 Band. Also performing from Indonesia is top Band Gugun Blues Shelter who has also attained reputation on the international music scene.
For those craving for authentic, mouthwatering flavors of Indonesia, there will be an Indonesian Culinary Fiesta. Featuring Indonesia's top chef, maestro William Wongso, the "Culinary Parade" will be highlighted with an elaborate array of Indonesia's authentic street food and yummy traditional snacks. To keep its authenticity, actual "gerobaks" or food carts have been shipped from Jakarta all the way to New Orleans, especially for the event. Showcasing some of the best features of the Indonesian archipelago, the event will also have a Trade, Investment, and Tourism Expo.
Fully supported by the Ministry of Tourism and The Embassy of Indonesia in the USA, the festival will be complemented with more serious and two-way dialogue sessions to include: the Indonesia-USA National Meeting, the Indonesia Dual Citizenship Meeting, IDBC-Biz to Biz Meeting, and an IDBC-Trade, Investment, and Tourism Conference.
One full week before the festival an Indonesian Promotion program (in Trade, Investment, Tourism, and Cuisine) will be held in cooperation with the Southern Food and Beverages (SoFAB). The Festival aims to reach mainstream America, and targeting also the thousands of visitors who will throng to New Orleans to attend the annual Jazz Fest, celebrated as the largest in the world.
For more Information log on to: www.wonderfulindonesiafestival.org