West Sumatra is iconic for its amazing natural wonders, its looming mountains, deep canyons, green ricefields, interspersed with large houses whose roofs are shaped like buffalo horns; it maintains its lasting traditions and recently it is loved for its yummy food, in particular its award-winning Rendang.

But aside from these, the province has only now revealed its new secret destination which is fast gaining popularity: The Mandeh Islands, in the southwest of the province facing the Indian Ocean, located not too far from its capital city Padang.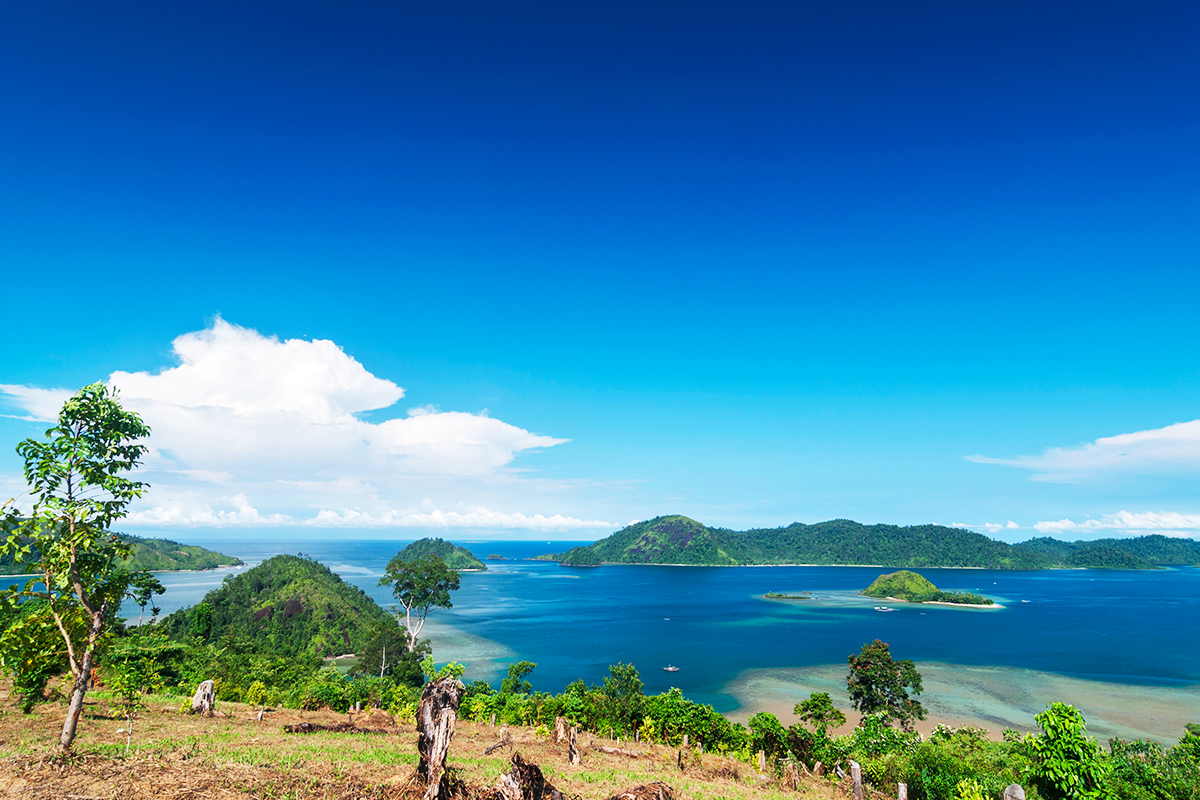 Now popularly dubbed the Raja Ampat of West Sumatra, the Mandeh archipelago is nestled in the Carocok Tarusan Bay and counts a number of islands, among which are the Tarajun, Setan Kecil, Sironjong Besar and Sironjong Kecil, Pulau Merak and the Cubadak Island. Among these only one has a tourist resort called the Cubadak Paradiso, owned and managed by an Italian entrepreneur.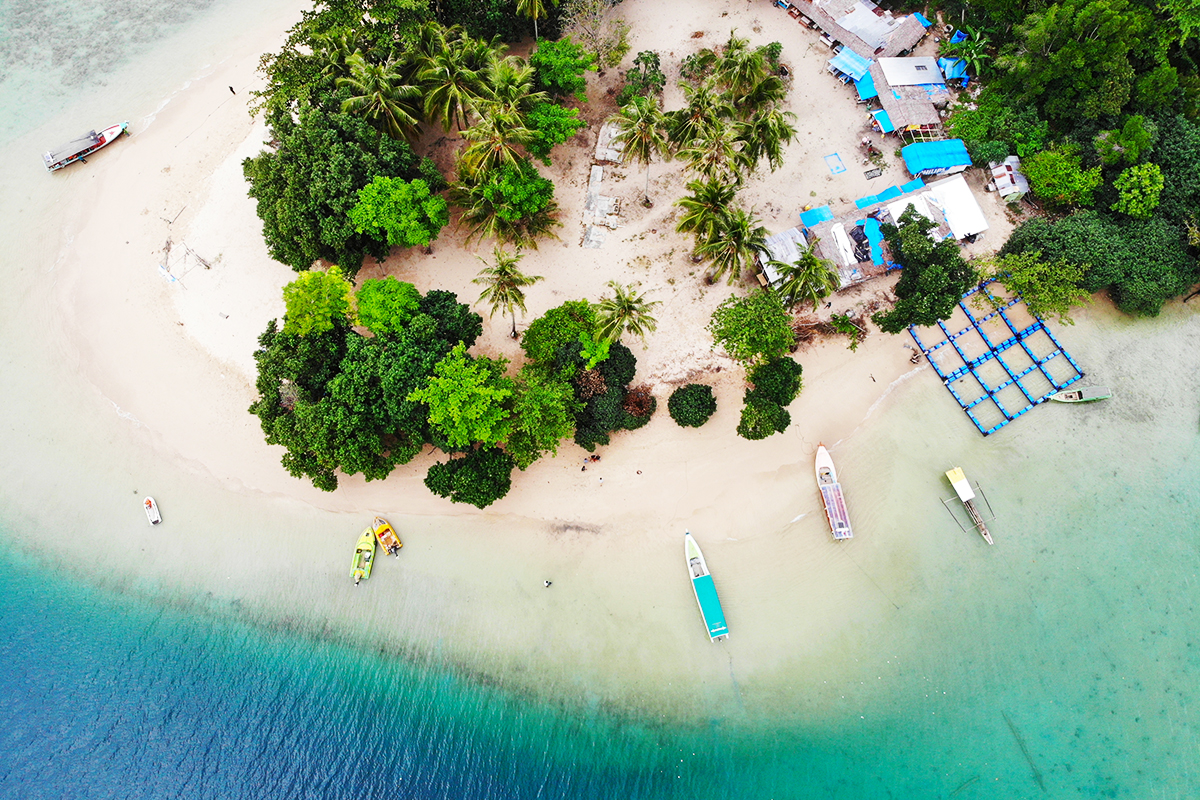 Covering an area of 70 hectares of underwater beauty, the islands are fringed with 389 hectares of mangrove forests and white beaches. Its undulating landscape of luxuriant hills and pristine bay area is studded with small islands, a perfect photogenic post card panorama! Only one hour's drive from the city of Padang, the beaches of Mandeh slope to calm blue seas luring all to just jump in and swim in its cool waters.
Today, tourists go to Mandeh to snorkel, scuba dive, go camping, do skydiving, banana boating and go fishing.
Make your way to the top of Mandeh Hill, and be prepared to be mesmerized by even more breathtaking views of the Carocok Tarusan Bay and its environment. Exotic tropical plants of Coconut Palms, Hibiscus and Jackfruit Trees fringe the white sandy beaches. Mandeh stretches over seven villages, encompassing three sub-districts known locally as Nagari, with a population of almost 10,000 people. Take time to explore this scenic underwater wonderland, with vivid colored sea life.
Get There
Upong arrival at the Minangkabau International Airport in Padang, you can choose either land transportation or take the sea route. Taxis or rented cars can be found at the airport that can take you straight to Carocok Painan Beach area within 2-3 hours. Remember to check the meter. Or agree on the price before you board the taxi. Mandeh is located at Koto Sembilan Tarusan, some 56 kilometer south from Padang.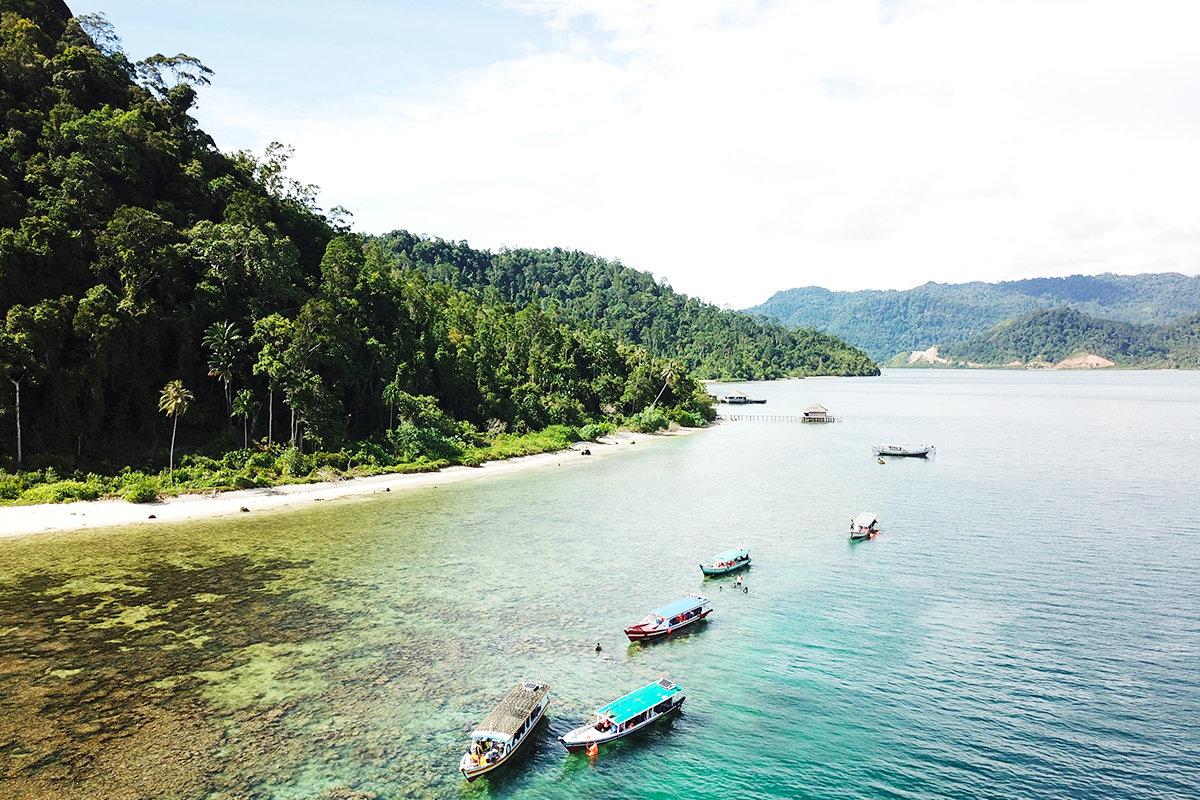 There is also public transport, but this will require you to take several different kinds in a single trip to Mandeh. First, take a minibus to Pasar Raya Padang, then hop on a Travel van towards Pasar Tarusan and finally ride the Bentor or Becak Motor to Carocok Terusan Harbour to take a boat to Mandeh Islands.
If you prefer sea transport, you can choose to ride fast boats from Teluk Bayur or Bungus. The Bintang Mandeh tourist boat is another choice departing from Muara Padang Harbor.
Get Around
If you travel in a group, it will be more convenient to rent a minibus or van to take you around the Mandeh region. To hop around the smaller islands, you need to find a trusted boatman and experienced guide, who can also show you where are the best diving spots.
Where To Stay
Cubadak Paradiso Village is the only resort on Mandeh. Established in 1992 by Gianluiggi (Nanni) Casalegno, it is located at the south eastern tip of Cubadak Island. Cubadak is about 15 minutes away from Mandeh Harbour. The 12 bungalows face east. Its comfortable setting will greet and pamper you to enjoy this pristine ambiance. Try the suite over the water for an unforgettable tropical- island memory.

Address : Jl. Batang Arau 88 Blok C7, Padang, West Sumatra