Jakarta's Soekarno-Hatta International Airport will soon have a brand new, modern, state-of-the-art terminal. Named:Terminal 3 Ultimate, it is a building that well befits an airport to the capital city of this sprawling Archipelagic country, of which Indonesians can well be proud of to welcome visitors to the country.
Scheduled to start operating in August 2016, Terminal 3 Ultimate (T3U), which is an extension of the present Terminal 3, will have as first airline Garuda Indonesia – Indonesia's flag carrier, - for both its domestic and international routes operating from here.
"Garuda Indonesia as first airline to operate from the new terminal will start serving three routes from T3U flying to Yogyakarta, Solo and Semarang, stated the airport authority PT Angkasa Pura II President Director Budi Karya Sumadi to kompas.com (since 27th July Mr. Budi Karya Sumadi was sworn in as the new Minister for Transportation). "Garuda's International flights will be gradually moved to T3U as well," Budi K. Sumadi added.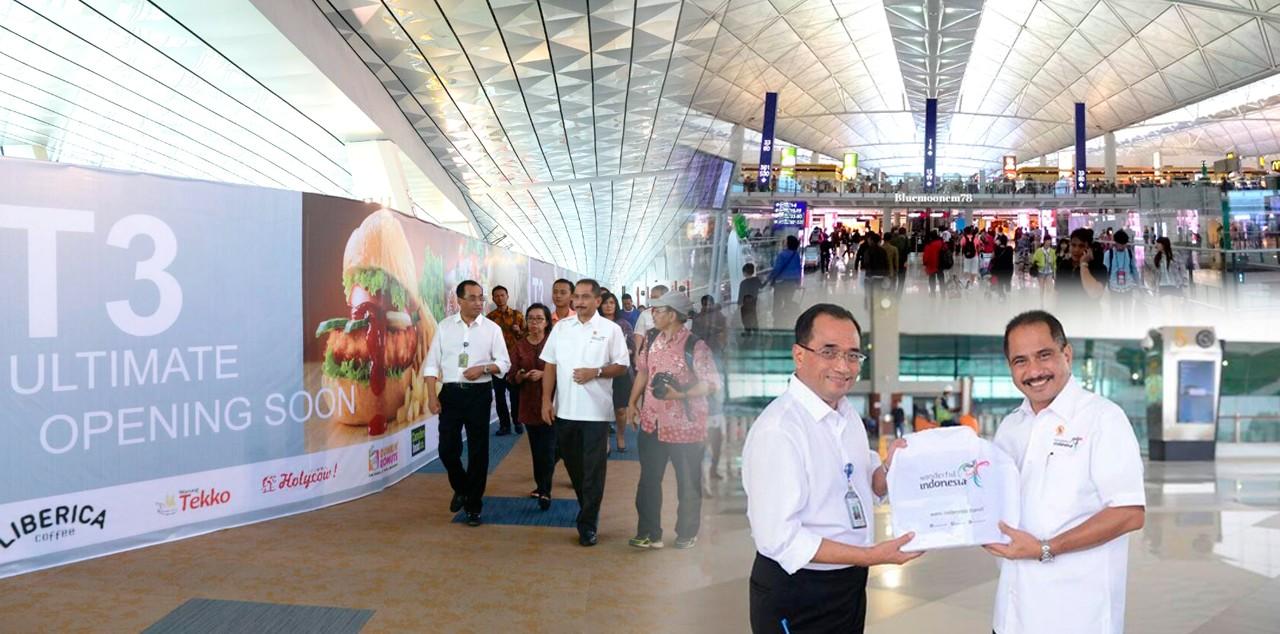 On Tuesday, 26th July 2016,Tourism Minister, Arief Yahya inspected the terminal, where he revealed to the press that the new terminal will be highlighted with the national tourism brand of Wonderful Indonesia. "We agreed that the concept of Terminal 3 Ultimate is, in fact, a Tourism Hub Airport. For this reason the brand "Wonderful Indonesia" must play an important role here. An International airport is the main entrance where foreigners first set foot on Indonesian soil. It is the first impression of the country and the nation so that their first impression of Indonesia is really important," said Minister Arief Yahya, as quoted from the official Release.
Minister Arief Yahya added that this is the reason why during the interior finishing process, the Ministry of Tourism was present and gave its contribution in deciding on the image of Indonesia to be showcased to all arriving passengers. The interior concept considers the preferences of international tourists visiting Indonesia. According to statistics, 60% of visitors prefer Culture, 35% prefer Nature, while 5% prefer man made or people attractions.
"I think that the interior design composition needs to follow these ratios. For example, images of Borobudur Temple, Balinese Dancers, and a ritual ceremony in Ubud could represent culture. Then there are Raja Ampat, Komodo, Lake Toba, Mount Bromo, and more for Nature. Meanwhile, Sport Tourism and MICE activities can be included as man made attractions," explained Arief Yahya
In addition, Terminal T3U will also feature Indonesia's multi-ethnic art and culture displaying traditional as well as contemporary artworks by Indonesia's master painters to include names such as Eko Nugroho, Angki Purbandono, Nursalomo, Indiguerillas, and more said APII (then) President Director Budi Sumadi.
Covering 422,804 square meters, T3U will welcome visitors with its ultra-modern open concept displaying geometric-patterned high ceilings. Passengers will be spoilt with luxurious waiting lounges, a wide range of restaurants and shops. Its commercial space alone stretches over 70,000 square meters to be filled by some 180 tenants, reported the jakartapost.com.
In the first phase the Terminal is planned to cater to 15 million passengers, to increase to 25 million in the second phase. Other airlines are also expected to gradually transfer to Terminal T3U by March next year.
For fast check in and check out, Terminal 3 Ultimate provides 7 luggage conveyor belts, 206 check in counters, with 24 self check-in and bag drop counters to avoid long lines.
At present, Soekarno-Hatta Airport, located in Tangerang in Jakarta's adjoining Banten province, has a capacity of handling 26 million passengers only, but is now already over-loaded handling no less than 54.2 million passengers a year.