Kicking off the month of September, the 'Wonderful Indonesia' brand shone across Bukit Bintang in Kuala Lumpur, capital city of Malaysia, as the Indonesia Street Festival 2016 was ongoing here from 1st to 4th September 2016.
For a full 4 days, shopping malls, cafes, restaurants, and virtually every corner of this Malaysian center of life style was highlighted with a plethora of Indonesian attractions creating a distinct Indonesian hype for Malaysians, expatriates, as well as international tourists in the city.The festival stretched all the way from the Starhill Gallery to Lot 10 Shopping Center.
Featuring the many wonders of the Indonesian Archipelago, the festival sparkled with traditional art performances from indonesia's many islands. There were bamboo art installations, Indonesian singers popular in Malaysia bringing traditional and modern music, handicrafts exhibition, popular Indonesian culinary food bazaar, and a whole lot more.
Among the many traditional art performances, it was the art of Kuda Lumping from Banyuwangi, East Java - featuring glass eating dancers - that enthralled the crowds along the walkway in front of the entrance of Lot 10 Shopping Center. Meanwhile, inthe exhibition area in Lot 10 Shopping Center, many visitors were eager to learn the art of batik at the Batik Workshop presented by Apip's batik from Yogyakarta. And as always, it was he culinary bazaar that was the favorite with the thronging visitors.
Besides attracting Malaysians, expatriates staying in Kuala Lumpur as well as tourists were also eager to watch the Indonesian dances, costumes and food offered here, with many tourists coming also from the Middle East.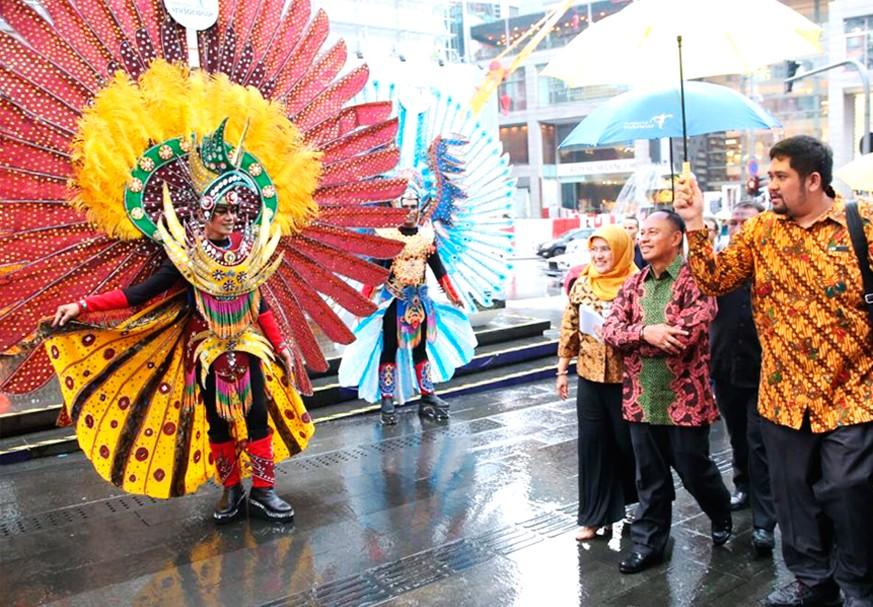 Assistant Deputy for Southeast Asia Market Development of the Ministry of Tourism, Rizki Handayani commented that the festival aimed to attract more international tourists to Indonesia's many destinations. "Last year, tourist arrivals from Malaysia to Indonesia recorded 1.2 million. This year, we hope to boost the number to 2 million", added Rizki Handayani. Moreover, through the Wonderful Indonesia Street Festival, potential tourists from Malaysia and expatriates here are expected to become more familiar with the many other destinations throughout the archipelago aside from the ones that are already popular such as Jakarta, Bali, Bandung, and Yogyakarta. "We are now also offering tours to Semarang, BangkaBelitung, Lombok, Palembang, Komodo and plenty more.
"Response to the Street Festival in Malaysia has been very heart-warming and promising", said Rizki Handayani.