From 17th September to 2nd October Indonesia is staging two promotional events both at the same time: participating in the 10th OzAsia and organizing the annual IndoFest in Adelaide South Australia.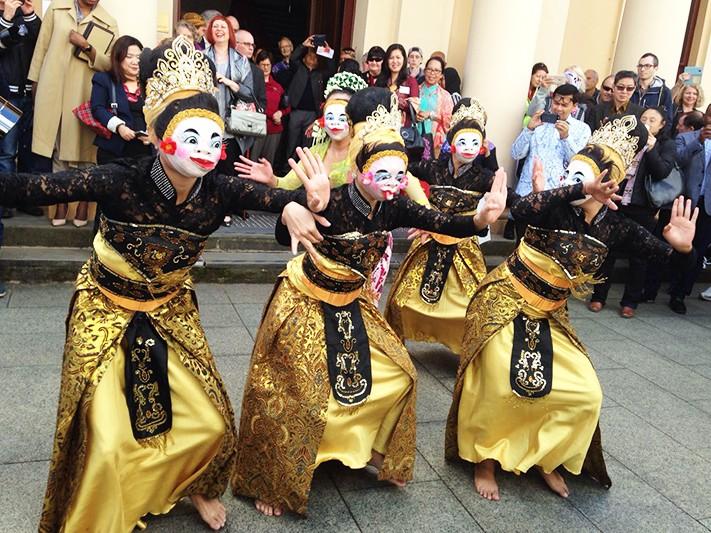 IndoFest is one of the largest events in Australia and in the Southern hemisphere, bringing closer cooperation between cultures of two countries, said Indonesian Ambassador to Australia, Nadjib Riphat Kesoema. This event is a joint cooperation between the Ministry of Tourism led by Tourism Minister Arief Yahya, the Indonesian Embassy in Australia and the Australian Indonesia Association. Both big events are ongoing and are held simultaneously in Adelaide. Both were held indoors as well as outdoors, lasting from morning to night.
IndoFest 2016 attracted many dignitaries as well as the public to witness the outstanding promotion of Indonesia. Most prominently were South Australia's Minister for Culture, Zoe Bettison, who witnessed IndoFest 2016 together with Governor Hieu Vale Le and Adelaide Mayor, Martin Haese.
The outdoor event was held in a strategic park sorrounded by Government House, National War Memorial and the South Australian Museum where pedestrian traffic is always busy. But most people would stop and watch Indonesia's colorful dances, costumes, enjoy the music and of course taste the food presented.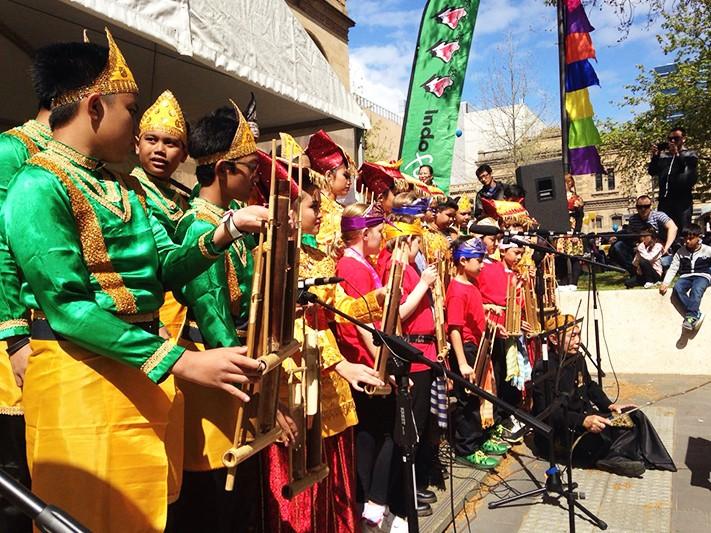 IndoFest brought live bands and cultural performances from Aceh to Papua, Angklung music and the Ega Robot Ethnic Percussion from West Java, the Jejer dance from Banyuwangi, even the mock martial dance from Lombok, the Kecak dance from Bali and a whole lot more.
Drawing the most attention were the fantastic carnival costumes paraded by the Malang Amore Carnival group.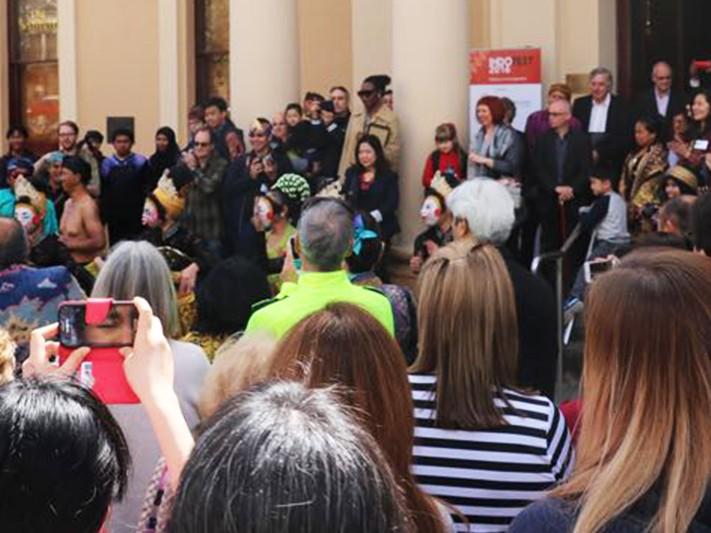 "Indonesia's cultures are so very diverse. And all are beautiful. Up to now I only know Bali, This event has really opened up new horizons about Indonesia, said Craig Cook, resident of Victoria Park, Adelaide.
"This is really an outstanding appreciation from the part of the Australian Government towards Indonesia. Everyone thinks highly of the Indonesian culture. Flinders University students even made the special effort to all appear in batik and also presented Indonesian songs. This is excellent" added Ambassador Nadjib.
On his part, Governor Hieu Van Le admitted that he was a big fan of IndoFest since its first edition nine years ago. The packaging of the event is well done . It is through such cultural interactions that the bond between the people of Australia and Indonesia will grow closer thus promoting better people-to people cooperation, said Governor Hieu Van Le.
While, speaking on behalf of the Australian Government, and in fluent Bahasa Indonesia, Minister Zoe Bettison said that South Australia is committed to continually support the imcreased good relations between South Australia and Indonesia "Indonesia's cultural and artistic wealth has definintely added to multi-culturalims here. For this reason, the State Government is committted to continue to provide financial support towards the organization of IndoFest"

And indeed, when all this time Australians are familiar only with Bali, that has indeed through the ages attracted names like Charlie Chaplin, Julia Roberts, Katy Perry, Chrsitiano Ronaldo, and a host of celebrities, now Indonesia wishes to show the world that the country is not just Bali, but that there are much wider horizons beyond Bali that are filled with tremendous destinations. To name a few, just in close proximity to Australia : Komodo and Flores, and the stunning Raja Ampat, Wakatobi, Bunaken and Lembeh Strait underwater life. The orangutans of Borneo at Tanjung Puting, wildlife of Sumatra in Lampung, and of course the great Borobudur on Java, there are breath-taking volcanoes to climb and trhilling waves to surf.
Rachel Hetheringa, Adelaide resident who lives in Decon Street commented: "I like challenging beach activities. I think Nias and Mentawai are worth to try". While, Teresia O'Donnell who lives in Flinders Park also commented: "Turns out aside from Bali, there are a lot of sea, beaches and really nice surfs. The culture is also diverse. Finally I can try a number of destinations beyond Bali"