In October 2015, the IMF-World Bank Annual Meeting in Peru selected and agreed to stage its 2018 October Annual Conference on the entrancing island of Bali, Indonesia. The IMF and World Bank habitually hold their annual meetings for two consecutive years in the USA and the third year in a member country.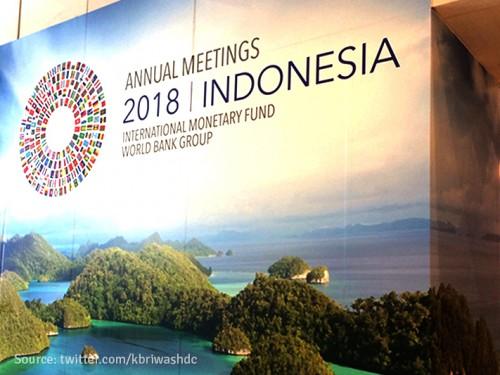 Photo source: Twitter
The agreement with Indonesia was signed in Peru by then Finance Minister, Bambang Brodjonegoro and Bank Indonesia's Governor, Agus Martowardojo with IMF Managing Director Christine Lagarde, and World Bank President Jim Yong Kim.
The number of delegates expected to attend the meeting in 2018 is estimated at between15,000 to 18,000 persons. But considering the magnetic pull of Bali, the Indonesian is preparing to receive around 20,000 delegates, comprising Central Bank Governors from member countries, Finance ministers, business executives, civil society representatives, the world media, and academics from around the world, with main agenda topic of discussion centering around global economic issues.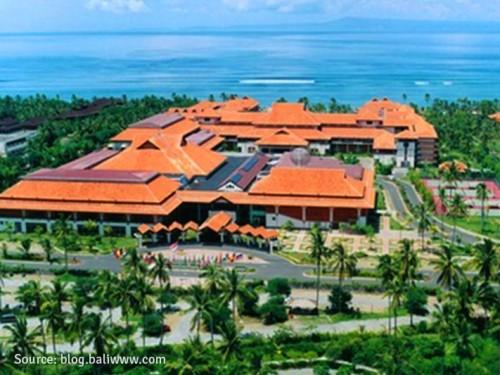 Photo source: blog.baliwww.com
While the organization of venues and secretariat in Indonesia will be the responsibility of the Finance Minister and Bank Indonesia, yet other facilities including infrastructure, facilities for air and sea transport, power and water supply as well as other amenities will fall upon the shoulders of the ministries under the auspices of Coordinating Minister for Maritime Affairs, who oversees the Ministries of Power, Energy and Mining, of Marine and Fisheries, of Transportation, and of Tourism.
Infrastructure, Airports and 5 Tourist Destinations set to receive Delegates
Therefore, to prepare for this most prestigious Conference, Coordinating Minister for Maritime Affairs, Luhut Binsar Panjaitan, on 4 April 2017 held the first preparatory coordinating meeting comprising the above Ministries as well as senior staff from the Ministries of Finance, Bank Indonesia, Public Works, and Transportation. The agenda focused on preparations to be made on the island of Bali itself to host such large number of VIP delegates, infrastructure, conference and accommodation facilities, and services for all expected delegates. The outcome of this meeting was then immediately reported to President Joko Widodo on 6 April.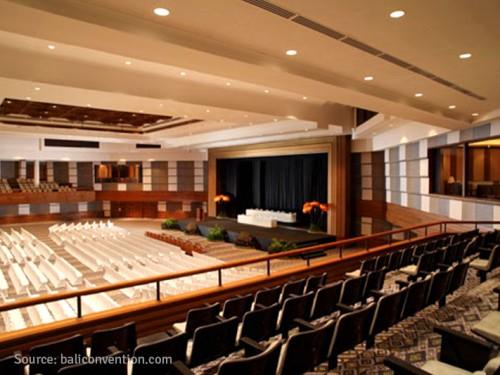 Photo source: baliconvention.com
"To serve this important event, major preparations and adjustments are necessary to be made on the island of Bali itself to meet the needs of the thousands of delegates, but which should also not disrupt or inconvenience the normal flow of the thousands of tourists and local activities on the island," said Minister Luhut Panjaitan.
As venue for the Annual Meeting, Convention facilities and hotel in the huge Nusa Dua Resort area, these considered plentiful and adequate complete with required amenities. Nusa Dua has two large convention centers, namely the Bali International Convention Center and the Bali Nusa Dua Convention Center. Similarly, facilities needed at the Ngurah Rai International Airport to meet air traffic flow are deemed available, although further improvements will still be made on the terminal.
Nonetheless, the most urgent key action that must be made on Bali itself, said Minister Luhut, will be the construction of a roundabout and an underpass to run below the already normally congested crossing that runs from Nusa Dua to the Airport and from Kuta beach to Denpasar city. Therefore, this is expected to ease the usual traffic jams at this junction. As is, the road is often jammed, so with the addition of an expected 15,000 or more delegates on top of increasing number of tourists, both domestic and international, the underpass is indeed an urgent necessity, with construction to start almost immediately.
The other eyesore is the garbage often found strewn on beaches and inside cities. This must be cleaned immediately. In this context, in a recent meeting between Tourim Minister Arief Yahya with new American Ambassador to Indonesia, Ambassador Donovan offered asistance to Indonesia. Hereupon, Minister Arief Yahya requested the USA to support with waste management and trash incinerators that may at the same time generate electric power.
Komodo, Borobudur, Lake Toba, Toraja and Jakarta beyond Bali
In the field of Tourism, to provide delegates with an unforgettable stay in Indonesia, the government has decided to prepare 5 of Indonesia's top tourist destinations, where delegates may be taken to by air orby fly-cruise.
Bali already has a plethora of attractions that appeal to visitors that include daily cultural performances, amazing natural beauty, underwater dive sites, delectable cuisine, to unforgettable shopping for fashion, arts and crafts.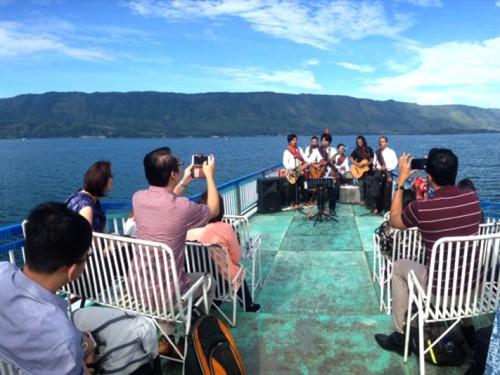 The other 4 destinations being earmarked to receive IMF-World Bank delegates are: the capital city Jakarta, Bali's neighboring Lombok island; Labuan Bajo, the jumping off point to the Komodo islands and other attractions on Flores, the awe-inspiring Borobudur temple, as well as surrounding attractions in Central Java and Yogyakarta. Additionally there will be special tours arranged to the wondrous Lake Toba in North Sumatra and to the Toraja Highlands in South Sulawesi, dubbed the Land above the Clouds.
Delegates will be offered cruises around Bali to Lombok and Komodo. Direct flights will be arranged to Toraja, Labuan Bajo, Solo and Silangit airport at magnificent Lake Toba, confirmed Coordinating Minister Luhut. Already this September there will be cruise ships available at Labuan Bajo to take passengers island hopping to 6 different stops. While at Lake Toba, 2 boats will be added to take passengers touring around the huge lake.
In its article, Jakarta Post reported: The IMF-World Bank Meeting (in Bali), would address various global economic issues. In general, the IMF has been monitoring the slow global economic recovery from crisis, sluggish global economic growth, increasing domination of China in the global economy and world leaders' concerns on the impact of globalization and global integration.