JAKARTA –Indonesia's scrumptious Lapis Legit cake was again selected by CNN as fourth out of 17among the world's most delicious national cakes . This sweet delight was ranked after the Pavlova (New Zealand), Swedish Prince Cake (Sweden) and Victoria Sponge (Great Britain).
This is the second year running that Indonesia's Lapis Legit has made it into CNN's list.
"It's great, another culinary icon in the category of cakes from Indonesia that has captured the attention of the world," said Indonesia's Tourism Minister Arief Yahya.
Almost anyone in Indonesia knows Lapis Legit. But the best cakes can be found only in selected bakeries in large cities. (for a list in Jakarta, click on the following link http://www.indonesia.travel/en/post/lapis-legit-indonesia-s-top-traditional-cake-cnn .This is because baking the thinly 18 layered cake takes a lot (and really A LOT) of patience. For this reason, Lapis Legit has become a must souvenir to take home by tourists from Singapore, Australia and even from Europe.
The lapis legit cake is often served during celebrations or gatherings, such as Eid al Fitr, Christmas, family gatherings or simply a snack to accompany a hot beverage, such as coffee or tea. It is no wonder, therefore, that this cake was named as one of the most delicious cakes in the world and considered as a proud Indonesian heritage.
The painstaking labor that one must set aside behind the making of this simple looking cake is truly worth it. At a glance, this layered cake looks simple enough to munch without a second thought. However, the baking process is a complicated feat that could take hours and hours as each layer is made separately.
"The process of making a lapis legit cake requires patience and diligence, which reflects the baker. I admire all pastry makers who still preserve the culture of baking the lapis legit cake," said Tourism Ministry's Culinary and Shopping Tourism Acceleration Team Head, Vita Datau on Saturday (15/4/2017).
The best quality lapis legit cakes use Dutch Wijsman butter and a lot of egg yolks. However, what makes this cake special are the spices that are mixed in this sweet, moist and firm layer cake also known as Spekkoek. The combination of cinnamon, cloves and nutmeg results in a simply irresistible cake.
"Initially, this cake was made by a Dutch person who lived in Indonesia using Indonesian spices, such as cinnamon," Vita explained. "We must preserve this tradition by teaching our children to be proud of Indonesia's spices through this delicious cake adored by many."
Image source : http://www.bakingsolution.com
But that's not all. There are also a few interesting facts about the delicious cake that was first created during the Dutch colonial era. Up to 30, or sometimes even 40, eggs are used to bake it. A lapis legit cake can last for up to a week, stored in the fridge, without it changing texture. The price of a lapis legit cake is also quite expensive compared to other cakes considering its complicated baking process.
Inspired by the European layered cake with an Asian twist added, lapis legit was first created during the Dutch colonial era, according to CNN's article of the world's 17 most delicious national cakes. Aside from preparing the cake layer by layer, each layer must also be of the same size. One lapis legit cake can consist of up to 18 thin layers, but could add up to 20 to 22 layers of yummy goodness.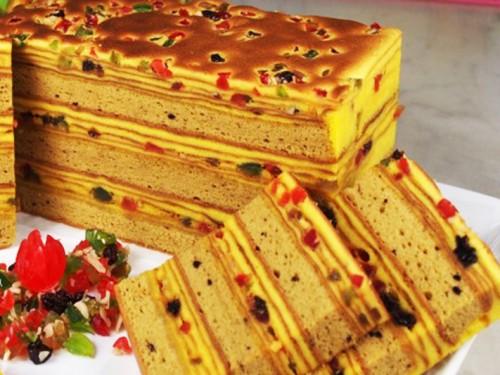 Image source :
http://nessabakery.com
Lapis legit cake was originally named Spekkoek. The name Spekkoek loosely translated means 'fatty cake'. So no matter how good or addictive it is, just remember that this cake is made using tons of eggs and butter, so better go easy on munching this delicious treat. Remember, a moment on the lips, a lifetime on the hips. (*)