Directly on the border with Sarawak, in Malaysia, the Sanggau Regency in Indonesia's West Kalimantan province will stage the Cross-Border Festival themed "Sanggau Forward and Beyond".

To be held from 2nd to 8th April 2017, the Festival will feature Indonesia's "Dangdut" rising star Siti Badriah, who already counts thousands of devoted fans in Malaysia. Dangdut is a popular music genre created in Indonesia that fuses Indian beat and rhythm with Indonesian traditional and popular music, which has fast spread in popularity to Malaysia, Singapore and other Southeast Asian countries.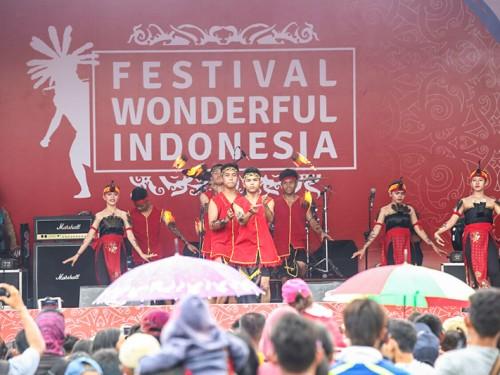 Photo Source : www.kemenpar.go.id

The Festival will feature bands, art and cultural performances, as well as various other fascinating activities, with in the spotlight Siti Badriah.

Other highlights of the festival include traditional rituals of the Malay ethnic group; Dayak traditional rituals from the sub ethnic groups at Pangkodan and Pompang; the Daranante and Babi Cinga Statues Design Competition; the Terompang Panjang Fishing Competition; traditional Sumpit Blowpipes competition; Ulung Ali Traditional boat competition; traditional sports and games ; traditional culinary festival; Bapanok art performances; a tour to the tombs of Kings and sacred sites; and a whole lot more.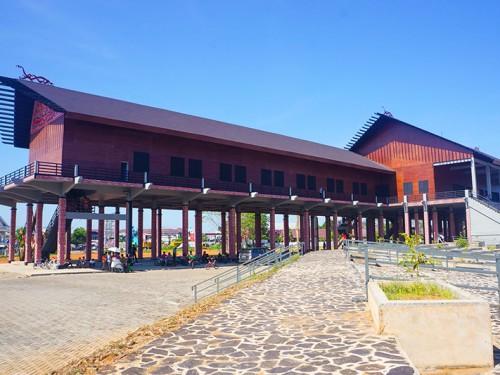 Photo source: anekatempatwisata.com
Deputy of National Market Development of the Ministry of Tourism, Mrs. Esthy Reko Astuti explained that Sanggau Regency is very strategically located in the same way that Aruk is in the Sambas Regency. From the Malindo highway that connects Indonesia and Malaysia, it will only take 2 hours and 46 minutes to reach Sanggau. Esthy further recalls that last year's Cross Border Festival which was held in Aruk, Sambas, successfully attracted 6,137 border crossers from Malaysia who really enjoyed the festivity. This year, the event is projected to attract 7,000 cross border tourists from Malaysia as well as 3,000 domestic tourists.
"We chose the Dangdut rising star Siti Badriah as star highlight of the festival in response to overwhelming request. In last year's cross border festival, the performance of Siti Badriah was the most awaited by the Malaysian audience. The artist certainly has many fans in Malaysia," said Esthy Reko Astuti.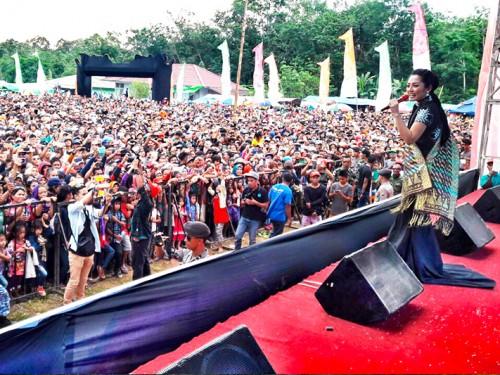 Photo Source : www.patainanews.com
Also known by her unique nickname "Sibad", Siti Badriah's popularity is currently on the rise, since next to performing on the musical stage she also stars in a number of popular television drama series including "Senandung" and "Harapan Cinta". Siti Badriah is known for her distinct Dangdut voice as well as her captivating dance moves which have become the trademark of her appearance. Among some of her popular hits are: "Bara Bere", "GoyangDumang", "Terong Dicabein","Senandung Cinta", "BerondongTua", and more.
Meanwhile, Head of the Office of Culture and Tourism of Sanggau Regency, F. Meron said that the festival is held in conjunction with the 401st anniversary of the regency. "The area around the stage can accommodate up to 15,000 audience. As the most anticipated appearance in the festival, Siti Badriah will perform for about one and a half hours from 8 pm Central Indonesia Time," said F. Meron. Adding that the festival is expected to attract more and more tourists to Sanggau and further boost the tourism industry in the regency.